We are all passing through these uncertain times with a drop of care and insanity. We have to take our time to meditate, think and create anchors for ourselves and the ones around us. We have found DIY projects as being pieces of this anchor. By slowly upcycling and recycling as much as possible around us we strengthen our belief that small things do matter the most. We are shaping our small world as much as possible. Through simple backyard projects, DIY wall art projects,DIY furniture hacks and paper crafts alike we are becoming more of an individual than we were before. Different is good. Different is better. Be yourself and craft your way to happiness !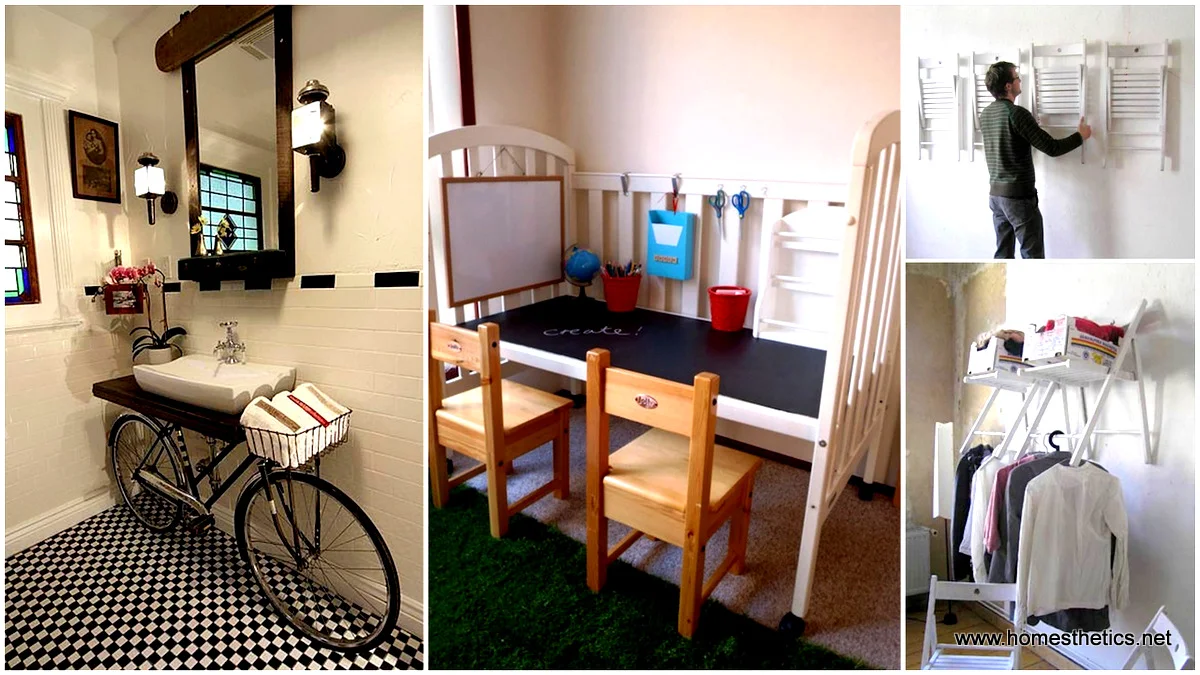 Smart and Creative DIY Furniture Hacks
# 1.Transform 2 Dining Room Chairs in a Bench
Upcycle a couple of dinning room chairs in cozy and beautiful indoor or outdoor benches with ease. If you don`t feel up to the task call a friend or just paint the pieces and refresh them with a new look. You can find more details  here.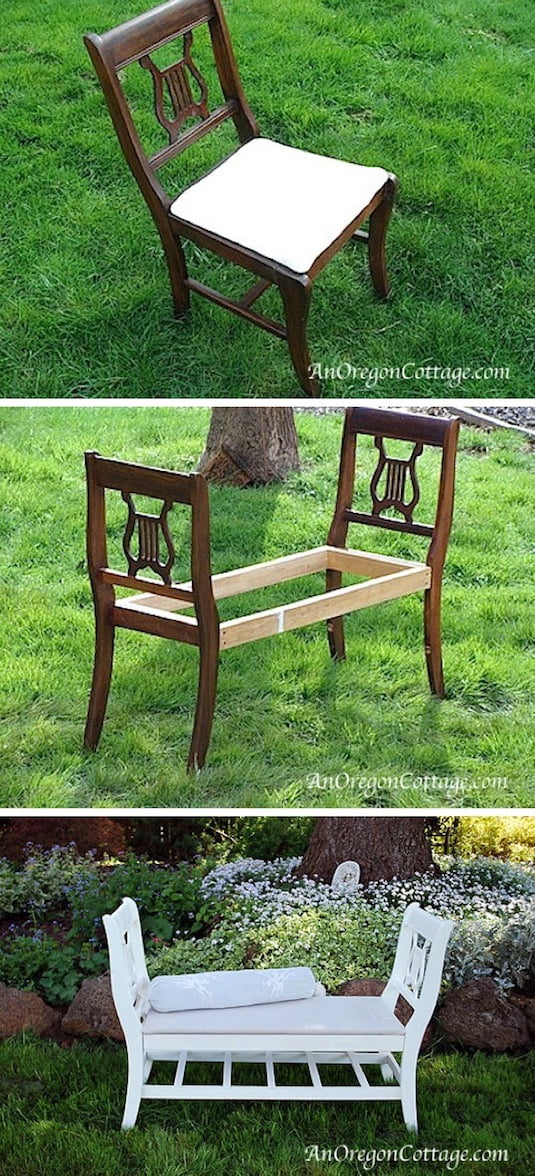 Source & Instructions: An Oregon Cottage
# 2.Old File Cabinet Converted To Garage Storage
Everyone has stumbled across one of these metal cabinets at a certain point. You can take advantage of the huge hunk of metal and transform it in a side garage storage space for tools, rakes, shovels and other things that are usually laying around in your garage. Peg boards can be used at the sides to accommodate garage items. You can find the details here.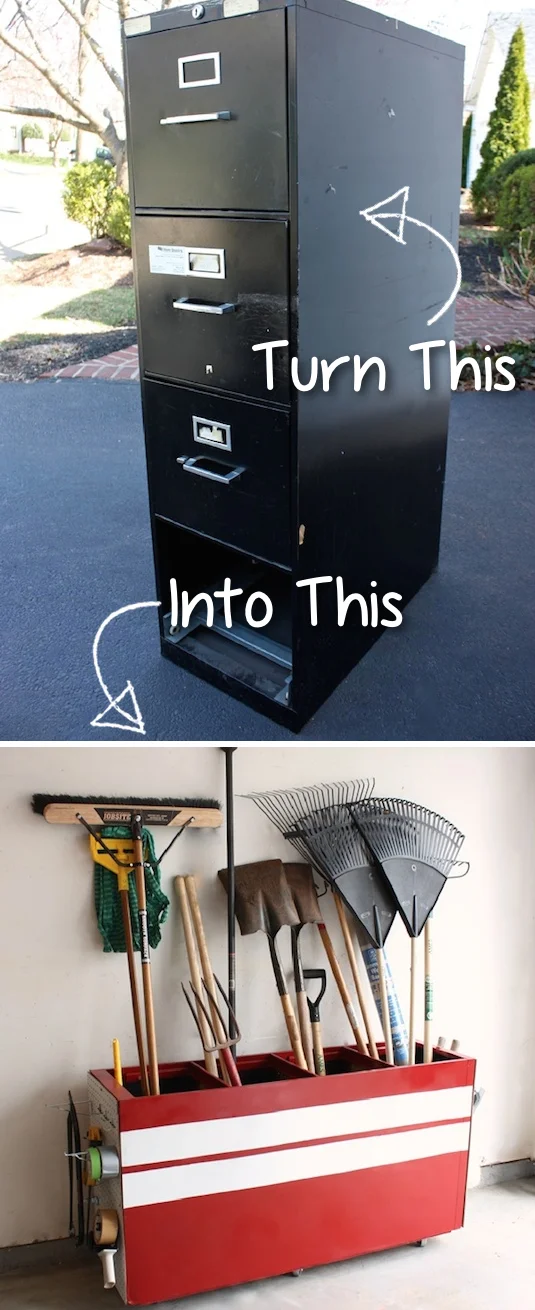 # 3. Create a Kid's Craft Table From A Crib
At a certain point the crib will just occupy space in your home. If you have no relatives or friends that can make use of this crib you can transform it in a small craft table for your little loved ones. Be sure to personalize it and make it their own.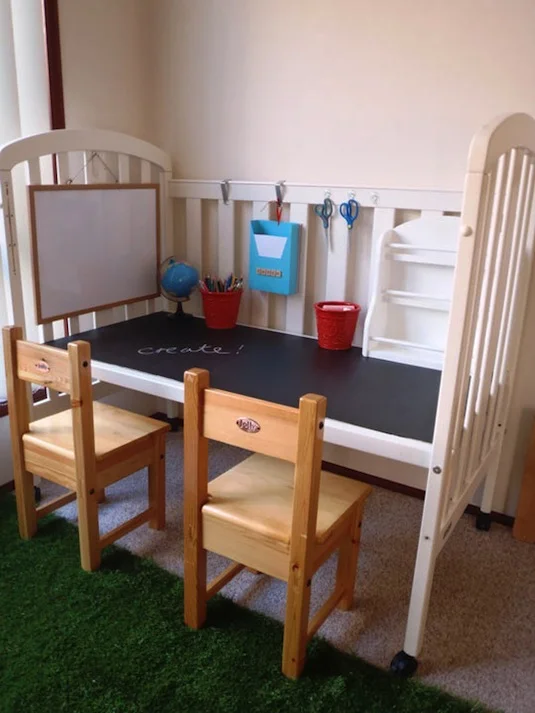 Source & Instructions: A little Learning For Two
# 4. Old TV Upcycled
These antique TV`s can barely be found anymore these days but if you find it, take it! You can make use of the extremely graphic and solid wood structures to make a hutch.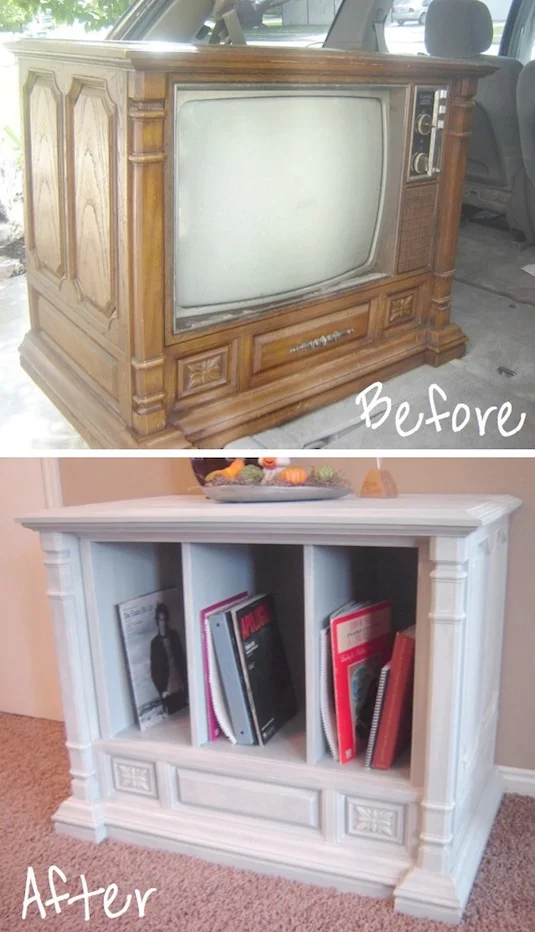 Source & Instructions: Home Hinges
# 5. Bookshelf Storage Bench
Probably the easiest furniture hack existent, this storage bench has been transformed from Ikea`s iconic bookshelves. Turn it over, craft the seat cushion, add wheels and voila !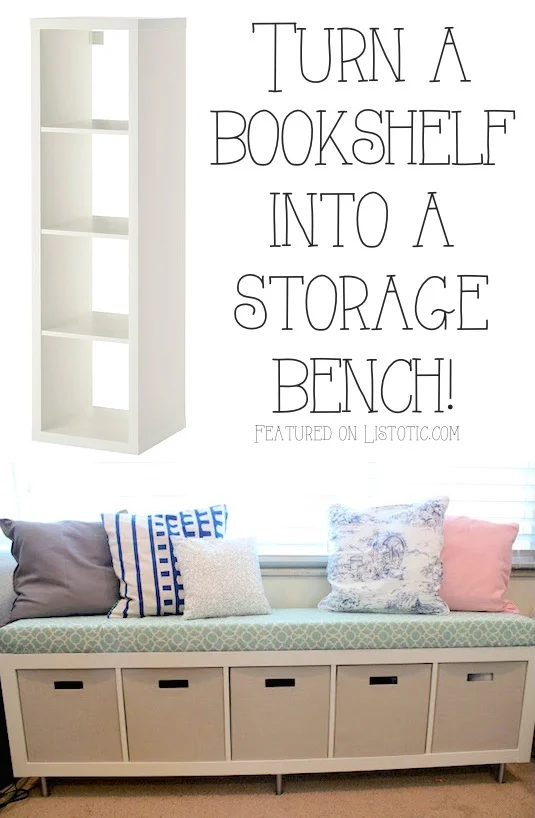 Get the Instructions here: Mommy Vignettes
# 6. Smart and Creative Lego Table
Go treasure hunting and look for an old furniture piece that can be transformed with ease into a small piece of Lego Land.  The piece below is extremely good because it accommodates the basket when game time is done but we are sure you can find similar furniture pieces to nestle in your play room.

Get the instructions here: Fussy Monkey Business
# 7. Old TV Unit Converted Into a Play Kitchen
By creating this piece yourself you are able to customize the piece with colors and textures in an inexpensive manner. Just look at the small window in the transformed kitchen. You will need a good amount of patience to go with your creativity but this is without a doubt a great weekend project that can make your kid insanely happy. Full instructions here.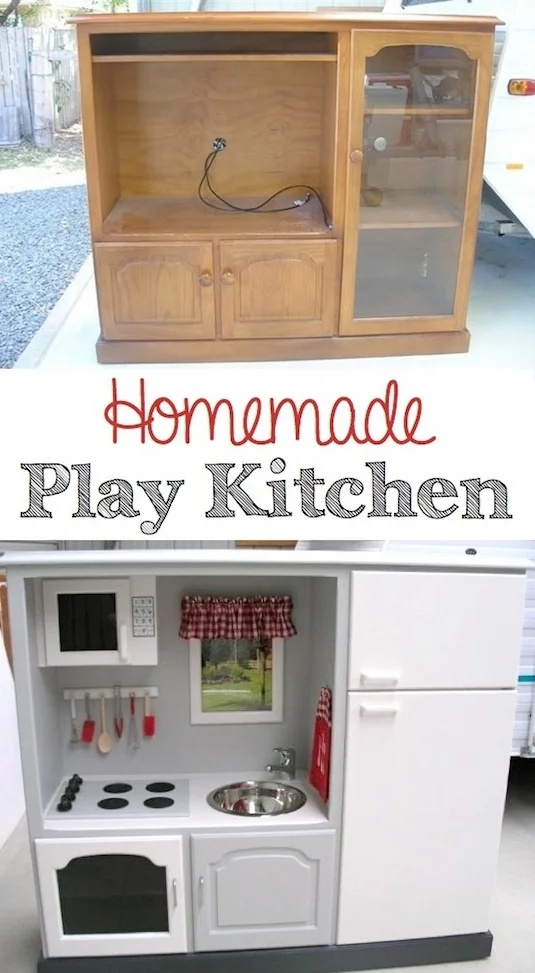 Source & Instructions: Giggleberry Creations
# 8. Dresser Flip
By simply removing some drawers and few pieces of trim and wrapping everything in new clothes this old dresser has been updated; the diy`er managed to obtain a new set of aesthetic values through a new side piece or TV console. Details and instructions here.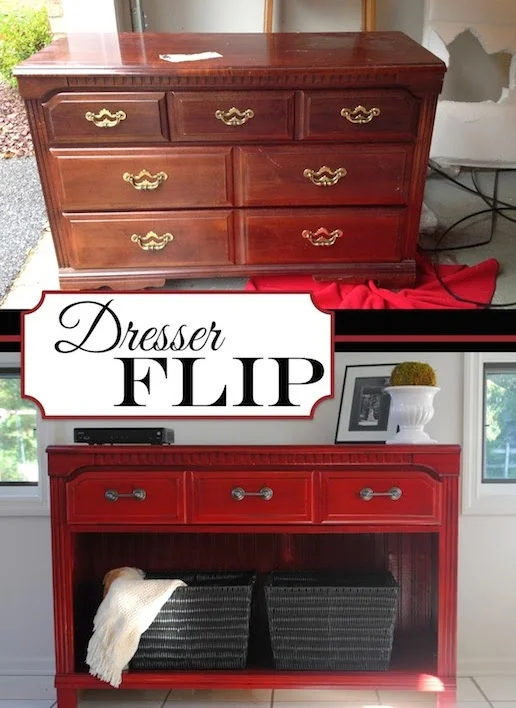 Get the instructions here: Two It Yourself
# 9. Bunk Bed To Coat Rack
New paint, a few hooks and you are good to go. You have a new set of coat racks that you can use in your mud room or entry hall. Moreover their depth can be used to obtain a small storage space by simply placing a board at the top. You can find more details here.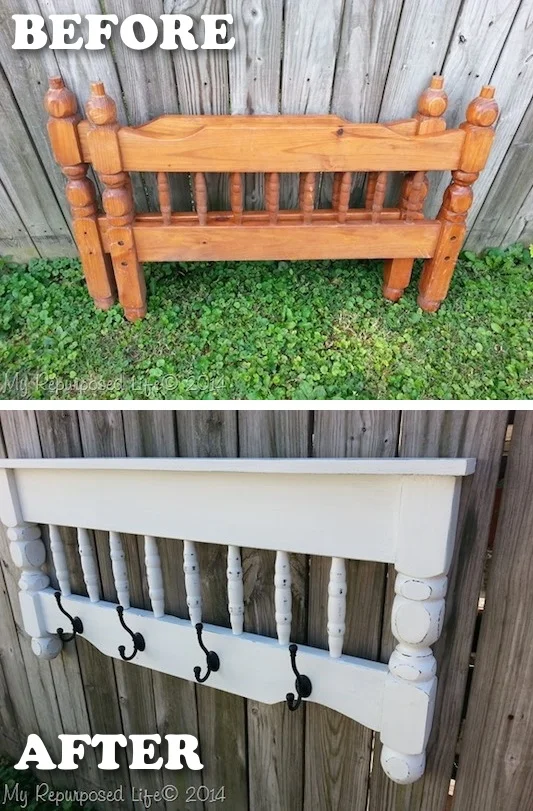 Get the instructions here: My Repurposed Life
# 10. Ice Chest Makeover
Update your Ice Chest instead of replacing it. By positioning it higher above the ground you enhance its functionality and improve its life span. Now it can stay outside near your entertaining area again, keeping your drinks cold.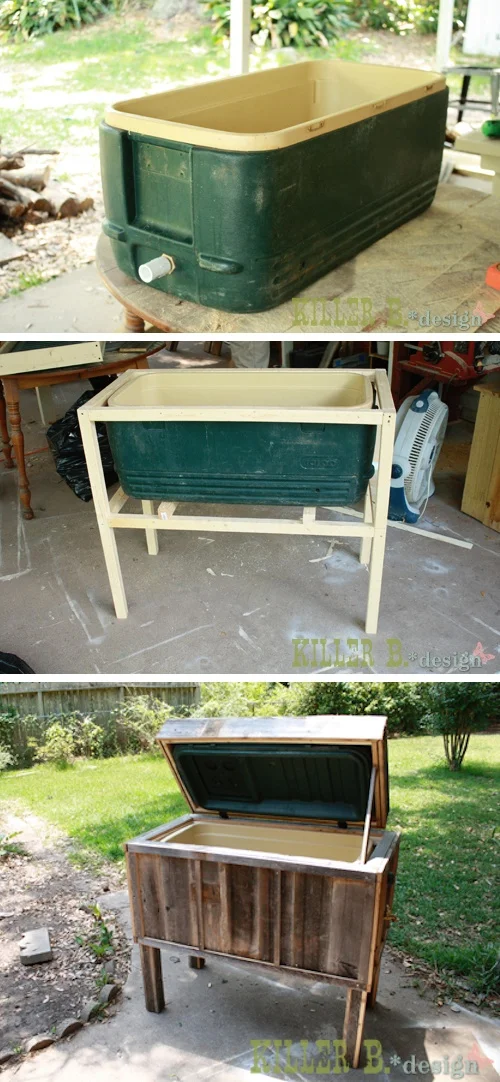 Get the instructions here: Killer B Design
# 11. Grand Piano Bookshelf
Original bookshelves are quite rare mainly because designer furniture pieces are insanely expensive and huge retailers focus on practicality rather than design. There is one method to get both through: DIY projects. You can find old furniture pieces or bookshelves and transform them as you like. Underneath a piano has been converted in a graphic sculptural bookshelves. You can find all sorts of bookshelves here. Draw inspiration and craft away!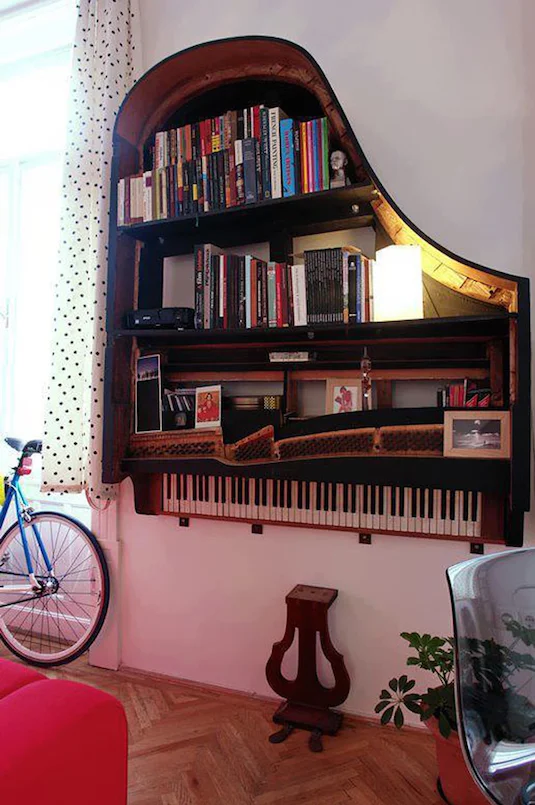 Get the instructions here Instructables
# 12. Crib To Toddler Bed
If the re-purposed crib to desk project is not helping you you can try and upgrade it into a toddler bed. Simple efficient and graphic.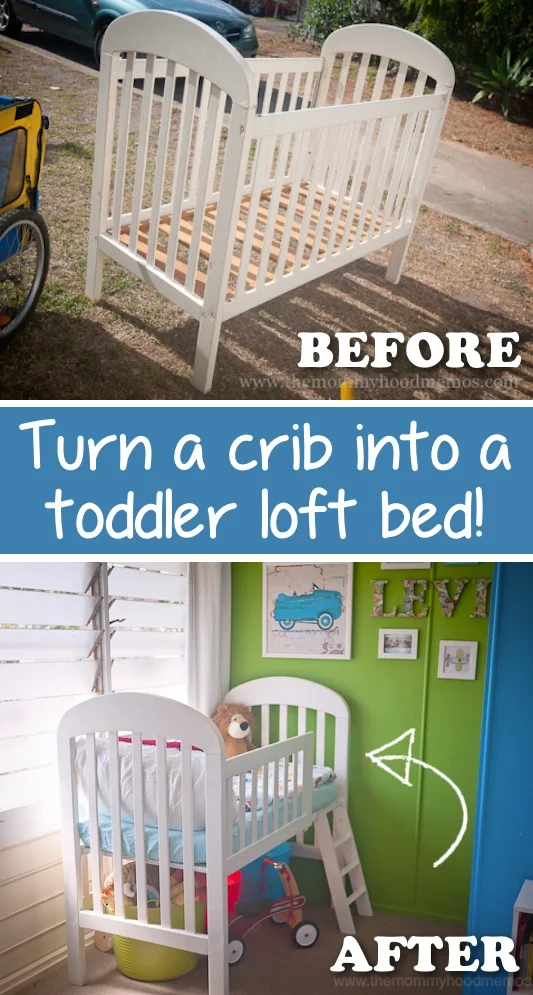 Get the instructions here: Adriel Booker
# 13. Rustic Look With a Ladder Towel Rack
World renowned furniture hack for its insane practicality : ladder towel rack. Grab some sand paper and a piece of paint that fits or contrasts your color scheme and transform your old ladder in your bathroom towel rack.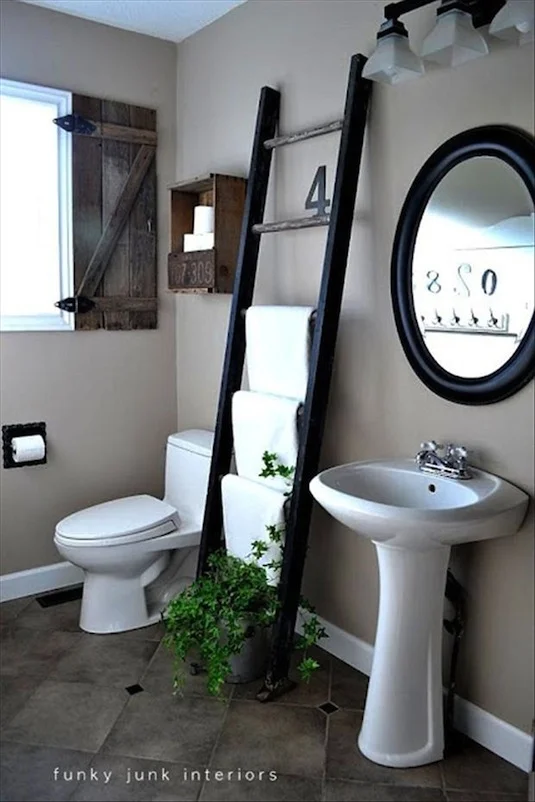 Source: Funky Junk Interiors
# 14. Vintage Bicycle Sink Design
A bathroom can become the best room in your home with ease. Shelter vanity items that you have created or obtained in treasure hunts and refurbished. Make sure that every piece is extraordinary unique and it perfectly links with your taste. A bicycle sink can become a complementary item in your decor, shaping the space around it, giving it a direction and a very vintage like appeal.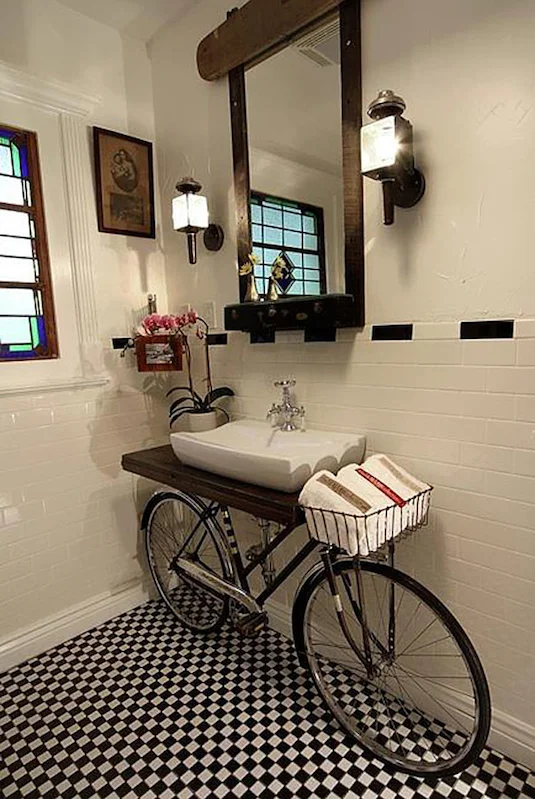 Source: The Benjamin Collection
# 15. Repurposed Stool
Architects have already found this craft by now and they store their rolled projects like they should. You can now store your wrapping paper and craft supplies in harmony too. Turn a stool into the perfect storage option. Add wheels for mobility and roll your way into great craft projects with your new piece of storage.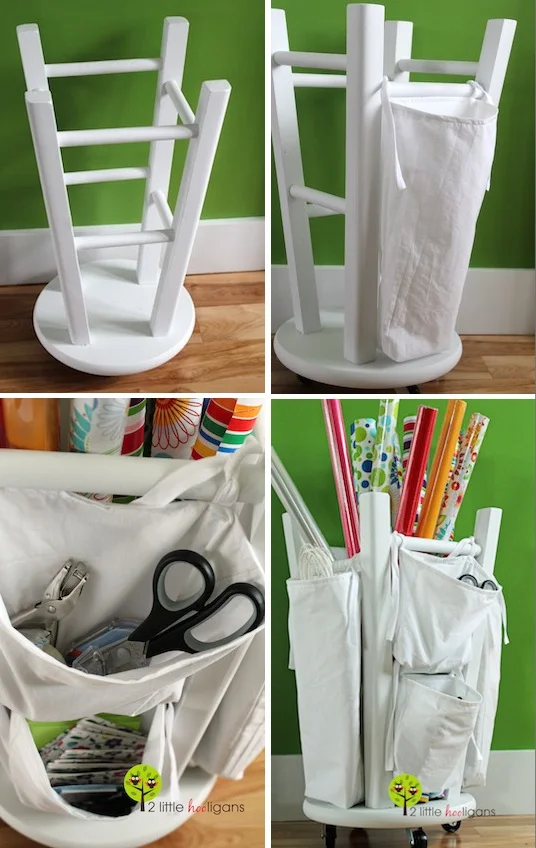 Get the instructions here: 2 Little Hooligans
# 16. Hanging Chair Closet Organizer
If you need extra storage for clothes as we all do you can use this practice. Two simple chairs can accommodate a decent amount of coat hangers and on top through a board or without you can shelter pants or T-shirts with ease.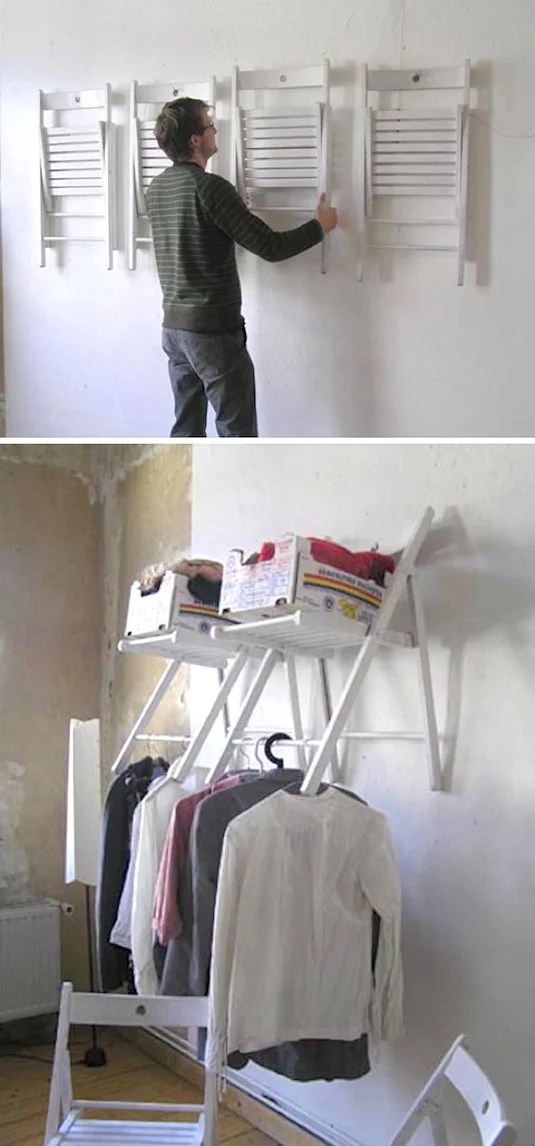 Transform a small chest in a seamless office chest that can accommodate exactly what you need. You can use it as a sitting bench as well if your office space is limited.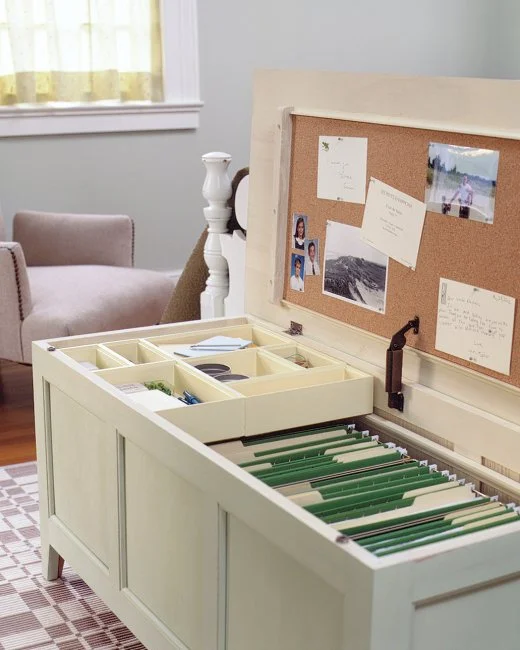 Source & Instructions: Martha Stewart
# 18. Bookshelf Transformed Into a Locker
If you need more space for your entry hall, garage or mud room you can rotate a bookshelf and transform it into a small  locker.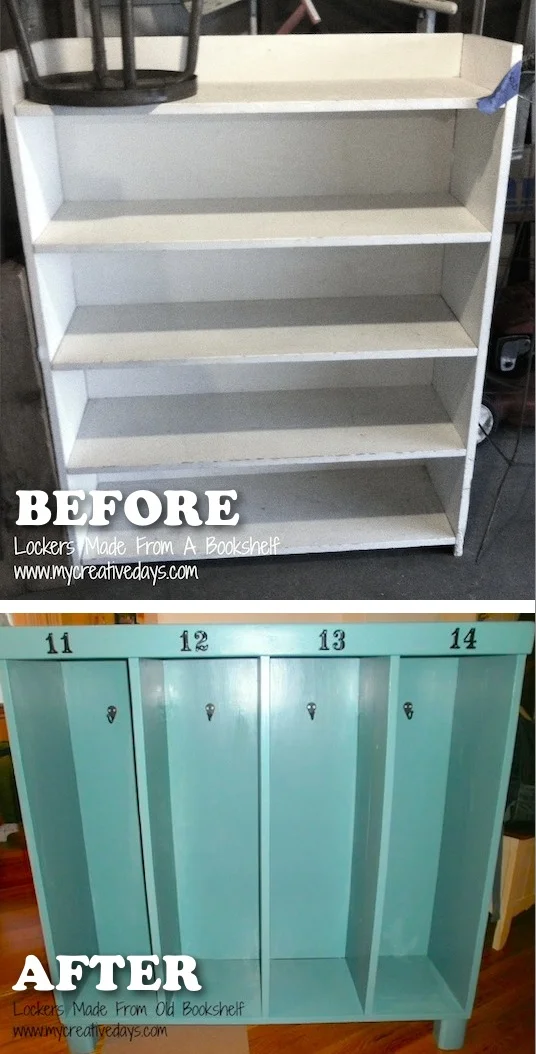 Get the instructions here: My Creative Days
# 19. Wall Mounted Magazine Rack
Use this near your entry to keep everything you need at hand without sacrificing space.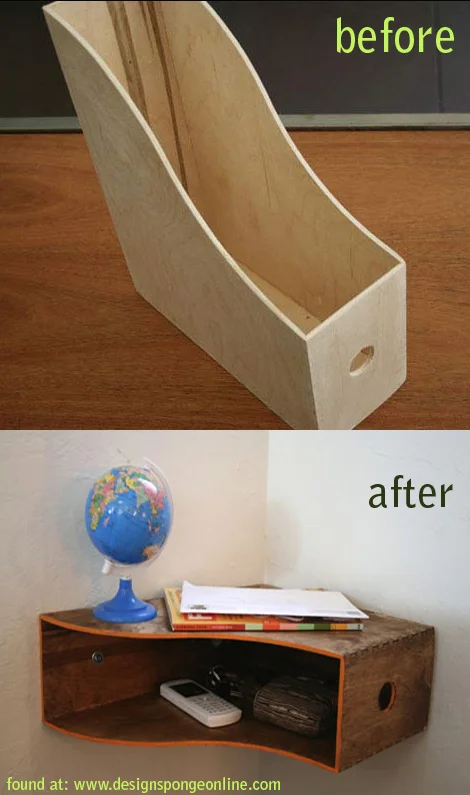 Source: flickr
# 20. Bookshelf Command Center
By using three Ikea bookshelves you can create a small and space efficient command center. Rotate the last one and paint a framed area in chalk paint to create a writing board. In the rest shelter boxes and documents in a graphic manner. This can welcome guests beautifully in your hallway.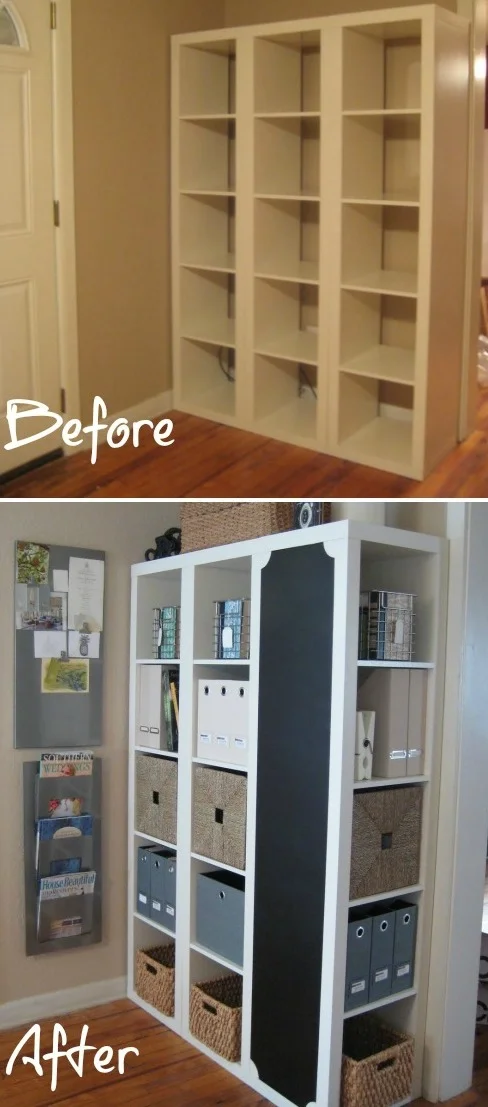 Get the instructions here: Iron & Twine
What do you think? Are these furniture hacks worth performing? We have found them very inspiring and we would love to hear your opinion on the matter.
Related Articles
19 Different Types of Mid-Century Modern Furniture
Unusual and Bizarre Furniture Designs You Have Ever Seen