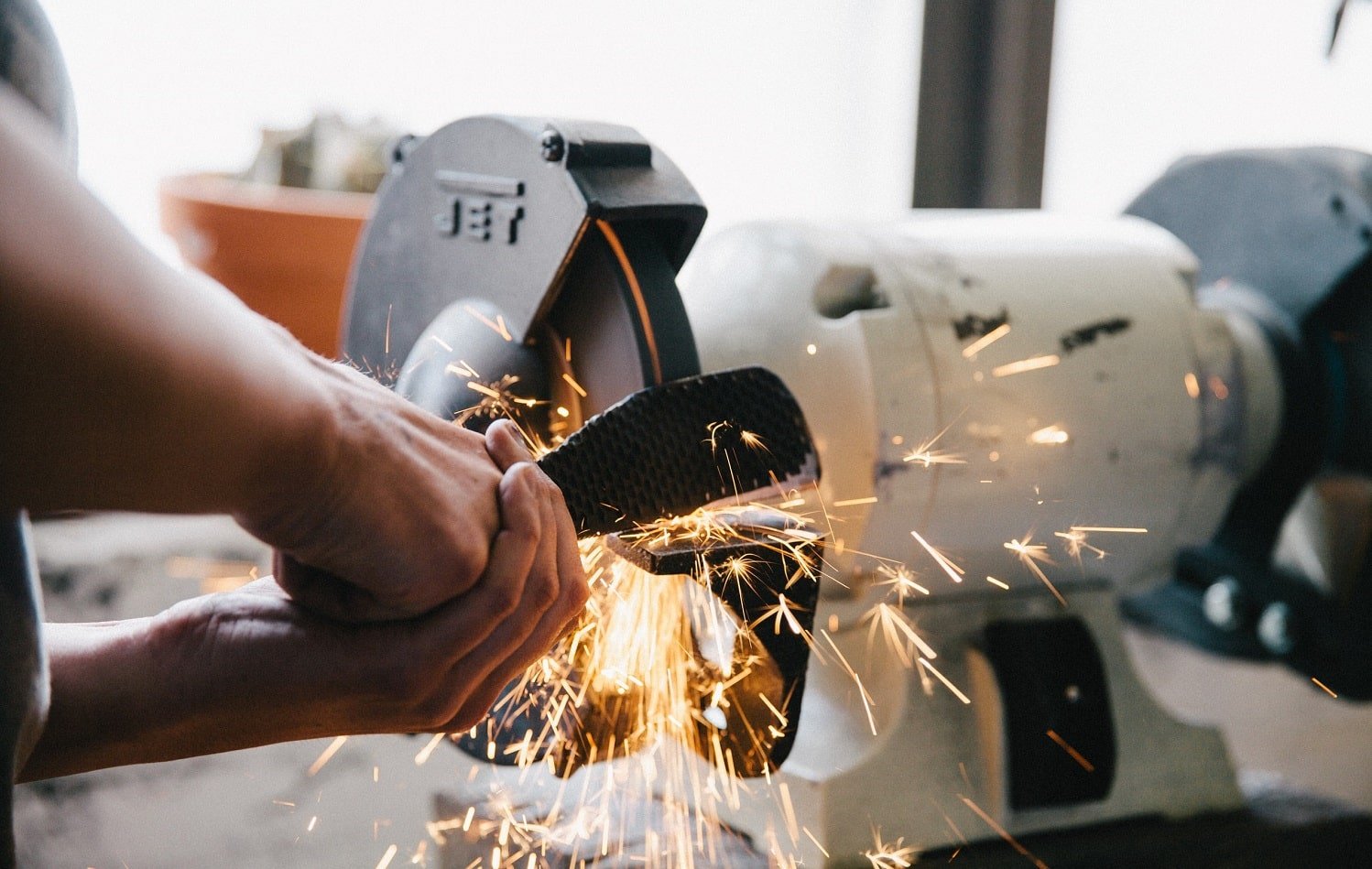 Let's start with the simplest of facts: a bench grinder will take your work-space to the next level.
Why? That's because it's a super-useful tool that grinds, polishes, cuts, shapes, and sharpens a vast range of materials very efficiently. It leaves no sharp edges, and the performance it delivers is difficult to be matched by any other tool.
Now, deciding to buy a bench grinder and choosing one from the sea of options are two completely different things. In this world of gimmicks and flashy advertisements, getting swindled out of your hard-earned money is more than easy.
This is why we have provided a comprehensive list of the best bench grinders of the year in this extensive guide. But that's not all; you will also find a detailed buyers' guide to help you choose the ideal option!
So, what are you waiting for? Read on to find all that you ever wanted to know about bench grinders!
Best Bench Grinders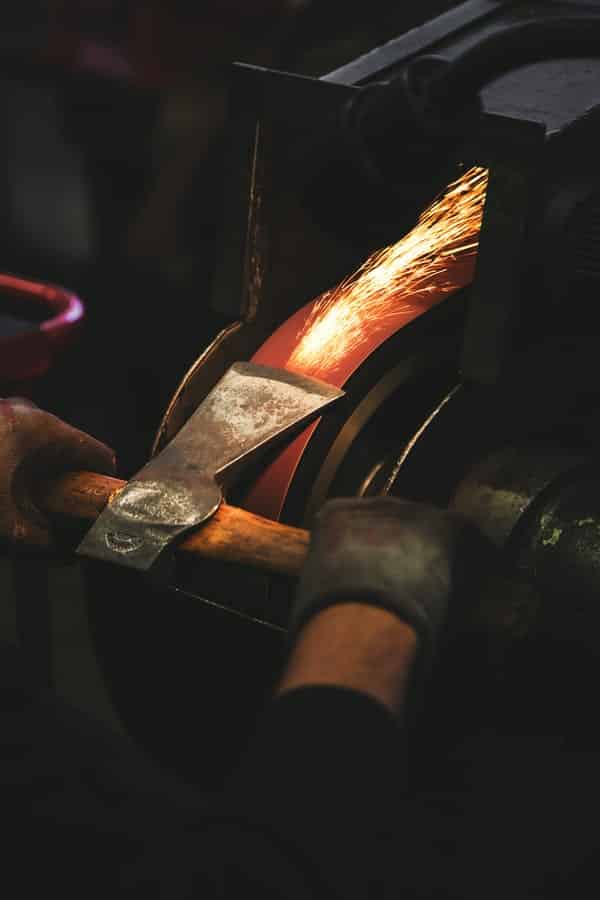 The Jet 577102 JBG-8A tops our list because it's one of the best devices for professionals and regular users alike. It is a grinder that shapes everything and sharpens hard metals better than many competitive products. Coming with an 8-amp motor, it is not at all merely an entry-level power tool.
Check out our experience with it.
Sale
Experience
We want to declare at the beginning that this is a power-packed machine for the professionals. It is twice as efficient as the entry-level grinders. The device comes equipped with a powerful 8-amp motor, giving a maximum single speed of 3450 RPM.
While testing the product, we found it is quite heavy and challenging to move around as it weighs nearly 60 pounds, with dimensions of 19 x 10 x 12.5 cubic inches. But other than that, its 8-inch grinding wheels have two grit options: 36-grit and 60-grit, and both wheels are an inch wide.
While the 36-grit grinds away rough edges very quickly, the 60-grit suits more delicate tasks. It easily shaped and sharpened the various metals, drill bits, tool bits, and chisels, and the wheels worked perfectly every time.
One thing we especially liked about this product is its all-metal body. From the wheel guards and wheels to the main body of the product, everything comprises a metal build that's built to last.
The grinder comprises ports for a dust collector, and that is a significant point of appreciation. Grinders leave splinters from operations over rough surfaces, and it is vital to have a dust collection facility. Last but not least, the bench grinder has lubricated ball bearings that facilitate the smooth rotation of the spindle.
Pros
Very powerful machine

Maximum speed of 3450 RPM

Pre-lubricated ball bearings

The on/off switch has a guard shield
For those looking for a flexible grinding tool from a trusted brand, the DeWalt DW758 is the best option for them. Lighter than the previous model, its all-adjustable elements make the product easy-to-use and accessible to everyone. Higher speeds, flexible options, and a vast range of work: these phrases define the product.
Check out our experience with the product.
Sale
Experience
This product matches the needs of all kinds of people: from DIY enthusiasts to professionals. Although the machine is heavy, it comes with a 4.2 amps induction motor, and its wheels run at a maximum speed of 3600 RPM. This will suit all the average tasks very easily, from our experience.
You should note that the speed of DW758 is more than JET 577102. This is to denote that all the professional tasks performed by the latter can also be done by this machine from Dewalt.
Here, the two grits are suited for different purposes: the 36-grit allows faster removal of materials from rough surfaces, while the 60-grit is for more delicate grinding projects. Another aspect we liked about this product is that it comes with large eye guards. This is a crucial safety addition, as sparks and debris keep flying out while grinding.
The entire grinder is adjustable – be it the distance between the wheels or the aluminum tool rests or the eye guards. Finally, the build is of cast iron, making way for a sturdy and steady base that stays in its position while working. Overall, it's a great buy!
Pros
Extra protective eye guards

You can shape, sharpen, and deburr

Adjustable wheels, guards, and tool rests

5-year warranty
If you are looking for a maintenance tool that specializes in cutting, and the delicate task of sharpening and smoothing, then definitely go for the Metabo DS 200. The best part of the product is that it can be used on a whole lot of surfaces, and most common tools like knives, sickles, chisels, and even lawnmower blades.
Experience
A power tool that makes sharpening and smoothing extremely simple. These few words define our experience with the Metabo DS 200.
Even lighter than the DeWalt model mentioned above, this still classifies as a heavyweight bench grinder. We will start with the build of the product. The cover is made of aluminum, and it has a high-quality build of hard plastic.
With the weight and the durable build, we observed that there was a minimum vibration during cutting and sharpening operations. In this price range, most inferior bench grinders have a substantial trembling problem and we were quite impressed by its immovability during operations.
Apart from stability, another point that struck us was less noise. Even though the product has a powerful motor, it makes surprisingly low noise than its contemporaries, but in no way does this affect its performance.
Finally, the product has an adjustable workbench support without any extra tool. And, the on and off switches on it are differentiated by green and red, respectively, to avoid confusion.
Pros
Excellent build

Less vibration

Very less noise of the motor

Best suited for cutting and polishing
If you are looking for a versatile bench grinder, perhaps you are looking for one with variable speed technology as variable speeds immensely help with covering a wide range of products and tasks. The PCB575BG is the perfect grinder to go for when versatility is the primary yardstick.
Not only does it have variable speed ranges, but it also has a lot of exciting features that make the product worth buying. Check out our experience with it.
Experience
Let's start with the induction motor. The product comprises a powerful induction motor of 5 amps, which can deliver a wide range of speeds. This wide range brings us to the feature that Porter-Cable boasts of.
Anybody would agree that this is a very convenient feature, and it increases the versatility of the product manifold. The variable speed technology can deliver speeds between 2,000 to 3,400 RPM.
Thus, automatically, the number of tools, and the range of materials that can be ground, shaped, and sharpened, increases. This is one of the significant reasons to go for this product as very few are as versatile as the PCB575BG from Porter-Cable.
The model also comes with a convenient work lamp that reaches tight spaces when you are working under lowlight conditions. We tested the product, and the light works wonders in difficult areas.
The wheel dresser is detachable, and that makes it easy to clean and reshape the grinding wheel amidst usage. The sturdiness of the product gets reflected in the cast iron base. It also provides stability to all the operations as it absorbs shocks, injuries, and random vibrations.
Pros
Variable speed technology

Has a light

Wheel dresser is detachable

Comprises an adjustable eye shield
Cons
The light doesn't have its own circuit
If you are looking for a grinder that's set specifically for sharpening tools, then the Rikon 80-805 is what you need. A device that specializes in sharpening objects requires a slow speed so that the working surface isn't damaged. It provides a gradual speed-level that cuts and sharpens the tools with detail, and shapes all devices equally well.
Read on to know more about this fascinating product.
Sale
Experience
Before getting into the product details, we would like to tell you that we found this product to suit intricate work. The product title has the word 'slow speed' in it, and it means just what it sounds like.
This tool is an expert in sharpening the edges of chisels, knives, plane irons, and other hand tools. The entire process is slow, and smooth, and runs up to the maximum speed of 1750 RPM. Due to this slow speed, the materials are left undamaged, and the edges are perfectly sharp and smooth too.
You would notice that the grits which come with the package are 60-grit and 120-grit. These are the two wheels that differ from the other models, as these bigger wheels cater to more sensitive surfaces, and for smoother polishing and sharpening. There is a separate provision for sharpening drill bits in the left tool-rest that has a V-channel.
Moreover, the vibration is reduced by the iron base and rubberized feet to give the product a sturdy feel. All in all, this product is perfect as a sharpening tool for a vast range of devices.
Pros
Improved grip and reduced vibration

Better positioning due to tool rests

Adjustable eye shields

Spark deductors surround the grits

Speed is perfect for sharpening
Cons
The lateral wobble is difficult to manage
We can't seem to get over DeWalt products simply because of the durability they provide. Also, after being in the sphere of construction for over three decades, they have strived continuously for improvisation and utmost customer satisfaction. The DW 756 is no exception.
Read on to find out more about this product.
Experience
First, let's tell you the must-buy reasons for this product. We found two. First, it is an outstanding value for money. Second, it is a multipurpose bench grinder. You can sharpen, grind, deburr, shape and clean, and remove rust from a large variety of tools with this product.
Apart from its flexibility and versatility, the best aspect that comes to mind is its ⅝ HP induction motor. It is due to this machine that the total unit can perform so vigorously, and always manages to provide refined results.
The RPM of this grinder is one of the highest among all the machines mentioned above. It is a massive 3,450 RPM that rotates with the least noise. Owing to the favorable positioning of the motor, the tool also accounts for minimum vibration.
The last bit of appreciation is owed to the intelligent positioning of the wheels. There is a fair amount of distance between the wheels, which is 12.5 inches. It's for this reason you will be able to execute more extended and more complex projects without any difficulty.
Pros
The motor is very powerful

The machine is versatile

Sturdy base

The maximum speed of the engine is 3,450 RPM
Cons
Possibility of overheating
We are back with another slow-speed bench grinder. Slow-speed grinders are best suited for lightweight work, as well as widely used for all household issues or simple DIY projects. The BGSS800 model from Powertec is just the right model for you if you are looking for the above criteria in a bench grinder.
Check out our experience to know more about this fascinating product.
Experience
For all the delicate blades, small knives, chisels, and other such fragile yet very useful objects, BGSS800 is one of the most-suited grinders out there! It has been designed with the idea of refining spaces without harming the other portions of it. Thus, there is a Plexiglas shield behind each wheel, spark arresters, and tool rests.
The shield and the arresters combine to provide robust protection of your entire body from splinters of delicate materials that tend to hurt a lot more than the other harder materials.
The maximum speed of the motor is 1750 RPM, the optimum speed to work on delicate materials. Another great advantage of this product is its locking power switch. This product is dedicated to household needs and DIY'ers. Thus, a homely environment and not an industrial workspace is the ideal home for this machine.
This is where the locking power switch comes into play. If any children touched the appliance by mistake, there is less chance of them being able to switch it on at once.
The presence of aluminum oxide in the wheels makes it resistant to overheating, which ultimately helps increase the longevity of the product.
For those who are starting to work in this field, working with this grinder will be a pleasing experience. Fewer chances of overheating, an optimum speed, and a smooth grip make this product perfect for the household environment.
Pros
Outstanding value for money

Extra protection by Plexiglas shield

Great for delicate materials

Locking power switch for added safety
Cons
The tool rests are not sturdy
We return to catering to the professionals again. The ATD 10558 is a gem of a bench grinder that is best suited for large-scale industrial projects. It has a heavy-duty ¾ HP ball bearing motor, powerful enough to grind and shape the toughest of materials. The best part is its heat resisting technology, which is the perfect remedy to its long term usage.
We will explain in further detail in the following section. Read on.
Sale
Experience
As mentioned before, this product has a powerful ball bearing motor of ¾ HP. This motor can give off the highest no-load speed of about 3450 RPM, at par with the standard industrial rate. Inside the box, there are two wheels of 8 inches, and to our surprise, the product is lightweight, in comparison to the other professional bench grinders.
Now, let's move on to the exciting features. There is a cooling tray, adjustable shatter-resistant eye shields, spark guards, and metal tool rests. Designed perfectly to suit all the professionals out there, the grinder works smoothly on all surfaces.
We were delighted to find precast holes in the base dedicated to mounting the grinder and for attaching it to the workbench. The spark guards are of high quality and will save your body from any injury with utmost efficiency.
The last element of surprise was the dust-proof switch. It doesn't let the small fragments and debris to get into the tool, thereby increasing the longevity of the product. In short, it is one of the best professional grinder models out there.
Pros
Lightweight and portable

Very high grinding speeds

Has spark guards, eye shields

Comes with pre-cast holes
Cons
Wheels are difficult to remove
This grinder has a powerful 5-amp motor that provides a rapid speed of up to 3450 RPM. This grinds almost all surfaces and materials perfectly in no time at all! Additionally, the mounting holes and rubber feet are exciting additions to ensure error-free operations.
Do read on to find out more about this product.
Sale
Experience
The Sunex 5002A comes with two grit wheels of 8 inches. One is 36-grit that suits coarser materials, and the other is 60-grit for the more delicate materials. The wide range of large-scale projects and the number of materials that can be covered with this bench grinder are innumerable.
Powered with a ¾ HP motor, it gives away a maximum no-load speed of 3450 RPM. It draws a current of 5 amps and can quickly grind, shape, sharpen, and cut through all the industrial materials in no time.
For protection, this piece comes with adjustable eye shields and spark guards. Splinters from metals are sharp, tiny pieces that can damage any organ of your body. The protective layers add a dimension of safety to the product.
Other exciting features include mounting holes and rubber feet to attach the unit to the workbench securely. The cast iron body will give you a sturdy build that will last you long. The power foot-cord is 6-feet long, and gives you ample radius to move about, despite being attached to the unit.
There's also an indicator light that comes with the machine. It covers most of the work area, reaching cramped spaces where the usual light sources can't really get through.
This is almost an all-rounder product that comes at a pretty good price deal.
Pros
A secure and non-slip base

Cast iron case for extreme durability

Ball-bearing construction for the motor

Has eye shields and tool rests
Cons
The machine vibrates during operations
In our opinion, the Skil 3380 is an ideal grinding tool for DIY'ers and newbies in the field of construction, carpentry, and repairs. With an optimum motor power, it rises up to a super-speed and grinds most surfaces easily.
The Skil 3380 is a must-buy for people who are starting work on different projects, and are apprehensive about the 'how's and the 'why's of grinders. Ensuring ample protection, this tool will be your best guide in the world of fixing things.
Experience
The first point of distinction from other bench grinders that we found worthy of appreciation is its lightweight structure. Most grinders weigh quite heavily and aren't portable at all. The 3380 – 01 model weighs merely 20 pounds and comes within a compact dimension of 16 x 11 x 9 cubic inches.
We want to give you some more good news. The product comes with a 3-year warranty!
The tool is packed in a sturdy cast-iron case that also has rubber feet at the bottom. This ensures that the machine stays in its place during operations.
Another intelligent addition to this machine are the work lights. Many grinders mentioned above have sharp work lights. But in Skil 3380, the lights are attached to the face guards themselves. So, they are at the required angle and position at all times. This feature isn't available even in the most high-end grinders. And this is what makes the product ideal for beginners.
With a 2.1-amp motor, it can rise to a massive speed of 3450 RPM. But the best part of it is that it makes no noise. The operations are relatively quieter than what is usually offered by many other models.
Assembling this unit is easy, and so is the operation procedure. And, last but not least, the unit also includes adjustable eye guards and two 6 inch grinding wheels that come within the box.
Pros
Assembling is easy

Gives a maximum speed of 3450 RPM

Less noise

3-year warranty
We found this all-rounder tool from Wen that ideally suits the grinding requirements of amateur workers and household DIY'ers alike. But it could also be used by those who are intermediates and looking for a bridge product.
Powerful, compact, and thrifty: these three words describe our experience with the product.
Sale
Experience
Let's start with the motor first. Armed with a 2.1-amp engine, the machine can rise to a speed of 3,450 RPM very quickly. This is a no-load speed. Unlike most bench grinders, this model has its engine tuned to make the minimum noise. The startup is easy, quick, and comfortable.
Now, we move to the size and shape of the product. It weighs just right so that it doesn't weigh on your hands. At a weight of 16 pounds and dimensions of 14 x 10 x 15 cubic inches, it takes very little space. Moreover, owing to such a compact body, it is very easily portable. So, you can easily take it to any job site of your choice without any hindrance.
Two pre-installed wheels of 36-grit and 60-grit cater to a variety of objects, surfaces, and materials. The 60-grit is for the more delicate materials, while the 36-grit is used to smoothen the rough surfaces and edges of different metals.
One point of appreciation is the presence of a flexible work light. With an adjustable overhead lamp, the work gets more comfortable as the light reaches in all the tight spaces where your workspace light can't.
The eye guards, tool rest, and the cast iron base make way for a sturdy, value-for-money product and seal the deal for you.
Pros
Convenient work-light

The motor isn't noisy

Outstanding value for money

Portable and lightweight
Cons
The grinder doesn't suit the professionals
This six-inch bench grinder comes with loads of features that any DIY'er or professional work would love. Large adjustable tool rests for accurate bit-sharpening and a big cast iron base that provides added stability are some of them. A great working speed and safety features also complement this combination.
Experience
The latest versatile addition to your workshop should be this model from Craftsman. The 921154 model is a sure winner. There are many aspects to it. The first is variable speed technology. From the lowest RPM of 2000 to the highest of 3450, we checked the product on a variety of surfaces, and it did pass the test with flying colors.
We noticed this product comes with a water cooling tray that prevents the machine from getting overheated during long hours of usage. It is a 2-amp motor that provides these variable speeds at minimum noise. Moreover, there are two wheels of different grits, one for grinding, and another is a wire wheel to provide maximum versatility.
The wheel guards were easily changeable, and the thin-line motor housings could grind the longer materials with perfect ease.
Other than this, the cast iron base, sturdy spark arrestors, and eye guards make this product a great choice for beginners as well as semi-pros.
Pros
Quick-change guards for wheels

Variable speed technology

Powerful and quiet motor

Comes with eye shields and spark guards
Cons
Warranty is only for one year
We wanted to end the list with a blast. And, in our opinion, the Delta Power 23-197 has everything in it that makes it the ideal choice for such a slot on this list. First, it is a bridge product that suits the pros, semi-pros, and DIY enthusiasts. Fused with many surprises, this product is definitely one of the best bench grinders for all.
Experience
The first thing that you will notice about this grinder is its variable speed. Most grinders have a single speed-level, owing to which you get to cut down on production costs. But Delta Power has it all sorted. Right from 2000 RPM that is suited for delicate work, to the top speed of 3450 RPM, the range is quite broad.
The next piece of convenience is the adjustable work light. It is a bright 40 W bulb that has a separate on/off switch of its own. It reaches all the tight spaces of any difficult angular work.
The cooling water tray, like the previous model, is an excellent addition to prevent overheating. This ultimately increases the longevity of the product.
One worthy mention should be made of the lock that is available for the on/off button. You do not have to hold the button pressed down during the long hours of operation.
Other than these qualities, the tool-rests, the cast iron base, and the 8-inch wheels add to the versatility, utility, and durability of the product.
Pros
Variable speed technology

Motor is robust and powerful

Compact design

Stable during operations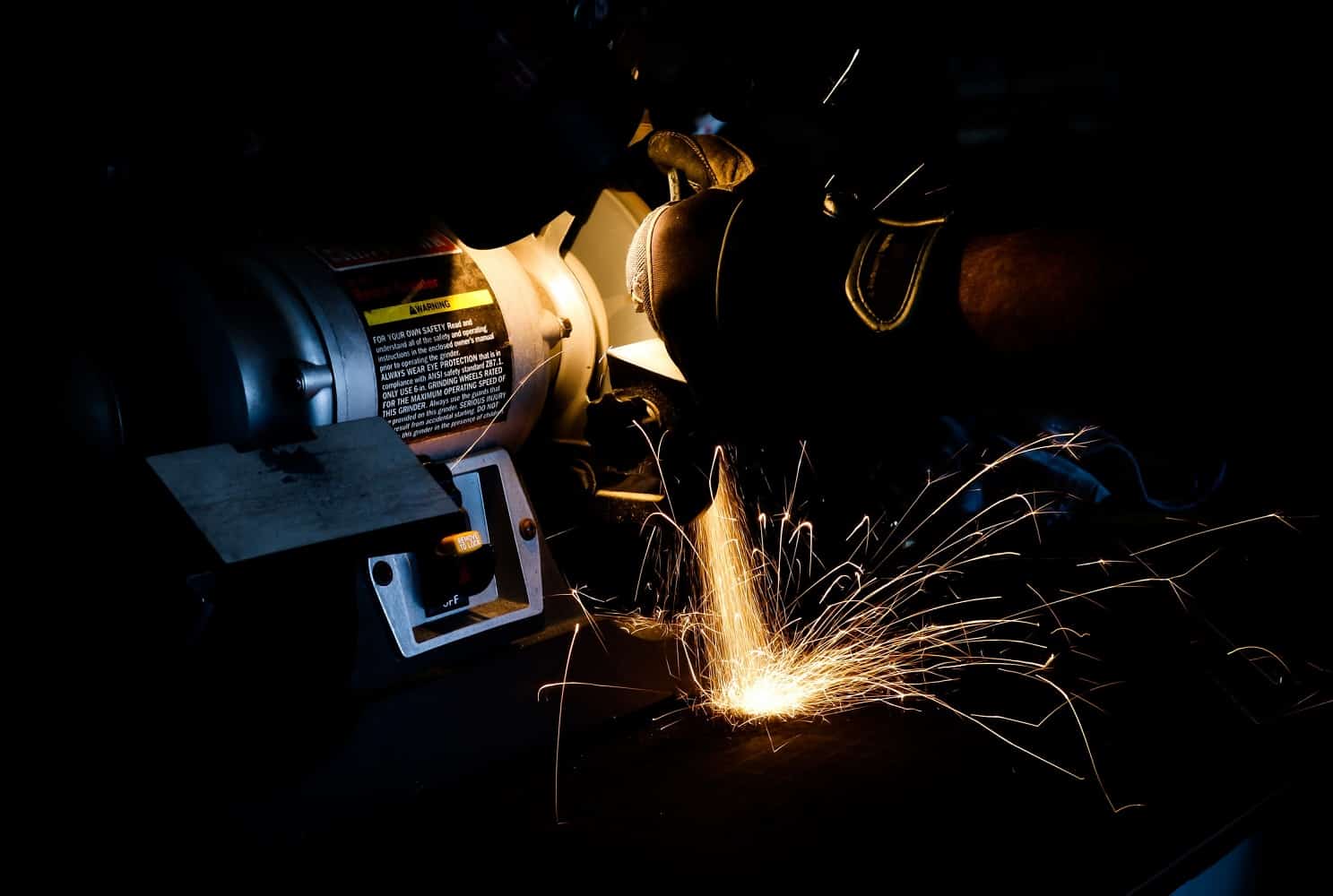 Bench Grinder Buyer's Guide
How to choose the best bench grinder?
It can be tricky to find the ideal bench grinder when you are looking at so many competitive models in an array. You have to go through each element of the products and make your decision accordingly.
Therefore, knowing the various kinds of bench grinders is necessary to truly understand what you need. And here are the different types of grinders that you should know about:
Hand-held grinder or die grinder: This is a portable rotary tool that grinds sand and metal effortlessly. Wood and plastic can also be ground with this tool.
Angle Grinder: Larger than a die grinder, the angle grinder is more suited for intricate work. The most portable of all grinders, it can easily grind large surfaces as well.
But both these grinders lack the power and versatility that a bench grinder can give you. From DIY enthusiasts to working professionals, everyone prefers bench grinders over everything else. This is because the machines are solidly built, and have enough power to tackle a vast range of materials and surfaces.
The important checkpoints to keep in mind
Knowing your requirements: This is always the first and foremost priority for choosing any tool of your choice. If you are looking for something that caters to high-end jobs, your budget will increase. On the other hand, if you are looking for day-to-day tasks, the medium-speed models or a low budget grinder will work. So, always remember to place your needs above anything else.
Fix a budget: Having a fixed budget for a grinder also helps you narrow down your options. The fact that you fix a certain amount for your grinder will automatically determine the needs that can be fulfilled with the tool.
That's why having a budget, and starting with observing the different options available within that range is always a wise thing to do.
Going for a reputed brand: In the world of construction materials, brands do matter. This is because the quality of their products is the reason behind their fame. Also, a well-known brand has a stable market of spare parts available.
You won't have to spend too much time and money to look for that particular wheel of your grinder. More often than not, they would be readily available in any hardware tools shop. This is the reason everyone tends to adhere to trends.
Also, selecting the right wheel for your grinder is as important as choosing the perfect grinder. Thus, we thought to include a brief section on that as well.
Choosing the right wheel
Bench grinders have a wide range of different sizes. So do its wheels. Although there are different kinds of grinder wheels available in the market, the most commonly used are the wheels of size 6 inches and 8 inches.
The former is used for household purposes while the bigger 8-inch wheel is used for large-scale industrial purposes.
Next, we move on to the type of wheels.
Cylinder wheel: These are used in vertical or horizontal bench grinders. They can measure up to 12 inches and are mainly used to produce flat surfaces.
Straight wheel: This is the best and most commonly used wheel. These can be used for sharpening and shaping tools, as well as for polishing surfaces.
Tapered wheel: This kind of wheel generally caters to delicate tasks. As the edge is tapered towards the end, it will not end up damaging the surface you are working on.
Final words
So, now that you are ready, don't delay the process anymore.
With all these amazing bench grinders and a dynamic mix of products, choose the best for your workspace.
And one last tip before you run for the latest offers and discounts would be to make sure you look not just for the grinder, but also for the company that gives a lot of accessories with the product. Many do not understand the importance of accessories and the role they play in saving your time, money, and confidence.
They are as crucial as the grinder you are looking for!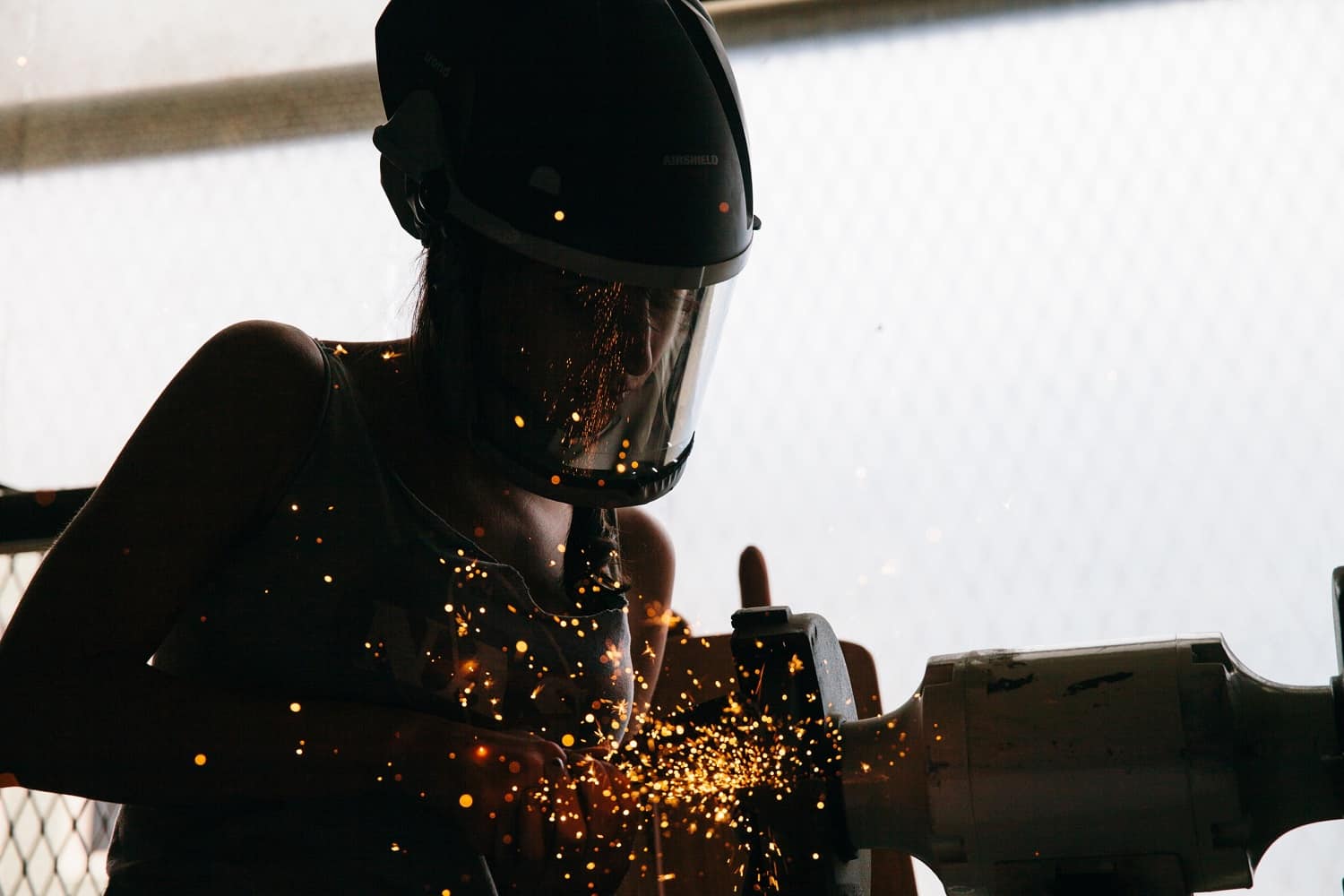 Related Articles
13 Best Electric Hand Planers  Reviewed | Buyer's Guide
13 Best Impact Wrenches Reviewed
13 Best Cordless Oscillating Tools 
13 Best Screwdriver Sets on the Market Today
Top 13 Useful DIY Tools for Your Projects
11 Best Tap And Die Set on the Market Today | Buyer's Guide
11 Best Torque Wrenches on the Market Today | Buyer's Guide
11 Best Multi Tools Reviewed | Buyer's Guide
11 Best Hammer Drills on the Market Today
13 Best Tile Saws Reviewed | Buyer's Guide
11 Best Wood Chisels to Enjoy Today | Buyer's Guide
11 Best Sliding Compound Miter Saws
11 Best Belt Sanders Right Now
13 Best Stud Finders – Review & Buyer's Guide
11 Best Dry Cut Metal Chop Saw
11 Best Bow Saw | Reviews + Buyer's Guide
11 Best Table Saw [Reviewed & Buyer's Guide]
7 Best Cabinet Table Saws [Reviewed & Buyer's Guide]
9 Best Band Saw [Reviews & Buyer's Guide]
7 Best 12-inch Miter Saw Reviews [Buyer's Guide]
13 Best Contractor Table Saws [Reviews & Buyer's Guide]
Best 20″ Chainsaw [Reviewed & Buyer's Guide]
11 Best Chainsaw for Milling Lumber | Buyer's Guide
5 Best Stihl Chainsaws [Reviewed & Buyer's Guide]