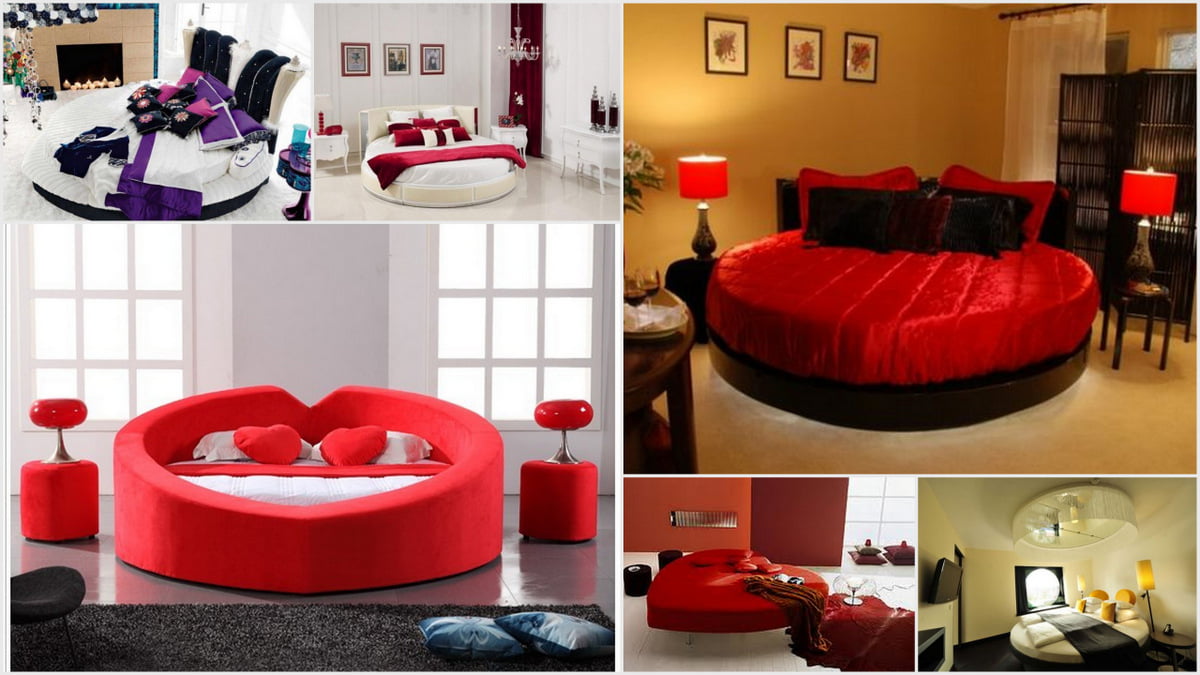 We have been accustomed with the phrase "Form follows function" but who says a function has just one form? Trends come and go and just s few stick with the general population whereas others remain in history as bold experiments designers try hardy to bring to the every day life. So today we are talking about round beds. The concept itself is not a new one but finding a round bed in a common bedroom is quite unusual. But the round shape of the bed can freshen a bedroom design up and bring something new to the design scheme. Besides the aesthetic appeal, a round bed is also very practical. They can be placed literally anywhere in a room: in the center of it making the design scheme gravitate around it or  in a round corner so hard to use otherwise. It can save up lots of space due to the lack of angles and makes cleaning a hole lot easier. A round bed is easy to move around and generates a feeling of lightness and freshness in the interior design, occupying less space than a regular bed. Traditional or modern, a round bed can fix any bedroom design. Its just a matter of taste and mixing the right textures, colors and materials. On the other hand it is a matter of perception. Round beds are not usually promoted so a regular customer will probably not be inclined to buy a round bed for his own private bedroom. But in the end we all have to adapt to the changing trends and transform them, mold them to our own taste and personality.
Round Bed Collection for Your Bedroom Design
1. Get romantic
A round bed can be the perfect item in a romantic bedroom scenery. The following hart bed from Cranium Furniture can be a bit over too much but the essential idea of romance is perfectly exuded by  the overall red and dim light ambiance.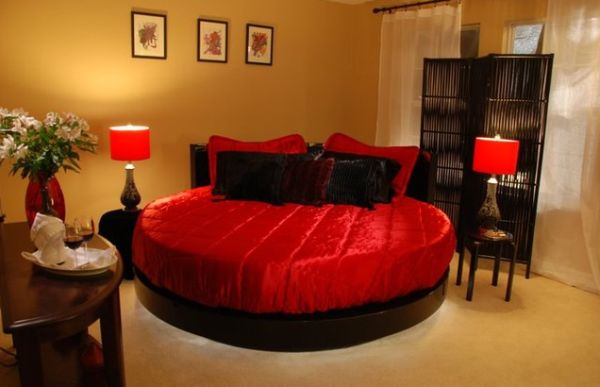 Red harted bed with red matching side lamps
by Cranium Furniture
2. Round fits perfectly into a minimalist design
The following decor by S.ID Ltd features a simple white leather bed in a modern futuristic interior design with simple clear round lines and a neutral color scheme. Next a bold black and yellow contrast brings to life a small room.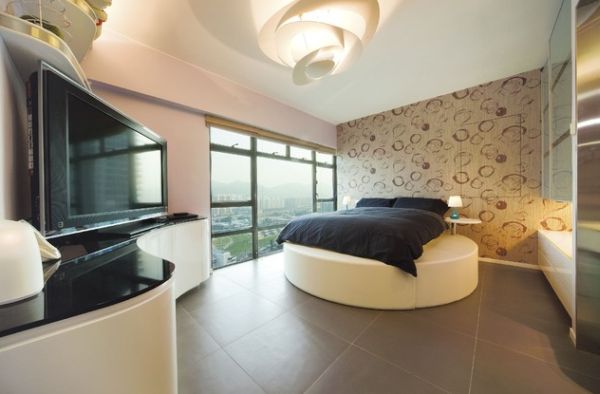 Simple minimalist round bed design.
by S.I.D Ltd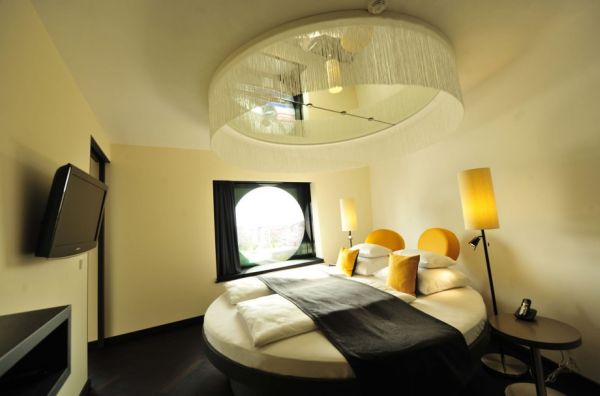 Contemporary round bed in bold black and yellow contrast
by Cranium Furniture
3. Retro round style
Where would you think to find a round bed better than in a retro bedroom? Dots, bold contrasts, mirrors, velvet and the center piece-the round bed placed not in the center in this case but in a round corner.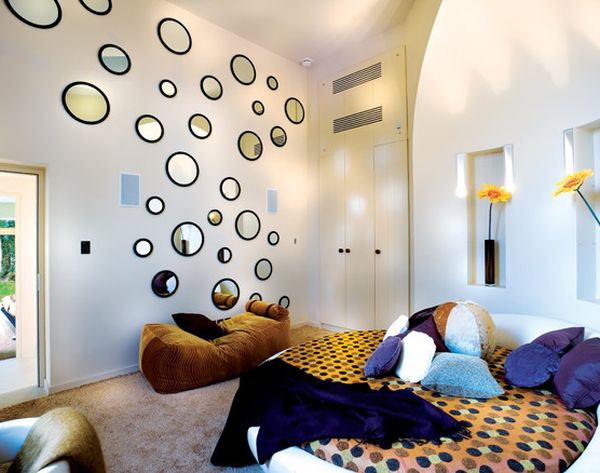 Retro round bed creation.
 by Catherine Condoroussis Design
4. A white color scheme with interesting accents
White is the all classical choice and the accents are the ones that bring a design scheme to life. The following bedroom designs focus on the surrounding atmosphere of the round beds: floral wallpaper, colorful pillows, a zebra rug or red velvet curtains.Every little accents can make a difference in the bedroom design scheme.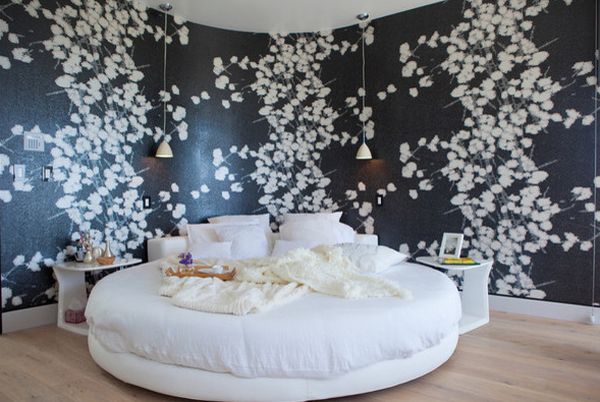 Black and white fluffy round bed.
by Dupuis Design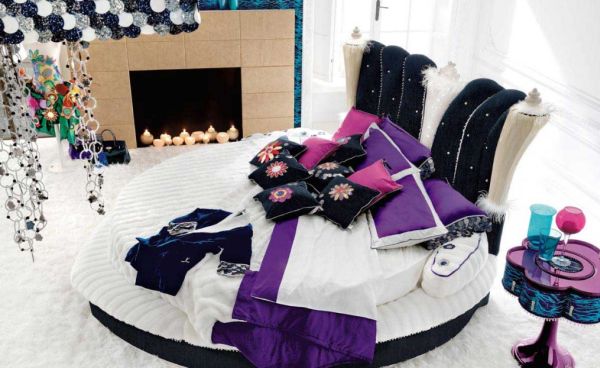 Modern colorful bedroom design.
by S.I.D Ltd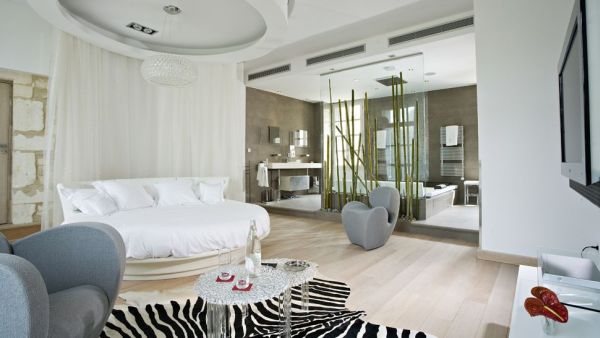 Neutral color scheme with the white round bed positioned in the center of this interior decor.
by EuroLux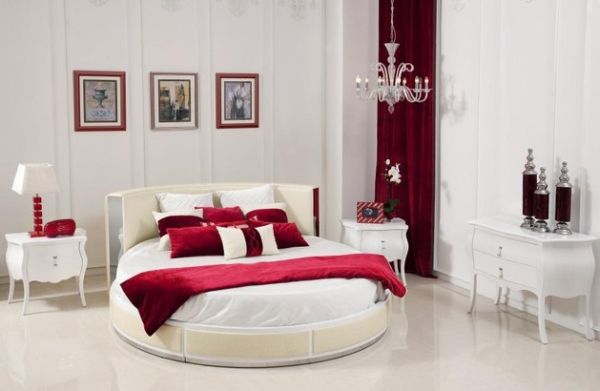 Simple round bed with a touch of classic.
by Dupuis Design
5. Different textures generate different bedroom design atmospheres
Whether we talk about chocolate velvet, white leather or black wood, texture is very important and can make the difference. Velvet represents a more romantic, intimate ambiance while wood is classical and leather more modern, controversial decor. Leather is not the first choice for a bedroom bed but for the open minded the round bed-leather headboard combination is quite an interesting one.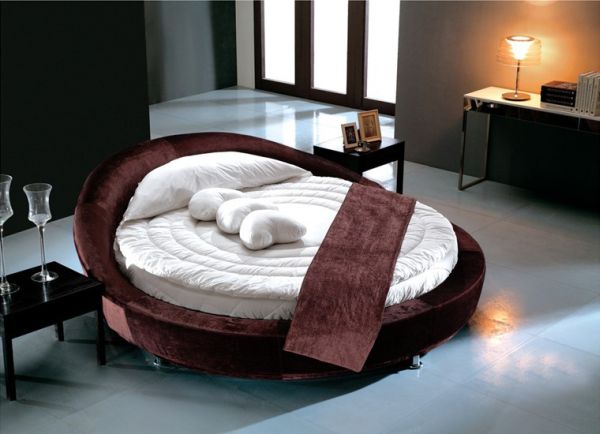 Modern chocolate velvet round bed.
by SHH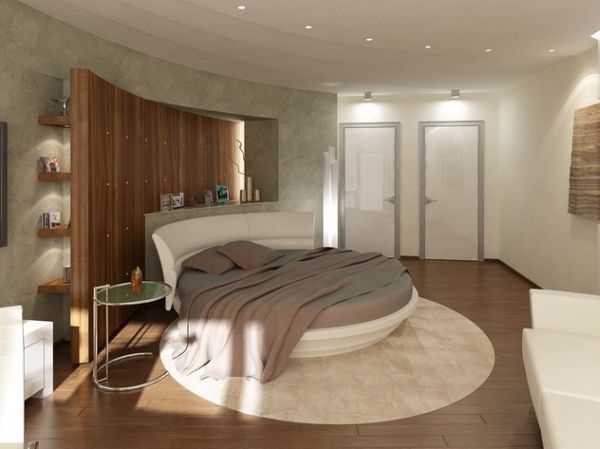 Classical yet simple round bed bedroom.
 by Vadim kadoshnikov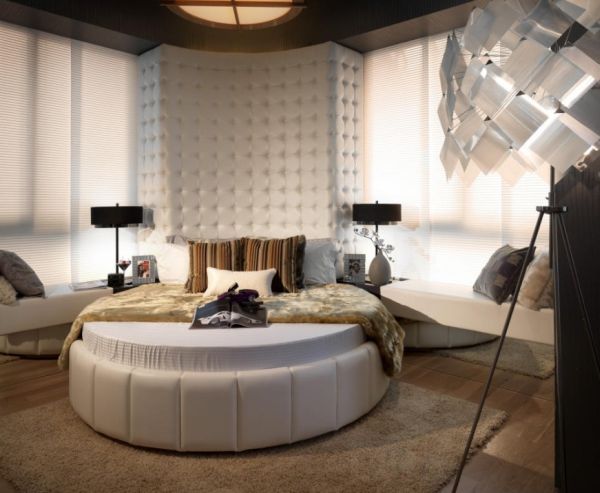 Multi-textured round bed bedroom.
by Pressoto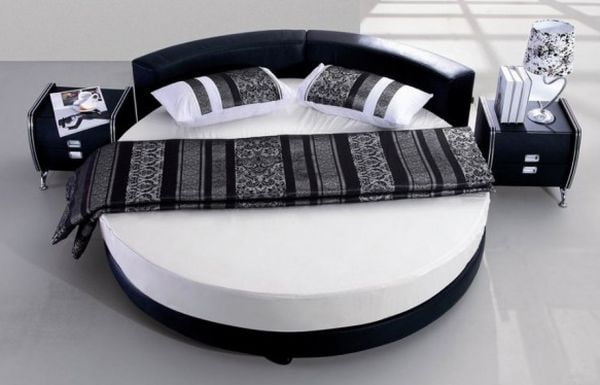 Black and white minimalist round bed.
by Cranium Furniture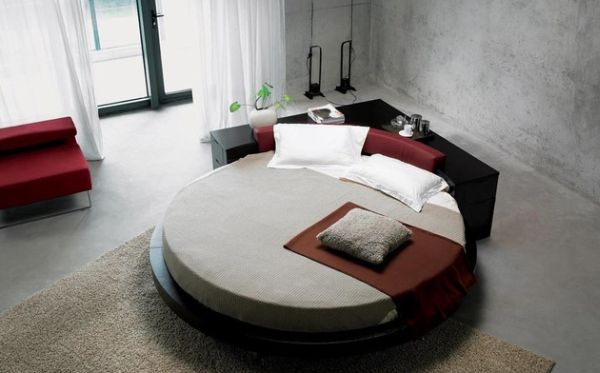 Simple beautiful round bed.
by EuroLux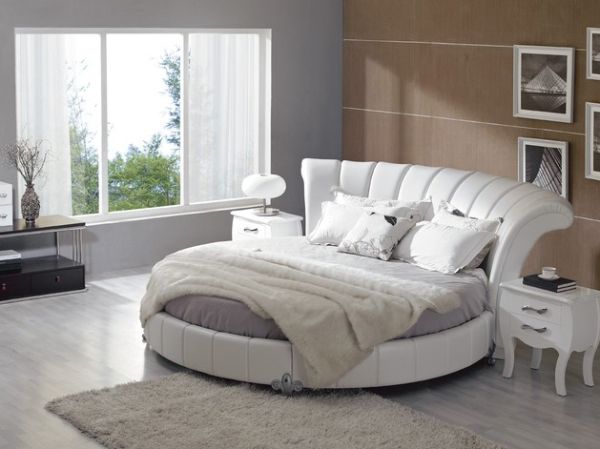 Pastel bedroom with white leather round bed.
by Prime Classic Design
In the end its a problem of taste and personality. So, what do you think? Is a round bed a viable alternative to the classical traditional bed or is the idea a little bit too eccentric for your taste? Do you by chance own a round bed? If you found inspiration here yet are not sure about the entire design you can follow some DIY headboard projects, you can upholster the entire bed if the finishing is not spot on or built your own circular bed entirely! Nothing can stop you! We would like to hear you thoughts and opinions in the comment section below.
Related Articles
The Best Colors for Master Bedroom [All You Need to Know]
12 Ways To Put Your Bedroom Corner Space To Good Use
29 Brilliant Easy to Build DIY Platform Bed
21 Mindbogglingly Beautiful Fairy Tale Bedrooms for Kids
21 Super Small Nightstands Ready to Fit in Petite Bedrooms
37 Simply Spectacular Tree Bed Designs to Pursue
Recycled Pallet Bed Frames – DIY Pallet Collection
15 Creative Small Beds Ideas For Small Spaces
30 Small Bedroom Interior Designs Created to Enlargen Your Space
37 Smart DIY Hanging Bed Tutorials and Ideas to Do
Bedroom Christmas Lights Ideas For A Cozy Atmosphere
32 Dreamy Bedroom Designs For Your Little Princess
100 Inexpensive DIY Headboard Ideas for Your Bedroom Design
47 Stylish Floating Bed Design Ideas
53 Incredible Hanging Beds to Float in Peace
33 Epic Navy Blue Bedroom Design Ideas to Inspire You
6 Best Vacuum Cleaners for Mattress  
Intex vs. SoundAsleep vs. King Koil | Air Mattress Comparison & Buyer's Guide