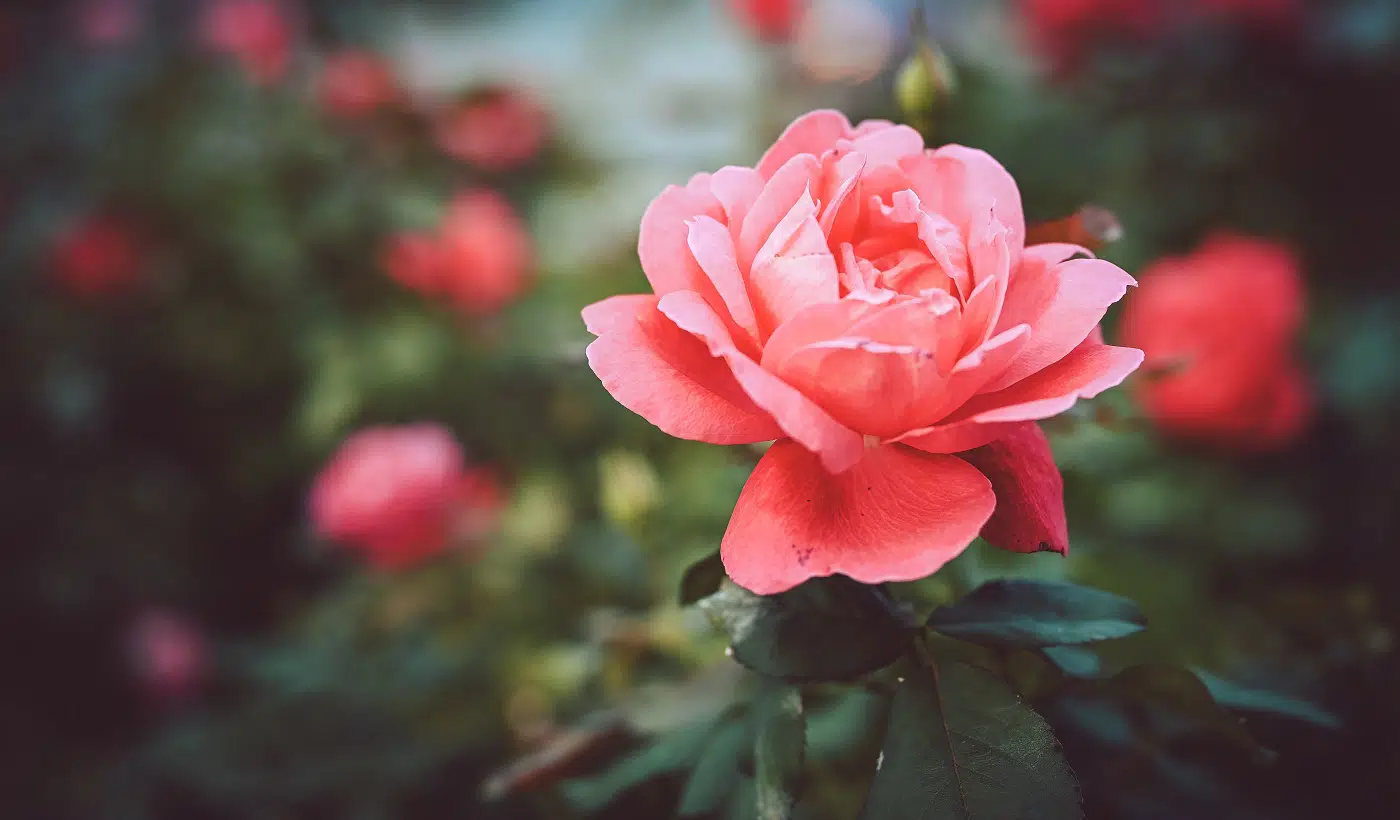 Were you impressed by your neighbor's blooming garden? It's only because of the nutritious garden soil that feeds the plants all that they need.
If you are a DIY enthusiast looking to create a beautiful and healthy rose garden, then you are in the right place. To begin with, it needs the holy trinity to survive, which includes nitrogen, phosphorus, and potassium. These are all-rounders that will boost your plants' growth and ensure a better root structure. 
Now, the real problem occurs when you go to select a fertilizer from among the thousands of choices available. To help you get over this, we have curated a list of the 13 best fertilizers for roses. All the options here have their pros and cons mentioned, which will help you make a wise choice. 
So, without further ado, let's dive in. 
Top Fertilizer For Roses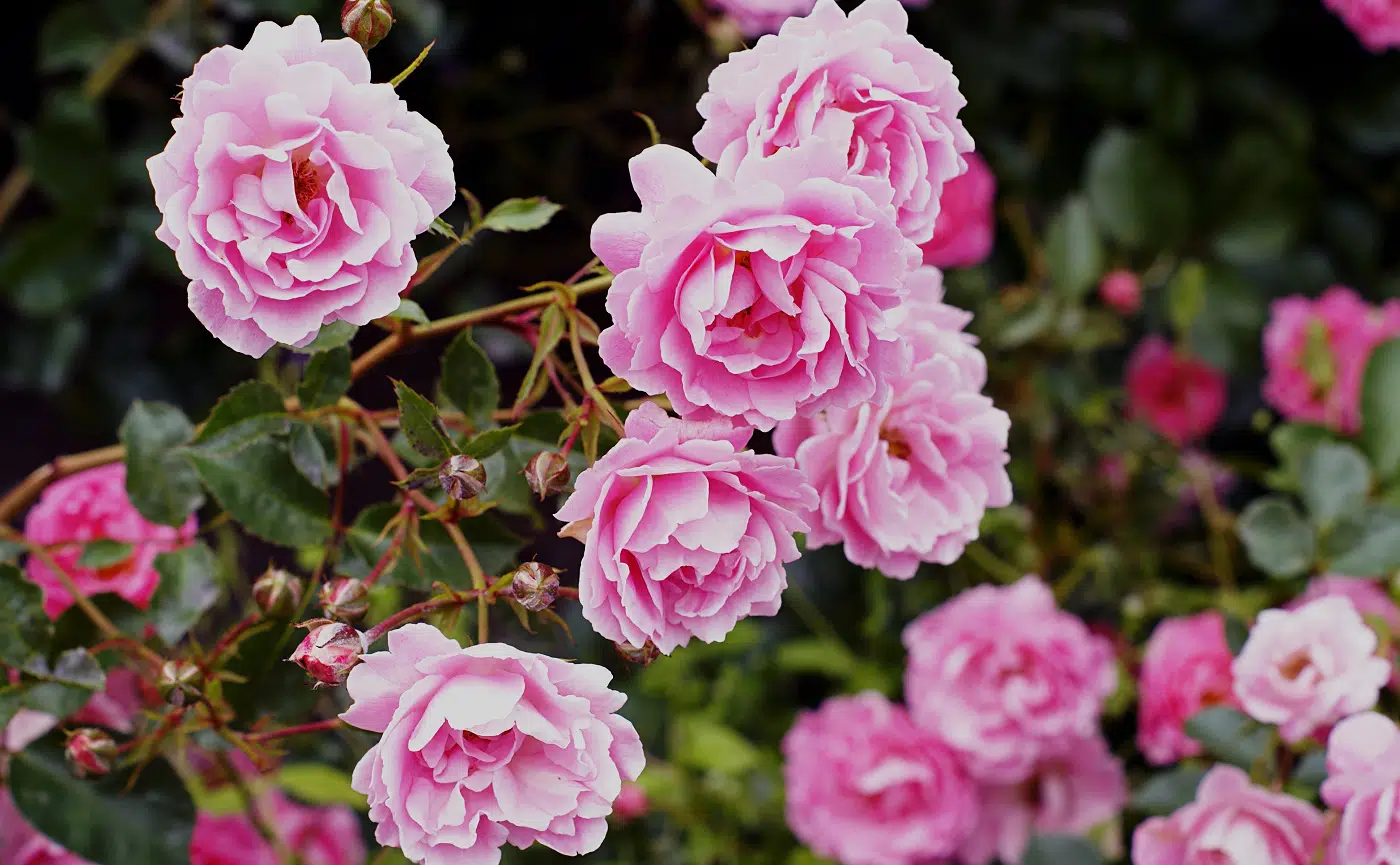 If you are looking for a product that is approved by the American Rose Society, the Miracle-Gro Water Soluble Rose Plant Food 2000221 is an excellent choice. It will help your flowers bloom and will ensure that the soil gets enough nutrients for the plants to grow well.
Sale
Why Did We Like It?
First of all, this product contains the holy trinity of the 3 essential nutrients, potassium, phosphorus, and nitrogen along with other minerals. These 3 are extremely essential for your roses to grow quickly, and this formula is indeed well-designed. 
Since the fertilizer is in liquid form, it is very easy to mix. You can use it for young plants too, without worrying about burning the roots. For mixing it, we used our regular watering can, and that worked well. 
Adding on, you will just need to apply the formulation twice a month to get results. This does not need a regular application, and that is going to save time and effort. Overall, we were satisfied with the results, and none of our plants suffered any damage. You can use it for all varieties of roses safely too. 
What Could've Been Better?
Although we have no complaints regarding its efficiency, remember that it is just a small pack of 1.5 pounds. This can be used for trial purposes, but to cover large expanses, you will have to buy many more of these. It could turn out to be an expensive affair, and you might have to go over your budget. 
Pros
Needs to be used once in 10-14 days

Quickens the growth process

Easy to mix and use

Works for most types of roses
One of our top suggestions is Jobe's 09423 Organics Flower Food, which is known for its mess-free application process. You can use it for roses and flowering shrubs, so it's perfect for use in any kind of garden. If you love flowers, this could be your all-in-one solution to achieving a beautiful flower bed.
Sale
Why Did We Like It?
This is an organic granular fertilizer that works very quickly on roses. If you want your roses to grow fast, this could help in the process. Certified by USDA, this product does not have any synthetic components, making it very good for the soil. 
Secondly, it is a 3-5-3 mixture that contains Biozome, the proprietary microorganism archaea. There are also healthy bacteria, Mycorrhizal fungi, and other renewable and biodegradable elements in this product. It will help in breaking down the materials very quickly and will provide you with quick results. Apply it once every 6 weeks, and that should suffice. 
This, in turn, will protect your soil from different diseases and will help it retain moisture. Thanks to this, your plants can survive drought-like conditions easily. Also, it is safe to be used around kids as no synthetic or harmful substances are present in it. You can allow your kids to play in the garden right after application. 
What Could've Been Better?
Be very careful with this product if you have dogs in the house. Our dogs were somehow attracted to the smell of this fertilizer and ate the lot. Naturally, they fell very sick after that, and we decided to store it in a locked cupboard. Ensure you keep it in a place where your pets cannot reach it. 
Pros
OMRI listed for organic gardening by USDA

Contains Mycorrhizal fungi and Archaea

Improves nutrient absorption capabilities

Betters the soil quality
If you are looking for an insect killer along with fertilizer, the BioAdvanced 043929293566 Bayer Advanced 701110A will take care of it. It is a strong formula that will keep unwanted organisms away from the plant while your roses bloom well. Read on to know all about its qualities.
Why Did We Like It?
To begin with, it promotes growth and strengthens roots. You can achieve beautiful blooms and let your plants blossom in no time. Not only so, but it also acts as an insect killer. This will kill Japanese Beetles, Leafhoppers, and Aphids, to name a few. So, if your area is very prone to insects, you know which product to choose. 
Further, this also protects plants from diseases. The fungicide will destroy Southern Blight, Black Spot, Rust, Powdery Mildew, and many more. If you see any signs of these on your plants, immediately apply the solution. 
What's more! Once applied, do not be worried about rain. The product is rainproof and will continue providing benefits for 6 weeks, after which you need to reapply. Lastly, as the product is registered under the Environmental Protection Agency, this is safe for the environment and people. This ensures that you can maintain your peace of mind while applying the product. 
What Could've Been Better?
This feed is very powerful and can kill essential bugs and honeybees. These are pollinators and are needed to continue the process of pollination. Hence be careful about using it around bees. The food chain should not be disturbed while you are taking care of your roses. 
Pros
Systemic rainproof protection

Controls the spread of diseases

Registered under EPA

Kills Japanese beetles
Are you looking for a formula that will suit both new and old rose plants? The Miracle-Gro Plant Food 3002210 Shake' N Feed is going to be an excellent deal to choose from. This will provide enough nourishment for the roses to bloom well and for new plants to continue growing quickly.
Sale
Why Did We Like It?
This formula is completely made up of natural ingredients. Microbes present in the soil will consume it and break it down into nutrients that will help the roots develop better. This also helps in increasing water efficiency. Your plants will be getting a good mix of both nutrients and water even if you forget to water for 2 days consecutively. 
The micronutrients also promote vibrant blooms, and you will see a fantastic range of colors after you begin applying this. While unfed plants might look less attractive or droopy, the ones that have been given this fertilizer will be blooming well for sure. 
 Another great benefit is that you will have to reapply only after 3 months. That means you do not invest a lot of time and effort into the plants. Apply it 4 times a year, and you are good to go. 
What Could've Been Better?
This is not really a drawback but more of a warning before you use the product. The pack mentions not to overapply, and it is best to remember this advice. Overapplication can lead to stunted growth or could also kill your plant. So, be very careful and stick to ½ cup for 10 square feet. 
Pros
Easy to mix and use

Apply only 4 times a year

Continuous release formula
Cons
Over-application can kill plants
If you prefer spikes instead of liquid fertilizers, the Jobe's Organics 100048893 Rose & Flower Fertilizer Spikes is a great option. It will help your gardens resist diseases and ensure that your flowers bloom well. We were very impressed with how quickly it showed results.
Sale
Why Did We Like It?
To begin with, this product is OMRI listed for organic gardening by USDA and hence has proper certification. You can completely trust it as it contains no synthetic ingredients and will not cause any issues in your garden. 
Moving on to the composition, this fertilizer has Jobe Biozome, which includes aggressive proprietary microorganism archaea. It also contains healthy bacteria and Mycorrhizal fungi, which are very beneficial for the soil. It will process the formula and release micronutrients that will help in root development and strengthening. 
Also, if your garden soil is unfavorable for plant growth, this can change it completely. Loaded with nutrients, you can see a change in the type of soil. Not only will it promote the growth of roses, but it will also prevent diseases and insects from harming them. 
What Could've Been Better?
You need to check the back of your pack for the expiration date. Ensure that the spikes are in good condition and have no mold on them. Molded spikes can spread mold in the soil and in new plants growing nearby. Hence you need to be very careful about it. 
Pros
Complete organic fertilizer

Promotes root development

Improves soil quality and nutrient absorption

Can be used around kids and pets safely
Cons
Old spikes can spread mold
If you want your plants to get an all-in-one feed that will take care of roses as well as other flowers, this is an excellent option. The Scotts Rose & Bloom Continuous Release Plant Food will help with providing all the necessary nutrients to your plants and will ensure that they grow well. We loved the numerous features, and you can know all about it in the next section.
Sale
Why Did We Like It?
We have been gardening for years, and this is one product that showed a great difference in our roses. We found that it is very easy to apply, and you will need 1 cup of it for 30 square feet of area. 
The best part is that it can be directly applied from the bag. Just pour it in and remember to check the back for instructions. We would suggest that you rake the mixture into the soil loosely. This will ensure that the nutrients reach every plant root immediately. 
Another benefit is that it will suffice for 8 weeks after applying it once. Yes, many of its peers last for 3-4 months, but this one is extremely effective, and that makes up for it. Also, it can be applied to all plants, and that will be helpful for anyone with a garden full of multiple types of flowers. 
What Could've Been Better?
If you are worried about seeing results, we will suggest you be patient. The product takes time to work and will take a few weeks to show results. Do not apply the fertilizer again within a week because that will not lead to quick results. Give it some time, and we are sure you will be satisfied. 
Pros
Would not burn your plants

Easy to apply

Works for annuals, perennials, and roses
Cons
It takes time to show results
Are you into organic gardening? Then the rose and flower plant feed from the house of EcoScraps will work very well. You will see quick and successive growth in your roses as it is made with rich materials. We were very impressed with its composition and its efficiency.
Why Did We Like It?
This is an all-in-one formula that is made for those who believe in organic gardening. The product contains a mix of the highest quality ingredients and has a lot of leftovers. These leftovers can be the remains of plants, animals, and nutrients from microbes. There is no poop in it, and hence it does not smell bad.
All of the leftovers are recycled to ensure that they retain their nutrients while changing their form. The brand believes in uniform feeding and will provide all that your roses need.
The mixture is also rich in iron, nitrogen, calcium, triacontanol, zinc, and other vitamins. These are very beneficial for plants and roses and will bring about a change in the vibrancy of the leaves. 
Now some products do not have a proper ratio of these, and hence it takes a lot of time to show results. But this one has the right ratio, and hence you will see quick results. 
What Could've Been Better?
So, this product contains phosphorus, which can harm marine organisms. If you have a river or pond nearby, ensure that there is no rainfall in the next 5 days after application. If there is rain, then phosphorus can be washed off and into the water bodies, which will be fatal for fish. 
Pros
Contains recycled leftovers

Perfect for organic gardening

No added poop in the mix

Environmentally friendly
Cons
Should not be used near water bodies
Up next is another feed that is made out of completely organic materials. The Espoma RT4 Rose Tone is recommended by experts and is the reason behind prize-winning roses. You can use it to create a rose garden that your guests will be envious of!
Why Did We Like It?
This is a natural and organic product that has a mix of thousands of microbes and is perfect for organic gardening. We loved the complex blend of micronutrients and the fact that it contains all 15 types of them. With such a long list of nutrients, your plants will not go wrong, and you can look forward to a blooming garden in no time. 
Plus, it is environmentally friendly and safe to use around kids and pets. It is all-natural and contains no artificial and toxic wastes, sludge, or chemicals. So, even if your dog consumes it by mistake, you should not have anything to worry about. 
What's more! This feed is certified by professional rosarians as it is 100% natural and organic. The slow-releasing formula will work overtime and will keep providing results for a long while. 
What Could've Been Better?
The only drawback with this product is that it cannot be used in the first year of plantation. When the plants are very young, they are unable to take so much, and it is best to use a mild fertilizer at that stage. After a year, you can shift to using this one, and that will show good results. 
Pros
Recommended by professional rosarians

Environmentally friendly with no artificial ingredients

Shows quick results
Cons
Not to be used in the first year
Are you thinking of starting a rose garden of your own? The Down to Earth Organic Rose & Flower Fertilizer Mix will be a great buy and will help you achieve a beautiful one. With a 4-8-4 formula, it provides nutrients for the efficient growth and development of plants. You can grow seasonal flowers too with this.
Sale
Why Did We Like It?
This is an excellent mix of some ingredients which work well for the soil. The mix contains fish bone meal, blood meal, langbeinite, rock phosphate, kelp meal, and humates, to name a few. These are organic materials that will mix with the soil and provide soil microbes with food that they can process. 
The best time to use it on roses is when new growth is visible in the plants. That could be throughout the season at any point in time. You can also apply it to edible bulbs like onion and garlic. It functions well and will help keep them free from diseases too. 
Overall it worked efficiently for us. Listed by the Organic Materials Review Institute (OMRI) to be officially used for plantation and vegetable gardens, this one has no synthetic elements. You can use it safely and keep your houseplants healthy too. 
What Could've Been Better?
Since this feed contains a lot of animal residues, you can imagine how the smell will be. We found that it smells vaguely like seaweed, which may not be enjoyable. So, we would suggest letting the garden be for a day or 2 before sitting out in it. The smell will completely vanish by them, and you should face no issues. 
Pros
Listed by the Organic Materials Review Institute (OMRI)

Contains bone meal and animal residues

Extra phosphorus for more vibrant leaves and blooms
If your roses look dull or diseased, then the Dr. Earth Store Organic Fertilizer can come to your rescue. They are like yogurt for humans and will provide plants with all the probiotics that they need. Use it for a week, and you will find a great difference in your roses.
Why Did We Like It?
This is a handcrafted mix that has been created to help your plants obtain nutrients and look healthy again. It contains animal remains and fish bone meal which is a huge source of nutrients. Microbes feast on it and help provide micronutrients that will make your roses look brighter and healthier. You will also notice that the leaves have become greener and shinier than before. 
Secondly, it lasts longer in the soil, and it will stay protected. You do not need to apply every month. When you see the leaves changing colors again, apply immediately, and you can see the results. 
Further, it is safe to use around pets and kids. We would recommend leaving it for a day before letting the pets out in the yard. This will keep them from consuming the fertilizer directly. Although even if that happens, rest assured that your dog will not be severely affected. 
What Could've Been Better?
We found that after application, the plant base has a lot of fire ants. These are somehow attracted to the feed, but they disappear after 1 week of application. The ants can be pretty annoying, and you will have to keep killing them to ensure that your kids can play around safely without getting bitten. 
Pros
Improves soil texture

Feeds for a number of months

Handcrafted to perfection

Great source of probiotics
Do you want some granular plant food that can get your roses to bloom quickly? The Burpee Organic Rose and Bloom will do the job pretty well. It can be applied all year round and will give you results very fast. We were very happy with the transformation of your garden, thanks to this.
Why Did We Like It?
If you are a DIY gardener, then you must know that roses require a lot of feed. A constant supply of it has to be maintained for them to bloom well. Now, this fertilizer has a slow-releasing formula that will keep providing your plants with proper nutrition. And what's more! This will continue for 3 months before you have to apply it again. 
Secondly, it works for all roses and flowers. The formula is not only for roses but for lavenders and other blooming plants. You can apply this to your entire garden along with the hedges to see better growth in general.
Also, it is known for its root development qualities. One of their main focuses is on the root and strengthening them further. This results in the roots being able to capture more nutrients from their surrounding soil, and that enhances the health of a plant. 
What Could've Been Better?
We found that the packaging was done poorly, and some of the feed had come out of its box a little. But then not much was lost, and it did work very well for us. So, we will not hold this against the benefits. But we do wish that the company took care of their packaging in a better way. 
Pros
Known for long-lasting results

Beneficial microbes in the pack

Works for all roses and flowers

Promotes root development
Cons
The packaging was not up to the mark
We are nearing the end of this list, and it is time to introduce the Great Big Roses Organic Rose Food, known for its wonderful properties. This works very well for roses, and our plants have tripled in size within 2 weeks. We were very happy with the quick development and the efficiency with which it worked.
Why Did We Like It?
Using this fertilizer has brought about a great difference in our roses. They look very vibrant and cheerful, and the bushes have grown a lot. Since it is in liquid form, it starts working immediately, and you will see a difference within days. 
Further, to make this kelp meal, humic acid, and essential micronutrients have been used. These together create a great nutritious mixture that makes the soil healthier too. If you were looking for an alternative for your manure or compost, this is going to work out well. 
Coming to application is pretty easy to apply. Just mix half a cup of the feed with 1 gallon of water. This can be used to drench the plant bases so that the roots can absorb them immediately. This will not only help the plants but will be beneficial for the soil structure too. 
What Could've Been Better?
Since this is a liquid fertilizer, it will not last very long. The formula is not slow-releasing, and hence you will have to reapply every 7-10 days to see results. Now, this could turn out to be expensive as you will have to keep buying the product. Make a note of this before making a purchase. 
Pros
Designed to retain flowers

Contains kelp meal and humic acid

Betters soil structure and root development
Cons
Needs to be applied frequently
Next, we have yet another product that works for root development and ensures the good health of the plants. The VPG Fertilome Rose And Flower Dry Plant Food works very well with blooms and ensures that your roses stay happy and healthy. Read on to know all of the other features.
Why Did We Like It?
This product is packed with micronutrients and contains zinc, manganese, copper, iron, and boron. These are very efficient in changing the structure of the soil and can even turn dry soil into properly fertilized one. 
Also, it is rainproof and will not flow away in case of heavy rain. But we will still recommend that you watch the forecast and ensure that there is no rain in the first 24 hours. After that, it will not be a problem as the granules will stick to the soil firmly. 
Another great benefit is that it acts as an insecticide. If the soil is infested with insects and ants, this will kill them all, leaving you with soil that you can easily walk on. We were specifically happy to have gotten rid of lace bugs. 
What Could've Been Better?
This product has imidacloprid, which does not work well for bees. It can reduce the bee population by acting as a poisonous bait for them. Now, although this option works very well for plants and flowers, it is best not to use it in an area with a beehive nearby. 
Pros
Kills off lace bugs

Promotes strong root growth

Contains a whole lot of essential nutrients

Works for 8 weeks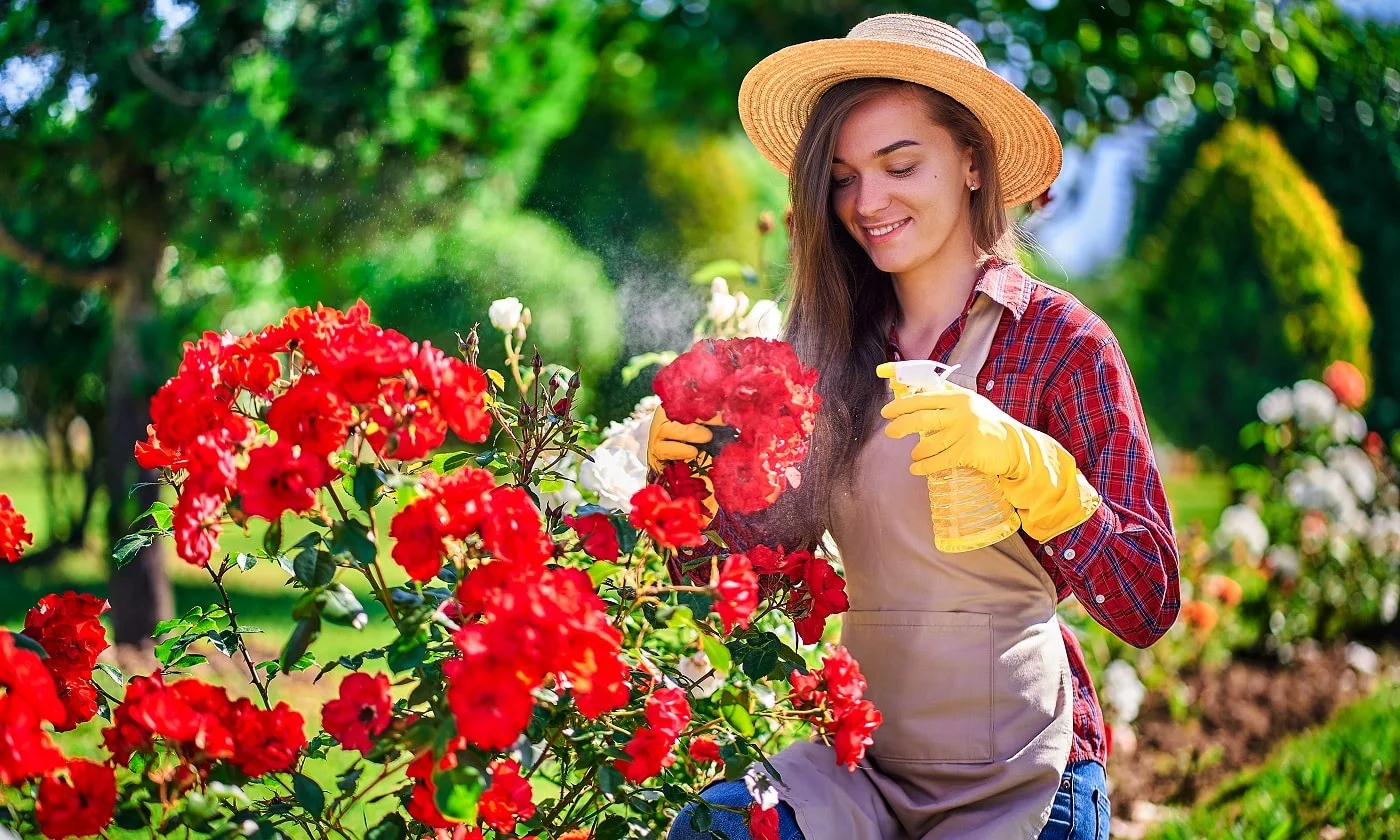 Rose Fertilizer Buyers Guide
Before beginning the fertilization process of the rose, you will need to do a pH test. This will tell you if the soil is suitable to grow the specific kind of rose that you want. You could also ask a local nursery to help check your soil. 
Now that you have gone through the top products, you must have noticed differences in composition, properties, and usage. We are going to discuss it further in this section. Make a note of all the following points to understand your needs and then go on to make an informed decision. 
Time To Fertilize
Remember that roses are a very hungry category of plants, and the soil needs to have sufficient nutrients for them to survive and grow well. Now adding fertilizers is not difficult, but it is important to remember and apply them all year long. They grow through winter, and as the weather can be harsh, you might have to take extra care of them. 
We would suggest fertilizing in winter and then in spring again. This would keep the nutrients flowing throughout. Also, ensure that you apply a fertilizer with nitrogen content in winter. It is needed for them to survive in the cold. 
Some fertilizers only stay for 2 months. In such cases, you might have to apply twice in the winter months, especially if you have long winters. 
The growth rate might also prompt you to reapply. Once you see that the stem of the roses has grown 4-6 inches, you will know that a new dose of fertilizer is required. 
Slow-releasing v/s Liquid Feed
Some fertilizers are slow-releasing ones, and these are usually available in the form of spikes or granules. Apply this to the base, and they will keep releasing nutrients for a long time. Liquid fertilizers, on the other hand, need to be applied weekly or once in 2 weeks. 
Since it is already in liquid form, they are easier to apply, and you would not need to rake the soil. They will flow in and work immediately. But be careful about using liquid fertilizers in the rainy season as a lot of it may flow off with the water. 
Smell
The problem with a completely organic formula is that it ends up smelling a lot. The smell can be irritating if you are going to sit out in the backyard, and some complain that it smells like seaweed. 
So, in case you are settling for an organic formula, ensure that you do not have to go out in the garden for the first 2 days. If you have a BBQ party planned in the back of your house, do not apply just before it. 
While organic formulas with animal remains are prone to smell, that is not the case with the other mixtures and liquids. They usually do not have a distinct smell, and you will not face any issues with it. 
Concentrated Formula
Most of the choices available in the market are not to be used directly from a pack. They are generally in a highly concentrated form, which needs to be mixed with water before application. 
This is true more in the case of liquid feeds, which cannot be used from the pack. We are highlighting this because if you make a mistake, it can be fatal for your roses, and plants can die from it. 
So, read the back of the pack carefully and mix it accordingly. This will not be a difficult process as you can do the mixing in your watering can itself. For granular feeds, you may not have to mix it with water, but it is best if you rake the soil a little. That will ensure that the feed mixes well and will not be affected by rainwater. 
Safety
Not all fertilizers are safe to be used around pets and kids. Check the pack carefully to see if there is any mention of it. If nothing is mentioned regarding safety, do not let your kids or pets wander in the backyard for the first 48 hours. 
Often products that are safe for pets can still cause stomach upsets if they are eaten by them. You would not want your pets to go through all the trouble, and hence be careful with it. This applies for your kids too.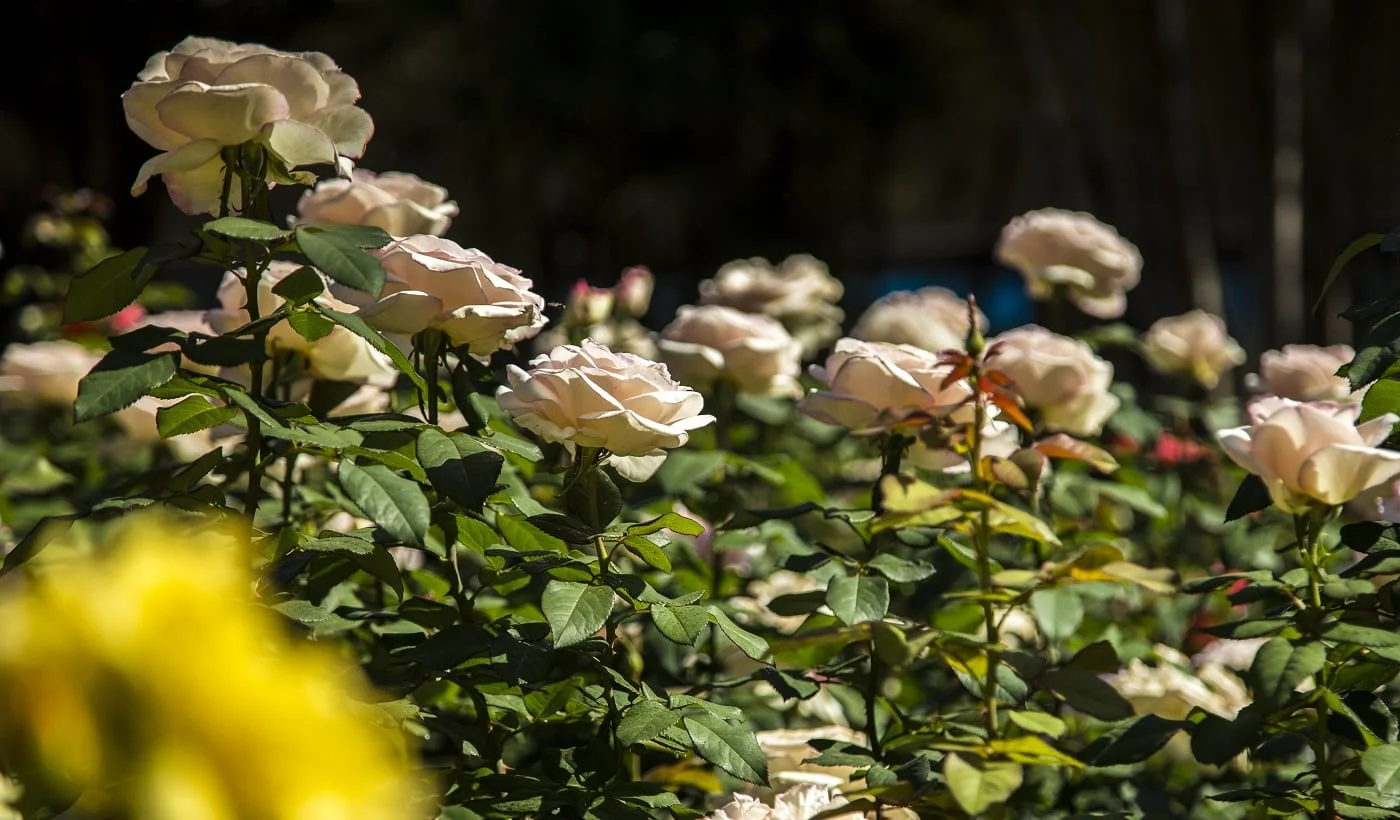 Verdict
By now, you must have realized that a garden full of blooms requires good fertilization. With continuous use, there is an overall improvement in soil quality and roots grow firmer. But you will need to check the soil conditions, weather type, and the kind of roses that grow in your setting before making a purchase. 
Moving on, let us do a quick recap of our favorites. We found that the Miracle-Gro Water Soluble Rose Plant Food 2000221 is the safest choice to make and is trusted by rosarians all around. 
On the other hand, Jobe's 09423 Organics Flower Food will give you a mess-free experience and is the easiest to apply. Also, if you are looking for a pesticide cum fertilizer, the Bayer Advanced 701110A will meet your needs. 
On this note, we will take our leave. Let us know your favorites in the comment section below.
Until next time.
Related Articles
13 Best Fertilizer For Blueberries 
13 Best Organic Lawn Fertilizers 
13 Best Fertilizers for Tomatoes  
13 Best Fertilizer For Succulents Reviewed 
13 Best Fertilizers for Hibiscus 
13 Best Liquid Lawn Fertilizers Right Now 
11 Best Fertilizers for Lilacs
9 Best Fertilizers for Hydrangeas
9 Best Fertilizers for Petunias Right Now
11 Best Fertilizers for Citrus Trees Right Now 
13 Best Fertilizers for Green Grass
11 Best Lawn Fertilizer Options
13 Best Fertilizers for Vegetable Gardens
13 Best Orchid Pots [Reviewed & Buyer's Guide]