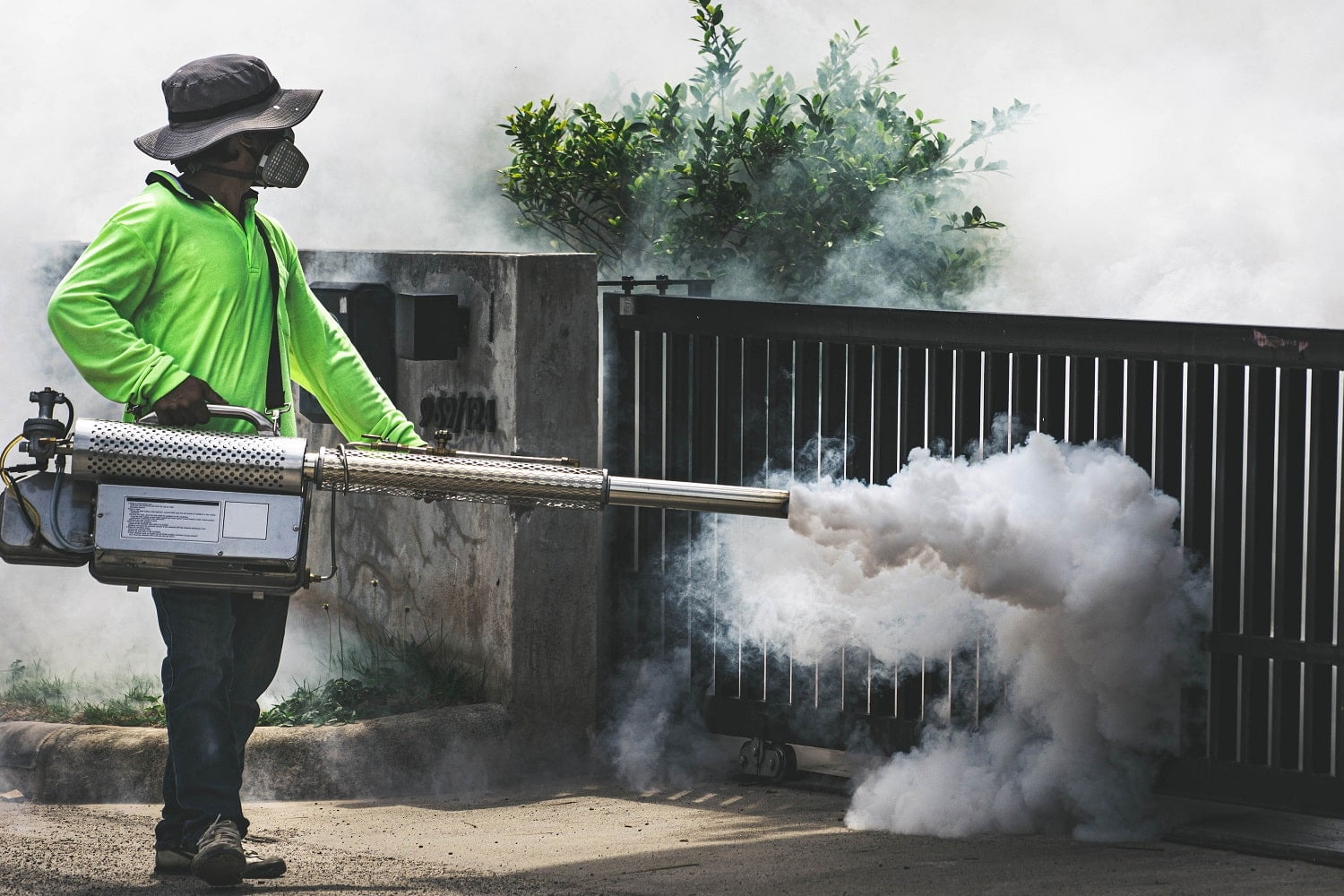 We know how mosquitoes can bring down the entire mood of a gathering or a lovely Sunday evening. Not to forget, they are guilty of being disease-transmitters too!
That is why a mosquito fogger insecticide is essential. It will kill these pesky insects and help you enjoy an evening in peace. You can host a barbeque dinner outdoors without running about with a mosquito bat throughout.
Also, these mosquito foggers are generally versatile and can be used to spread insecticides and disinfectants in hotels, airports, and public spaces.
But when we set out to purchase mosquito fogger repellent insecticides, we found multiple options in the market, and choosing one was rather challenging.
To save you from that hassle, this detailed and unbiased list of 11 top options has been curated. We have also included a buyer's guide to help you choose the right one for your needs.
So, without further ado, let's get down to business!
Best Mosquito Fogger Insecticide 
IMAGE
PRODUCT
DETAILS

Our Top Pick

Our Top Pick

CARDINAL 3.5 Gallon Backpack CMD65

3-in-1 backpack fogger
 Adjustable droplet size from 50-100 microns
CARB and EPA compliant

VIEW LATEST PRICE →

Black Flag 190095

Can cover 5,000 square feet in 10 minutes
1 quart treats ½ acre

VIEW LATEST PRICE →

Silver Bullet ULV Non-Thermal XJ9-VP

Very powerful motor
Can spray up to 30-40 feet
Stainless steel hardware

VIEW LATEST PRICE →

Tomahawk Power Store Turbo Boosted Backpack Fogger

Droplet size of 50-1000 microns
Reach of a single spray is 30 feet

VIEW LATEST PRICE →

SuperHandy Fogger Machine

Equipped with a filtration funnel
Max Flow Rate of 750ML/min
1200W 110VAC electric motor

VIEW LATEST PRICE →

Black Flag 190107

Works for 6 hours
Covers 5,000 square feet in 5 minutes

VIEW LATEST PRICE →

Invatech Italia New Mister Duster

4.3 HP Motor
Pressurized Turbo Pump
3.7 Gallon (14L) Tank Capacity

VIEW LATEST PRICE →

AlphaWorks Fogger Machine

Max flow rate of 750ML/min
3-gallon tank
1200W 110VAC electric motor

VIEW LATEST PRICE →

Smith Performance Sprayers 190443

Thermostatically controlled heating chamber
Heavy-duty reservoir

VIEW LATEST PRICE →

LST LeDepic 7L Fogger Machine

Tank capacity of 7 liters
Maximum horizontal spray distance is 6-8 m
Droplet size of 0-50 microns

VIEW LATEST PRICE →

SM BURE Disinfectant Fogger Machine

Injected speed control
0.8-gallon tank
Mist particles of 10-50 microns

VIEW LATEST PRICE →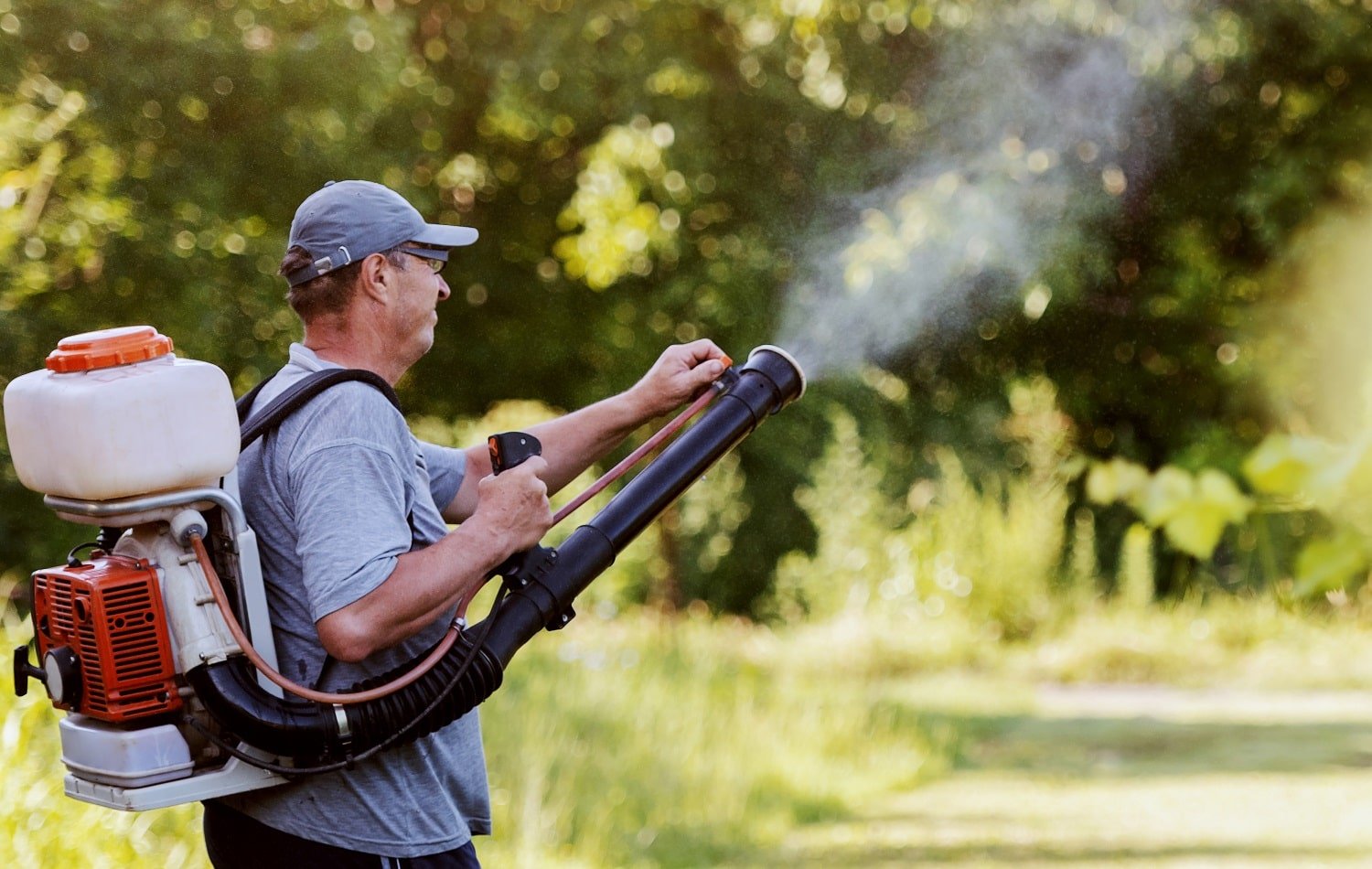 If mosquitoes make it difficult to live peacefully, the CARDINAL 3.5 Gallon Backpack CMD65 is precisely what you need. It will kill every insect that could be bothersome, be it inside the house or outside. Keep your backyard and living room free from annoying insects with this versatile option.
Why Did We Like It?
First and foremost, it is not just a mosquito fogger repellent but can be used as a leaf blower and a duster too. This 3-in-1 quality was quite impressive and made the product very cost-effective.
Insects can carry a number of diseases, and hence, can be quite dangerous. But this product takes care of mosquitoes that spread Zika and ticks carrying Lyme disease, making it a fabulous choice.
Further, you can easily spray through 1 acre of land in less than half an hour. The work can be done 7 times faster with the pump sprayer, and this will help in eliminating bugs, killing weed, and spreading essential fertilizer over the area.
If you are concerned about the coverage, this will allow you to change the droplet size between 50 to 100 microns. Smaller droplets spread easily and are perfect for hidden nooks and corners.
Lastly, we have to mention how easy it is to carry this on the back. The unit is lightweight and comes with a well-balanced design and ergonomic straps for comfort.
What Could've Been Better?
One slight flaw that we noticed was that the top was heavier than the bottom. This should not be a problem while carrying, but in case you place it somewhere, make sure that it has side support. Otherwise, it may topple over and cause leakage.

Pros
7 times faster than normal sprayers

Can cover 1 acre in 30 minutes

Has a robust fuel tank
One of our top recommendations is the Black Flag 190095 for its versatility and enhanced performance. The product has a plastic and metal body and weighs only 3.65 pounds, making it easy for anyone to carry and work with. Read on to know more about its bells and whistles.
Sale
Why Did We Like It?
First of all, it is a versatile product and can kill mosquitoes, biting flies, and flying insects of all kinds. It is known to eradicate mosquitoes that spread the West Nile virus, making it an incredible choice for people staying near the borders of towns.
Another advantage is that it does not have an unpleasant odor. In the case of a backyard party, you can spray the place five minutes before people arrive, and they will not get any offensive odor. Hence, it is a safe choice for regular use too.
We also found that to achieve optimal results, you'd have to press the trigger at an interval of 3-4 seconds for best results. It will create a fog and drift over the top and then dissipate slowly.
Since it runs with the help of propane cylinders, it is quite portable and can be taken anywhere. You can choose between a long or short cylinder, depending on your needs.
What Could've Been Better?
This item works very well outdoors, but it is not suitable for indoor use. The fog that is created is not good for children or people with breathing problems, and people may directly inhale it if you spray inside the house. That being said, make sure that you apply and give the solution 5 minutes to spread while using it outdoors.

Pros
No bad odor

Dissipates within minutes

Can kill all kinds of flying insects

Choice between 14.1 oz. or 16.4 oz. canister
If you are looking for a powerful motor that can take care of a larger area, the Silver Bullet ULV Non-Thermal XJ9-VP is an excellent option. It is made of robust materials, which makes it very durable and has a vacuum that shows impeccable performance.
Why Did We Like It?
This product is not restricted to removing mosquitoes but is perfect for mold and mildew growth. If you have damp areas or musty basements and attics, you will have mold growing in places. This product can be used to kill black mold completely with flash treatments. Use it with an Ozone generator or Hydroxyl Generator, and you will have outstanding results.
Further, this is a cold non-thermal fogger that does not produce a fog. A slow stream of liquid mist will be released every time you press the trigger. You can achieve humidity control, chemical misting quickly with the 10 Green Fingers ULV Fogger combo.
Besides, it comes with 3 tornado action nozzles, which maximize misting and ensure that you can mist up to 4 feet at one go. This will allow you to spread it over a large area in a short period of time.
What Could've Been Better?
We found a minor issue that bothered us relating to the refilling of the container. Whenever we try to refill, the rubber seal on the top falls out. It is pretty small, and it is challenging to attach it again. We took 5-6 tries to do it every time, and this was time-consuming.

Pros
Well-designed jet nozzles

Work for mold and mildew control

Powerful vacuum pump
Cons
Rubber seal keeps falling off
If you want liquid pesticide treatment, the Tomahawk Power Store Turbo Boosted Backpack Fogger will provide you with just that. It is known to be very beneficial for mosquito and insects infected zones and will give you professional results without calling up pest control services.
Why Did We Like It?
This sprayer is powered by a 3HP engine, which will work multiple times better than manual alternatives. With a robust fuel tank and a powerful motor, this can spray better and reach a greater area in less time. We were able to cover an area of 30 feet in 1 spray; such is the reach.
It is also known for its excellent performance. The device has a high reach and can be used around buildings and tall trees. You can reach a height of 25 feet vertically, which will make sure any insects within this range will be killed. The mist also sticks on to plant leaves and coats it completely.
Further, it is equipped with throttle control, which will allow you to start, stop, and control the spray pattern however needed. There is a power lock on the side that will maintain steady fogging if required. Plus, it is EPA and CARB compliant and can be used anywhere as it meets emission standards.
What Could've Been Better?
We felt that the sound emitted by the motor could be reduced. Compared to its peers, this device was louder, and hence, you cannot be using it at odd hours at night or early morning. It may hinder sleep or anybody who is trying to work within close proximity.

Pros
Can reach a vertical height of 25 feet

Has a 3.7-gallon tank

Can cover 1 acre in less than half an hour

10K faster than manual sprayers
If you want a product for public sanitization in airports, docks, restaurants, hotels, theaters, and public transport, the SuperHandy Fogger Machine will serve you well. This ULV fogging device is an excellent pick for spreading biocides, fungicides, disinfectants, and pesticides. The versatility that it shows is truly noteworthy.
Sale
Why Did We Like It?
Powered by a 1200W 110VAC electric motor, this machine will help you achieve a wide coverage. It can reach an area of 5 to 6 meters horizontally for maximum efficiency. With a 3 gallon tank and a max flow rate of 750ML/min, you can cover large fields in a very short time.
This makes it the perfect option at weddings which are held in open spaces. If you wanted a rustic wedding beside the woods or a wedding or anniversary celebration in a forest, this could keep you and the guests safe. Known for its high-speed aerosol distribution and strong penetration, this product will not disappoint.
Plus, it boasts of a filtration tunnel that prevents any kind of clogging or disruption while spraying. This also made it easy to clean, and we did not have to do it regularly.
What Could've Been Better?
The only drawback we noticed was with the vertical reach of this spray. While it is perfect for enclosed spaces with a lower roof height, you will need to elevate yourself to reach higher than that. It has a reach of up to 6.5 feet vertically, and we wished that this was more.

Pros
Ultra-Low Volume (ULV) droplets

High-speed aerosol distribution

Adjustable nozzles
Cons
Low vertical area coverage
If you want the best features of thermal and cold devices brought into one, the Black Flag 190107 is going to be a brilliant choice. Paired with a well-designed body and enhanced performance, this product will allow you to generate fog easily.
Sale
Why Did We Like It?
This is one of the most economical options as it uses electricity and not propane. You will not need to refill the tank, and that saves a lot of time. We could cover an area of 5,000 sq meters in 5 minutes because of the strong electrical motor.
It is also considered safe to use. We found a large safety trigger that will prevent any kind of accidental use when not required.
Plus, this item is also very efficient while killing. Not only are mosquitoes targeted, but other flying insects are killed simultaneously. Once applied, you will not need to worry about getting insect bites for the next 6 hours.
Lastly, you will be happy to know that it causes no harm to pets and humans. Even if you spray without a mask, you should not face any health problems.
What Could've Been Better?
Since this device is connected to a power outlet, you will not be able to move it about very far from the source. We used extension cords, but you cannot venture beyond that. If you need to cover a large place, ensure that there are multiple power outlets.

Pros
Quick and simple application

Kills a large number of insects

Is not toxic for people and pets
We have finally reached the middle of our list, and it is time to introduce the Invatech Italia New Mister Duster. It is a powerful backpack sprayer known for its durable body and large capacity. If you want a large hall or conference room to be sprayed, this is a great product to use.
Why Did We Like It?
First of all, this device is powered by a 4.3 HP motor, which is very powerful and will allow the mist to spread over a vast area. We were very impressed with its vertical reach, which extended up to 32 feet. Any tall structure or rooms with high ceilings can be cleaned with this.
Also, if it is an area filled with trees, this will help kill insects hanging from the branches and leaves. Boasting of a pressurized Turbo pump, you can increase your reach horizontally up to 39 feet. This allowed us to cover a large area within minutes.
Plus, it comes with comfortable straps that will not dig into the skin. Since the body is made of plastic, it will not be too heavy, and people with low physical strength can carry it too. The shoulder straps are padded and come with a backrest for additional support.
What Could've Been Better?
We were a little disappointed with the customer service. They did pick up the phone and assured us initially that a representative would get in touch to help us with a minor problem we faced. But nobody reached us, and we ultimately took the help of a local workshop.

Pros
Can reach up to a height of 32 feet

Ultra-light at 22 pounds

Translucent tank for easy viewing

Padded straps
Be it professional applications or DIY projects; the AlphaWorks Fogger Machine is an excellent choice to make. It excels in commercial-grade quality standards and is known for its brilliant efficiency levels. What's more! It is super affordable and will not burn a hole in your pockets.
Why Did We Like It?
Known for quick aerosol distribution, this product is designed for faster diffusion and high levels of penetration power. We found that the fog or mist that is generated is of ultra-low volume and hence can spread in the air easily. The droplets are the size of 0-50 microns and can kill pathogens and insects instantly.
To make it easier to refill, the device has a wide mouth. This is accompanied by a screen filter that prevents dirt from entering the tank. The wider mouth will help you reduce the time taken to fill this tank.
Further, this mosquito fogger repellent is not only made to fight insects; it can be used for public sanitization of hotels and airports. Cooling of barns and farmhouses and also controlling the humidity in greenhouses. It can handle biocides, pesticides, disinfectants, and fungicides equally well.
What Could've Been Better?
Since the power cord is not very long, it can snag easily if you move it too much. The adapter comes out of the outlet with the slightest pull, and hence we would recommend that you always work with extension cords plugged in. This will prevent both issues and help you work in peace.

Pros
High-speed aerosol distribution

Wide mouth for quick filling

Screen filter to keep debris away

Versatile use
If you are looking for a device for commercial application, the Smith Performance Sprayers 190443 is a great fit. It will take care of flood and fire restoration as well as odor control while keeping the area free from insects and pests. It is an electric thermal fogger that can penetrate well, giving you immediate results.
Sale
Why Did We Like It?
This device has the capacity to kill pests and keep the area free from them for up to 6 hours. The mist stays in the air and will work for a long time. You can use an oil-based and water-based solution that contains propylene glycol oils for best results.
Further, it uses a 110V power supply and has a special thermostatically controlled heating chamber to reach nooks and corners. The heat that is produced atomizes the chemical compounds, and once it is broken into smaller parts, they easily float into corners, which would otherwise be hard to reach.
Accompanying it is a control button to adjust the flow rate. You can make the fog drier or wet, depending on your needs. The reservoir contains 96 ounces of solution, which, if used sparingly, can be used over a large area.
What Could've Been Better?
We faced some issues with assembling the product, and we called up customer care initially. But the whole process of getting connected, waiting for a return sticker, and then getting them on board with our problem was too time consuming. We ultimately ended up taking help from a local dealer.

Pros
Adjustable flow rate

Can hold 96 ounces of water-based or oil solutions

Eliminates pests for 6 hours
Cons
Reaching out to the customer service is difficult
We are finally nearing the end of this list, and it is time to introduce the LST LeDepic 7L Fogger Machine. It is a brilliant product known for its sturdiness and anti-shake performance. You can easily carry it around, thanks to the straps provided while its powerful motor allows a wide reach.
Why Did We Like It?
First of all, we loved the built quality of this product. The product is made of environmentally friendly materials that have high-abrasion resistance. It is sturdy and comes with a very strong hose and a powerful electric water pump. The hose is compatible with almost all kinds of materials and will not corrode.
Also, it has a tank with a capacity of 7 liters and can spray up to a distance of 6-8 meters. This will ensure that you can reach a wide area in a shorter span of time. With a spray volume of 400 ml/min, you can use it in homes, schools, and parks alike.
Besides, it is easy to fill with a larger mouth for you to pour the substance in. This saves a lot of time in comparison to a manual sprayer.
What Could've Been Better?
Although a user manual came with the product, it had almost no information regarding how to use it. The instructions were unclear, and we ultimately ended up watching installation guides on Youtube. This was disappointing as we had to spend a lot of time on it.

Pros
The hose is corrosion resistant

Anti-shake performance

Made of environment-friendly materials

Known to be very tough
If you are looking for a powerful spray that can be used in all kinds of spaces, the SM BURE Disinfectant Fogger Machine is a great option. It is safe to use at hotels and restaurants and will not be toxic for people consuming food in the same area after you are done spraying.
No products found.
Why Did We Like It?
You can use all kinds of fluids with this mosquito fogger repellent ranging from oil-based, water-based, and moisturizing substances. This makes it suitable for eliminating insects and mosquitoes as well as sanitizing the whole place.
Besides, it is powered by a motor that is designed by Samsung electronics. It boasts an output of 1250W with a power source of 110V. This makes it very sturdy and powerful and will help spread the liquid to a larger area.
Also, the product does not leak because the solenoid valve is designed in a unique way. Featuring advanced technology, you do not need to worry about it at all. Droplets of 10-50 microns are formed, and you can adjust the amount with a controller that is provided along with it.
Packed with a well-detailed user manual, you will find it very easy to set up. It has information regarding how to use the different functions of this item, and we got the hang of it within an hour.
What Could've Been Better?
Since it is equipped with a 0.8-gallon tank, it will not be suitable to cover large spaces at once. You will need to refill it and continue, which will make the process more time-consuming. Small spaces can be covered very easily. Hence, make a note of this before you purchase.

Pros
Comes with a detailed user manual

Well-padded shoulder straps

Lightweight body
Cons
Cannot cover a large area at once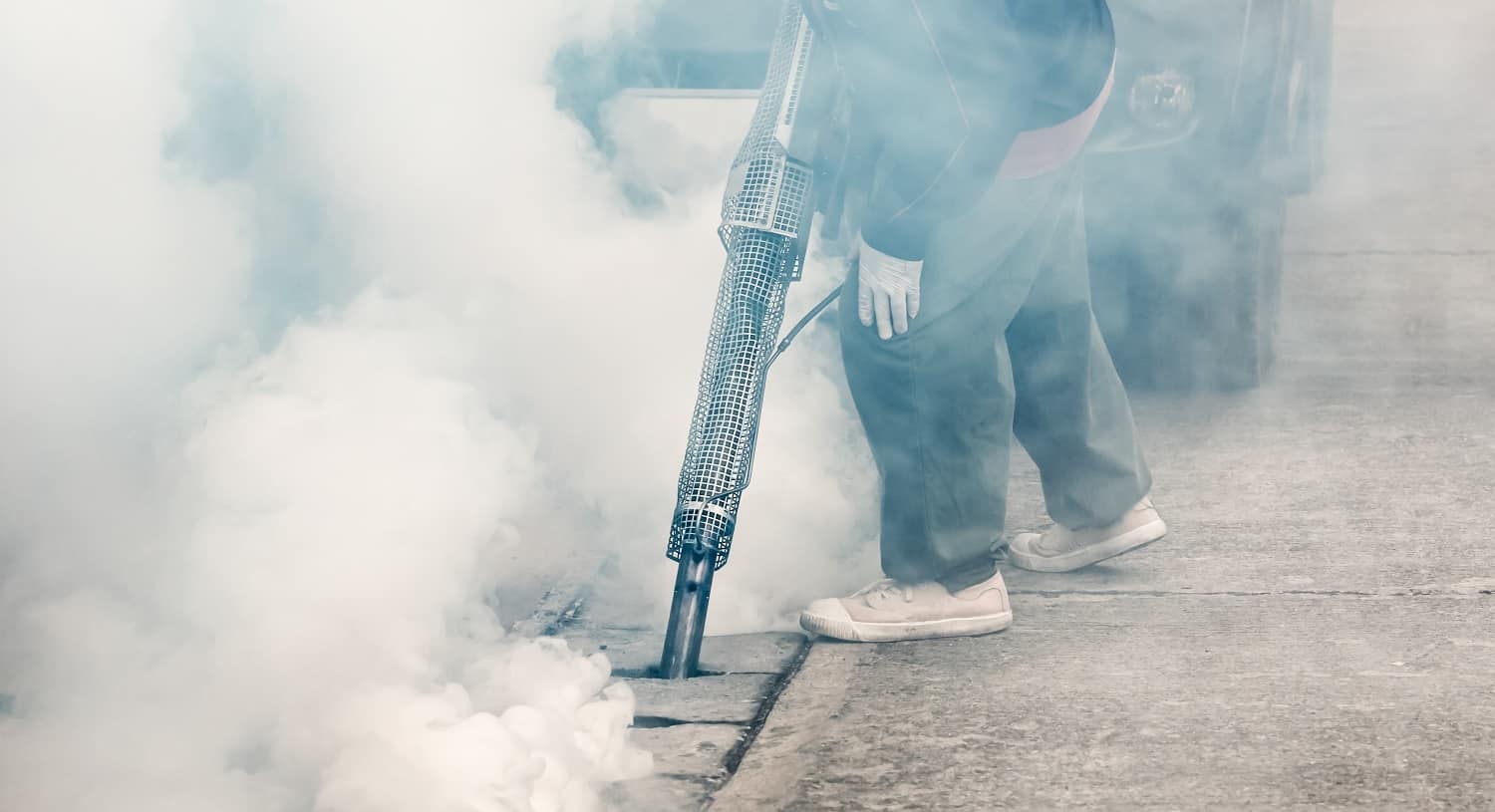 Mosquito Fogger Insecticide Buyer's Guide
Now that you have gone through the 11 top products, you will know that each one is unique in its way. There are variations in moisture retention capacity, area coverage, and types of mixes.
To help you out, we have put together a list of vital attributes that you must consider before buying any of these options. Take a look now. We hope this guides you towards buying the one that fits the best.
Environmental Concerns
Check if the product is environmentally friendly before you buy it. Some insecticides have a bad odor or an uncomfortable one, which guests may not like. Also, people with respiratory problems may find it difficult to breathe in it. It should not affect pets and babies who are more vulnerable to chemicals in the air. So, check for the smell and its properties before purchasing.
Area Coverage
If you need to cover a large area, the product needs to be such that it can be carried on the back while it should have a greater reach every time you spray. People generally prefer a horizontal coverage of 10 feet or more per spray. This will help you cover half an acre in less than 30 minutes.
Plus, you need to take care of the vertical coverage too. If you have very high ceilings or need to reach trees with high branches, greater coverage is required. Opt for products that can reach up to 20 feet in height. This will allow you to stand on the ground and spray with no elevation required.
Types Of Insecticides
The two most common types of dispersal methods are by creating a fog or generating mist. In the case of fog, the solution is heated until it converts into vapor and hence creates a gaseous fog. Fogs can be dense, and some individuals complain of coughing or having breathing problems with it. So, it is essential that you wear proper gear, including gloves and masks while operating.
On the other hand, you can also dispense solutions forcibly through a nozzle to create a mist that will then float in the air. These can be used for longer periods and is a great choice for indoor use.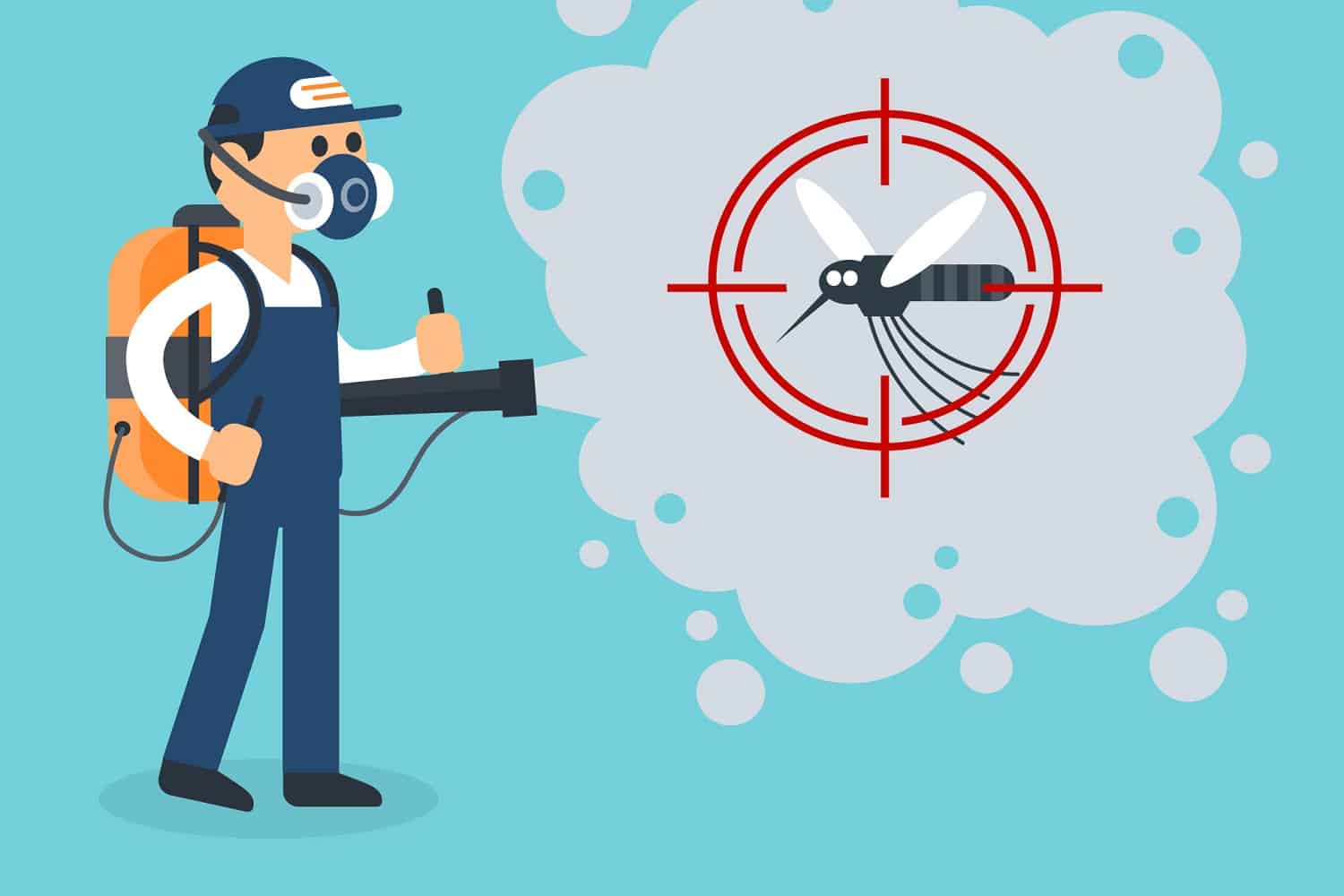 Verdict
Let's face it; pesky mosquitoes can make or break a day, and if you can make the experience bite-free and less itchy, your guests are going to love it. Be it a backyard party, an evening outdoors, or a wedding near the woods, you will finally be able to enjoy it properly with the help of a good mosquito fogger repellent.
With this, we come to the end of our detailed guide of the best mosquito fogger repellent insecticides of 2022. But before we sign off, here's a quick recap of our favorites. The CARDINAL 3.5 Gallon Backpack CMD65 is our favorite overall because of its ability to take care of large areas without refilling.
If you are looking for a lightweight option that is easy to carry, go with Black Flag 190095 . And if you want one with a powerful motor, it has to be the Silver Bullet ULV Non-Thermal XJ9-VP.
With this, we will take our leave. Happy shopping!
5 Best Weed Barriers and Landscape Fabric for Happy Gardeners
Where to Find Good St. Augustine Grass Seed & How to Grow It
13 Best Lawn Sprinklers | Review & Buyer's Guide
11 Best Crabgrass Killers Right Now
9 Best Fertilizers for Petunias Right Now
9 Best Fertilizers for Hydrangeas
How to Lure A Mosquito Out Of Hiding Easily
13 Best Weed And Feed For Lawns
13 Best Weed Killer for Flower Bed Reviewed
How to Install Landscape Fabric for Weed Control
13 Best Potting Soil For Herbs To Consider Today
13 Best Backpack Sprayer [Buyer's Guide]
13 Best Fertilizer for Palm Trees 
13 Best Fertilizer for Zoysia Grass
13 Best Potting Mix For Orchids
How Long After Grass Starts Growing Can You Mow It?
Does Grass Seed Go Bad | Expiration Dates Explained
How to Get Rid of Pampas Grass