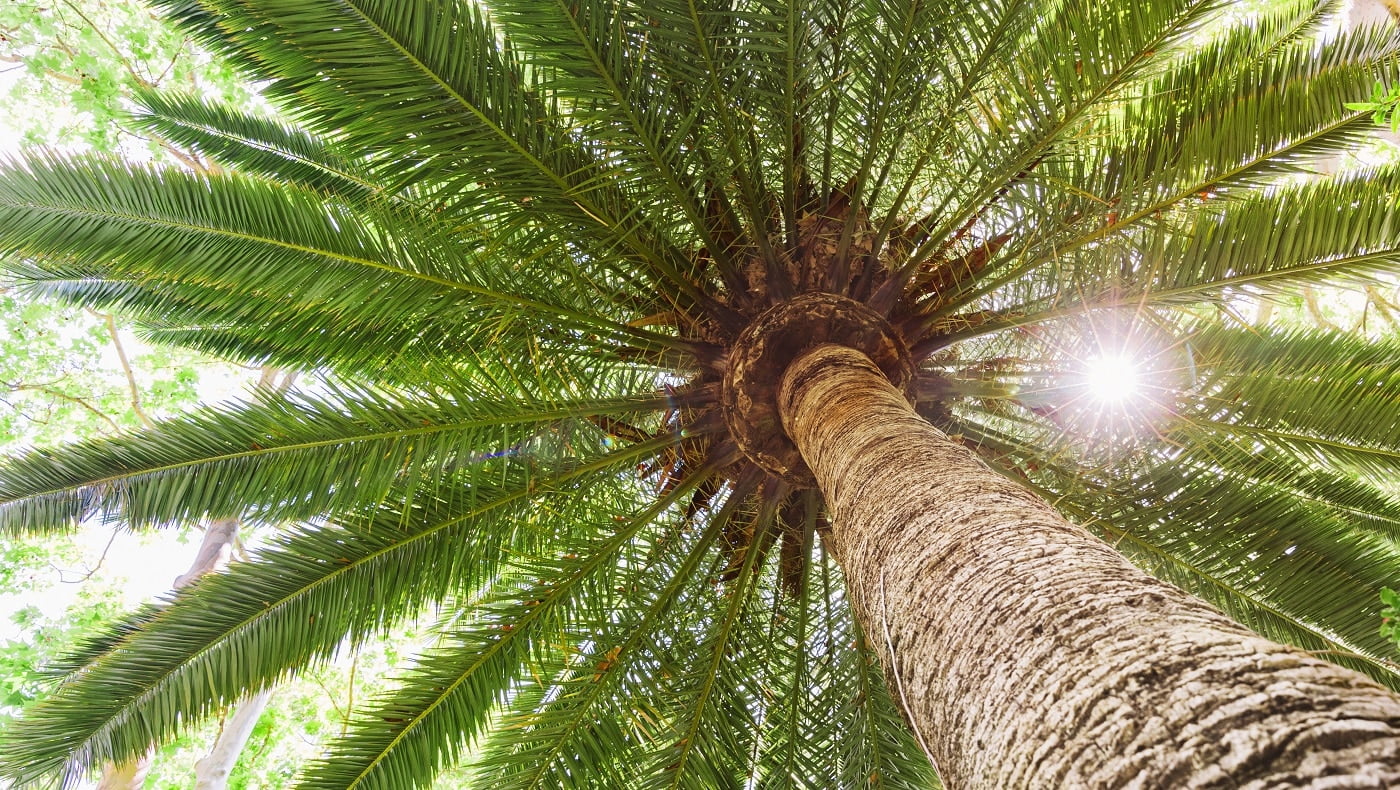 No homeowner likes their palm trees wilting and curling. In fact, yellowing and decaying palms are nothing short of nightmarish for many gardeners!
This is where an efficient palm tree fertilizer comes to the rescue. They are an essential element in keeping your lawn lush and green throughout the year. However, it is not enough to just fertilize your plants with the right balance of nutrients.
You also need to find products that deliver the nutrition in a correct manner for your plants to absorb it well.
But with the range of options available in the market, how do you figure out which is a good fit? In order to help you in this endeavor, we did some intensive research and came up with this informative guide.
You'll find a detailed discussion on the pros and cons and also a buyer's guide that will help you sail smoothly through the decision-making process.
So, without more delay, let's dive right in.
Best Fertilizer for Palm Trees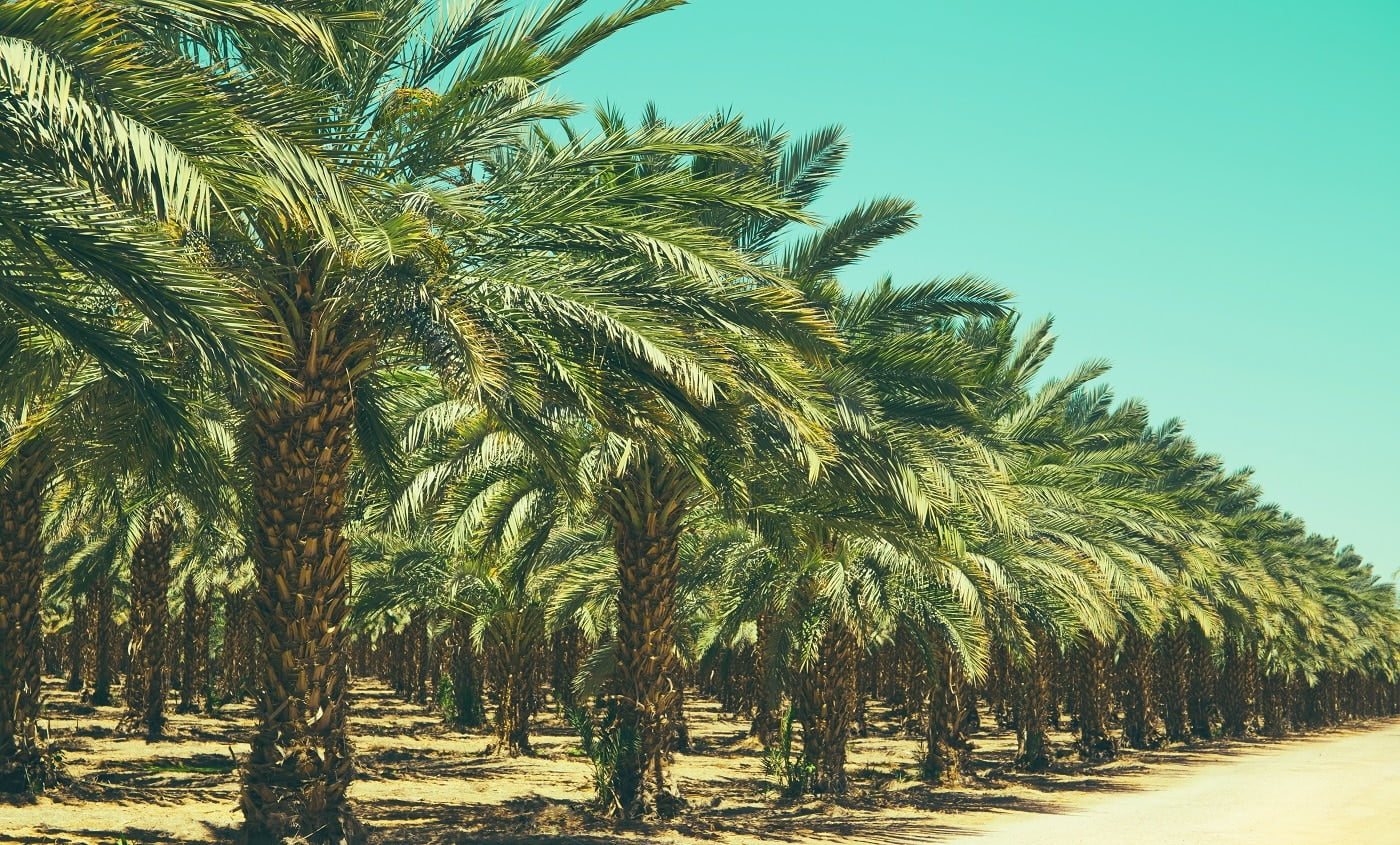 Manufactured by Miracle-Gro, a very popular brand in the world of plant care, item 3002910 is one of the best palm fertilizers to get your hands on. If you are looking for a product that does an excellent job of preventing leaves from yellowing, and fronds from curling, this is a safe bet.
Why Did We Like It?
To begin with, this fertilizer comes in a granulated form. This is very helpful in terms of mixing it with the soil. Also, with this product, your palm trees get the added benefits of magnesium, manganese, and iron.
Moreover, you can rest assured that it will not burn the plant by any chance when you use it as directed. Honestly, this cannot be said for many other palm fertilizers available in the market.
Furthermore, it is not only very effective but also very quick to act. If you follow the instructions and apply as directed, you'll see results in as few as 3 days. We absolutely loved the fact that we didn't have to wait for months to see the results.
Also, its slow-release formula is designed to provide plant food to the palm trees for as long as 3 months. With this, the plants continue to get nutrition for a long time even after the application.
What Could've Been Better?
Be careful if you have kids or pets playing on the lawn. The lid of the product doesn't come with a safety lock and can be easily opened. So, if you're using it around the patio or the yard, make sure that you use a zip lock bag. This will help you store the product better and also keep it out of everyone's reach.
Pros
Feeds plants for long

Quick action formula

Doesn't burn easily

Mixes very easily with soil
Cons
Doesn't come with a safety lid
If you are looking for an option that is renewable, biodegradable and is also healthy for the environment, Jobe's Organics 09126 is an impressive consideration. With this item, your palm trees will get the goodness of biozomes without any harmful effects of synthetic chemicals. This product is geared towards weaving a healthy ecosystem for your organic garden.
Why Did We Like It?
This is one of the best variants of palm tree fertilizers for people who like to use everything organic. Best suited for organic gardening, this item helps refine the long-term quality of soil in your garden.
It promotes better plant growth, enhances root mass, and also helps your palm trees resist diseases. You can easily achieve all of these without exposing your trees to any harmful synthetic chemicals.
Moreover, what makes this item really unique is Jobe's biozome. This biozome is a microorganism that is created specially by this brand. It efficiently breaks the nutrients down in the soil, and thus, shows results very fast. These microorganisms are functional in cleansing the soil, thereby helping it return to a more healthy and natural condition.
Additionally, it comes in an easy to pour bag, which makes application very easy. You won't need any additional zip-lock to prevent your children and pets from coming in contact with it. Because it is organic, it is pretty much safe.
What Could've Been Better?
There's no doubt that this product is an excellent choice when it comes to organic palm tree fertilizers. However, do keep in mind that it emits a strange odor once you apply it. So, if you have a party planned over the weekend, consider applying it once the celebrations are over.
Pros
Environment-friendly

Improves long term soil quality

Soil-cleansing technology

Easy to apply
Next up on our list, we have Jobe's 100046747. With Jobe's palm spikes, keeping your palms green and fertilized will be easy as a cakewalk. The spikes are designed to give a constant supply of nutrition to your plants. To know more, read on.
Sale
Why Did We Like It?
The best part about this item is that it provides a constant flow of essential plant nutrients directly into the roots of palm trees.
As it is directly put to the roots, there's no chance of wasteful runoffs or added mess. All you need to do is to put the spikes in the soil twice a year to supply a good dose of nutrition that would activate root growth.
Moreover, it comes as a stick and not as granules or sprays. So, you don't have to worry about diluting the product or spraying it evenly around your garden. Insert the spikes around each plant's dripline. And the slow-release formula will keep your plants fed all across the year.
Additionally, there's no added stench. So, if you're arranging a house party for friends on your lawn, there's nothing to worry about. Rest assured that they won't know that you've put fertilizers in the soil.
What Could've Been Better?
We cannot disagree that this product did wonders for our palm trees. But we did face some difficulty with putting the sticks in the soil. If you're a beginner, we'd suggest that you wet the soil before fertilizing so that it gets easier to insert the stick.
Pros
Provides direct nutrition

No fear of runoffs

No bad smell

Provides nutrition to plants all-year-round
If you are looking for a sustainable product that is effective and also Non-GMO project verified, Dr. Earth INC 756P is a good bet. This comes with no synthetic chemicals, thus keeping your lawn and lawn wanderers free from the effects of any harsh chemicals.
Sale
Why Did We Like It?
This item is filled with feed-grade ingredients that are high in many types of essential minerals, proteins, and other elements that are very crucial for healthy soil life. And healthy soil means more lush and green trees.
Also, there are no toxic ingredients that can cause any additional damage to your trees. This product takes pride in its unique handcrafted formula that uses elements derived from ocean plants, fish bones, and mined minerals.
It is nutritionally very well-balanced and promotes soil growth that supports the healthy growth of your palm trees.
Moreover, it also contains essential carbohydrates, humic acids, and trace factors that promote healthy and constant growth in the tropical trees on your lawn. You can also use it to grow fruits, vegetables, and flowering plants too.
Additionally, you don't have to worry if you want to use the product to fertilize indoor plants. This formula is designed to promote good growth of plants both indoors and outdoors.
What Could've Been Better?
This is a multi-plant fertilizer, and besides the palm trees, it will also keep your other tropical varieties healthy too. However, we've to say that it is quite a pocket pinch. But for the result it delivers, it is quite worth it.
Pros
Filled with proteins and vitamins

Rich in minerals

Easy to use

Can be used indoors too
Cons
Costlier than its contemporaries
If there's one fertilizer that was created specifically keeping in mind the steady growth of palm trees, it is Carl Pool CP023. It has all the essential elements that are crucial for your palms to turn lush and green. For all palm varieties, this item can provide a well-balanced set of nutrition.
Let's see what more it has to offer.
Why Did We Like It?
To begin with, this item comes with a blend of all essential elements for healthy root growth of palm trees. It has high magnesium and manganese levels, both that are crucial for the healthy development of the tropical beauties.
That's not all. It has nitrogen drawn from different sources to support fast plant growth and for a longer period of time. Also, because this item uses insoluble nitrogen, it is a potent way to resist leaching and doesn't contaminate water.
Additionally, you don't have to use this product very frequently. One application will have you covered for at least 3 to 4 months. Your gardening expenditures wouldn't go too high.
Moreover, you can use this fertilizer in a wide range of settings. Put it in your landscape plants, or in potted beauties, or go for a broadcast application. It is a good choice for all varieties of palm trees.
It is a favorite of many professional palm growers, and we can see why!
What Could've Been Better?
We didn't really come across any significant downside to this product apart from the fact that it requires some extra effort to apply. Because it comes in granules, a direct application might lead to it getting blown in the wind. So, you'd need to mix it into the water and then spray it on your plants to get the best results.
Pros
High in manganese and magnesium

Suitable for all types of palm trees

Fertilize soil for a long time

Effectively protects against diseases
For those who are looking for a fertilizer that's specifically made for the potted varieties of palms, Jobe's 05101 is an excellent choice. This item understands the nutritional requirements of the potted palms and provides a constant supply of nutrients to keep your plants healthy.
To know more about this product, read on.
Sale
Why Did We Like It?
We understand that potted plants are quite distinct from the ones that are planted outdoors. They don't get exposed to heavy rain or sunshine in the way the ones planted outside are.
This item is built to fill all those deficiencies that indoor palms have to face. Also, because the indoor varieties are not susceptible to heavy rain, the nutrients don't leach away.
Moreover, this item doesn't leave behind any mess, hazardous elements, or smell. All you have to do is apply the sticks to the roots, and you're good to go. Each of the sticks is pre-measured and has the correct dose of nutrients that your plants need. You apply it, and this fertilizer will nourish your plants for a span of 60 days.
Furthermore, it comes with 30 sticks. This is enough to last you for a long time. But do keep in mind that larger the pot, the more sticks you'll need.
What Could've Been Better?
Despite the brilliant result, this does take some time to help the plants flourish. So, if you're looking for instant greening, this product is not your game. Patience is the key here, and if you give it some time, you'll see the palms turning all lush and green.
Pros
Suitable for potted palms

Doesn't get washed away by rain

Doesn't smell bad

Nourishes plants for long
Cons
Takes time to show results
Is your palm tree on the verge of losing its life? Fret no more. Dr. JimZ Tree Secret 64oz can save your day. This item is uniquely designed to save dying trees and help create a lush green paradise around your yard.
No products found.
Why Did We Like It?
What we liked best about this product is that it is a natural tree fertilizer that is created specifically to promote the optimum health of the trees. It is a small batch of a super potent blend that readily supplies all the essential nutrients to your plants.
Moreover, it helps to promote good and steady growth in your plants and keeps them disease-free by keeping all bugs and pests away. It doesn't promote rapid, instant growth, which often weakens the plant's immunity and makes it more susceptible to diseases and wind damage.
Furthermore, it is composed of a fermented blend of more than 60 natural components. This helps to create a unique nutrient composition that enables the trees to absorb the nutrients faster and better. Thereby ensuring that they become healthy, strong, and most importantly, disease-free.
What Could've Been Better?
This product is an absolute gem when it comes to saving dying trees. However, keep in mind that you'd need to apply a lot of this product to see actual results. So, when you're buying it, keep this in mind.
Pros
Potent blend promotes healthy growth

Keeps plants disease-free

Composed of natural ingredients

Easy to apply
Cons
Needs more number of application
Next up on the list, we have JR Peters 51624. For those on the lookout for a super-efficient plant fertilizer suitable for all varieties of palm, this item is the perfect choice. To get lush and green palm trees around your yard with the help of this item, keep reading.
Why Did We Like It?
With this product, you won't face any difficulty when it comes to application. It is water-soluble plant food and is extremely easy to apply. However, it's not just the ease but also how effective it is that caught our attention.
This special blend of nutrients can be mixed with water and applied directly to the roots for efficient nutrient supply to the plants. Also, this item provides a good dose of potassium, magnesium, and other micronutrients. All of these help in preventing the build-up of harsh salts that cause immense damage to the plants.
Moreover, the appropriate dose of potassium that this item provides needs a special mention. It is potassium that ensures that the plants have lush green leaves and have a steady and stronger growth.
Additionally, when it comes to application, this product will take all your worries away. It comes with a free measuring spoon that will help you put the exact amount of fertilizer your plant needs. Nothing more, nothing less. This mechanism enables a more precise and accurate application.
What Could've Been Better?
After seeing its excellent performance, there are hardly any complaints that we have. However, this package lacks detailed user instruction. So, if you're new to it, read up a little and get to know your plant and fertilizer better before deciding to buy it.
Pros
Very easy to apply

Enables stronger growth

Helps to fight diseases

Prevents build-up of harmful salts
If you're looking for a fertilizer variant that can help in your palm trees' fast recovery, BGI Palmgain is a brilliant option to consider. It provides the plants with all the meaningful elements, and in no time, you can turn the yard so green that it will turn your neighbors green with envy.
Sale
Why Did We Like It?
What we liked best about this product is that it is quite versatile. You don't have to just restrict yourself to applying it to palm trees. Besides palms, it is also a good option for ferns, cycads, Ixora, and other ornamental plants too.
Moreover, its unique formula is designed to help boost strong and healthy growth in your plants. It comes with ample quantities of nitrogen, potassium, sulfur, iron, and other essential micro-nutrients that makes your plants lush and promotes vibrant colors.
Also, it is relatively easy to apply. All you have to do is to spread this fertilizer all over the soil surface and scratch slightly on the top layer to ensure even distribution. For best results, put it along the drip line and avoid the trunk area.
Additionally, it is a slow-release fertilizer, and you don't need to apply it very frequently for best results. If you feed your plants every 4-6 weeks, they will be sufficiently fertilized and healthy.
What Could've Been Better?
BGI Palmgain is undoubtedly one of the best products available in the market. But before you decide on buying it, do remember that the quantity that's delivered in the bag is not too much. So, if you have a big palm garden, consider buying a larger bag.
Pros
Suitable for all plant types

Ample supply of essential nutrients

Slow-feed

Easy to use
Next up on the list, we have the Southern AG 01972. This product is a super-efficient nutritional spray containing 4 essential nutrients that are crucial for correcting and preventing all deficiencies in your palm trees.
To know more about the product, read more.
Why Did We Like It?
One of the best things about this product is that it effectively prevents curling, browning, and decaying of the palm trees. If your plant is facing any permanent injury, this product can be a lifesaver and fix the injuries with a good dose of essential micronutrients.
Also, this product is quite versatile. It is understandable that homeowners don't like owning a range of fertilizers for different plants that they have in the yard. This product is not just suitable for palm trees but also for a wide range of plants.
Moreover, the bottle is quite user-friendly. It comes in liquid form, and you will have to dilute it with water before spraying it on your palms. Also, the bottle cap is pretty strong and will not come off too easily. So, you don't run any risk of leakage. This makes it very easy to store the product.
What Could've Been Better?
Despite being an excellent product, this item doesn't come with an exact instruction manual. Pros might not face any difficulty, but amateurs will find it rather challenging to know how to use the product. The bottle doesn't have a clear set of instructions printed on it.
Pros
Prevents decay and damage

Suitable for all plant types

Easy to use

Bottle is leak-proof
We are nearing the end of our list, and next up, we have Super Palm Juice. It is true that palm trees are quite distinct from other varieties of flora and that they have a very different nutritional requirement. And this all-purpose fertilizer completely meets all the needs of your palms.
Why Did We Like It?
It does get tiring to buy different fertilizers for multiple seasonal requirements of your palms. However, with this item, you will face no such worries. It acts as a constant good source of nutrition for your palms all across the year.
Moreover, if your plant is slightly yellowing or curling, this product can be a game-changer. All you have to do is dissolve the potion in water and use a hose to spread it evenly around the yard. Even distribution leads to better growth of the root system.
Furthermore, you can rest assured that your plants will get the goodness of all the essential nutrients like potash, manganese, iron, zinc, and so on. This unique solution is geared to increase the effectiveness of the fertilizer to enhance growth in your palm trees.
And in no time, you'll see thicker and healthier trunks with dense green crowns of leaves. What more can we ask for?
What Could've Been Better?
If you are new to palm tree fertilizers, there might be some difficulty when you begin using the product. The details of how to mix the ingredients are not very clearly mentioned, and you've to do some digging by yourself to figure that part out.
Pros
Suitable for all tropical plants

Revives health of palm trees

Filled with essential nutrients

Can be applied in all seasons
Cons
Instructions not too clear
As you already know, Sunniland Palm Fertilizer is quite a popular name in the market when it comes to premium palm fertilizers. It is an excellent choice for those who love having lush green yards filled with healthy palm trees. With this, you can easily make your tropical garden become the talk of the town.
Sale
Why Did We Like It?
It's a sad realization that often, in an attempt to beautify our lawns, we end up using harsh chemicals that harm the environment. But, this product does no such thing!
This premium grade product takes pride in the fact that it is organic and completely environment-friendly. You don't have to worry about surface run-offs or leaching by rainfall. Even if it gets slightly washed away and gets deposited in a nearby water-body, it won't harm the fishes.
Moreover, you'll get the benefits of all essential nutrients such as iron and manganese with this product. These elements are instrumental in preventing your palms from yellowing. Also, it has a 50% slow-release nitrogen that provides continuous feeding to the soil for a long time.
Furthermore, it is quite simple to apply. It comes in granular form, and you can directly apply it to the roots to see the best results.
What Could've Been Better?
There's no complaint that we have with the efficient action of the product. However, it is a point of concern to many homeowners that it is a little difficult to store. The bag that it gets delivered in is not air-tight and can thus lead to dampening.
Pros
Environment-friendly

Safe for kids and pets

Filled with essential micronutrients

Easy application
Cons
Bag is not too good to store the product
We cannot wrap up the list without mentioning Gro Well Brands Cp AZB10049. It is one of the most effective options that we landed on when it came to keeping our palms green and growing. This product is an absolute steal when it comes to the goodness required to keep the trees from wilting and losing their natural charm.
Why Did We Like It?
What is the most important requirement when it comes to choosing palm fertilizers? It's a good and steady growth of the palm trees. With this product, you'll have no complaints about the effectiveness that it shows when it comes to taking care of your palms.
It is rich in essential minerals and works carefully to improve soil's overall quality in your garden. With 14% sulfur in it, you can understand how it reduces the alkalinity of the soil. This mechanism helps to build better soil texture and thus helps in the steadier growth of your plants.
Moreover, it is high in iron, zinc, and manganese. Homeowners and gardeners alike know how these elements are crucial for maintaining a green and healthy lawn. Any deficiency in this department will make your plant grow unhealthy by the day. But, no worries. Gro Well Brands Cp AZB10049 has your back.
What Could've Been Better?
Yet again, there are not many complaints that we have with this product. It is a stellar choice, no doubt, but you'd need to apply it frequently to see the best results. It's not a slow feed, and you'd need to keep it constantly fertilized.
Pros
Protects against common deficiencies

Enhances root growth

Rich in essential nutrients

Easy application
Cons
Requires frequent application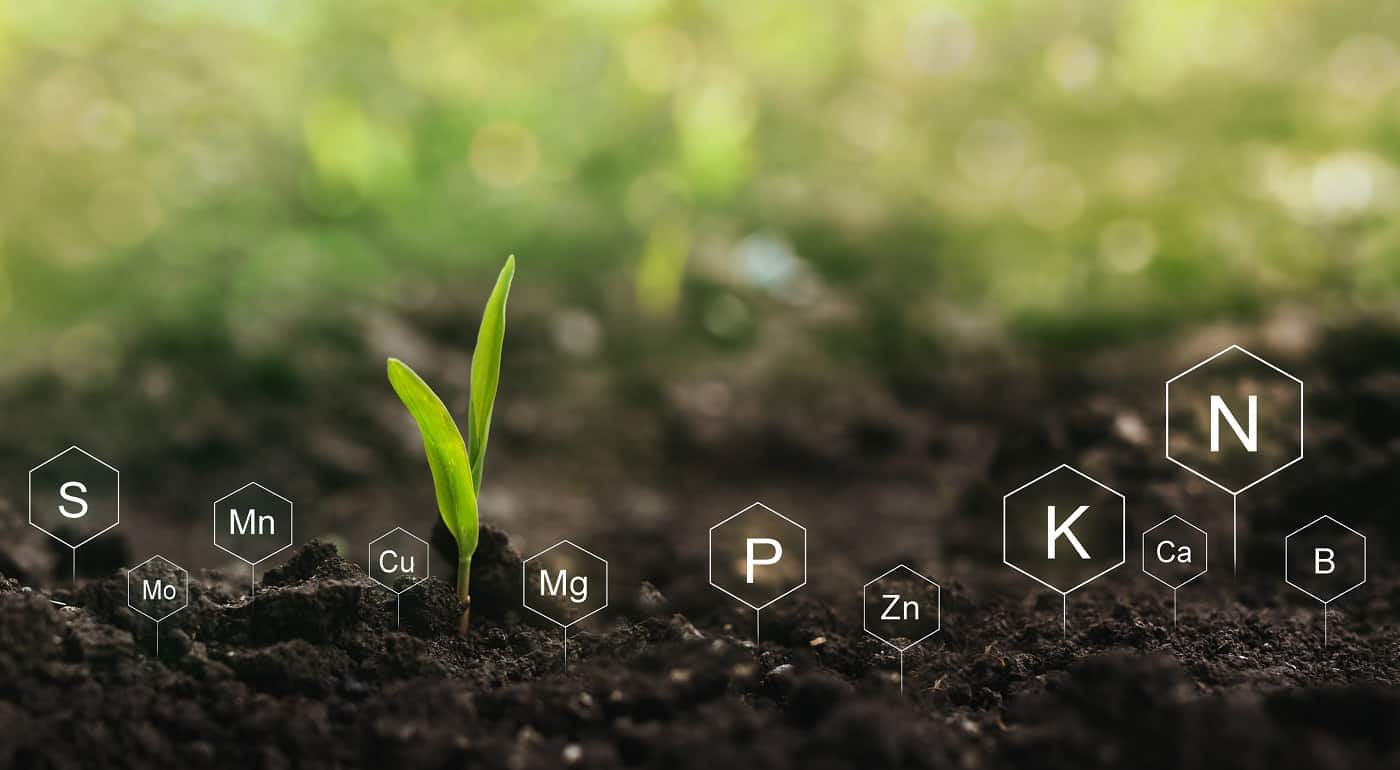 Palm Tree Fertilizer Buyer's Guide
As you've already gone through our list of top 13 picks of palm tree fertilizers, you know a few things about them by now. But is that enough to make the correct choice? We guess not.
Choosing the best option from a long list is a challenging task. And we've set out to make it easy for you. Besides the goods and bad of the products, there are a few more things that you'd need to take into consideration to make the correct choice.
To help you with this, we've compiled a buyer's guide where we've discussed in detail how you should go about selecting the best option.
Let's check them out.
Available Types
Before you decide on what kind to opt for, you need to know what types are available in the market. The most popular varieties are granular, liquid, and spikes fertilizers. Each variety has its own set of advantages and disadvantages.
You'll notice that many of these types will have similar ingredients and the same set of nutrition. But keep in mind that not all of them are suitable for all types of palm trees. Read the instructions carefully on the label to understand if a particular variety is suitable for your palm garden.
Also, ensure that you put the correct dose and not overapply.
Nutrition
To select the right option, you need to know what your palm trees really require. For proper growth, your palms need nutrients like iron, magnesium, manganese, nitrogen, potassium, among others. All these elements are extremely crucial for the healthy development of your palm beauties. And when you are choosing a product, make sure that these needs are fulfilled.
Bag Weight
This entirely depends on your lawn needs. Do you have a big lawn filled with many palm trees? Or do you have a small cozy yard filled with a few tropical trees?
The fertilizer bags range from 0.5 pounds to as much as 50 pounds. It might seem like a good idea to buy the products in bulk. However, you need to keep in mind that every product comes with an expiration date. In case you don't use it up as calculated, you may end up wasting a lot of it.
Also, this decision should be fueled not just by the number but also by the kind of palms you have in your garden. If your palms need seasonal fertilizing, you can easily opt for a small bag. But if your kind needs to be fertilized once every month, going for a bigger bag would be wiser.
Amount Needed
We cannot stress enough how important it is to read the label. It will just take you a minute to do so, and you'll have a fair idea about how much fertilizer should be put in.
You need to be very careful with the amount as the soil's 'well being' depends on it. The last thing that you'd want to do is to poison the soil that nourishes your plants.
Read the label carefully, and you'll see that each package tells exactly how much you should apply depending on the plant's size.
Lastly, in case there's no proper instruction, just take the safest route. Apply in small dosages and see how it turns out.
Presence Of Nutrients
Know your plants well before you decide to put the fertilizers. Talk to fellow gardeners, read on online forums to know what to avoid.
However, the primary thing you should look out for is to try and not put fertilizers that are too high on nitrogen and have very little potassium. A combination like this is only meant to create chaos. Nitrogen will help your palm trees to grow nicely, but if there's a deficiency of potassium, it won't get enough strength needed to support the growth elements.
Fertilizing your plants wrong has far worse consequences than not fertilizing them at all.
Verdict
We know how crucial it is to keep your palms fertilized in order to have a green and healthy yard. Also, it must have become pretty clear to you that there's more than one way to fertilize your palm trees well.
We have shared the deets of the top 13 options with you, but let's take another look at the best of the lot. MiracleMiracle-Gro 3002910-Gro 3002910 is an absolute all-rounder and our overall favorite. On the other hand, we love the soil-cleansing technology offered by Jobe's Organics 09126. It is one of the best options in the organic category.
If you are looking for an item that provides direct nutrition to the roots and doesn't lead to any unnecessary wastage, go for Jobe's 100046747.
With this, we have reached the end of this guide. We hope that it has helped you make an informed decision.
We'll say our goodbyes now. Until next time, happy gardening!
Related Articles
5 Best Self-propelled Lawn Mowers Right Now
The 5 Best Lawn Mowers for St Augustine Grass Right Now
Best Lawn Edging for a Legendary Garden 
4 Best Walk Behind Brush Cutter
13 Best Trimmer Lines | Multi-Sided, Round, Square, Twisted & Serrated
13 Best Inexpensive Lawn Mowers For Small Yards
6 Best Electric Start Self Propelled Lawn Mowers 
11 Best Battery Powered Lawn Mowers
11 Best Mosquito Fogger Insecticide
9 Best Fertilizers for Petunias Right Now
9 Best Fertilizers for Hydrangeas
13 Best Weed And Feed For Lawns
13 Best Weed Killer for Flower Bed Reviewed
How to Install Landscape Fabric for Weed Control
Does Grass Seed Expire? All You Need to Know
11 Best WiFi Smart Sprinkler Controller 
13 Best Potting Soil For Herbs To Consider Today
13 Best Backpack Sprayer [Buyer's Guide]
13 Best Fertilizer for Zoysia Grass
13 Best Fertilizer Spreader For Lawn & Garden
13 Best Potting Mix For Orchids
How Long After Grass Starts Growing Can You Mow It?
Does Grass Seed Go Bad | Expiration Dates Explained
How to Get Rid of Pampas Grass