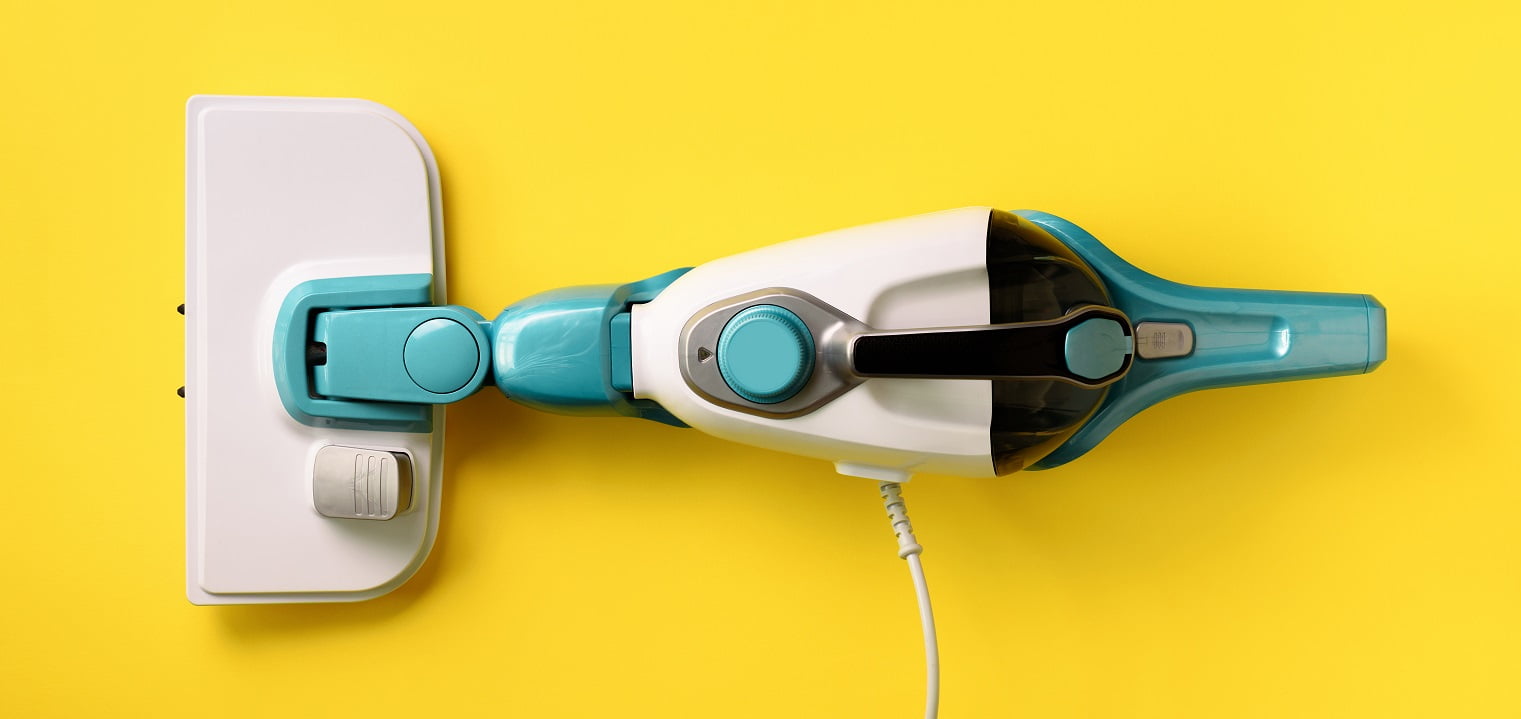 When it comes to cleaning your home, not a lot of tools can compare to the effectiveness of the steam mop. A steam mop utilizes the power of hot water in the form of steam to help you break apart dirt and grease, allowing you to clean it all up with a lot more ease than with a regular mop.
There are many steam mop manufacturers out there who claim to provide products of the highest standards. Bissell is a well-known brand when it comes to steam mops. Considered to be the top dog, it came out with the Bissell PowerFresh Steam Mop Model 1940 as one of the best products it has ever produced.
The innovative Shark brand is a relatively new entry to the industry, but one that is definitely capable of taking on Bissell. Their Shark Steam Pocket Mop Model S3501 is a product touted to be their top product yet.
If you are considering buying the best steam mop for yourself, the choice is going to be between these two. Both of them heat up the water pretty fast; they boast long power cords, a large reservoir of water and a swiveling floor head. The question is: which one will suit your needs the best?
Luckily, you will not have to spend money on both to test which one is right for you. We have used and reviewed both of these products so that you can get the information you need to make the best decision. We have also included an additional guide that will tell you all the factors you need to consider when you are buying a steam mop.
Shark S3501 vs. Bissell 1940 | A Steam Mop Comparison
Bissell PowerFresh Steam Mop has a large capacity tank that allows you to detach it from the unit to fill it up. Its handle is ergonomically-designed for better handling and comfort during use. The floor head on this steam mop features an integrated scrubbing brush. The standard and scrub microfiber pads are both pretty easy to secure to the mop head and remove when you need to clean them up. The steam mop also gives you the option of using three different levels of steam.
Sale
Shark S3501 Steam Pocket Mop also has a swiveling head. It is a lot lighter on the back side, which makes it easier to handle in hands during use. The reservoir on this steam mop is also quite large and integrated into the steam mop. The container has viewing windows that allow you to check the water level. The microfiber pads have areas that capture particles instead of spreading them around the floor.
Let's see how these two compare with each others in various aspects as we used them.
Reservoir Comparison
Whether you are looking for a slight bit of steam for gentle cleaning of a wooden surface or a powerful burst of steam to get the grime off of the kitchen floor, the Bissell PowerFresh Steam Mop has you covered. There are three different steam power settings on this mop that you can control using a digital control panel near the handle of the steam mop.
The reservoir holding all the water in the PowerFresh is a removable unit. This means you no longer need to worry about being careful while filling the steam mop's reservoir. All you have to do is detach it and refill it with ease. A capacity of 16 ounces means that you will not have to bother refilling the reservoir frequently. You can get through your work quite fast.
If you are facing a big cleaning job but you do not have a lot of time for it, the Shark Steam Mop has you covered. In a matter of 30 seconds, the steam mop will heat up the water within the reservoir to bring it up to steam that you can use to clean up the mess in little to no time.
The main body of the Shark Steam Pocket Mop has a window that allows you to see how much water remains in the reservoir. You will know when to refill it when the water level has started to run low. Adding more water is a matter of laying the mop flat out and filling it up using a measuring cup. At a 15-ounce capacity, you will not need to worry about a lot of refills stopping the progress of your work.
Resolution
When it comes to the time taken for heating water, both the Shark and Bissell steam mops stand at the same level. Bissell PowerFresh can hold an ounce of water more than the Shark S3501 and it allows you to adjust the steam output based on the application you need it for.
The refilling process for both of them is different. The Shark has a built-in reservoir that takes slightly more time to fill up as compared to the Bissell, which has a refillable and detachable water tank.
Handling Comparison
Bissell PowerFresh has a swiveling floor head that allows you to weave in between a lot of different areas with relative ease. You can move it around the furniture in your home without bumping into them and the long power cord allows you to get the kind of room you need to move around.
One thing in particular about Bissell PowerFresh that we really liked was the fact that it has an ergonomically-designed handle. The problem with straight handles is that they can tire out your hand and even cause you to lose your grip. While the Bissell is not as lightweight as the Shark model, it will not be too heavy for you to handle.
One of the winning qualities of the Shark Steam Pocket Mop is the fact that it is light. This makes maneuvering the mop around quite easy for anyone. The floor head on this steam mop is also able to swivel, which means getting to all the difficult areas is a lot easier while cleaning a home. The power cord is a substantial 20 feet long that allows you more than enough freedom to move around without the need to change electrical outlets.
It is important to understand that 4.9 pounds of weight is an industry-leading feature. The circular handle on the Shark Steam Pocket Mop has a very soft grip that combines with the light weight to make it very easy for you to maneuver it.
Resolution
Both of these steam mop models offer you a lot of convenience with the swivel mop heads. Their power cords are around the same length (with the PowerFresh around 3 inches longer). Steam Pocket is a little over a pound lighter than PowerFresh. That being said, PowerFresh does boast an ergonomically-designed handle.
Floor Head Comparison
The floor mop head is one of the best features of the Bissell PowerFresh. The scrub brush on it is built into the mop head, which allows you to flip it down whenever you need an extra bit of help to remove problematic grime and dirt. The floor head offers you two viewing windows that let you see whether the scrubbing has cleared out the dirt accumulated in the area you're working on.
PowerFresh also comes with a microfiber scrub pad along with a soft one. This enables you to change out the mop pads based on the application you need it for. There is also a bit of room on both mop pads where you can insert fragrance disks. An integrated elastic band secures both the microfiber pads in place with a quick release action, which allows you to make the switch or take them out instantly.
The Shark Steam Pocket Mop features a rectangular mop floor head. The straight line design of the floor head and its ability to pivot on the joint, you can easily take care of the build-up dirt along the corners and edges, which are always left wanting with rounded floor heads. You will not have to make extra scrubbing efforts on those areas again.
Resolution
The Shark Steam Pocket Mop and the Bissell PowerFresh both have two microfiber pads, but PowerFresh is the one that gives you two options in terms of scrubbing power. The Steam Pocket's scrubbing pads, on the other hand, are quilted. Bissell also allows you to see through to the floor using its floor head windows and the attachment mechanism for its microfiber pads is faster to operate.
Sale
Both Steam Mops Offer You Great Value
As you can clearly see, both of these steam mop models offer you a lot of value. They heat up quickly to produce the steam you need for cleaning properly. Both of them have large reservoirs that can reduce the number of refills and have long power cords as well.
Steam Pocket Mop by Shark has an integrated reservoir while the Bissell has a detachable one, which you can remove to fill up. The Bissell PowerFresh offers a few more features than the Steam Pocket Mop like the three separate steam output settings and an integrated brush.
The Steam Pocket Mop has quilted microfiber pads, but the Bissell Steam Mop has two different types of pads that offer the option of using a scent disk as well. Choosing between the feature-rich Bissell PowerFresh and the streamlined Shark Steam Pocket Mop is a matter of personal preference.
Steam Mop Buying Guide
We have put together a concise steam mop buying guide. It highlights all the qualities that the best steam mops are supposed to have. This will help you make a better decision based on your needs and the qualities that both these models have.
Large Water Tank
The more water the steam mop can hold, the longer you can use it to clean without running out of steam. In that respect, both of these models happen to have substantial reservoirs with the PowerFresh just edging past the Steam Pocket by an ounce.
Easy Fill Design
A steam mop that is easier to refill is more convenient. An integrated reservoir means using a funnel or a measuring cup to refill the mop's water tank. In this department, the Bissell PowerFresh one-ups the Shark Steam Pocket with its removable reservoir.
Variable Steam Control
Another area that the feature-laden Bissell PowerFresh takes away, a steam mop that offers variable steam output options gives you better control in terms of the intensity you need for different cleaning applications for varying surfaces.
Sale
Easy Handling
Steam mops that are lightweight and have swiveling floor mop heads are ideal. Both of these models are light and they have excellent pivoting floor heads, but the Steam Pocket is a little over a pound lighter than the PowerFresh.
Long Power Cord
Power cords can vary from 16 to 30 feet for steam mops. The steam mop you should go for needs to have a long power cord. A longer power cord allows you the freedom to move around an area while you clean it without the need to change power outlets.
Both the Steam Pocket and PowerFresh offer pretty long power cords at around 20 feet with the PowerFresh featuring a 3-inch longer cord.
Built-in Power Switch
Steam mops that allow you to turn them on or off using a switch on the mop itself rather than relying on the outlet are much safer to handle. You can turn it on whenever you are ready to use it. Both of the models feature built-in power switches.
Fast Heating
Generally, steam mops can take up to quite a few minutes to heat up the water in the reservoir to bring it up to steam. You need to get a steam mop capable of quickly producing the steam you need to effectively clean around your house.
Both the Steam Pocket Mop and the PowerFresh can quickly heat up the water and make the steam ready for use within a matter of around 30 seconds.
Sale
Final Thoughts on Shark S3501 vs Bissell 1940
Based on our experience of using the Bissell PowerFresh Steam Mop 1940 and the Shark Steam Pocket Mop S3501, we feel that both of them are pretty capable machines, which offer a lot of solid value for someone who likes to keep busy cleaning the house.
There are some areas where the Bissell PowerFresh definitely overtakes the Shark Steam Pocket Mop, but the Steam Pocket Mop is lighter and pretty convenient to use. Choosing between the two is a matter of how you feel their qualities suit your needs.
We hope that the reviews, comparison and the buying guide will help you make the best possible decision for the best steam mop you can invest in for your home.