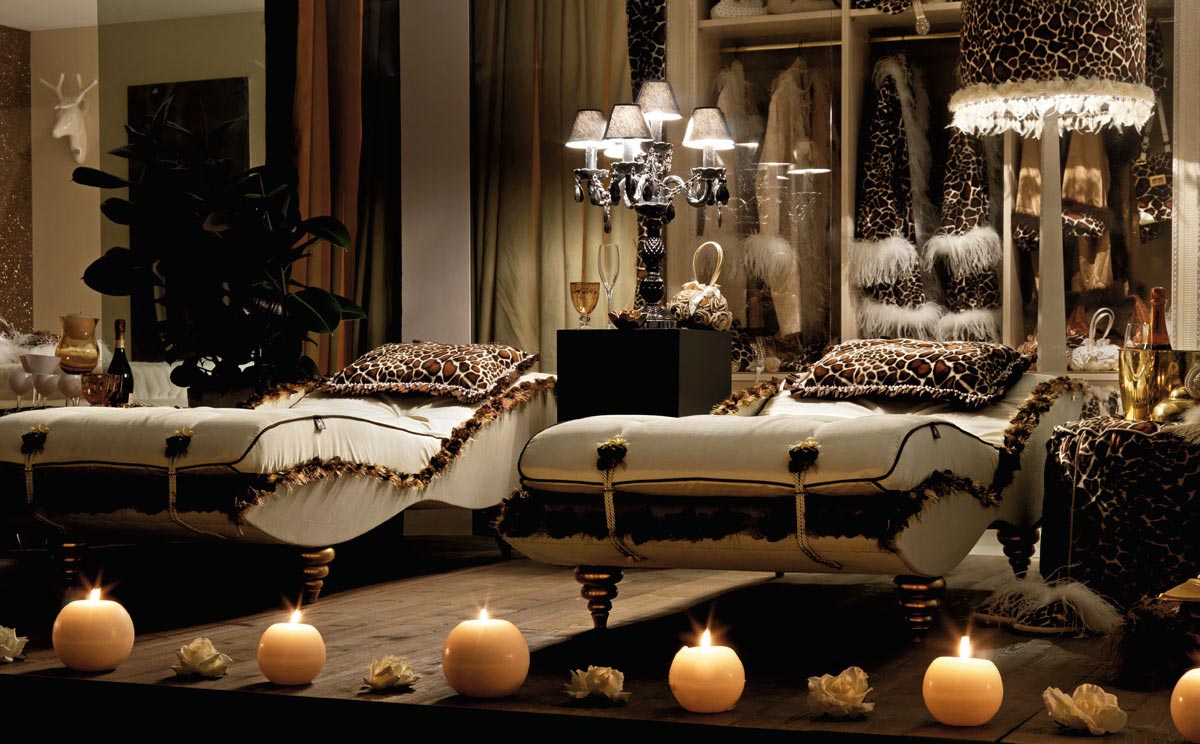 The bedroom is one of the most important parts of our home. Almost half of our lives is spent sleeping so a certain degree of importance must be given to this room when it comes to its organization and design. Lighting, storage, ambiance, color scheme, furniture design all come together and merge into what should be a relaxing, comfortable environment meant to inspire and offer the most needed rest. We have previously presented several ideas on how to enlarge your bedroom or on how to decorate small bedrooms :30 Small Bedroom Interior Designs Created to Enlarge Your Space,  5 Easy Bedroom Makeover Design Ideas, Beautiful Creative Small Bedroom Design Ideas Collection.
So today we have decided to present you some of the most beautiful, luxurious, opulent bedroom collection from all around the world in the hope that you will feel more inspired in decorating your own personal oasis of relaxation.
World's Most Luxurious Bedrooms
1.Taj Mahal Palace, Mumbai, India
Opulence is the best  word to describe this enchanting 1,800 square feet suite which combines modern technology with elegant decor. Crystal chandeliers, golden marble floors, dark colored wooden furniture, all combine to give this hotel suite a luxurious apparel worthy of its guests. Noteworthy hotel guests include The Beatles, Jacqueline Kennedy Onassis, Bill and Hillary Clinton, and President Barack Obama.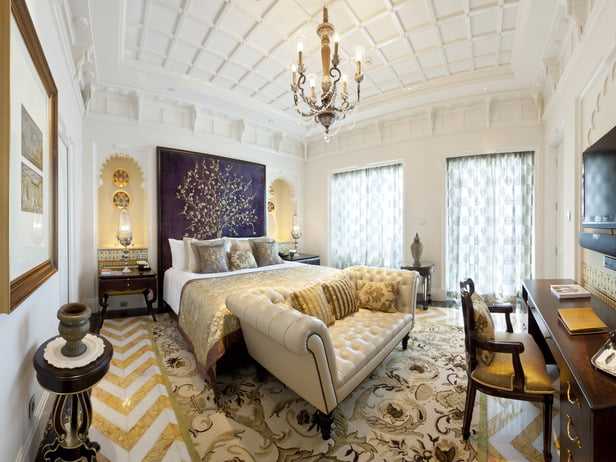 2. Abu Camp, Okavango Delta, Botswana
This particular bedroom is among this list of world's most luxurious bedrooms due to its special location. Although it was built to resemble a tent it hosts all the luxuries of a modern hotel suite but with extraordinary panoramic view of the African vegetation and its beautiful elephants. Decorated with natural materials such as zebra rugs and strong airy cotton walls for a relaxed atmosphere  this special bedroom is a perfect choice for those of you who can enjoy the wonders the African continent has to offer.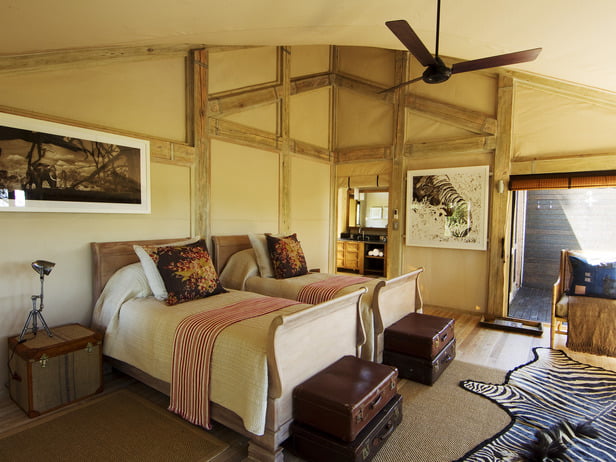 Abu Camp
3. The Opposite House, Beijing
Number 3 on our luxurious bedrooms tour is this 5,000-square-foot two-story penthouse from which you can admire China's busy capital. The overall design suits its location, offering an airy relaxed environment with modern touches merged with traditional Chinese decor.
4. W Retreat & Spa, Vieques Island, Puerto Rico
If you are into the Caribbean vibe, the W Retreat & Spa is the perfect place for you and..you pet. Here animals are being very well pampered in an exotic ambiance surrounded by exquisite furniture combined with eclectic art pieces and calming color schemes. The perfect place for relaxation!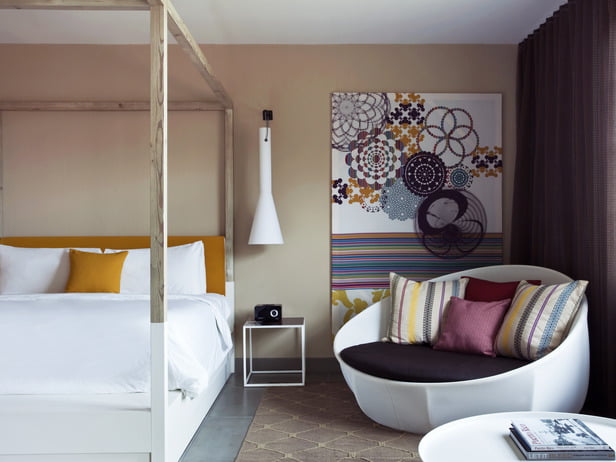 W Retreat & Spa, Vieques Island
5. Little Olarro, Loita Hills, Kenya
If you want to experience a change of pace and culture, visit Little Olarro in Kenya. Here you will have the authentic African experience in a traditional decor made of lofty rough-hewn wood-beamed ceilings, mud walls and a woven grass roof, all combined into an elegant creation.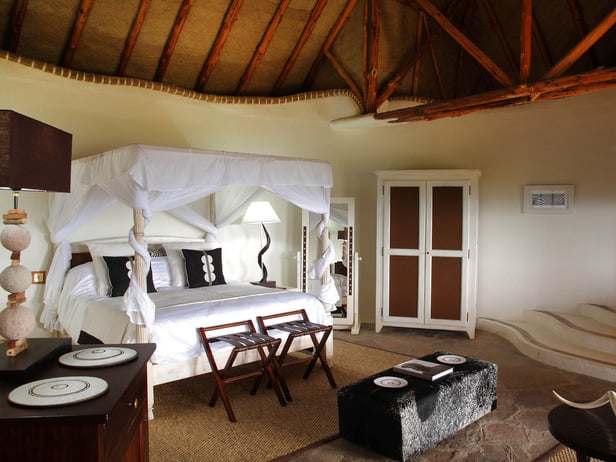 6. The Nines Hotel, Portland, Oregon
Ok, so Portland Oregon does not seem to be a perfect destination for your holiday bu just in case you stop by here is a beautiful hotel which offers its guest the perfect mix of art deco and modern design. with a touch of turquoise as a statement color.Fine high quality fabrics, a tasteful decor and a very very comfortable bed make the Nines Hotel in Portland a great stop along your holiday journey.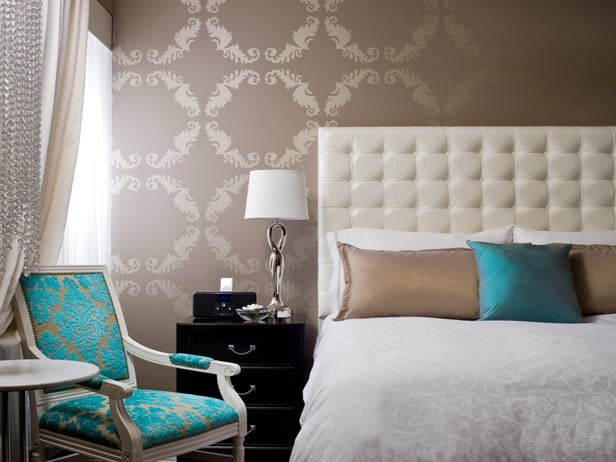 7. Abu Camp, Okavango Delta, Botswana
With panoramic view of the Okavango Delta, the world's largest inland delta, this tent in Abu Camp offers you the unique experience of watching  more than 400 species of bird, plus giraffe, wildebeest, antelope and zebra from your own private bedroom. And although it is a tent, the decor and abidance screams luxury and good taste with hardwood floors, leather furnishings and a view to die for.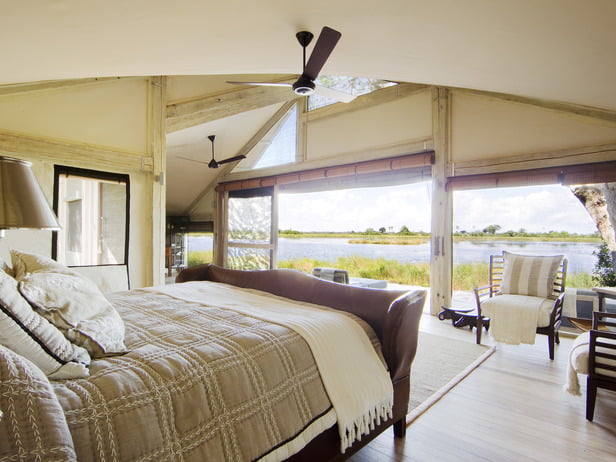 Abu Camp
8. Pashan Garh, Panna National Park, India
Another incredible experience can be lived at the Panna National Park India where you can have the luxury of having your very own stone cottage with Indian decor influences and admire the surrounding jungle and observe even the Bengal Tiger from the comfort of your bed. Strong contrasts of colors and materials offer this private retreat an elegant vibe perfect for an exotic adventure.
9. Zungulila Bushcamp, South Luangwa National Park, Zambia
After a long day prowling the savanna on one of Luangwa's famous guided walking safaris relax into this private tent next to the Kapamba River . Available only from June to January, sleep into this exotic bedroom decorated with a baldaqin bed and eclectic furniture, whilst admire the animals attracted by the river's clean water.
Zungulila Bushcamp
10. Taj Lake Palace, Udaipur, India
Surnamed Luster of the Moon, this Indian suite is the most impressive of Maharana Jagat Singh II's 250-year-old pleasure palace. Bulit in 1746, this impressive location decorated with ceiling frescoes, marble carvings and a rich luxurious color scheme situated on an island in India's Lake Pichola,  was used as Octopussy's lair in the 1983 James Bond film and has long been a destination for European royalty and American celebrities.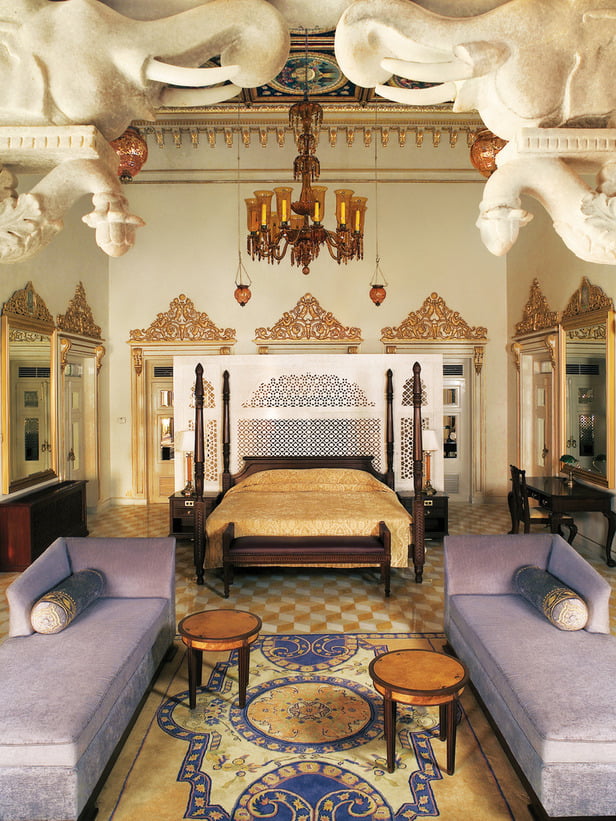 From Africa to India, this 10 beautiful luxurious bedrooms do not probably pop up to mind the second you think of luxurious destinations. But for the ones eager for adventure and for something new and out of the ordinary these locations offer more that you can imagine in a mesmerizing decor and incredible surroundings. Enjoy!
Related Articles
12 Ways To Put Your Bedroom Corner Space To Good Use
29 Brilliant Easy to Build DIY Platform Bed
21 Mindbogglingly Beautiful Fairy Tale Bedrooms for Kids
21 Super Small Nightstands Ready to Fit in Petite Bedrooms
37 Simply Spectacular Tree Bed Designs to Pursue
Recycled Pallet Bed Frames – DIY Pallet Collection
15 Creative Small Beds Ideas For Small Spaces
30 Small Bedroom Interior Designs Created to Enlargen Your Space
37 Smart DIY Hanging Bed Tutorials and Ideas to Do
Bedroom Christmas Lights Ideas For A Cozy Atmosphere
32 Dreamy Bedroom Designs For Your Little Princess
100 Inexpensive DIY Headboard Ideas for Your Bedroom Design
47 Stylish Floating Bed Design Ideas
53 Incredible Hanging Beds to Float in Peace
33 Epic Navy Blue Bedroom Design Ideas to Inspire You
6 Best Vacuum Cleaners for Mattress