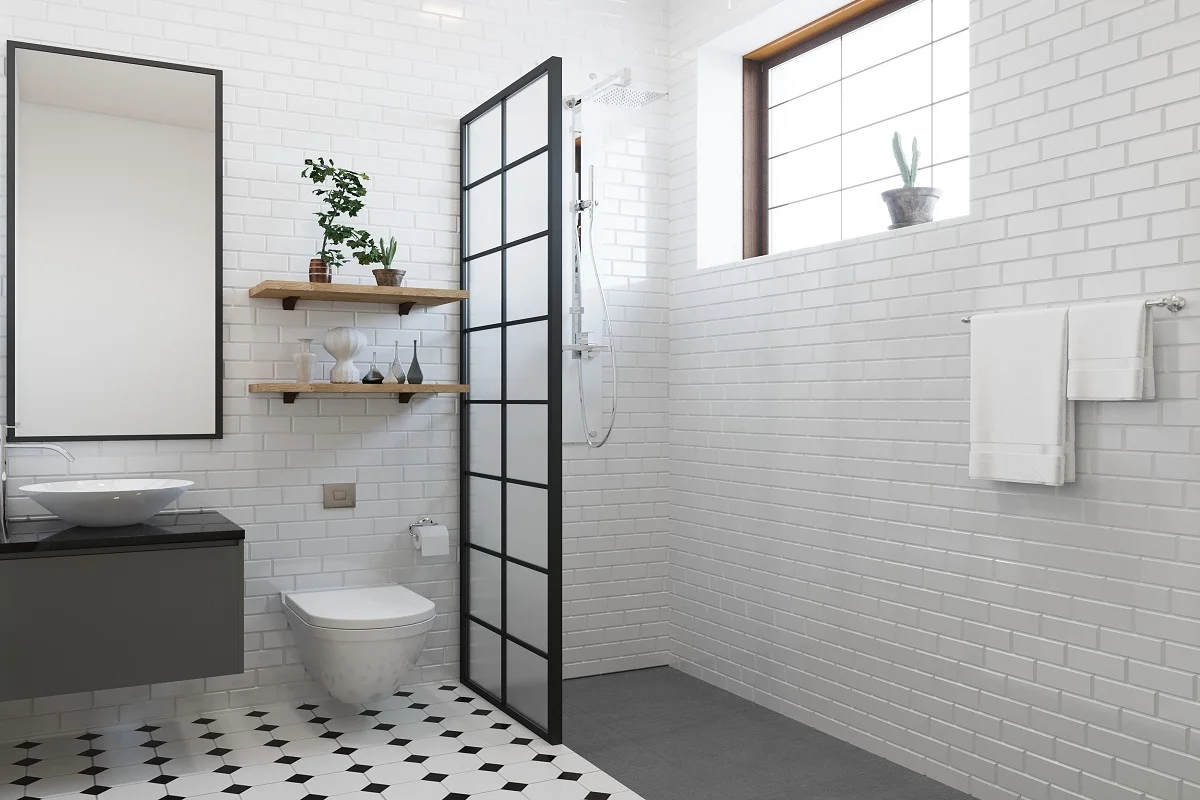 There is nothing more classic than simple colors like black and white as far as bathroom décor ideas go. 
Granted, there are many more modern colors and abstract design patterns that people tend to opt for. However, when used in the right way, even black and white décor can be elegant and very royal. Plus, it is essential to understand how these colors should be used to create the best possible look. 
That being said, to remove the predisposition that black and white is dull, we have a few décor ideas for you to peruse. If you have been looking for ways to upgrade the look of the bathroom, this is the guide to fall back on. 
Now, without further ado, let's jump right to the good part! 
Black And White Bathroom Inspiration Ideas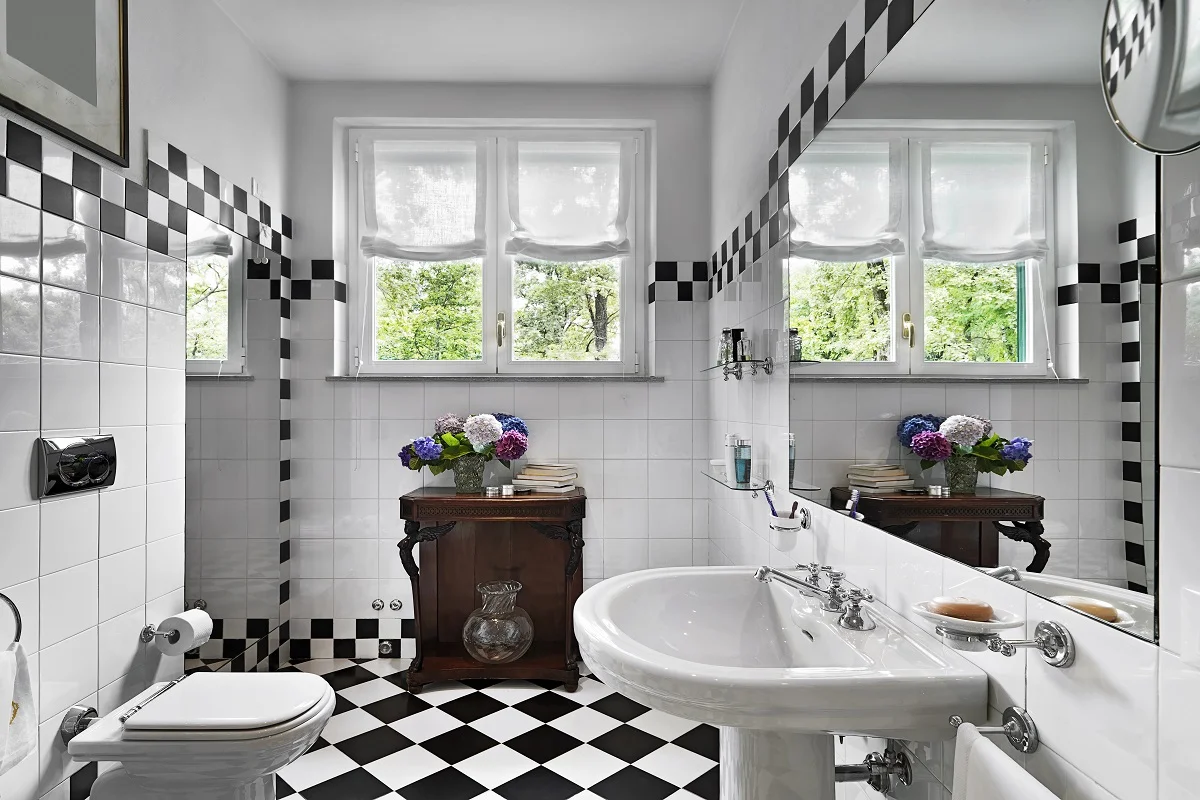 One of the best things about the black and white color combination is that it can be used to make a statement in a suitable manner. Additionally, it is possible to completely change the mood of the room – from light and airy to moody and regal. 
The best part about this color is that finding black and white tiles for the bathroom is easy. This way, you can fully explore all the different designs without spending too much time hunting for the materials. 
Let's look at some of the popular designs for black and white bathrooms that people are giving a shot. 
1. A Modern Outlook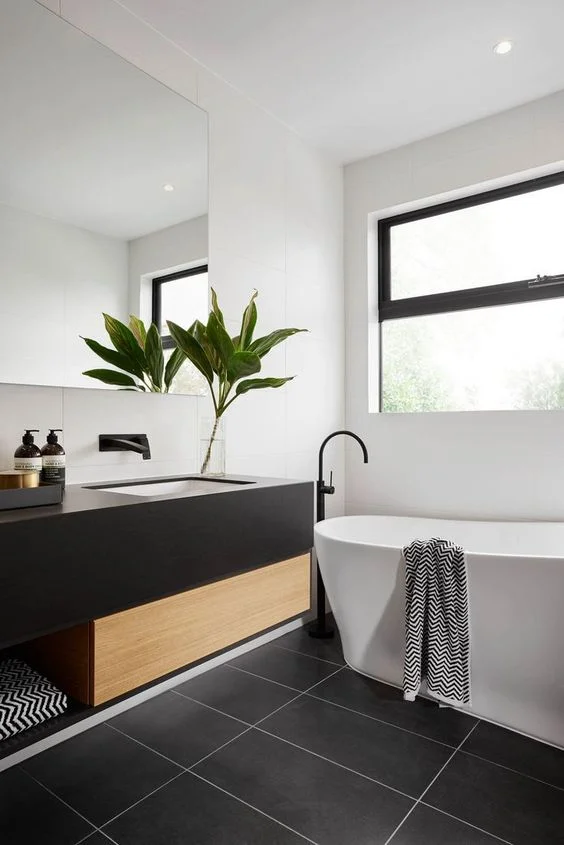 While black and white have always been considered a traditional color scheme, who says the designs have to be traditional. If you are looking to create a modern design in the bathroom, why not steer clear of the traditional all white bathroom designs. Instead, look at all black bathrooms with minimal white elements. 
Another widespread contemporary design we have taken note of is using the right fixtures. Even if you have a white interior, using the right kind of fixtures (and in darker colors) always seems to do the trick. Additionally, you can accentuate the look of the room by adding accent walls or a glass shower door instead of shower curtains.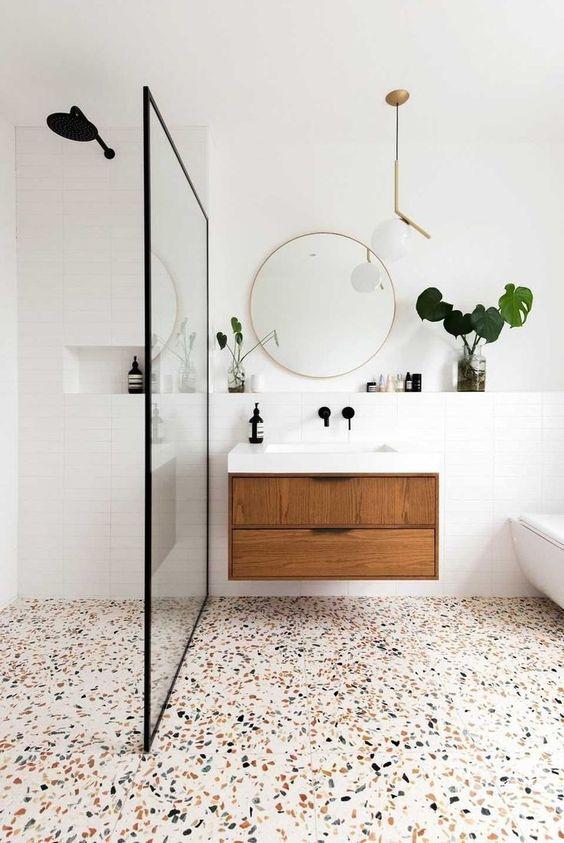 If you are not too big on the designs and do not want a dark-looking bathroom, we suggest looking into Scandinavian designs. Usually, these types of designs are based around the practicality of the bathroom and are simple. This is why a lot of white is used in the forefront, like on the walls, cabinets, and floors. 
However, you can make this a bit more modern or add a dramatic touch with black elements. We have seen plenty of homeowners add a black frame around the mirror, or install black fixtures to make it look less monotonous. Furthermore, the sudden splash of darker colors adds a bit of depth to the room without stripping it from its functionality. 
We are also big fans of adding wooden elements when it comes to minimalistic designs. If there is a white bathtub in the bathroom, why not pair it with black floor tiles and a wooden table next to it. Plus, even wooden countertops look great and tie in well with the minimalistic interior design. 
3. Add A Bit Of Gold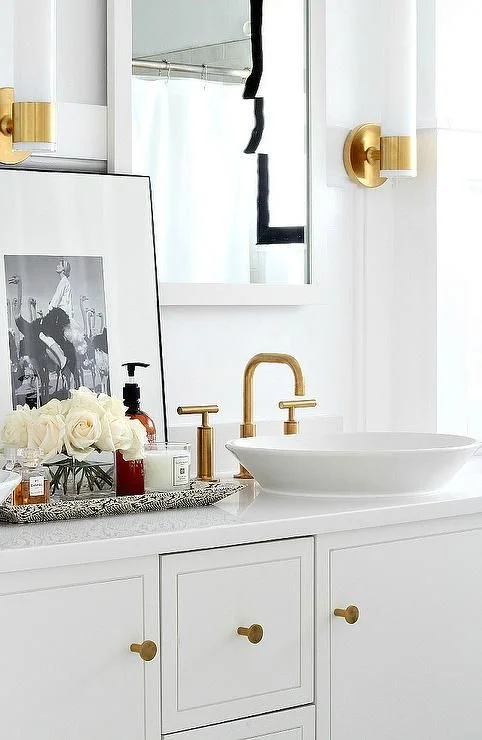 One of the colors that go really well with white and black is gold. Hence, many homeowners are adding gold accents to the bathrooms to create a more luxe look. 
Additionally, we feel it is a great idea to incorporate in smaller spaces as it gives a warmer look to the room. The only thing you need to remember is to add it in moderation to maintain a balance.
Some of the best examples we can offer are adding golden fixtures or wall tiles with minimal gold patterns. Many people also like to have drawer pulls and towel holders in gold, especially against a white background for contrast. 
But if the idea is to have a very prominent golden feature, there is nothing better than a gold accent wall. 
4. Traditional Designs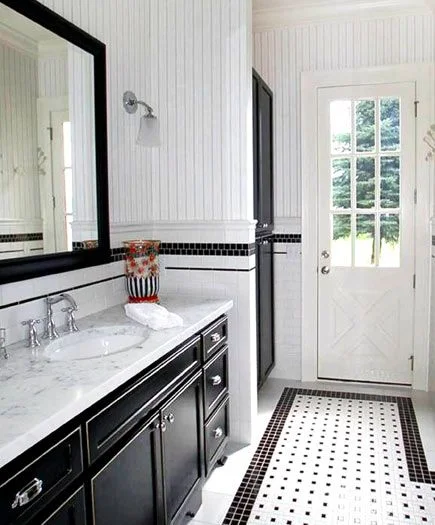 We know that not everyone is looking to create something out of the box. Considering that black and white as a combination is a classic, there is a lot that can be done from a traditional standpoint as well. Moreover, it is not always easy to create something luxe or modern if there is not enough space in the bathroom.
This is why we have made it a point to incorporate this point into our list. We feel the best way to utilize both these colors is to have an elegantly designed black floor in combination with a white wall. Additionally, you can add a mix of black and white fixtures to create the right balance of colors. 
A design of this sort will allow you to maintain that traditional look and still keep the bathroom looking big and bright.
5. Luxe Bathroom Ideas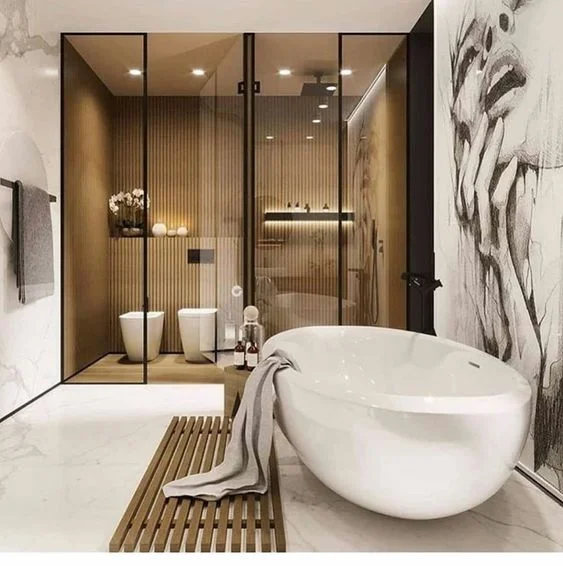 For the people who love spending time in the bathroom, we understand the need for proper aesthetics. The right bathroom interior can change anyone's mood, and besides, who wouldn't want a luxurious bathroom in the house? Hence, adding the right elements along with a balance of both colors is essential.
We suggest using black marble, white subway tiles, and plenty of decor items to make the bathroom look more luxe. Some of the commonly used elements are lamps, flowerpots, and wall fixtures. What's more, if budget and space permit, many homeowners like to add a freestanding tub, chandeliers, or furniture in the bathroom to give it a more regal look. 
Alternatively, you can opt for an all-white interior with black granite elements like countertops for a bit of contrast. The idea is to keep a balanced black and white theme with additional features to tie in the luxurious feel.
6. Transforming The Master Bathroom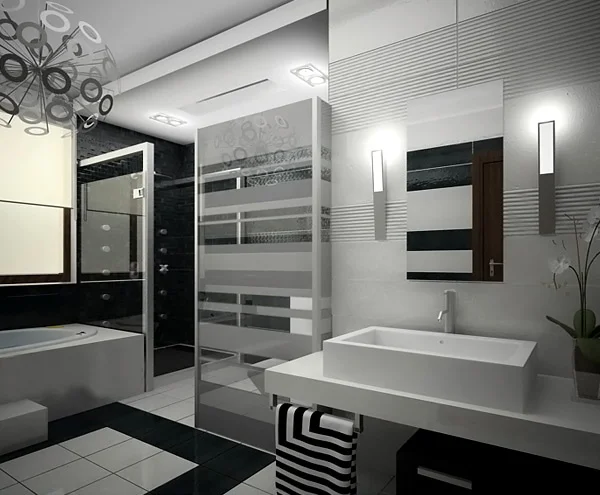 When it comes to the master bathroom, everyone likes to transform it into the best possible space. This is especially the case when the bedroom has an excellent look, so the bathroom needs to match up. Usually, homeowners who like the black and white combination tend to keep it simple, but not this time.
If you are struggling with décor ideas, we suggest going with something bold. One of the most popular design ideas is mosaic tiles. Now, the size of the patterns depends on the size of the bathroom. 
The rule of thumb indicates that a bigger bathroom space requires bigger mosaic tiles. Plus, these floor tiles look exceptionally great with a plain wall of the opposite color. 
So if the floor is black, opt for a white tile for the walls in a less obvious design. Alternatively, white floor tiles look amazing with black mosaic walls but the choice is yours.
7. Making The Most Of A Small Bathroom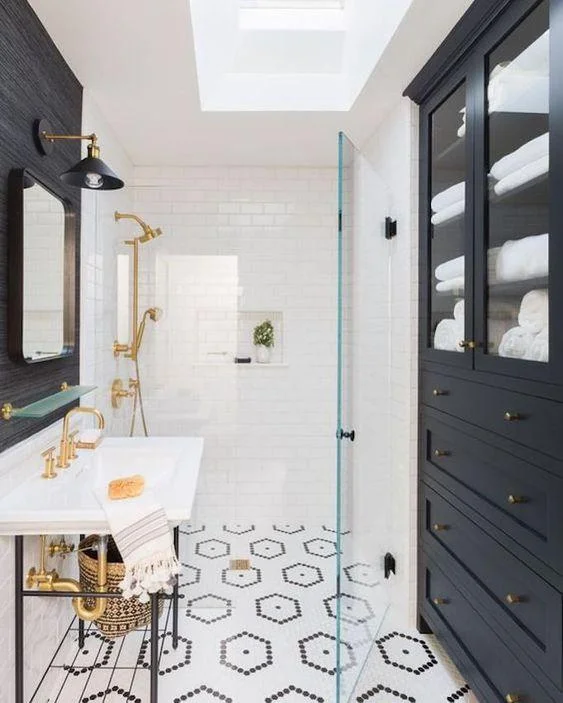 Quite a few homeowners believe that small bathrooms are difficult to style since there is a lack of space. But, that is far from the truth. We believe that the best way to create a stylish bathroom is by using just two colors. Furthermore, the lesser color used, the cleaner the interior looks. 
In fact, you can even create themes in a tiny bathroom as very little is needed to get it done. Some of the popular themes people tend to go with are vintage, floral, and even industrial. 
Additionally, you can opt for different patterns when it comes to floor and wall tiles while remaining in the black and white color scheme. The main idea is to create a simple, monochrome layout in the bathroom by balancing out the colors. 
For that purpose, if you are using a black tile for the walls and the floor, make sure that the tub, mirror, sink, and every other aspect are white. This will allow all the elements in the bathroom to pop out more. 
8. Add A Focal Point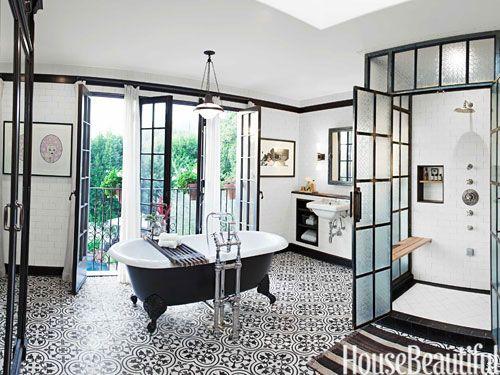 One of our personal favorite bathroom décor ideas is adding some sort of focal point in the room. Freestanding tubs are the usual go-to idea when it comes to drawing attention, but there are tons of other ways to achieve the same result. If your bathroom is predominantly dark, then we suggest adding a white vessel sink.
However, if you are keen on using a tub, there are several things you can do. If there is space, why not get a European-style freestanding tub that can sit in the center of the room? Also, if the bathroom is primarily white, you can create a dark focal point by having black cabinet doors and fixtures.
9. Tiled Black And White Bathrooms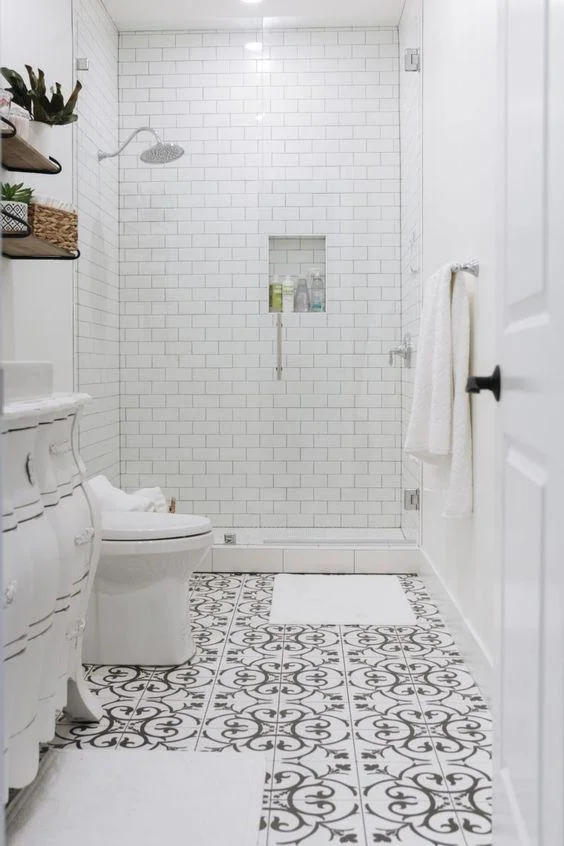 We have mentioned using tiles in the bathroom time and again but let's focus a bit more on subway tiles or traditional square tiles. While most bathrooms come with tiles like these, those can often be too traditional and boring. Hence, take a look at what the industry has to offer, as there is so much versatility in tile designs these days. 
One of our favorites is chevron pattern tiles, as those give the bathroom a more appealing look than some traditional tiles. On the other hand, simple plain black or white tiles give the bathroom a neutral backdrop allowing you to experiment with the rest of the look.
We particularly like the use of mosaic tiles, or tiles with any geometric pattern, since it can offer a timeless appeal without spending too much money. 
10. Using Lights 
When it comes to having dark bathrooms, lighting is key. Since many people tend to use the bathroom as powder rooms as well, it is necessary to have appropriate lighting without spoiling the look of the bathroom. Hence, we suggest using skylights with dark accent walls and adding small light fixtures near any wall-mounted mirror on a black tile wall. 
However, it is not just adding the light but also matching it to the room's aesthetic. If the bathroom has a modern, moody vibe to it, then we suggest adding silver light fixtures with a metallic finish. On the other hand, if the room is bright and regal, you can choose to contrast it with dark fixtures or go for gold!
For more oversized bathrooms, adding big lamps will help utilize the space and become the highlight of the room. On the other hand, if you have to work with a small space, adding just a chandelier is a smart choice for lighting and aesthetics.
11. Black Brick Tiles in Luxurious Bathroom
Sometimes it is all about the nitty-gritty when it comes to designs, and that is what we want to explore in this idea. What most people do is they opt for single-color tiles which provide a uniform look. Additionally, some might even go with white tiles that have black grout. But we know that is not what you want. 
This is why we urge you to try black tiles with white grout instead. Not only are they better to look at, but they can also even provide the illusion of the room being bigger when placed in the right way. Our personal favorite is the chevron pattern, as it acts as a bold backdrop for simple mirrors or a white countertop. 
12. Creating A Split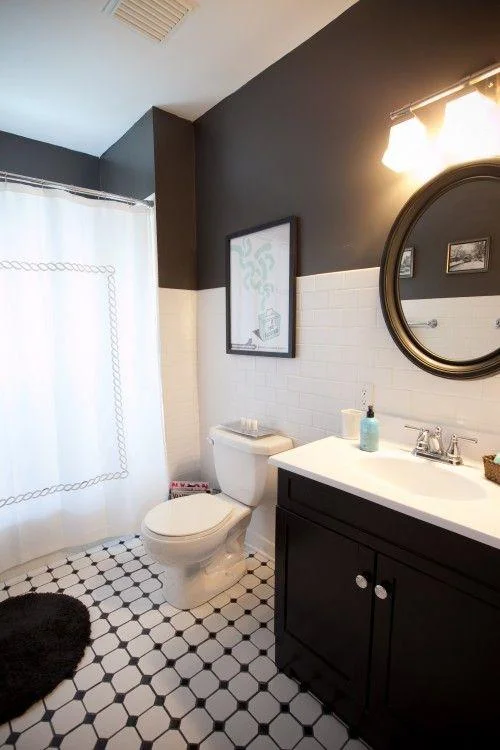 One very interesting design we once came across was a split between the colors in the bathroom. Think "his and hers" but in the form of black and white, where each color takes a half. Now, this is something that can be done on the walls as well as the floor and is ideal for smaller bathrooms that have less space to experiment.
So, the next time you are looking at potential designs, why not create a diagonal split on the wall between white and black tiles. If the bathroom is big enough, you can do it on the wall behind the sink to create that ideal his and hers split.
13. Adding A Border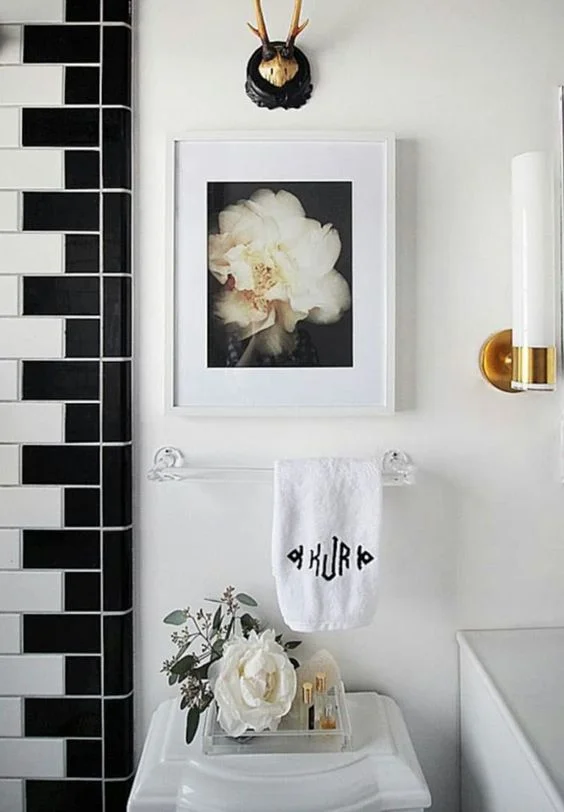 The next design we were quite intrigued about has to do with borders. Now, there are a lot of people who do not want to cover the bathroom with tiles; after all, they can be difficult to clean. But, they still want to use tiles. And so, for them, we suggest creating a border on the side walls or around any large window. 
The idea is to use subway tiles, preferably in both black and white, to create a toothed edge. However, this will only work in contract with the rest of the room. So, if the bathroom is dark, make sure to use bright white tiles and vice-versa for white walls. 
14. Pattern-Heavy Walls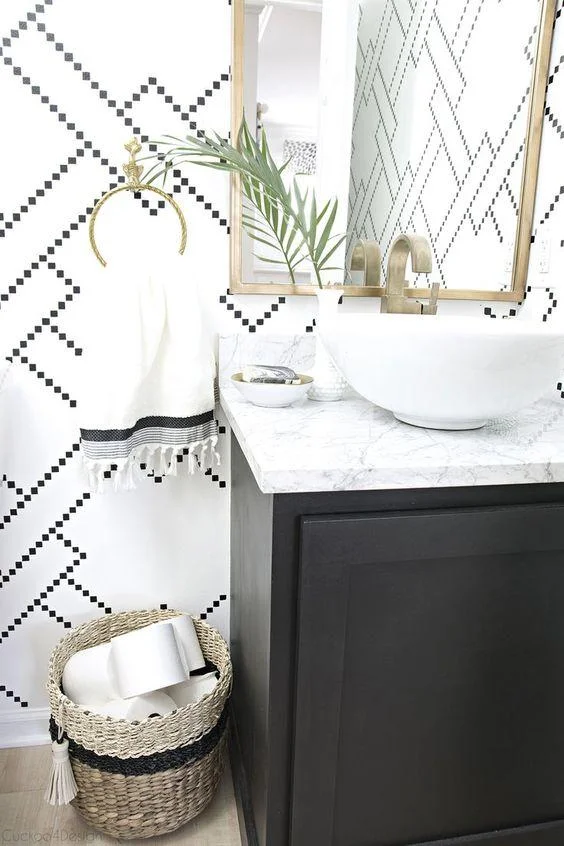 Who said patterns only have to be in bold colors? Thanks to the number of options on the market, creating a bold statement with just black and white designs is easy. If you like having patterns on the wall, why not look at some geometric or floral prints. These are excellent when the idea is to get more done with lesser effort. 
We also suggest looking at more abstract designs if you really want the bathroom wall to stand out. Additionally, in terms of a color scheme, it is always best to have a bit of a contrast from the floor tile. We found lighter geometric patterns on the walls paired with a black tile floor to be more appealing than when the colors are reversed.
15. Powder Room Ideas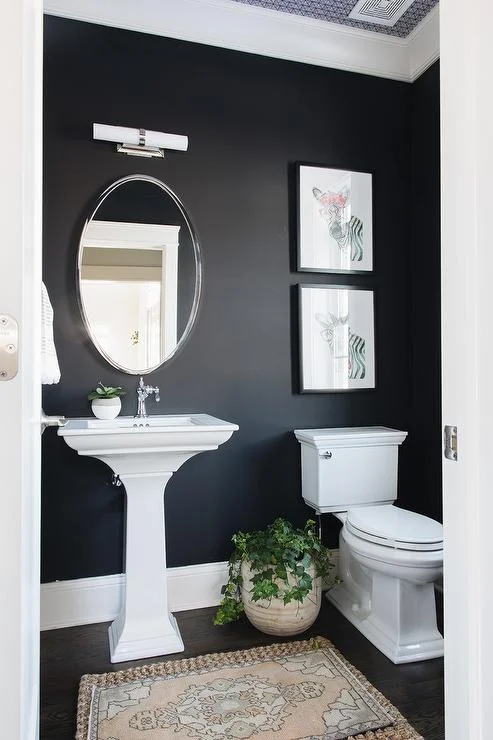 Now that we are done with bathroom ideas, let's move on to something similar: powder rooms. These are not too different from bathrooms but are more for guests and other family members. Also known as a half bath, a powder room usually has just a sink and a toilet with no space for a shower.
If you are the kind of person who has lavish-looking bathrooms, it would be unfair if the powder room does not follow suit. After all, that is what the guests are going to be using the most. The only issue is a powder room does not have as much space as a regular bathroom, and so the design options are limited.
However, if you are smart about it, a well-designed black and white powder room can make the space look much larger. To make this a possibility, we suggest using black tiles in stone for the walls. Alternatively, you can have a bright white powder room with black marble and granite countertops. And, as mentioned earlier, dark rooms mean ample lighting fixtures. 
Tile Designs For The Bathroom 
With the advancements in the interior design industry, there is so much versatility in terms of tile designs too. Whether you are looking for something that is more traditional or eye-catching, there is an ideal tile design for everyone. Take a look at some of these patterns if you're still unsure:
A. Herringbone 
The Herringbone pattern is one of the most common ones done with a subway tile. Resembling the skeleton of the herring fish, this pattern has V-shaped tiles angled at 45 degrees. Since it is a classic, it is found in plenty of commercial spaces and hotels. 
B. Brick 
If you are looking to make the room look wider, we suggest going with a brick pattern. The tiles are placed like bricks and hence aren't precisely one on top of the other. Instead, they are a bit offset which is why any room with this pattern looks much bigger. 
C. Stacked 
This one is for people who love traditional designs and clean lines. The stacked pattern in tiles is when one tile is placed directly on top of the other. Furthermore, it is a clean look that many homeowners opt for when tiling walls. These can either be placed in a grid-like style or horizontally, depending on preference.
D. Hopscotch
A very popular floor pattern is the hopscotch pattern, where smaller tiles are placed in the corner of larger tiles to mimic the image of a spinning wheel. While it is not very common with black and white tiles, this can be seen on neutral-colored ceramic or marble tiles.
Additionally, the hopscotch pattern is a random pattern for tiles, and if you are looking to use your creativity, random tiles patterns are the best. Some of the best random patterns have one color, say white, as the base with a beautiful black tile placed randomly in various shapes. 
E. Versailles
While this one is a bit difficult to do by yourself, the pattern is a classic. The Versailles tile pattern is made when different sizes of square and rectangle tiles are placed together. Additionally, this is the ideal pattern to follow in a black and white theme and looks great on shower walls.
F. Geometric
We have already mentioned how great a geometric pattern is when creating something modern. If your powder room or shower walls need a makeover, adding geometric tiles is the answer. Not only can they be done in black and white but many other colors too. 
G. Chevron
Finally, we have the chevron pattern, which is also a favorite. Similar to the herringbone pattern, this one is basically V-shaped tiles, one on top of the other. This zig-zag pattern can be considered cleaner than the herringbone and is ideal for black and white bathrooms.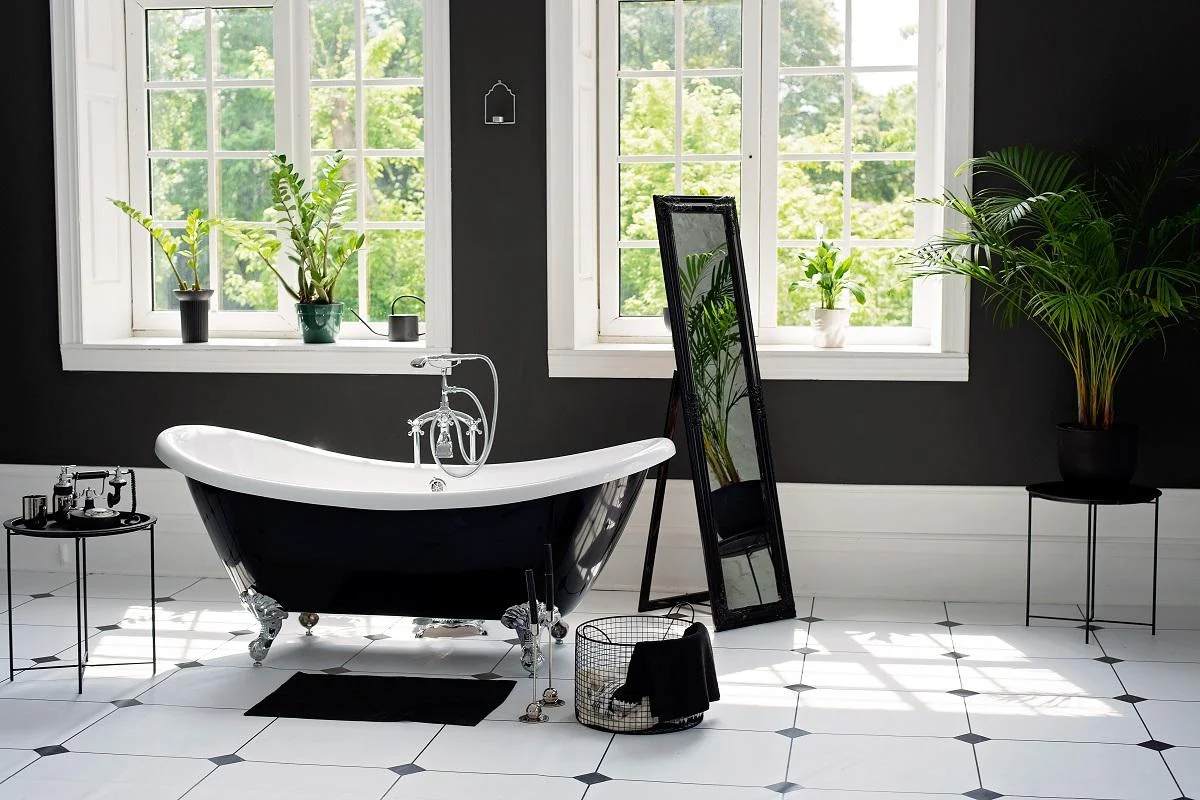 To Sum It Up
On that note, we finally come to the end of our guide on black and white bathroom ideas. We hope that we were able to help as you look for more inspiration and daily tips. 
Remember, black and white bathrooms don't always have to be traditional or super eccentric. Find a middle ground and let your personality come through. 
We will be back soon with more advice and décor ideas. Until then, keep exploring and stay creative! 
Related Links
13 Best Paints for Bathroom Ceilings
19 Unexpected Bathroom Artwork That Will Take You Aback
19 Double Vanity Bathrooms That Will Make Your Lives Easier
20 Smart Bathroom Storage Ideas That Will Impress You
21 Awesomely Unexpected Christmas Bathroom Decorations To Realize
66 Epic Wood in Bathroom Design Ideas to Realize
99 Super Cool Shower Curtains to Transform Your Bathroom Today
111 World`s Best Bathroom Color Schemes For Your Home