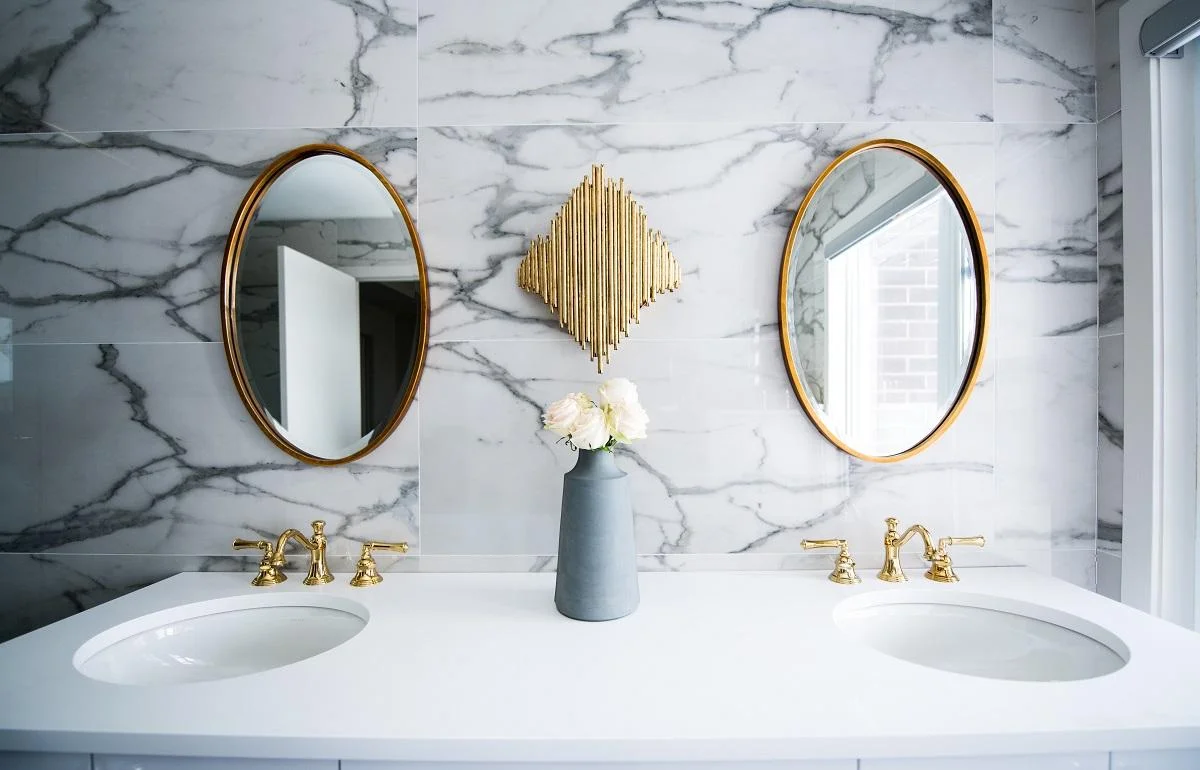 Two bathrooms can often demand more space than available, and that's where the Jack and Jill model comes to the rescue. 
These are perfect for families with two kids or couples living together in adjoining rooms. Now, you can choose among numerous Jack and Jill designs and plans, but please note the space available and the budget before settling for an option. 
You can also combine different designs for your bathroom, ensuring that two or more doorways lead to the place from adjoining bedrooms. 
Moving on, we will tell you all about the top Jack and Jill bathroom ideas in the following section. You should find minimalistic, colorful, neutral-shaded, and country-style design variations to explore. 
So, read on! 
Top 35 Jack And Jill Bathroom Ideas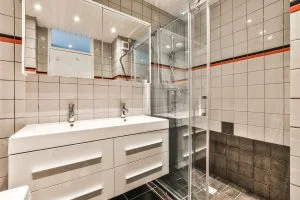 1. Setting Up The Mirror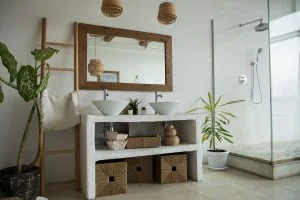 A mirror is an essential addition to a Jack and Jill bathroom layout. So, you can opt for a larger one that covers both the sinks or settle for two small mirrors placed next to each other. 
2. Improved Storage Space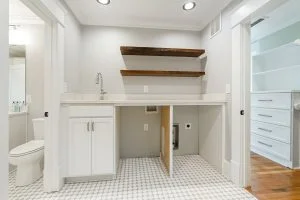 Since two people will use the bathroom, there needs to be ample storage space for utilities and gadgets. We recommend designs that involve well-placed cabinets and storage racks under the sink or along the walls. 
3. Using Shower Curtains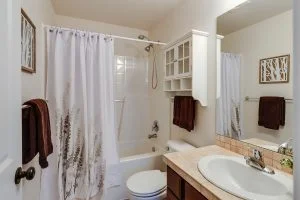 You will need privacy while using the bathroom at some point in time. Living together may have its perks, but that does not mean you have to give up your personal space. 
Invest in a good shower curtain that will keep the shower area hidden from the rest of the bathroom. We suggest that you look for good quality, waterproof and durable material that is easy to clean. 
4. Easy Access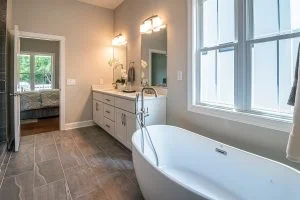 A shared bathroom needs to have open floor space for both parties to move about freely. In this picture, you will see a bathtub and a cabinet on both sides, with a walking space in between. More than two people can also move around the bath space easily without disturbing each other. 
5. Shower Door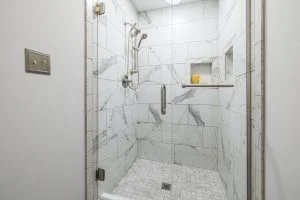 Jack and Jill bathroom design does not generally involve a shower with glass on the sides. That would make it entirely transparent and might hinder your privacy. Instead, it can have walls on both sides with just a glass door fitted with a shower curtain giving you all the needed privacy. 
6. Glossy Finish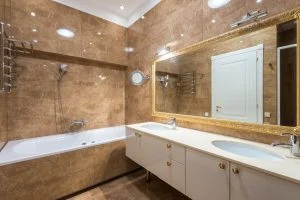 You can enhance the look of the bathroom by adding a glossy finish to the frame design of the furniture. This makes the place look sophisticated, and the woodwork looks very elegant. The separate cabinets below the double sinks can then be used to store essentials separately. 
7. Wooden Finish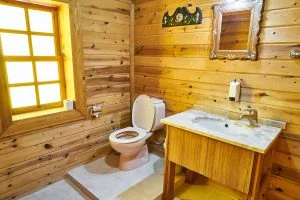 If you are looking to complement the Jack and Jill layout, then a wooden finish can be used on the furniture. This enhances the interior design while you can have enough space to store personal things. 
As you can see in the picture, there are two washbasins and three mirrors on the wall. The space between the basins is wide, giving people enough space. Plus, the walkway in between will provide you with room to walk through or keep a chair. 
8. All-White Bathrooms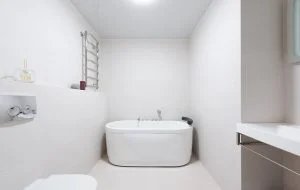 If you find the color white to be soothing, you can use it for the entire bathroom. It will make the shared space look bigger while adding to the style. To do this, you can opt for white furniture, a white framed mirror, basins, and a white shower curtain. 
Warm white light will complement the interior space and the dark wall color. You can also paint the walls in a dark gray shade and add white wainscoting around the bathroom. 
9. Small Bathroom Design
If you own a small bathroom but want it to look aesthetically pleasing, this simple bathroom design will work out well. Here you can see how a small space has been used to fit in the sink, toilet, and shower room on the side. White color is used around the place to make it look more attractive. 
Moreover, white has the power to make a space look bigger, and you should keep that in mind while purchasing. 
10. Two Vanity Sinks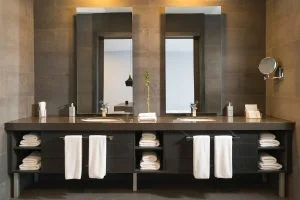 If you have a large space, utilize it to create two vanity sinks instead of one. They can have two mirrors and two separate cabinets with a tub. Install wall lamps on both sides of the mirror, and you will have created a beautiful bathroom. 
In the picture, the entire interior has been done in pure ivory white, which makes it all the more radiant. We recommend adding some golden highlights to lift the ambiance further. 
11. Eco-friendly Lights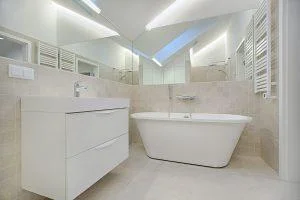 You may not always be using the toilet area at the same time as your partner or housemate. That would mean a heavy consumption of electricity if all the lights in the bathroom need to be switched on whenever one is using it. 
Hence, we will recommend opting for eco-friendly lights wherein you can place an accent light on top of each mirror. They should have separate switches so that you can switch on one of them at a time. 
12. Double Or Single Vanity
If you are confused between choosing a single or double vanity, this design can be opted for. It is a single vanity cabinet, but there is more space than other options. It will provide you with greater storage space but will take up less floor space. 
We totally loved the sleek and compact design that it sports. Pair it up with accent mirrors and lighting to enhance the look. 
13. Vinyl Floors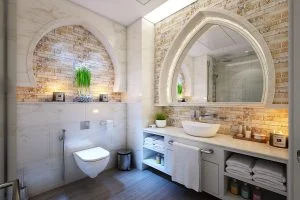 In case you are looking for a unique yet affordable type of floor design to choose from, then using vinyl for the flooring will be a great idea. Vinyl is easy to lay, and you will not have to spend a lot of money purchasing and installing it. 
14. Stone Finish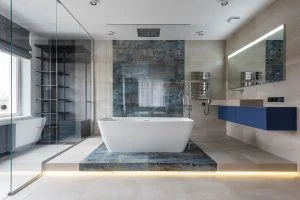 This is one of the most elegant designs that we have come across to date. You will find a bathtub sitting in the middle with enough space for two people to get in at a time. Then there is a hand basin with a wooden base on the side. This goes very well with the stone finish of the walls. 
15. Tight Space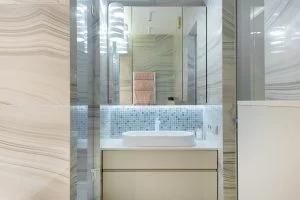 For bathrooms with very tight spaces, you will not be able to install dual sinks. Instead, settle for a small sink and a cabinet underneath. We love the sleek and slim design, which does not make the space look overcrowded. Add an open side cabinet for the rest of your products, and you should not have any further problems. 
16. Calm And Classy Interior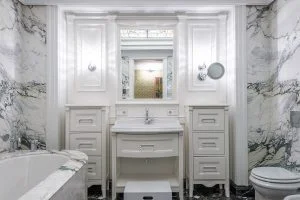 Are you looking for a calm and classy Jack and Jill bathroom to indulge in after long work hours? You can create one of your own with the help of wood and white walls. Check out the image, and you will see that one side of the wall is made with wood while the other side is painted in white shades. 
There is a bathtub in the center with a double washbasin on the side, and a wooden stool is placed right beside the bathtub. Plus, we love the minimalist design and the use of space here in this Jack and Jill bathroom layout. 
17. Brick Tiles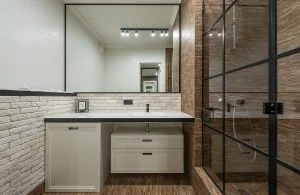 While paint and wallpaper are often used in Jack and Jill bathrooms, you will be surprised to see how well white brick tiles can add to the overall design. These tiles can immediately make the walls stand out. Add ivory white brick tiles and pair them up with a dark-colored wall. Your guests will surely be impressed by your bathroom space. 
18. Large Window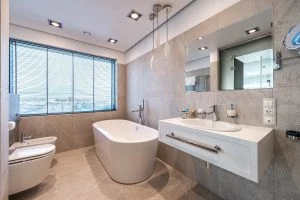 If the space is very confined and you want to make it feel more open, then installing a large window strategically inside the Jack and Jill bathroom can work. You can install blinds to ensure people from outside cannot see you. Plus, the window will allow fresh air to come inside the place, making it more ventilated. 
19. Luxurious Design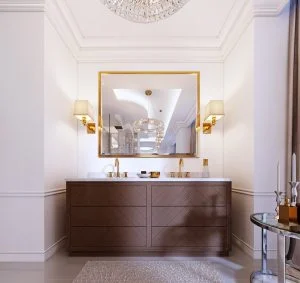 A beautiful Jack and Jill bathroom can be made with a touch of luxury. Yes, you can invest in creating a long and beautiful countertop with seats on the side. Design them well with a mirror on one side which adds to the space. 
You can then have two towering cabinets on both sides that will add to the overall design. That is not all, as you cannot miss out on the Jack and Jill sinks on the other side of the room. 
These bathroom designs work for multiple people using the same space. You might even end up spending most of your time at home in this space, considering the elegant and sophisticated design. 
20. Contemporary Zen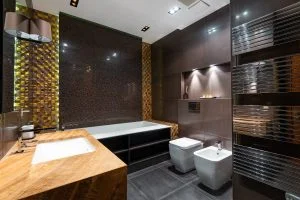 If you are looking to create a peaceful and comfortable Jack and Jill bathroom, this can be a great design to choose. The place has an open floor with only two dominant colors in the space. 
Additionally, you will see a wooden backsplash and an adjustable wooden panel for privacy. We can almost imagine scented candles burning with a few reed sticks on the side. Install a good speaker, and you can have relaxing music to go with the space. 
21. Marble Floors And Walls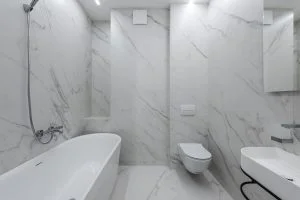 This is a unique design wherein the floor has been matched with the walls. There is parity in all the surfaces, keeping them in sync, and the marble surfaces reflect light creating a very interesting ambiance inside the bathroom. 
That is not all, as blue lighting has been used for the bathtub, which adds to the overall design. 
22. Attic Jack And Jill Bathroom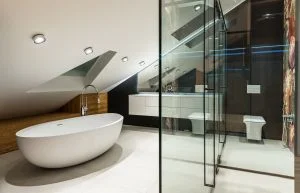 Attic spaces with two doors leading to two bedrooms can be utilized in a beautiful way. Check out this geometric design with angled walls, and you should have a great example, to begin with. 
Adding on, natural lighting has been used to create more space, and the mosaic wall, along with a frameless mirror, makes it all more beautiful. Some greenery has been used around the place, and a green towel is placed at the corner to bring a burst of colors. 
23. Rustic Countryside Design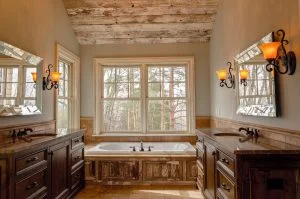 A bathroom can feel warm and cozy if you opt for this countryside vibe. Here, you can see a Jack and Jill bathroom open floor plan with neutral shaded carpets all along the floor. Hence, you can move around barefoot easily. 
Also, notice that beige, brown, and natural stone color has been used widely in the space to create a warm vibe. You can use round framed mirrors to add to the effect. Pair it up with some artificial flowers in the corner, and you have a gorgeous homely place. 
Moreover, the bathtub faces a window offering you a view of the outside. 
24. Geometric Design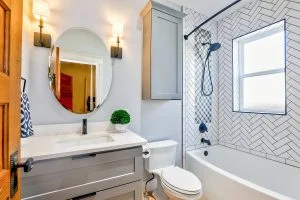 This can be a great design for a formal-looking bathroom meant for minimalist contemporary houses. It comes with a well-partitioned area with a geometric wall divider in the middle. Notice that shades of gray have been used for the interior space, and a frameless mirror has been placed over the countertop. 
On the other side of the double sink, there is the shower area and the toilet. You can use the retractable enclosure when privacy is needed. 
25. Black And White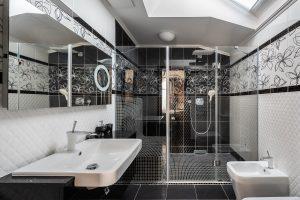 This yin yang Jack and Jill bathroom design will surely enhance the beauty of the bathroom area. The black and white contrast colors make it all the more appealing. Plus, the marble walls, as well as the light streaming in on the white corners, make it look very aesthetic. Circular mirrors have been used to give the yin yang feel. 
Also, the open cabinets make the space look even larger and more open. 
26. Partitioned Compact Design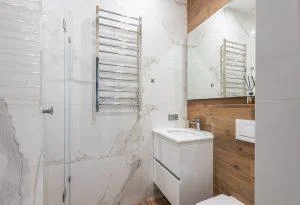 If you have a compact bathroom, then this Jack and Jill design can help in making the space look bigger. A marble divider has been installed in the center, which complements the green tiles along with the glowing white color of the walls. 
On one end of this wall, you will find the dual sinks along with two mirrors installed. The toilet seat is on the other side of the divider, and it is placed in the wall to save space. Plus, the ladder towel rack allows a lot of open space, making the area look bigger. 
You can also check out other space-saving bathroom ideas which work with most types of bathrooms. 
27. Columned Sinks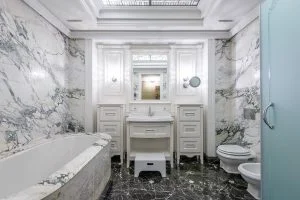 This design redefines the idea of a semi-private Jack and Jill bathroom design. You will be able to see a chest of hardwood cabinets on both sides of the two sinks. These can be used by two people to keep their things separately. Also, the smooth granite top is very functional and can be used to keep essentials. 
Additionally, the curved mirror design along with lighting on both sides enhance the look of the bathroom. 
28. White And Beige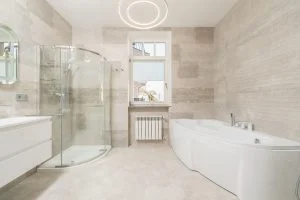 White, beige, and glass walls can truly lift up the ambiance of a place and make it look beautiful. Check out this design where beige has been used for the walls, while the rest of the place is done up in ivory white. Mirrors cover a large section of the wall making the space look a lot bigger. 
This is a minimalist design, but you can add greenery to the space to lift it up even more. There are other minimalist designs that you can check out if you desire a simple bathroom with one sink. 
29. Couple Shower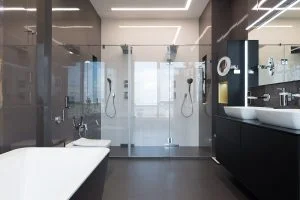 If you are sharing the space with a significant other, then you might want to enjoy taking showers together. So, why fight over one shower when you can have two at the same place. We loved this innovative Jack and Jill bathroom design where two showers are placed next to each other. 
30. Popping Colors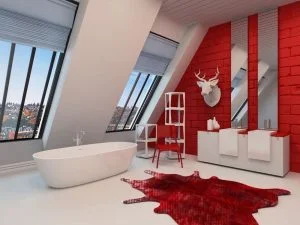 Do you want the bathroom to have a bright color scheme? We will recommend using a bright pop red color on one of the walls, which can then be matched with white walls on the other side. The design here contains walls at an angle, which adds to the overall look. Plus, the cherry red wall has a beautiful deer head art piece and white double sinks that fit right in. 
31. Mounted Shelves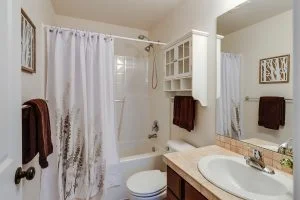 A great way to enhance existing space and make it look bigger are mounted shelves. While this involves dual sinks, you can get mounted shelves for both and keep the base area open. Pair it up with a glass shower room, and you should be good to go. 
32. Neutral Shades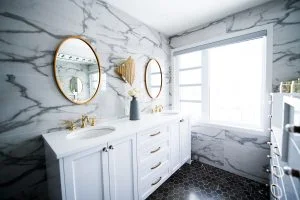 Here, importance has been given to creating clean lines, a modern vibe along with a minimalistic color scheme. The gray and white color scheme goes very well together, creating a very chic and contemporary vibe. Plus, there is ample lighting, thanks to the large glass window on one side. You can use drapes to cover the area and preserve your privacy. 
You can also explore other gray bathroom ideas on the internet. 
33. Tile On Tile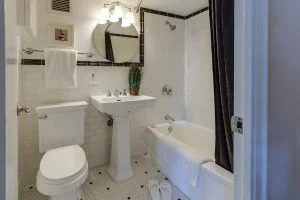 You will find a great tile contrast used here for this Jack and Jill bathroom. There is a contrast between hexagonal and subway wall tiles, enhancing the effect. And the compact design has been made in such a way that enough light streams in and makes the space look bigger. The white color stands in contrast with the wooden sink cabinet. 
Further, you can use a few colorful accessories as accent pieces in the place. 
34. Asymmetrical Design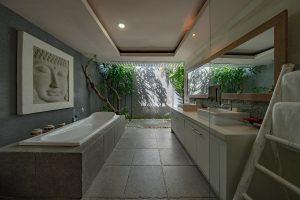 If you wish for an angled look, then this uncommon bathroom design truly stands out. There are two countertop sinks placed at an angle to each other. In between, there is a bathtub placed with sleek sides. You will see windows lining up the wall, which adds to the scenic view. 
Now in case you live by the beach, this can provide a very chic and coastal look. The powder blue walls add to the white of the window pane and cabinets. 
35. Multifunctional Design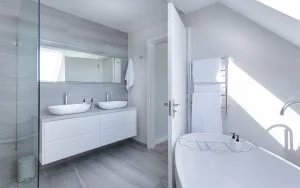 Here, we have a large floor plan with sinks placed in an asymmetrical design. The two sinks are accompanied by a closet that is present in the center of the hallway. This Jack and Jill bathroom plan will not make you feel like you are trapped in a small space. Moreover, it will work very well for people with two kids or more. Each can go about their business without disturbing anybody else. 
Jack And Jill Bathroom Ideas FAQs
Q1. What Is A Jack And Jill Bathroom?
A Jack and Jill bathroom is generally a shared bathroom with two or more entrances. They are generally made between two bedrooms and will have doors on both sides. It is best for couples or families sharing spaces or living in two adjoining bedrooms. 
Here, you will find separate sinks but a shared bath and toilet. There is ample space for all those who are using the bathroom to keep their essentials. 
Q2. Why Is It Called A Jack And Jill Bathroom?
The name "Jack and Jill" has been derived from the famous nursery rhyme, which is about two siblings. Jack and Jill bathroom plans are generally designed in such a way that there is ample space for parents and children both. There can be double doors or more depending on the number of people using the space.  
Q3. Are Jack And Jill Bathrooms Outdated?
These bathroom styles are not seen a lot today because they generally require a lot of space. Apartments are no longer so big that you can accommodate a big bathroom with two sinks. Plus, they were popular with families who had five kids or more. Today, families have also become smaller, making it unnecessary to create such large bath spaces. 
Q4. What Makes A Bathroom A Jack And Jill?
A bathroom needs to have at least two doors, and they should be sandwiched between two rooms or more. They are like an ensuite bathroom but made for two bedrooms or more. 
Q5. Does Having A Jack And Jill Bathroom Add Value?
A Jack and Jill bathroom may not add separate value to a place, and the return on investment will generally be moderate. However, if it fits well with your family and you plan to stay in the house for long, then this is a great bathroom idea to settle for. 
Q6. What Is The Smallest Size For Jack And Jill Bathroom?
Essentially, you will need at least 40 square feet to ensure that there is a sink, tub, and toilet. Now, this would mean using one sink in the space. If you wish to have two sinks, then an asymmetrical layout may help you experiment with a small space. 
Q7. How To Get Rid Of A Jack And Jill Bathroom?
If you must have two separate bathrooms, then you can make that happen by renovating and converting a large Jack and Jill bathroom. But that would mean you already have a large bathroom to work with. In case it is small, you can just block the second door and allow only one entrance to remain.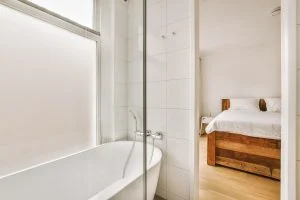 Jack And Jill Bathroom Ideas Final Words
You will need to combine style and quality to come up with beautiful and functional bathrooms. And we assure you that most of the Jack and Jill bathroom ideas mentioned here will give you that. 
Just make sure that you add a pop of colors wherever possible to enhance the space. And remember that greenery always makes a bathroom look vibrant and cheerful. 
You can also indulge in other bathroom ideas that can be found online. If you are still confused, then a licensed designer can be hired to design the Jack and Jill bath area. With this, we have reached the end of this guide, and it is time to wrap up. 
You can now use your creativity to bring up the vibe of a bathroom model. Until next time, take care. 
Related Articles
Wonderful Elegant Grey Bathroom Ideas
Add Glamour With Small Vintage Bathroom Ideas
15 Black And White Bathroom Inspiration Ideas
66 Epic Wood in Bathroom Design Ideas
20 Smart Bathroom Storage Ideas
Ideas On How To Create A Masculine Bathroom
17 Rustic And Natural Bathroom Inspiration Ideas
99 Super Cool Shower Curtains to Transform Your Bathroom
19 Unexpected Bathroom Artwork
Walk-in Showers 101 | Pros & Cons, Tips & Tricks, Design Ideas