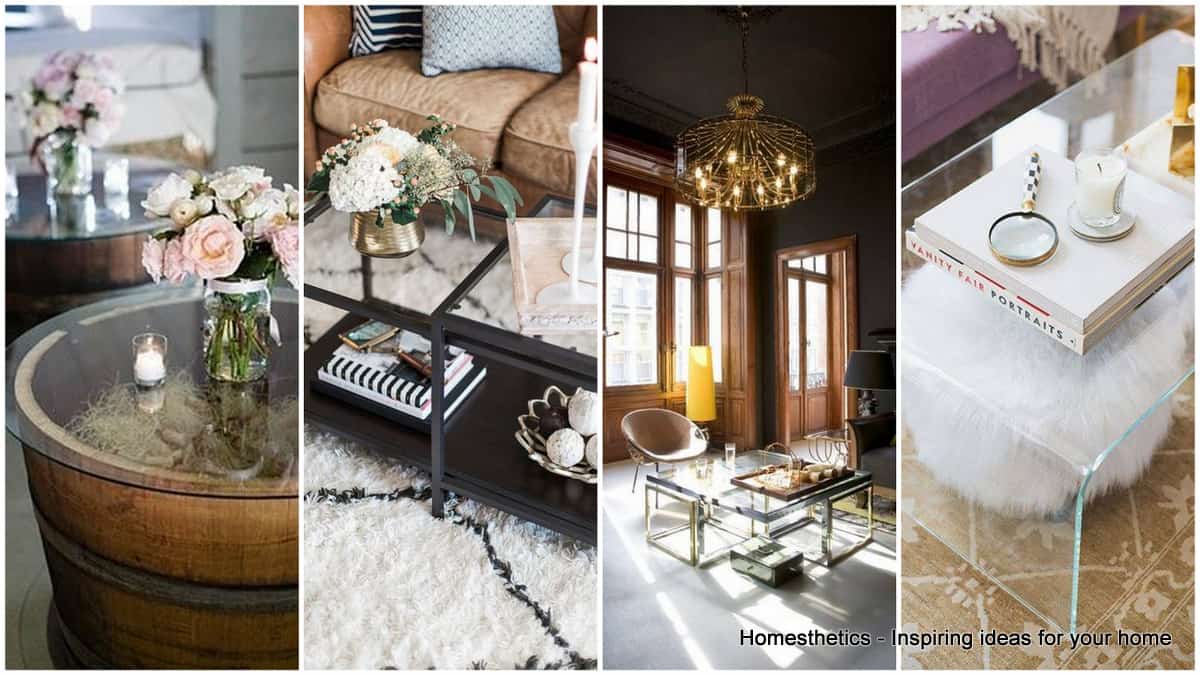 In the living room we spend most of our free time, cuddling on the couch, enjoying good conversation and coffee with family, friends, loved ones, it goes without saying that it is one of the most important spaces that we nestle in our shelters. In there, the sitting area is highly relevant, whether it`s a sunken area, a simple low sofa or an epic puf pouf and, close by side-tables and coffee tables provide the much needed support for tea, coffee and a good book.
DIY coffee tables are extraordinary regardless of their nature as the results depict items with memory, infused with meaning, numerous coffee table plans can be found online yet in the following article we are going to address glass coffee tables through a gallery carefully curated, the projects are not all DIY and while certain examples could definitely be crafted by enthusiasts we highly encourage you to manipulate glass with caution, all safety gear must be on at all times, get a friend involved, make a day of it !
Glass Coffee Tables
1. diy moss coffee table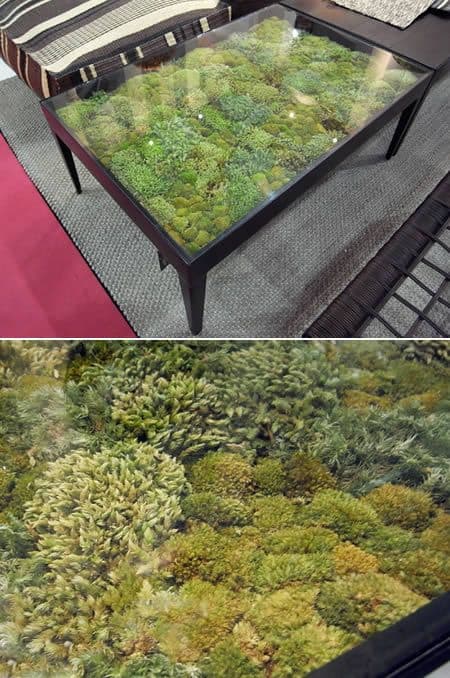 Boost your living room aesthetics by bringing greenery indoors.
2. diy ocean layered coffee table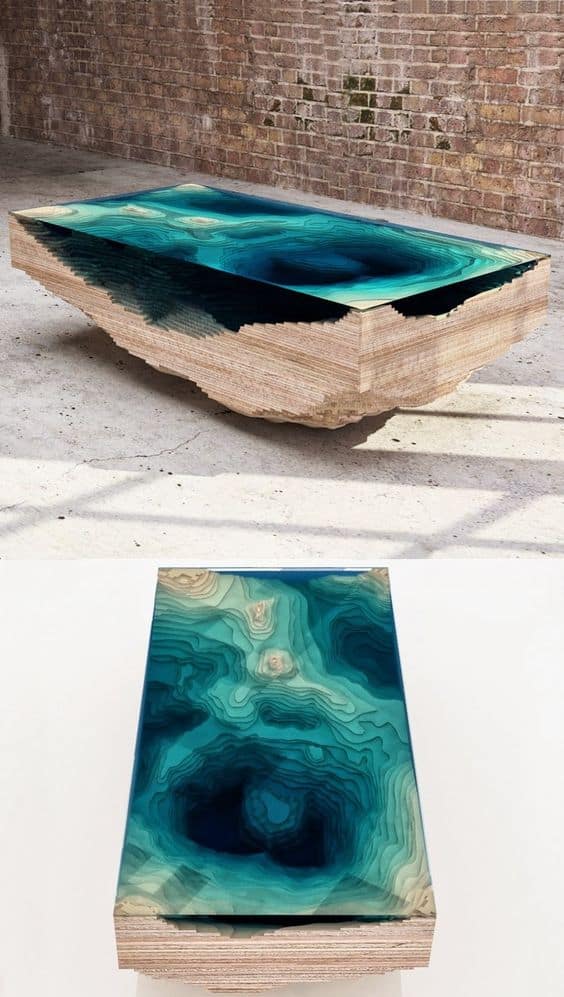 A design like nothing else, one that creates depth layer by layer through transparency, pitch black simply conquers the floor while teal clear waters are enchanting our eyes at the surface.
Source Unknown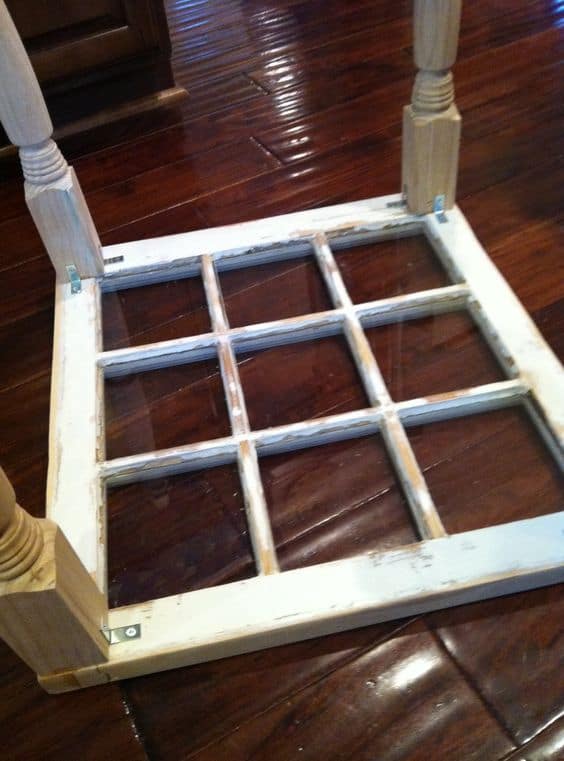 One old window can become an extraordinary coffee table, salvage different legs from the flea market, adjust their height and mount them on a beautiful shabby chic old window and you are good to go, its transparency and epic, experienced look will certainly be appreciated.
via thesuedesofa.com
4. balance in simple coffee table
It looks like a designer`s item, neat, high end, spectacular and yet it is easy to replicate,  a number of 8 "complicated cuts" will create the playful balance displayed over which the glass counter-top settles.
via workshopped.com.au
5. Wooden beams and glass coffee table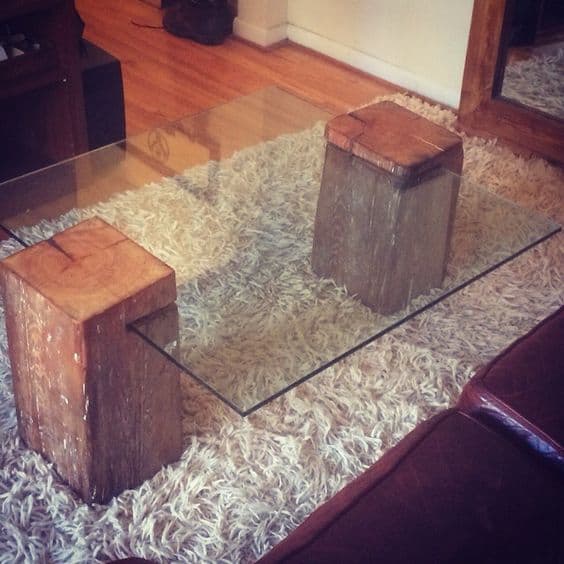 If two immense wooden beams are not something you simply have around or you can salvage from a construction site feel free to use two logs instead, they`re naturalness ought to contribute to your setting and can be obtained far easier.
via krrb.com
6. sculptural transparent coffee table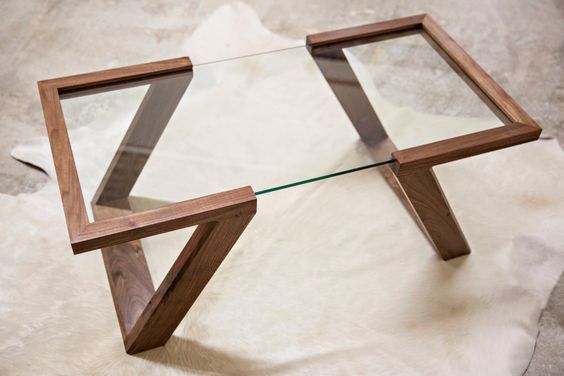 A carpenter will say this is a swift, rapid project yet an amateur might be overwhelmed, call a friend, nothing worth obtaining is easy to obtain.
via etsy.com
7. Repurpose wooden beams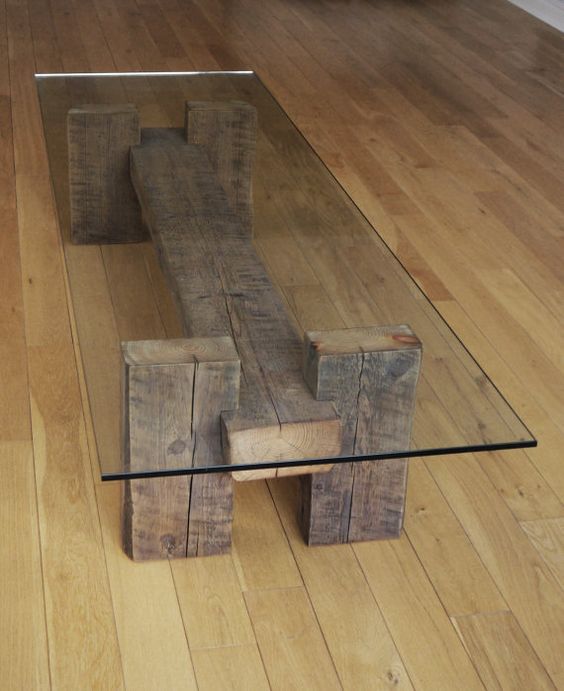 A wooden beam can become the support of your glass surface with ease, simply make sure there is balance.
via etsy.com
8. REARRANGE a simple layout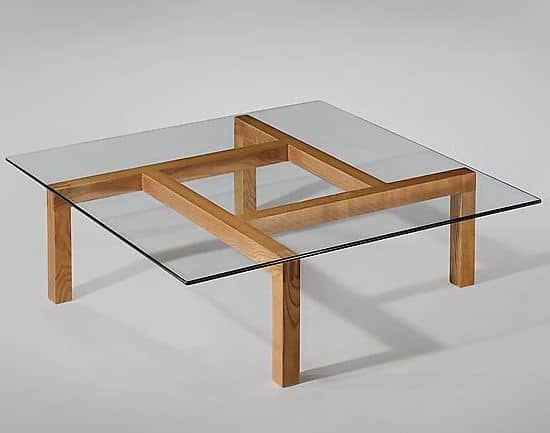 Four legs holding a different structure.
via artsy.net
9. DIY RECLAIMED PIANO GLASS COFFEE TABLE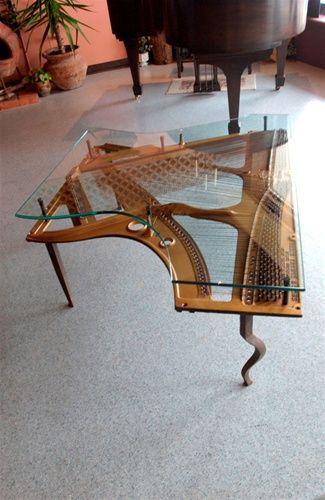 Splendid, intricate, memorable, full of experience.
via calvines.com
10. DIY Pallet Coffee Table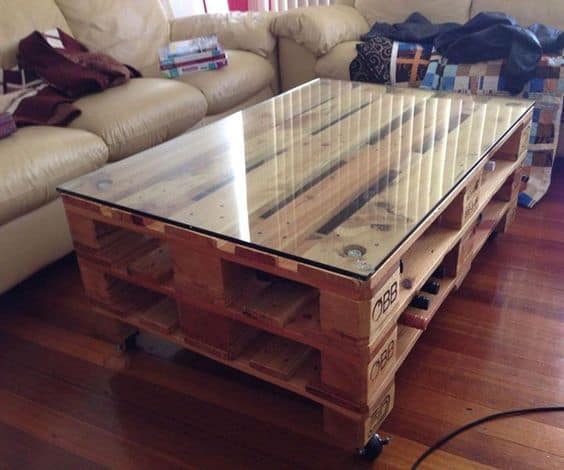 Easy to realize, rapid and practical.
11. gold METALLIC structure with glass top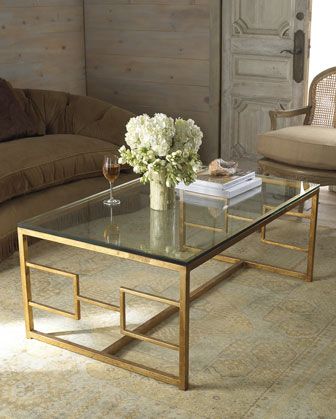 It beautifully emphasizes the feeling of space through a simple thin structure and a transparent top, the golden metallic finish ads a posh, luxuriant effect.
via horchow.com
12. wooden roots coffee table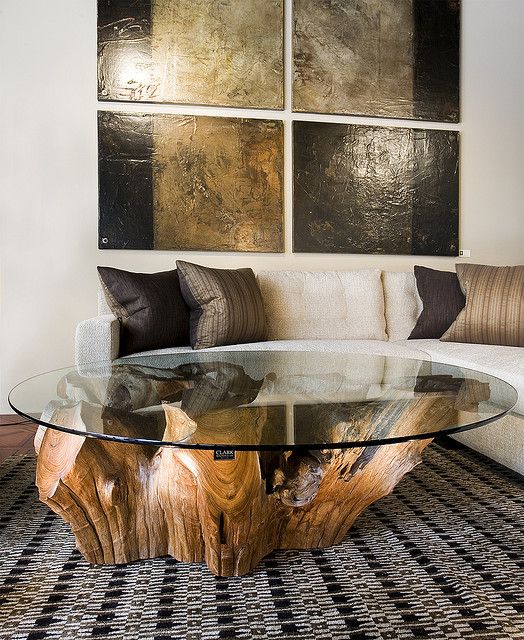 Extraordinary sculptural, unique and alive. Roots can be used to shape something remarkable that will instantly redefine your living room.
via flickr.com
13. black boosting transparency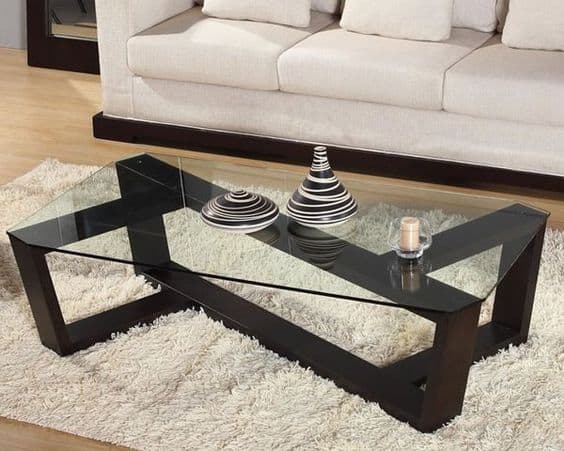 via bhpromo.org
14. modular posh coffee table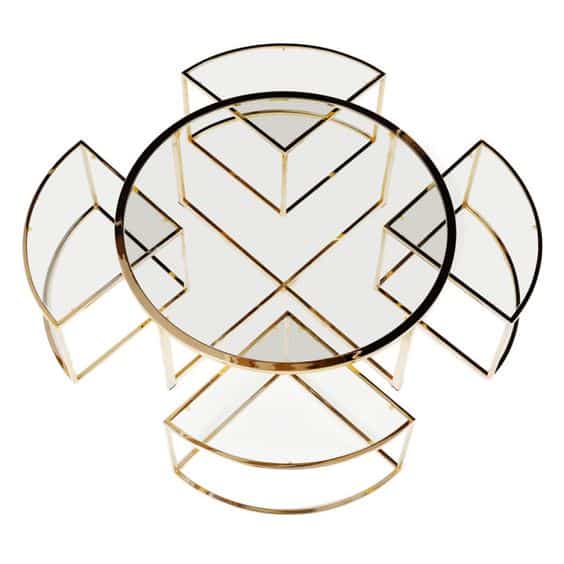 via 1stdibs.com
15. diy window coffee table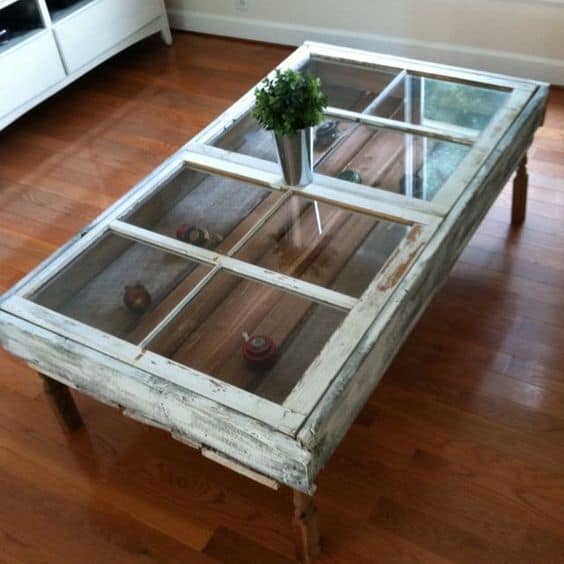 The shabby chic design speaks of a sensible, caring person that cherishes traditions and experience.
Source Unknown
16. black interior design looking for light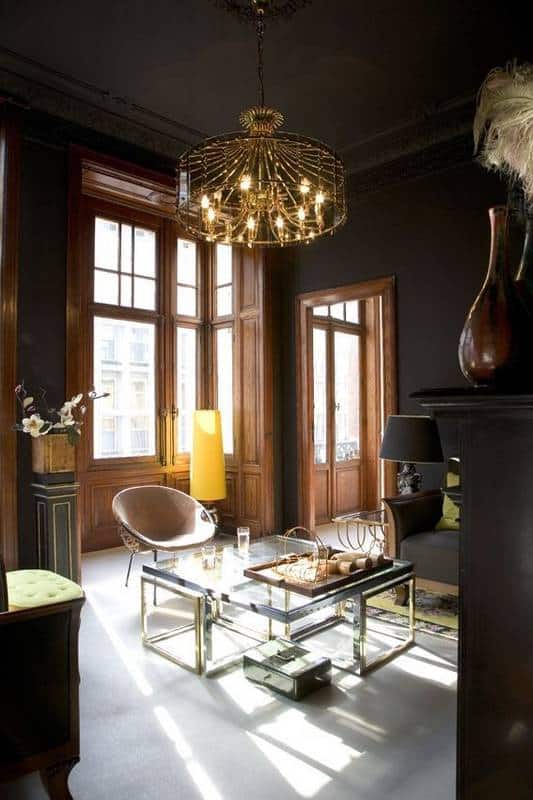 A coffee table that would have obstructed light in this setting would have changed everything.
Photo Courtesy to SARA RUSSELL INTERIORS
17. Layers of wood and Glass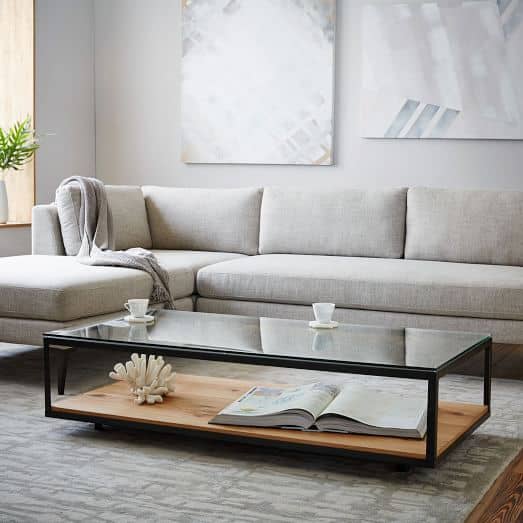 Simple rectangular structure holding one glass and one wood surface.
via westelm.com
18. timeless coffee table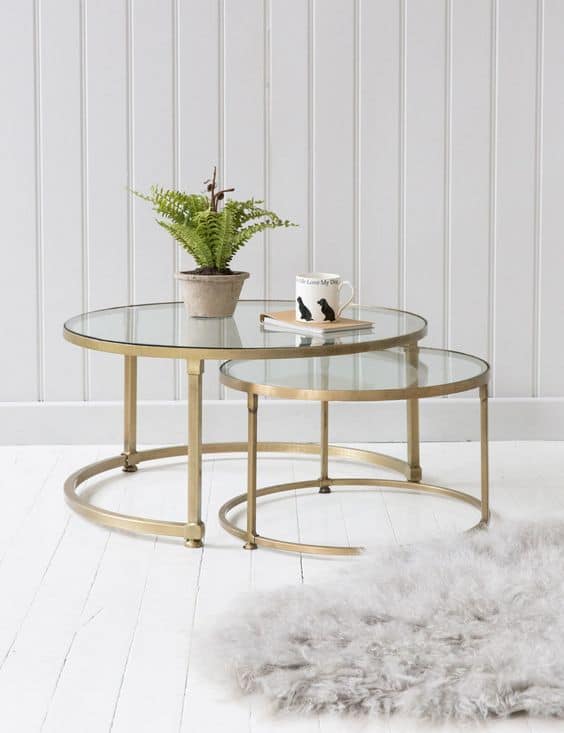 via roseandgrey.co.uk
19. acrylic coffee tables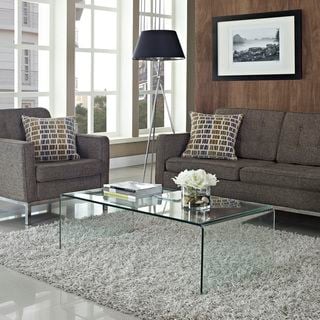 Acrylic coffee tables are highly sought as they`re fully transparent, greatly emphasizing the feeling of space in any setting.
via overstock.com
20. transparent for steampunk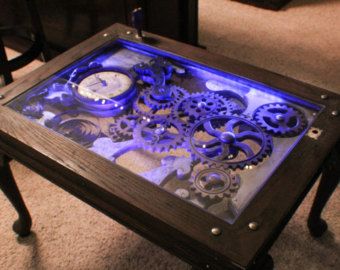 You can use a wooden frame to showcase a steampunk mechanism between two layers of glass or acrylic thus creating an interesting focal point in your living room.
via overstock.com
21. transparent industrial coffee table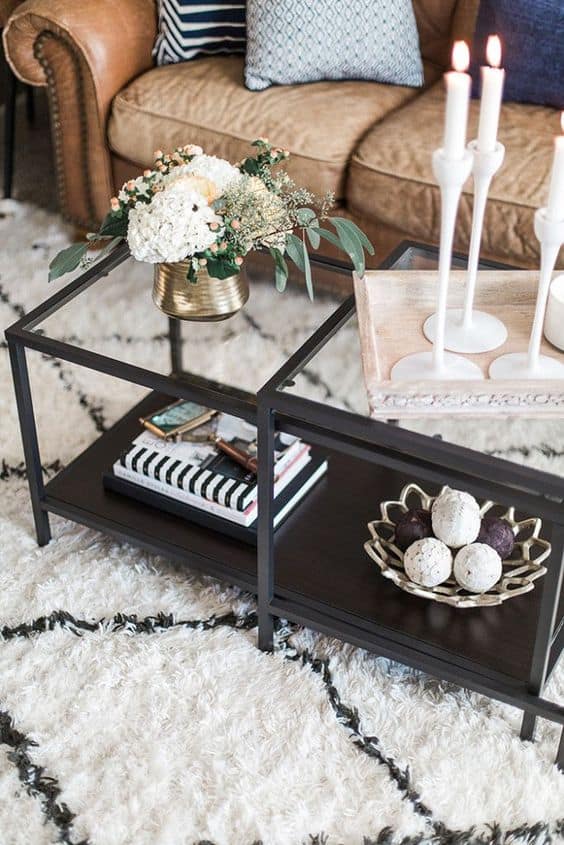 22. tree stump caries glass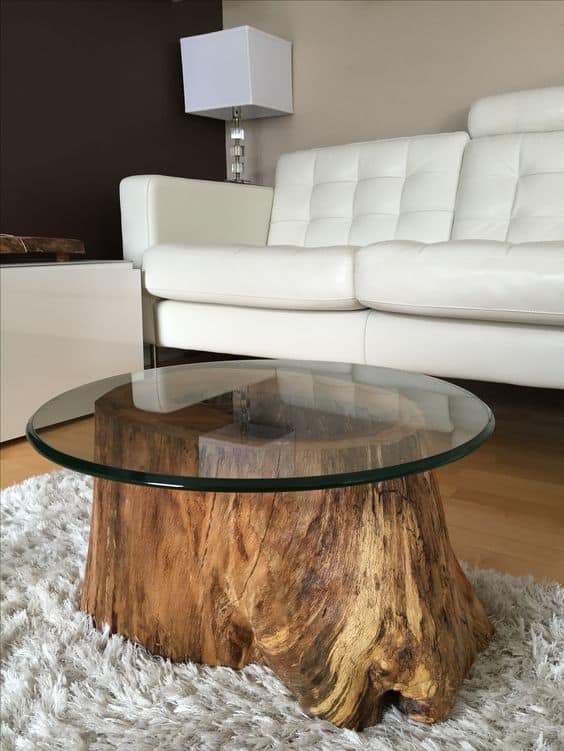 23. U-Shaped acrylic table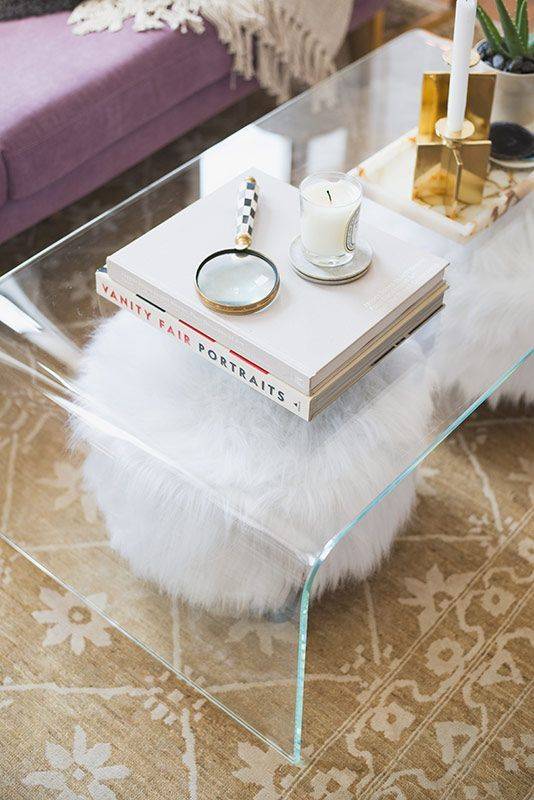 Photo Courtesy to LO DOWN
24. composition of sculptural branches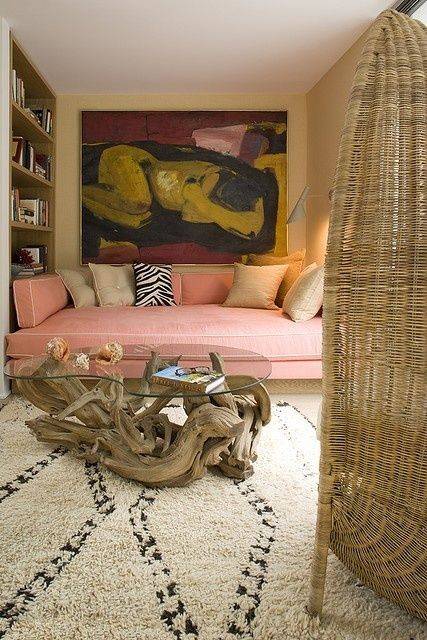 Photo Courtesy to SHELTER INTERIOR DESIGN
25. green mint wire-frame coffee table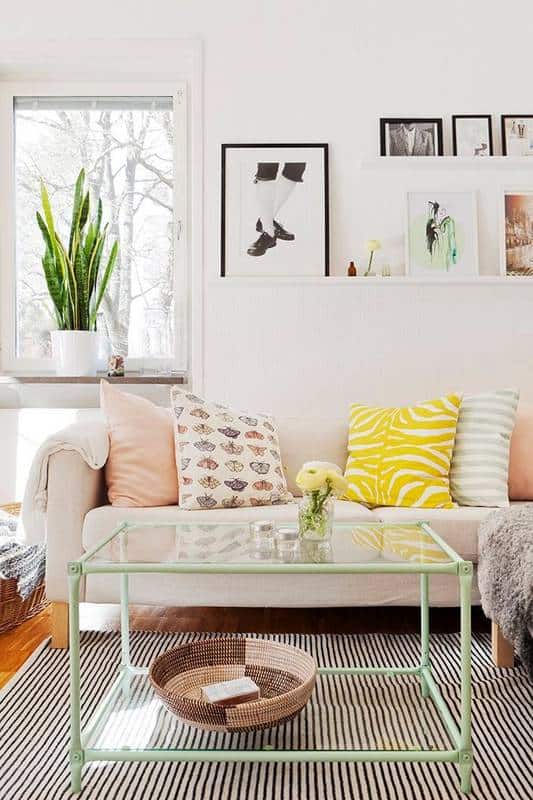 Photo Courtesy to ELINA DAHL
26. thick acrylic coffee table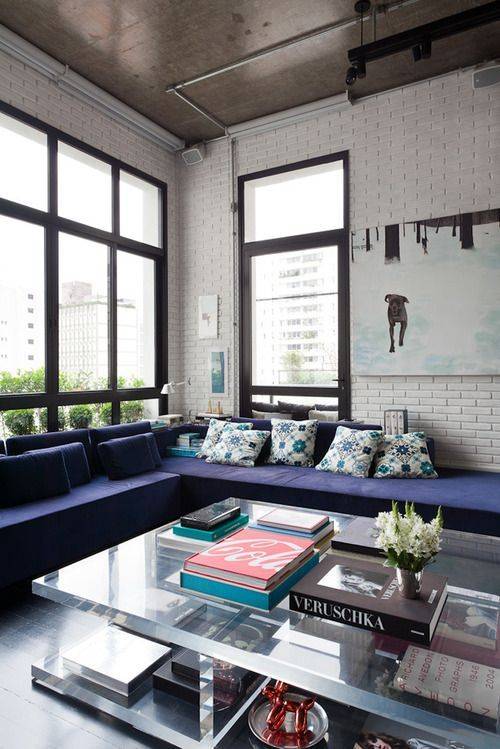 Photo Courtesy to Miss Design
27. ACRYLIC chest doubling as a coffee table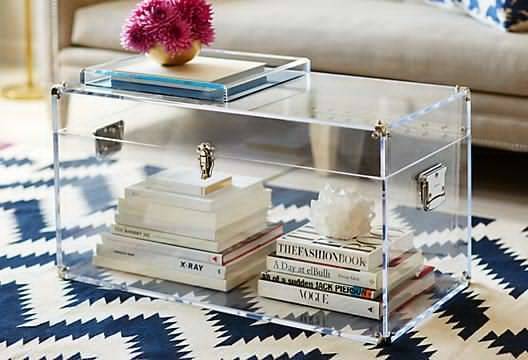 Photo Courtesy by One Kings Lane
28. modular organic coffee table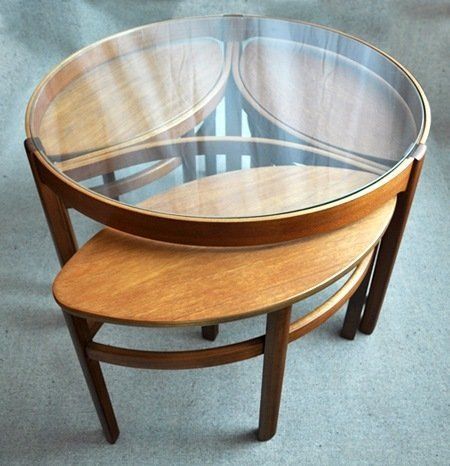 Source Unknown
29. old barrel coffee table boosting style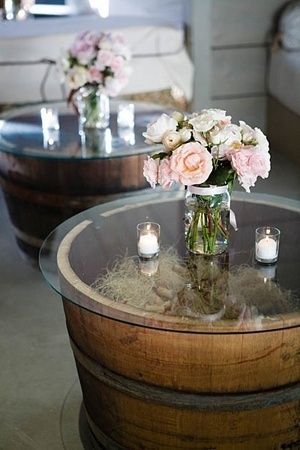 via indulgy.com
30. frame collections, display memories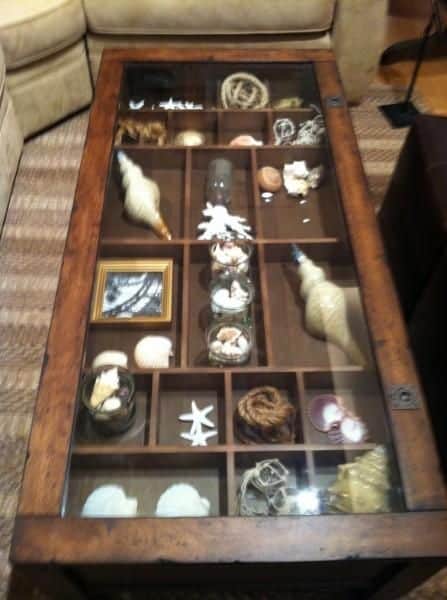 via blog.timesunion.com
31. glass color symbiosis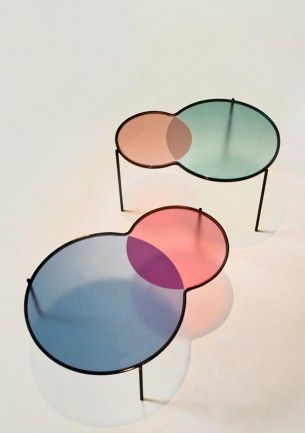 via vidracaria.psdovidro.com.br
32. WIRE-FRAME transparent table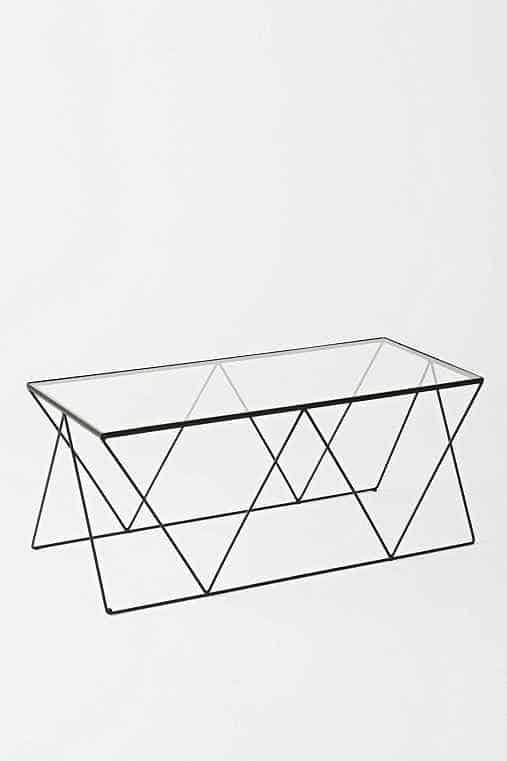 via rstyle.me
33. metal structure supporting wood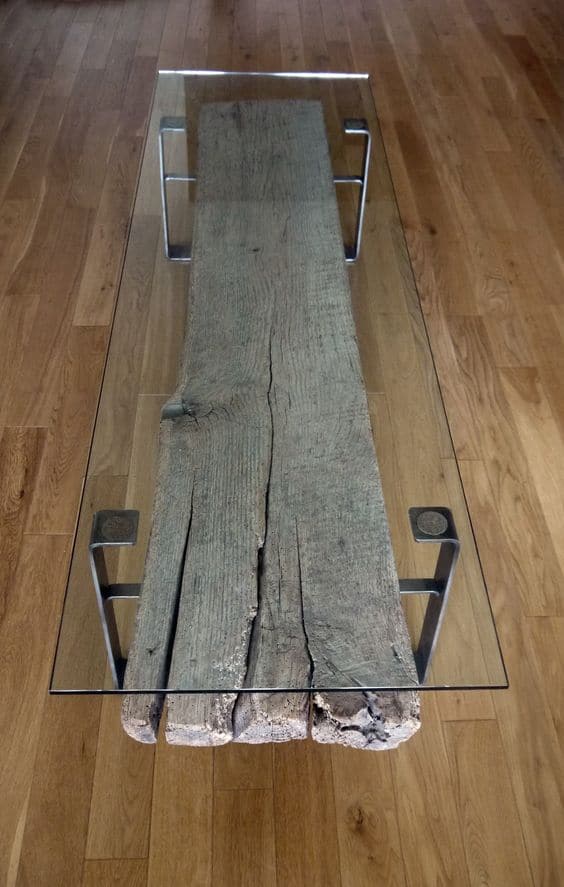 The transparent option here would be to remove the wood and allow light to bounce throughout the room, the wooden plank can also be replaced with a second layer of glass or a mirror to further increase light reflection yet the highly dense, cozy and warm texture above is certainly not something to overlook.
via sorsluxe.com
34. acrylic and golden finishes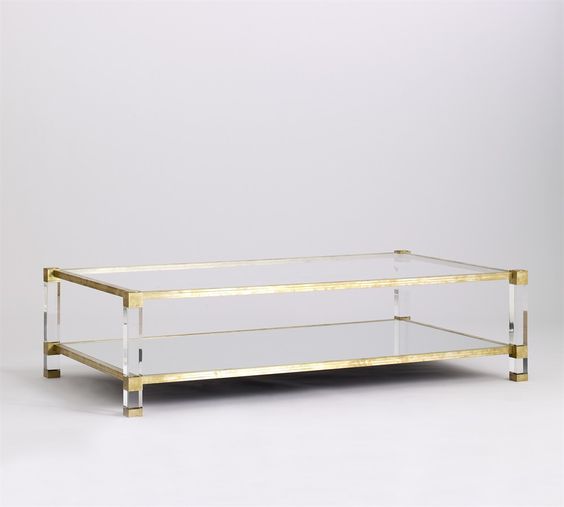 Acrylic tables can carry themselves easily, here golden finishes have been added thus presenting the item as a luxuriant, posh, high-end item.
via elementsofstyleblog.com
35. colored legs carry crystal clear acrylic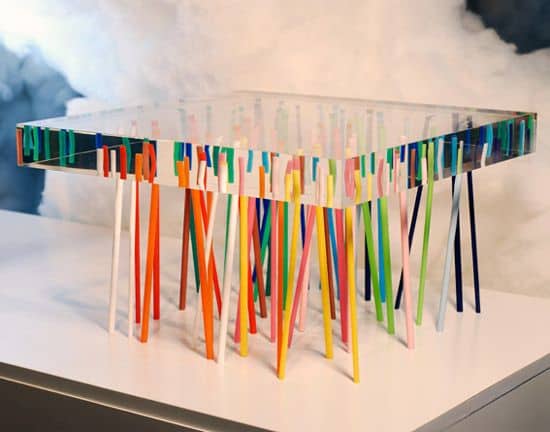 Happiness, joy and beauty in one place.
via design-milk.com
36. duffy london's UP balloon coffee table Defies Gravity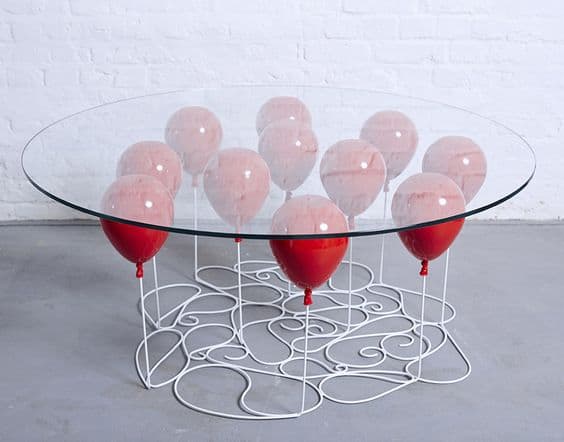 via designboom.com
37. side console TRANSPARENT table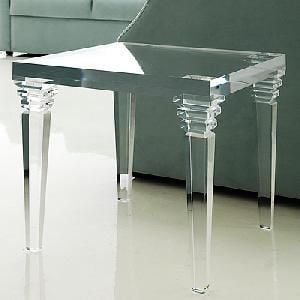 Iconic timeless in an extraordinary transparent state.
via traderscity.com
38. use transparency to boost greenery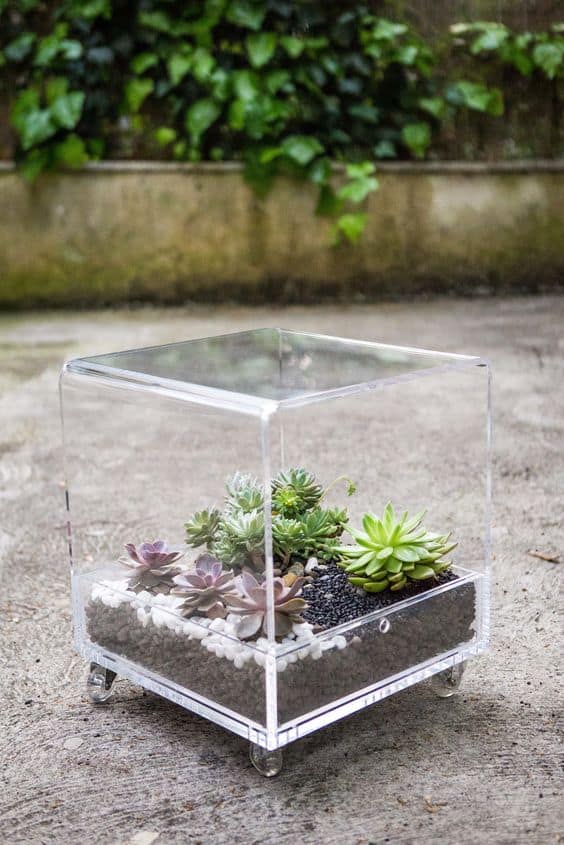 Succulents require little to no maintenance and can grow pretty much anywhere yet they look insanely beautiful, sculptural.
39. ocean frozen in transparency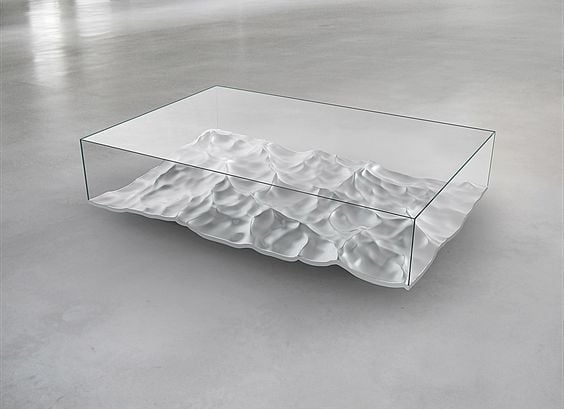 via joyana.fr
Coffee tables in general should never be overlooked yet glass coffee tables in particular ought to be one of the first things to consider in your design, they can be found in one shape or another in absolutely any design language, all emphasizing the feeling of space, all ready to bounce light throughout the room and amaze your guests with the illusions of suspension.
What do you think? How do you see these items?
Related Articles
13 Best Lift Top Coffee Tables to Consider
10 Best Small Patio Tables With Umbrella Hole
13 Best Art Desks & Best Drafting Tables for Artists
10 of the Best Light Tables for Artists Everywhere Reviewed