Rain gutters are an integral part of most homes, especially in areas that receive heavy rainfall. We're here to help you choose the right gutter.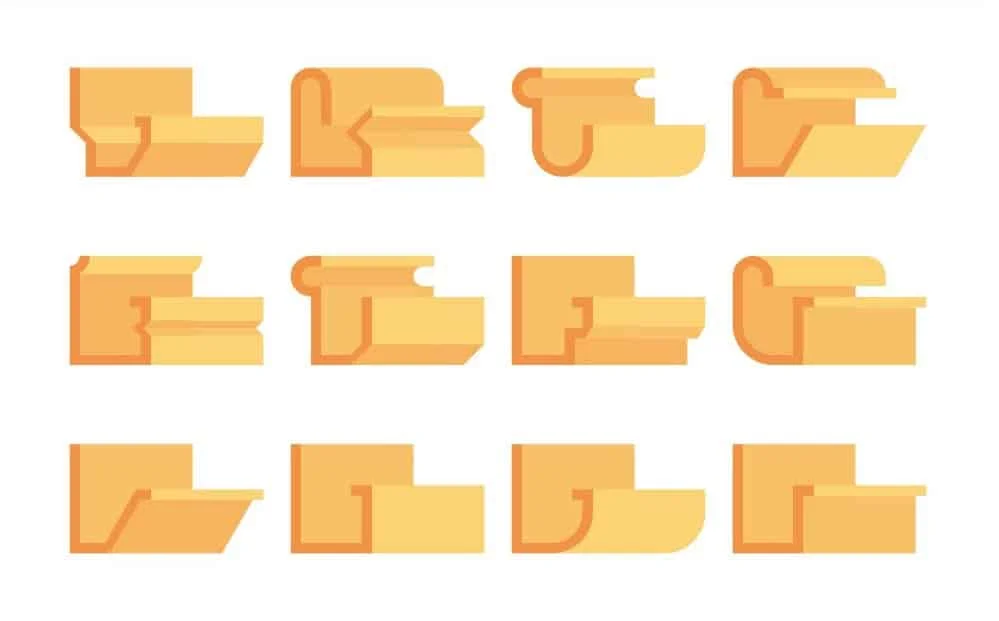 Gutters are not only a necessary means to keep rainwater away from your home. The primary benefit of a gutter is to keep your home safe from water damage; however, there are several other benefits of installing them.
If you have been thinking about installing gutters in your home but are unsure of the right kind, don't worry. We have curated a comprehensive guide to help you learn about the different types of gutters, and finally, pick the right one for your home. 
So without further ado, let's get started! 
Gutter Types 
How Does A Gutter Work?
It doesn't take a genius to figure out how gutters work. Essentially, these handy devices collect rainwater which slides down slanted roofs and channels water into the ground. This is done with the help of the long downspout of the gutter. 
Of course, most of the time, gutters help collect much more than rainwater. They also help trap dead leaves, twigs, dust, and other debris. Although they are one of the essential aspects of a home, they are largely ignored during maintenance and installation. 
Most homeowners might argue that their homes do not need a gutter; however, its absence can be detrimental. 
If you are thinking about buying a new home, consider installing the right gutter on your roof. Without this, your home may end up suffering several types of water damage, flooding, and other conditions.
Without the right gutter system, rainwater will likely collect on your roof, causing mold, rot, and extensive damage. Furthermore, the rainwater that manages to slide down from the roof will end up pooling at the foundation of your home. Again, this leads to several water-related damages and conditions. 
Does Your Home Need A Gutter?
Before we dive into the section on the different types of gutters, let us determine whether or not your home could benefit from one. As such, experts recommend installing gutters, as they have plenty of benefits. However, we will let you decide for yourselves. 
Here are a few questions to consider which will help you determine whether your future home requires a gutter installation or not: 
Does Your Roof Have An Overhang?
Most home roofs are built with an overhang to protect the home from damage. Typically, an overhang should measure at least two feet or more. However, if your new home does not have an overhang or it extends only a few inches, you need to consider installing a gutter. 
Without an adequately long overhang, any rainwater that trickles off your roof will likely collect at the foundation of your home. This not only damages the foundation but can also cause severe damage to your basement. 
As the rainwater seeps below the surface, the structural integrity of your home is compromised. Over time, it can lead to significant issues for your home and the surrounding area.
Not to mention, the collected rainwater can also damage flowerbeds and other plant life near your home. 
Do You Live In An Arid Climate?
You might be wondering why you need to install a gutter in arid climates. Well, consider the fact that most of the moisture and humidity in the area gets naturally evaporated. Moreover, there is very little rainfall, which can cause severe drought-like conditions. 
In situations like these, it is beneficial to save as much water as possible. Installing a rain gutter in these climatic conditions can help you trap rainwater, which can be used at a later stage for various applications. 
That said, those living in arid climates can consider skipping a gutter installation if they wish.
Does Your Area Receive A Lot Of Rainfall?
Conversely, if you live in a region that experiences heavy rainfall, installing a rain gutter is a must. Without this, you risk damaging your home. Not to mention drenching anyone who happens to walk by your house! 
Does The Surrounding Landscape Slope Upwards?
All you need is a basic understanding of gravity to know why it is vital to install a gutter if the surrounding landscape slopes upwards. Suppose your future home is in the middle of or at the bottom of a region where most of the surrounding landscape slopes upwards; rainwater will likely pool near your home during specific periods. 
This can cause extensive water damage to your home as well as the surrounding areas. To prevent this, you need to install gutters that will strategically direct rainwater away from your home and deposit it at an adjacent downward-sloping site. 
Types Of Gutters 
There are dozens of gutter types to choose from. However, the kind of gutter you decide to get for your home does not depend singularly on its aesthetics. Instead, you need to consider its functionality.
In this section, we will talk about the different gutter types. We have divided them into categories based on their shape, the material used to make them, their construction, color, and size.
Based On Shape
K-Style Gutters
We begin the list by introducing you to the most popular type of gutters for homes - K-Style gutters. These gutters have been used in most homes for over 50 years because of their reliability, ease of installation, and functionality. 
A fascinating tidbit about this gutter is that they do not get their name because of their resemblance to the letter "K." This is a common misconception which most people have. 
In actuality, K-Style gutters get their name from the fact that they are listed as option "K" in the national association, which lists the common types of gutters available. 
These gutters are immensely popular due to their aesthetics. It might sound strange to some people, as you don't generally expect gutters to be aesthetic. However, K-Style gutters typically have very decorative fronts and curved designs, making them a relatively aesthetic addition to your home roof. 
These gutters are found in various shapes and sizes, giving homeowners plenty of options to choose from. Furthermore, they are said to look similar to crown moldings, which are optional decorative pieces that many homeowners add to their ceilings. 
Pros 
Aesthetic design

Easy installation

Durable and long-lasting 

It can hold more water than other gutter styles 
Cons 
Half-Round Gutters
Moving on to our next style, we want to talk about the half-round gutters. As the name suggests, this gutter style looks like a tube cut in half. 
These gutters are the next popular choice after K-style gutters. Although they are not as popular as the previous type, homeowners looking for a functional gutter that isn't overly flashy will appreciate this one. 
These gutters are extremely useful in trapping rainwater effectively and channeling it towards the ground. That said, its open style also makes it prone to trapping dead leaves, twigs, and other unwanted debris. 
If you opt for half-round gutters, keep in mind that you need to regularly clean and maintain it. We admit it; regular gutter cleaning can be overwhelming, not to mention messy and complicated. We recommend hiring professional gutter cleaners who can come over once in a while to do the job expertly. 
Those who have a keen eye for detail may notice half-round gutters featuring in most historic or traditional-style homes. These gutters were immensely popular prior to 1960, after which K-style gutters became the rage. 
Pros 
Traps rainwater effectively 

Adequate space to store large amounts of water 

Simplistic style 

Customizable options 

It can be installed with hidden hangers 
Cons 
Prone to trapping unnecessary debris 

The curved design does not sit flush against boards 
Fascia Gutters
If your home does not have a pre-installed fascia board, fascia gutters may be an ideal option. This is because fascia gutters play the dual role of acting as a gutter as well as a fascia board. So, you don't need to worry about separately installing the board if you don't already have one. 
Moving on, fascia gutters are immensely popular because of how easy they are to customize. Homeowners who care deeply about personalization tend to opt for fascia gutters. Furthermore, these gutters generally have a sleek and contemporary appearance, making them ideal for modern homes. 
A common issue most homeowners face is with their rafter rails. Not only do they compromise the aesthetics of your home, but they also leave space for water or small animals to enter.
Installing a fascia gutter eliminates this issue. Once you install these gutters, the edges of your rafter rails will not be visible. Not just that, the gutter does not leave any space for water or animals to enter, making it safer for your home. 
Lastly, fascia gutters are not sold in separate sections like most other gutters. Instead, they come as a long stretch of aluminum that is installed on your roof. Although this makes installation slightly more tricky, not to mention expensive, it produces a robust and seamless bond. 
Pros 
Seamless design 

Easy to customize 

Prevents water seepage and damage 

Hides rafter rails 
Cons 
Costly professional installation 
European Gutters
If you like the minimalist appeal of half-round gutters but are looking for something a little more decorative or durable, consider European Gutters. These gutters look very similar to half-round gutters but feature an additional lip. The lip protrudes and is distinctly visible, the look of which many homeowners seem to like. 
Another distinct feature is its prominent half-round hanger. These features add an extra layer of class and appeal to your traditional gutters, which is why they are a popular choice amongst homeowners. 
You can also opt for European gutters made of copper, which are known to age well. These gutters initially have a shiny, distinct appearance when they are first installed; however, as they age, they get a distinctive patina that is visually pleasing. 
Another reason to opt for these gutters is their durability. Typically, European gutters have a solid construction and are built with high-endurance materials. This makes them ideal for regions that experience severe rainfall, storms, and wind. 
The sturdy construction of European gutters enables them to withstand adverse climatic conditions. They are less likely to suffer damage or get cracked, ripped, or torn in adverse weather conditions. 
Finally, if you are tired of little critters building their nests and homes in your gutters, don't fret. The unique design of European gutters makes it tricky for small animals to build their homes, as it does not have the same level of protection as other gutter types. 
These gutters also allow more rainwater and debris to flow towards the downspouts. This means that they are less likely to get clogged and require periodic cleaning and maintenance. 
Pros 
Wider curves allow more water to flow

Less likely to clog

Not ideal for animals to build their homes in

Aesthetically pleasing 
Cons 
Not conducive with gutter guard systems 
Victorian Ogee
As the name suggests, the Victorian Ogee gutter system is inspired by 19th century Victorian gutters. Although the original style of gutters was made of cast iron, modern Victorian Ogee gutters have several other options. 
That said, these gutters follow the same style and aesthetics of the original ones, making them ideal for installation in traditional homes. 
One of the most significant advantages of these gutters is that they are very low maintenance. You also have several sizes and options to choose from, so you can customize them to fit your home perfectly. 
This is especially beneficial for those who are looking to install new gutters into their homes or replace their old ones. 
Victorian Ogee gutters are also known as "Old Gothic" gutters. It is evident that they get this name due to their distinctive, old-fashioned, Gothic appearance. If you are a fan of old, Victorian architecture, these gutters can be the ideal addition to your home. 
A few essential factors to note about them are that they cannot be bought off the shelf. As such, you need to find the right professional to custom-build them for your home. Furthermore, these gutters are typically shallow, which means that they cannot handle massive downpours.
The gutter style is ideal for small homes or homes built in a region that doesn't experience heavy rainfall. So, those living in arid climates who are fond of old-style, traditional gutters can consider this a perfect addition to their homes. 
Based On Material 
Aluminum
Aluminum gutters are by far the most common material used for making all types of gutters. The primary reason behind this is that they are lightweight and easy to install. They are also available in different thickness options, giving you the freedom to choose the right one for your home and environment. 
Those who care about color coordination will also love the versatility of aluminum gutters. As such, you will find these in several color choices. You can customize them to any size, shape, and color you wish. 
Let's not forget, aluminum is extremely affordable and can be easily found in most local hardware shops or online stores. Furthermore, this lightweight material is easy to install, making it ideal for DIYers. 
Of course, you can always opt for professional installation services, but even that will not cost you too much.
Aluminum gutters are mostly weather-proof and can withstand all types of climatic and temperature conditions. Furthermore, they are not prone to rust and corrosion, eliminating the need for costly repairs and replacement. 
Pros
Availability of colors 

Easy to customize and install 

Affordable 

It does not rust or corrode 
Cons 
Vinyl 
If you thought aluminum gutters were affordable, check out vinyl ones. These gutters typically cost less than aluminum while holding similar properties. They are incredibly lightweight and easy to install, making them very popular for DIY gutter installation. 
Another incredible thing about them is that they are available in an array of colors. However, if you don't find the right vinyl gutter for your home, don't worry. You can easily have them painted any color you wish, perfectly matching the aesthetics of your house. 
A common issue with aluminum gutters is that they are likely to dent or bend. However, that concern is eliminated with vinyl. 
Vinyl gutters are made of very durable plastic that can withstand heavy rainfall, storms, and winds. Moreover, they are not prone to corrosion and rust, which is certainly an advantage you'd like in gutters. 
A major advantage of choosing colored vinyl gutters is that they are less prone to showing scratches and marks. In most cases, unpainted vinyl gutters are excellent for those worried about scratches being visible. 
Please note that if you opt for painted vinyl gutters, scratches may likely show up on them.
All said and done; there are a couple of things to keep in mind when opting for vinyl gutters. For starters, they are prone to fading when exposed to constant, direct sunlight. 
Moreover, ensure that you don't purchase cheaply constructed vinyl, as this will make the gutters prone to sagging with age. They can also get brittle if they are exposed to continual adverse climatic conditions. That said, this is not something you need to worry about if you opt for high quality vinyl. 
Finally, vinyl gutters snap together very easily during installation. While you can install these gutters by yourself with ease, we recommend getting professional help.
Pros
Easy to install

Very affordable 

Color options available 

Anti-rust and corrosion 
Cons 
May fade with sun exposure 
Zinc 
Moving on to the next material, you have zinc gutters. Although these gutters will cost you significantly more than aluminum or vinyl, they are incredibly durable, solid, and built to last for at least five decades. 
Keep in mind that zinc gutters are likely to last for 50 years with proper care and maintenance; however, their longevity is slightly compromised if you live near the ocean. This is primarily because of salt in the air that affects the integrity of zinc over time. Although they are not ideal for these regions, you may still consider them as an option. 
In most cases, zinc gutters also contain small amounts of titanium and copper. Moreover, these gutters are generally left unpainted and do not come in a variety of colors like other gutter materials.
However, this can actually work to your advantage. As zinc ages, it develops a distinct and appealing patina that enhances its aesthetics. Of course, it is essential to stick to regular cleaning and maintenance routines to ensure that it ages well. 
You may find zinc gutters featured in high-end or traditional, historic homes. This is primarily because of how reliable and durable the material is and how well it ages. Furthermore, since these gutters can last for decades, they are considered a smart investment. 
That said, we must mention that zinc gutters almost always require professional installation. This is because their joints have to be welded using professional tools, and it may be hazardous to attempt doing so on your own without professional help. 
Pros 
Long-lasting and durable 

Aesthetic 

It does not rust or warp easily 

Ages well and develops a beautiful patina 
Cons 
Requires professional installation 
Copper 
The next alternative you can explore for your home gutter is copper. Since these gutters are more expensive than aluminum or vinyl, most people avoid installing them. But look closely, and they do have several advantages of their own. 
Installing copper gutters has a set of benefits that are worth the price. For starters, you don't need to worry about painting copper, as it is popular for its natural color and sheen. That said, keep in mind that it develops a slight greenish patina as it ages. 
Many people prefer the natural, old-world appeal of aged copper, so this greenish tinge isn't necessarily a bad thing. Moving on, another benefit of installing copper gutters is that they are not prone to mold, mildew, fungus, and rot. Just ensure that they are installed correctly by a professional, and these common conditions will be the least of your worries. 
Pros
Ages well 

It does not require an additional coat of paint

Sturdy and long-lasting 

Not prone to developing mold, mildew, or fungus
Cons 
Not the most inexpensive choice 
Galvanized Steel
Galvanized steel gutters are made of steel and covered with a thin coating of zinc for extra protection and durability. These gutters have a very simplistic appeal; moreover, their shiny look can make them appear quite classy. 
Typically, galvanized steel gutters are solid and can withstand adverse climatic conditions. That being said, we should also mention that this material is slightly more prone to rusting, so it is essential to maintain them well over time. 
Furthermore, although these gutters are known for their high endurance and strength, they are prone to minor scratches. Unless you maintain them well, they may get easily damaged due to rust. 
Homeowners who plan on installing galvanized steel gutters should be prepared to partake in a regular cleaning and maintenance routine. You can do this yourself or hire professional help. Otherwise, you'll have to spend on frequent repairs and replacements. 
Another vital factor to keep in mind is that it is best to get them professionally installed. Of course, there is no harm in doing it yourself, but incorrect installation can lead to rainwater getting pooled near your home due to improper channeling and drainage issues.
Pros 
Aesthetic and stylish 

High strength and endurance 

Long-lasting 

It can be painted over 
Cons 
Prone to rusting if not maintained and cleaned frequently 
Galvalume
If you liked the look and appeal of Galvanized Steel gutters but are looking for an alternative that isn't prone to rust, consider Galvalume gutters. The first thing you need to know about it is its composition. 
As you may already know, steel is one of the best options for gutters. This is due to its inherent strength and durability. However, galvalume steel uses a patented coating made of zinc, aluminum, and silicone that enhances its strength and resilience. 
Moreover, this patented coating is known for its anti-rust and anti-corrosion properties. The zinc particles also add to its resilience, ensuring that your gutters last for decades without much issue. 
Unlike Galvanized Steel gutters, you don't need to worry about the reaction of the material when it is exposed to heavy rain or sunlight. Furthermore, it is relatively easy to customize this material and build the most appropriate gutters for your home. 
Pros 
Strong and resilient

High endurance to weather conditions 

Aesthetic appeal 

Easy to customize 
Cons
Requires expert installation 
Based On Construction 
Sectional
As the name tells you, sectional gutters consist of numerous sections that are joined together to build a gutter system for your home. Typically, several sections are taken and trimmed down to fit each other perfectly. The various sections are then joined using connectors. 
One of the advantages of sectional gutters is that they can be easily manipulated to fit any home. No matter how long or wide your roof is, sectional gutters can be customized to fit each home perfectly. 
Installation of these gutters is extraordinarily straightforward and convenient, and many DIYers do it on their own without professional help. That said, these gutters are prone to leaking if not installed correctly, which is why we recommend hiring an expert. 
Pros 
Easy installation 

Can be cleaned and maintained without hassle 

Affordable 

Can be customized on the spot 
Cons 
The connecting portions may cause leaks if not installed correctly 
Seamless 
The other alternative to sectional gutters is opting for seamless gutters. As you may guess, seamless gutters automatically eliminate the worry of leaks and seeps, thanks to the absence of seams or connectors. 
These gutters are typically custom-made to fit each home. As such, they are costlier than sectional gutters but may provide more value over time. Seamless gutters are made of one large piece of material and only have connectors at the corners, joints, and downspouts. 
Furthermore, these gutters are typically very strong and are built to last for decades. You can also choose between a plethora of colors. This gives you more flexibility over the final look you wish to achieve. 
Pros
Reliable and leak-free

Color options available 

Custom-made to fit your home

Sturdy materials used 
Cons
Based On Size
5-Inch
The most common gutter size you will find on the market is 5-inch gutters. This is most commonly found in K-Style gutters. Fortunately, this gutter size is adequate for most homes as it can easily handle rainfall, leaves, and other debris collected in the gutters. 
However, if you live in a region that experiences heavy rainfall, you might need to opt for larger gutters. 
That said, if you want to stick to 5-inch gutters for convenience or aesthetics, there is another solution. Opt for wider downspouts which can carry more water away from your home. 
6-Inch
6-inch gutters are not the largest size gutters you can opt for. However, these large gutters are often adequate for most homes that cannot make do with 5-inch ones. 
You may find 6-inch gutters for most half-round gutters as this size is the most convenient for the shape. If you think you might require more oversized gutters, we recommend speaking to a professional about it. 
Several factors like the amount of rainfall you receive, its intensity, and the pitch of your home can determine the correct gutter size. Keep in mind that larger gutters do not always mean better drainage. In fact, opting for gutters that are too large may be detrimental and can affect the aesthetics of your home. 
Based On Color 
Bold
Unless you live in an HOA that restricts bold gutter colors, you can opt for any color gutter you desire. Keep in mind that certain gutter materials cannot be painted; however, most of them can. 
Consider the general color scheme and aesthetics of your home before choosing a bold gutter shade. You can ask an expert about this as they might be in a better position to recommend the right gutter color for your home and personality. 
A bold gutter shade can instantly add to the aesthetic appeal of your home, distinctly transforming its appearance. 
Neutral
Opting for a neutral gutter shade instead of a bold one doesn't mean you aren't adventurous. In fact, several neutral colors can look better than bold, bright shades. The right neutral tones can instantly add class and appeal to your home, especially if you can complement it well with the rest of your domestic decor. 
Gutter Type Buyer's Guide 
Now that you know all about the different gutter types, you may be wondering which one to choose. With the availability of options, making the right decision can often be overwhelming.
Fortunately, we have curated a guide to help you choose the right gutter type for your home. Take a look! 
Longevity 
When choosing the right gutter type for your future home, consider how long you want it to last. If you don't mind replacing it once every few years, you can opt for aluminum or vinyl. These are relatively inexpensive to replace, and you can switch gutter styles if you need to. 
However, if you want to make an investment that will last you for decades, consider more durable and reliable materials. Copper and zinc are ideal materials to opt for, while galvalume is also a good option. 
In terms of the gutter type, it is best to take professional advice when choosing this. Although you may like the aesthetics of a certain gutter style, it may not be suitable for your home. 
Need
You also need to consider whether or not a gutter installation is required for your new home. Those living in arid climates have a choice not to install them. However, if you live in a region that experiences rainfall, we recommend installing one. 
We have added a short guide in the section above that will help you determine whether your home requires a gutter or not. 
Ease Of Installation
Do you enjoy DIY installations, or do you prefer to leave it to the experts? Either way, it is a vital consideration when choosing the right gutter for your home. Certain gutters call for professional installation, so keep this in mind when selecting them. 
Budget
Last but not least, you need to consider a budget when choosing the right gutter for your home. Some gutters are affordable and long-lasting, while others are more of an investment. 
Conclusion
With that, we are finally ready to wrap up our guide.
Hopefully, this helped you understand the different gutter types in the market. When choosing the best gutter type for your home roofing, consider its durability, aesthetics, and whether it is suitable for your region and environment. 
If you have any further questions, feel free to leave a comment below. Until then, take care! 
Related Articles
23 Hip Roof Types & Styles for Your Future Home
Learn About the 20 Most Popular Roof Types for Your Future Home
What is the Mansard Roof, Advantages and Disadvantages Sheltered
6 Eco-Friendly Roofing Materials and Why You Need Them
How To Clean Gutter Guards Efficiently
Shur Flo Gutter Review | All You Need to Know
EasyOn Gutter Guard Review 101 | All You Need to Know
5 Best Foam Gutter Guard [Reviewed & Buyer's Guide]
9 Best Micro Mesh Gutter Guard Today | Buyer's Guide
13 Best Gutter Guards For Pine Needles [Buyer's Guide]
23 Extraordinary Beautiful Ways to Repurpose Rain Gutters in Your Household