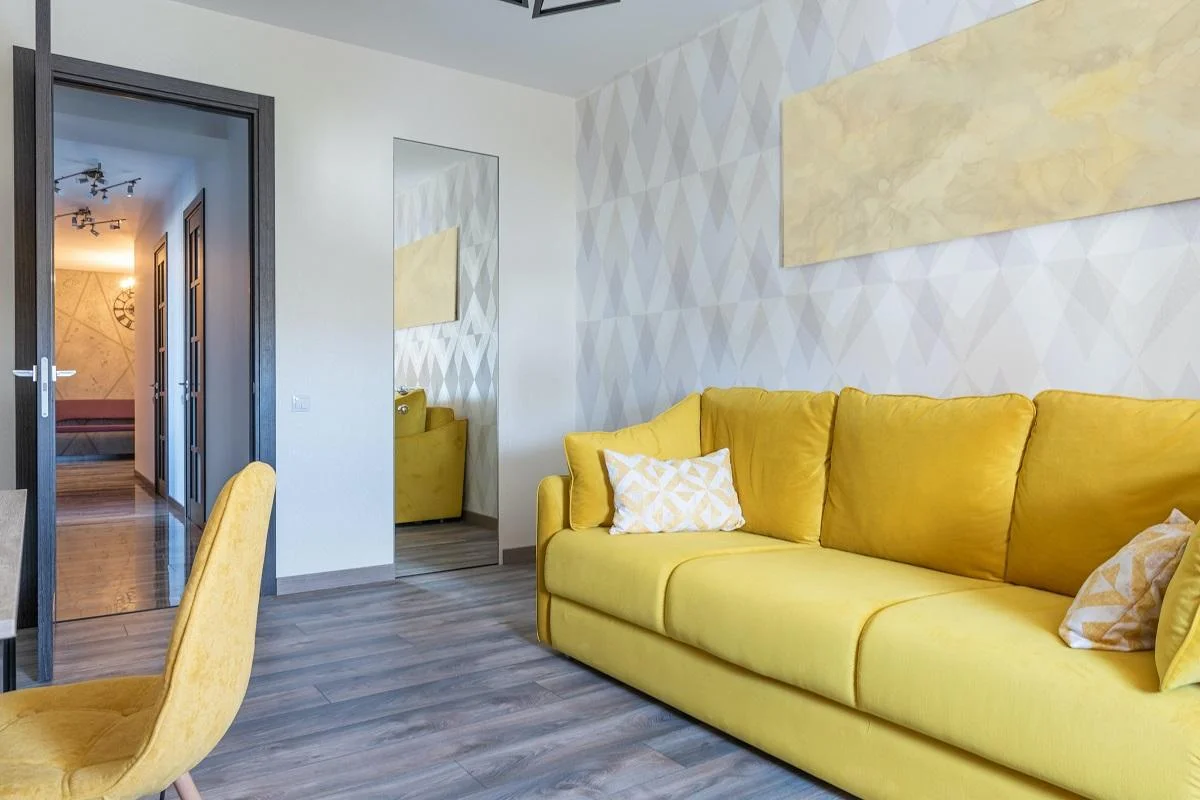 A splash of yellow could be exactly what your living room needs! 
Yellow is often considered a bright, cheerful color. And many designers find various fun ways to incorporate them into your homes while being cautious. Yellow textures or décor can be fun and vibrant, but only if they are done right. 
If the shade is a touch too bright, like a neon yellow or lime, it could be jarring to look at. However, if it's a warm tone like mustard, honey, etc., it would draw people in, making them more comfortable. 
And since most socializing happens in the living room, you want to ensure that it radiates warmth and hospitality. So, regardless of whether the room has a retro charm or mid-century modern furniture, a yellow sofa could liven your living space up. And we have some ideas that could help you out! 
Why Choose A Yellow Sofa? 
The color yellow doesn't seem out of the ordinary but is still not a conventional color many would go for, especially for a sofa. However, the color is often associated with feelings of warmth, happiness, and positivity. So, incorporating even just a hint of yellow, in any shape or form, can give the room a playful yet urban look. 
Moreover, it can balance the look of the room if incorporated correctly. And it goes incredibly well with other bright colors like pink, blue, orange, white, and a lot more. As a result, you can always add accents, like cushions or rugs in these contrasting colors to make the space look more vibrant. 
Now that we know how a yellow sofa could elevate our room décor, let's look at a few decorating ideas with it. 
Decorating Ideas With A Yellow Sofa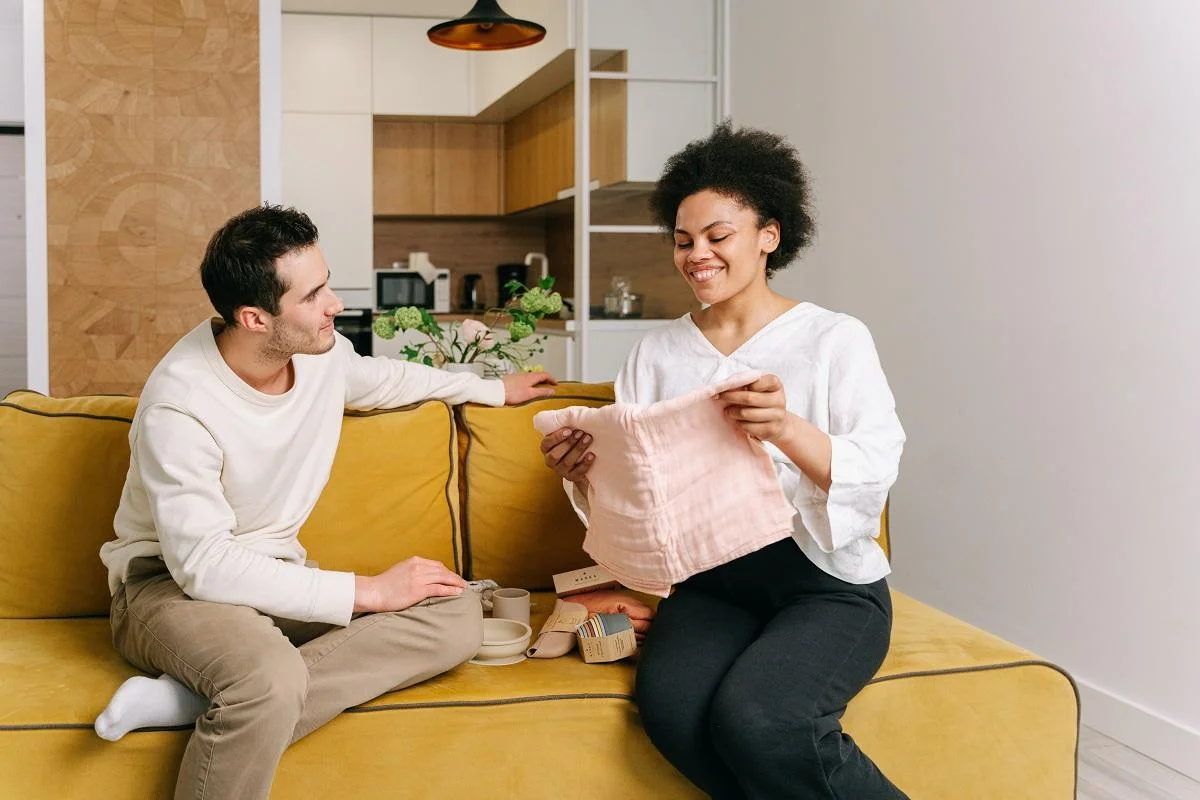 1. Add Warmth To Neutral Tones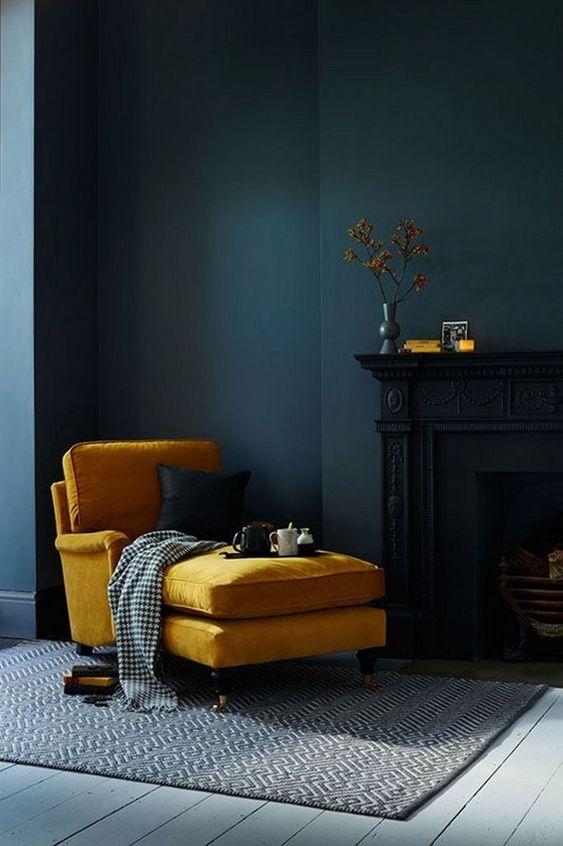 If your living room is painted a cool, dark tone to give it a calming effect, it could often make it look bland. For instance, shades of blue can give your room a more neutral look, but at the same time, it could make the furniture and accessories blend into the walls. 
However, furniture is supposed to add to a room instead of melding into it. So, adding subtle yellow accents, like a yellow sofa can brighten the room. And with natural light, it can look a lot bigger and spacious. 
   2. Bring Balance To A Monochrome Look 
A monochrome scheme is one of the most popular styles when it comes to interior designing. While we understand why everyone opts for this contemporary style, there's nothing wrong with adding a modern twist.
How can you do that? By making a bold statement with a bright yellow-colored sofa. Stacking a bright color like this against a neutral backdrop will bring in the perfect balance. Besides, yellow sofas go well with white furniture and accessories. 
   3. Make It The Focal Point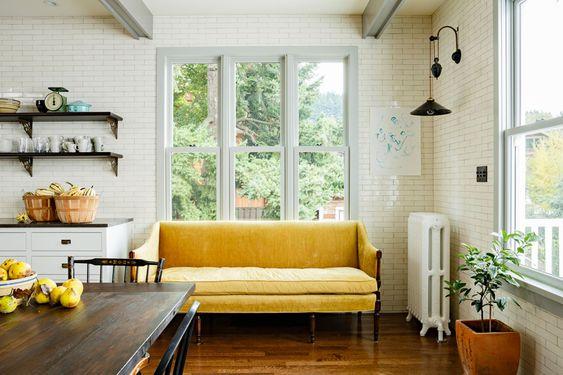 This may seem odd, but a bright living room can feel cold and impersonal to many. Now there are other elements that could liven it up, but sometimes, all you need is a simple yellow sofa. Moreover, bold colors usually tend to attract attention towards themselves. And you can take advantage of that by placing a yellow sofa against a light-colored wall to give your living room a cheerful new look. 
   4. Pairing Bold With Bold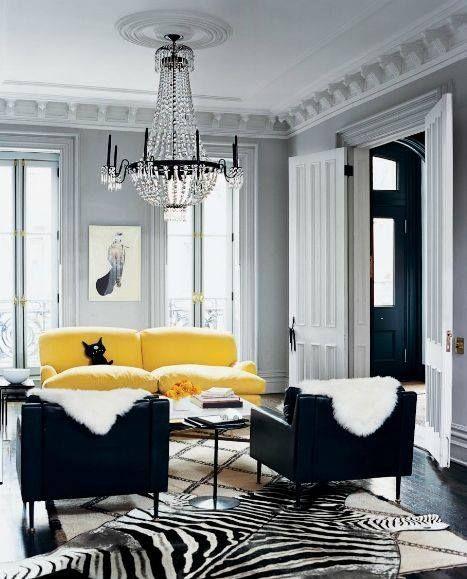 One of the many concerns with using bold colors like yellow is that you would have to limit any extraordinary design ideas. But you can incorporate layered rugs and crazy prints to make the yellow sofa stand out even more!
   5. Get A Little Quirky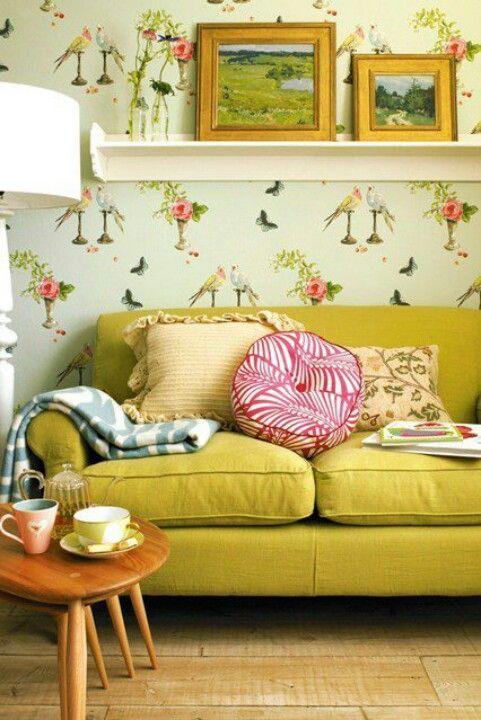 Yellow is such a bright color already, so many homeowners and designers try to use dull or neutral shades to balance the look. But what if you don't have to do that at all? Just bring in the right-sized yellow sofa to make a bold yet fun statement with your decor.
And while it will do most of the work, adding bold colors in the form of pillow cushions, potted plants, and layered rugs can create a warm look for your living room.
   6. The Perfect Vintage Look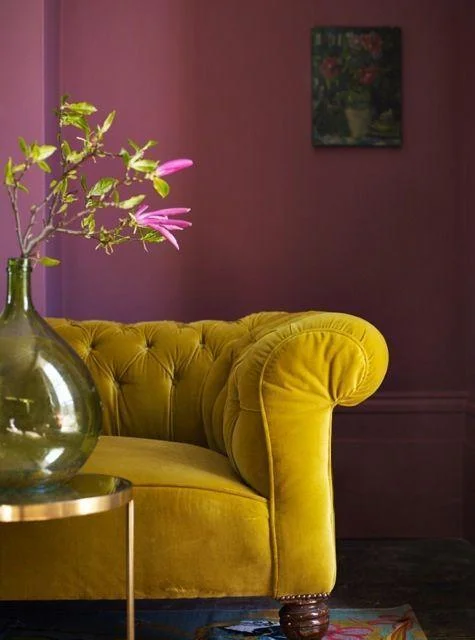 Vintage decor runs synonymous to rustic colors, darker shades, and old-fashioned furniture. Interestingly, you can use all of them and then bring in a dark-yellow or mustard-colored sofa to tie in the whole look together.
In this regard, go for an old-fashioned couch, which would be slightly thicker and a lot more comfortable. And it will always be the first thing someone notices when they walk into the room.. 
   7. Step Outside Your Comfort Zone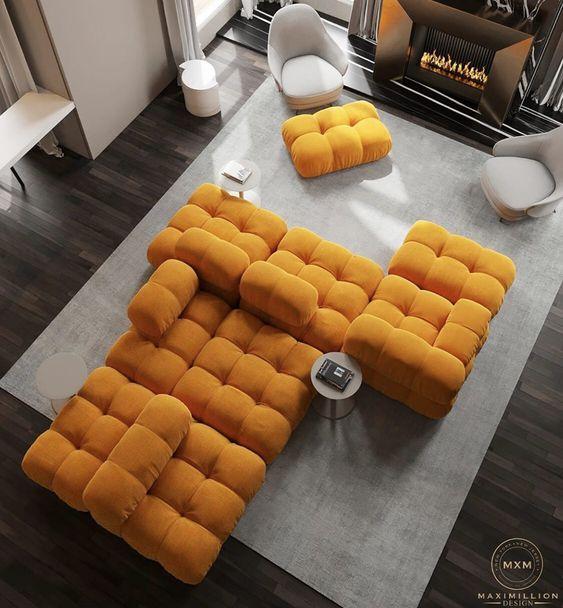 Most living rooms tend to be a neutral color like grey, brown, or beige. This is often because many homeowners prefer subtle living rooms, and these colors make for safe options. However, you shouldn't be afraid to experiment. 
Adding shade of colors in the form of furniture, rugs, and other accents can give your room a modern twist. For example, a non-conventional yellow floor-level sofa arrangement will not only give your room a much-needed makeover, but it will also help the decor show off your fun side! 
   8. Add Character To Your Living Room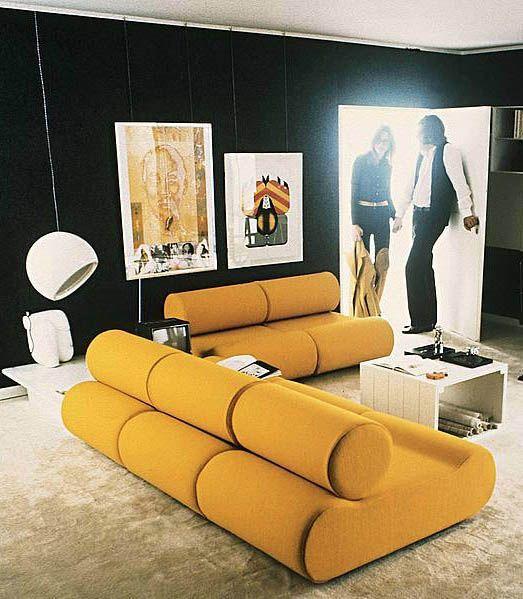 Who says you have to paint your living room the same shade as the rest of the home? If your bedroom has light blue walls to make it more cozy and welcoming, then make your living room the show-stopper by painting it all black!
Besides, you can go with different light color shades, tones, hues, and furniture to complete the decor. But adding a stylish yellow sofa into the mix could bring the whole space together. And it doesn't have to be a contemporary style sofa either- the more unusual the style, the better.
   9. Incorporate A Warm Tone To Space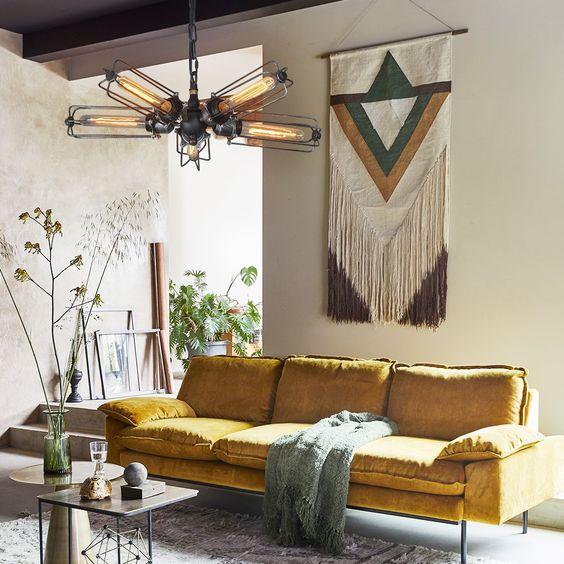 Adding the color yellow to your space will bring in more light and will make the room feel warm and cheerful. Moreover, the color complements earthy tones like nothing else. So, you can use yellow light fixtures, wall art in earthy tones, and accessories in neutral shades. 
And you can further elevate the look of the living room by including a simplistic yellow sofa. It will visibly stand out, especially if it is of a slightly darker hue. 
  10. Create The Perfect Rustic Look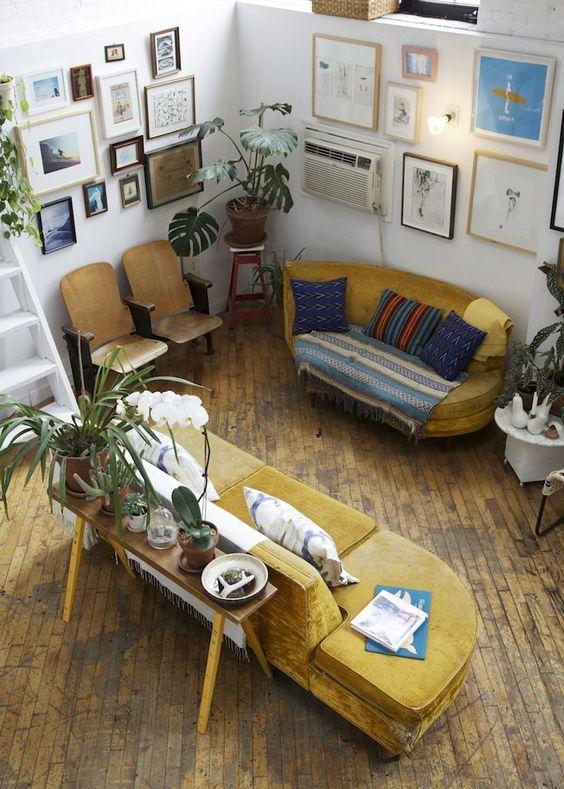 Decorating any space with wooden accessories is always a good idea because it makes the room look light, warm, and rustic. A heavy wooden coffee table with light, neutral color painted walls, and a warm yellow sofa can create the perfect setup for relaxation. 
Not only does this add more warmth to your living room, but it also gives it a unique look. It would look even more put together if the room has yellow walls, as the space would appear coordinated while bringing in more light. 
  11. Make The Best Use Of An Open Floor Layout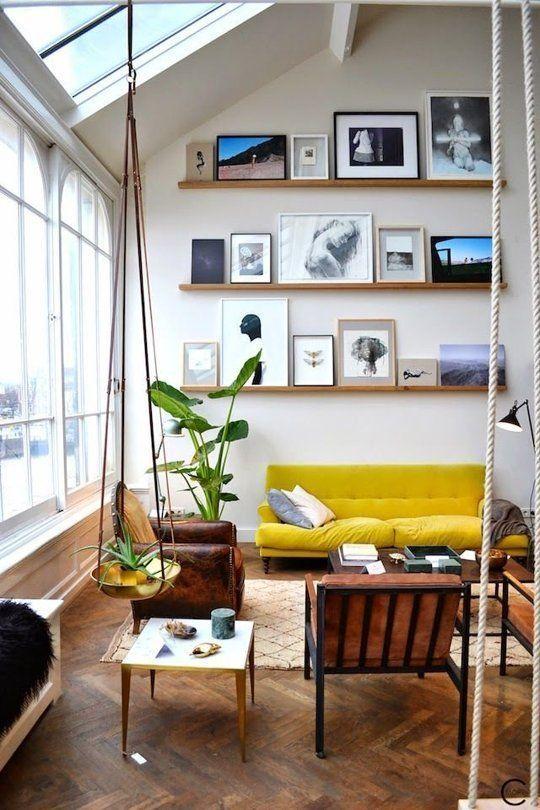 An open, spacious living room can often look and feel empty, despite being engulfed in various shades of color or accessories. Decorating rooms like this can be slightly difficult since you would want to fill it up. 
But sometimes, this can make the rooms look cramped up and cluttered. However, adding a warm yellow sofa to an open floor layout brings all the attention to the sofa, making it a focal point. This acts as an anchor, making a spacious room look and feel homey. 
  12. A Sprinkle Of Shades Of Green 
Yellow doesn't have to be the only pop of color. Pairing up bright colors can make decorating a lot more fun. The focus wouldn't be on either of the colors, but it would still make the room pop. How do you do that? You can add a few potted plants, framing the yellow sofa. It will force everyone to look at the said corner every time they walk in. 
  13. The Freedom To Choose The Perfect Backdrop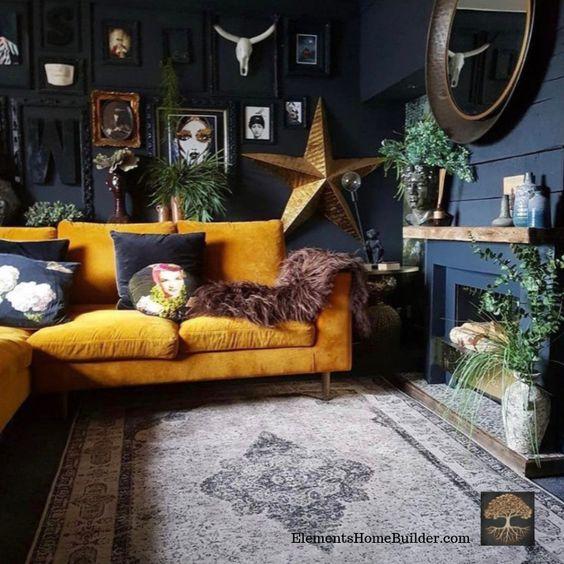 A neutral backdrop may seem perfect, but it isn't always the best choice to make. Certain tones like grey, white, and beige can be pretty uninviting or seem cold. However, if you have a solid yellow couch, you can choose almost any color for a backdrop. Regardless of whether it is bright or neutral, the bright yellow color would shine through. 
  14. Sunny Shades Of Yellow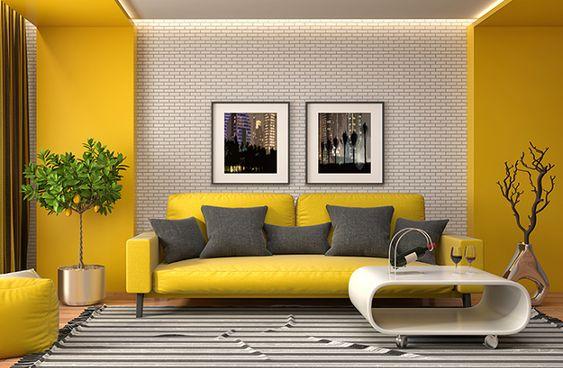 Would too much yellow in a room be considered overkill? We don't think so! Colorful yellow chairs, yellow walls, curtains, or even pillow cushions, can be used to decorate the room.
However, make sure that the sofa is the boldest shade because it should always be the piece that brings your room together. Not only does this show that your room has consistency, but it will also open up your living room, making it look a lot more inviting. 
  15. Golden Elements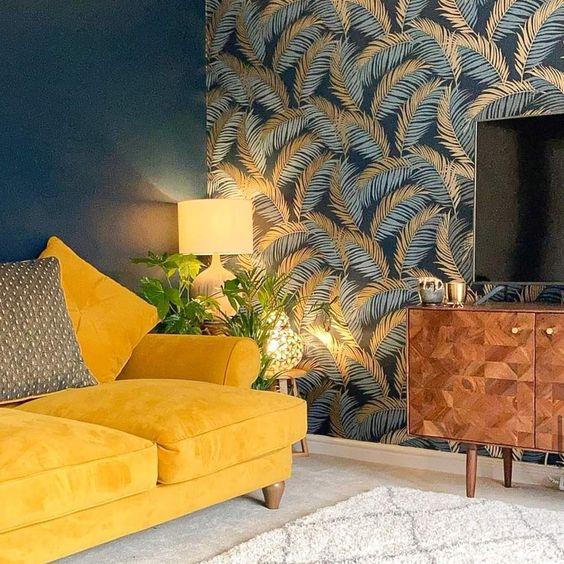 Yellow pairs incredibly well with metallic tones, especially with gold elements. But you don't have to add big metallic pieces to bring attention to the yellow. It can be something as simple as a pattentred wall, like in this picture. 
The gold leaves on the wall go well with the warm undertones of the yellow couch. Plus, you can incorporate more gold by adding other accessories like artwork and lights to give the room the bright and welcoming effect you're looking for. 
How To Style A Yellow Sofa? 
1. Bring The Room Together 
When you put certain colors together, it makes the living room look complete and put together. So, if you have a warm yellow sofa, it would be essential to pick the same shade of yellow for cushions or rugs to balance it out. This will give the living room some uniformity and make your room feel and look unique. 
2. Yellow On The Wall 
Accent walls always make the room stand out a lot more. And to give the living room a pop of color, you can have a bright accent wall, preferably yellow or a hue that best complements the sofa. 
You can then put the yellow sofa in front of it, bringing more attention to both of them. While a bright color could overwhelm your decor, a softer shade might help elevate the look of the room. 
3. Yellow Accessories 
If you're still not sold on the idea of a yellow sofa, picking out a bold yellow cushion could be a step towards it. A neutral sofa with bright yellow cushions might help add a bit of color to your room and create a warm aesthetic. You could even add yellow elements around the sofa to test and see whether you'd like the idea more. 
4. Go For Something Smaller 
If you don't have the space for a full-length sofa, but still want to get yourself a yellow piece of furniture, a side chair with yellow upholstery or even a beanbag would be good. This would still be the focal point and give you the warm tone you're looking for. 
You can still pair it with something neutral until you're ready to make the change. It doesn't always have to be a solid color chair, you can mix it up by getting pinstriped patterns. 
5. Pair It With Shades Of White 
You can pair textured yellows with creams and off-white shades, giving your living room a more casual yet modern appearance. Your entire room can be different shades of white or off-white with black cushions. But the entire focus of the monochromatic room would be on the solid yellow sofa. 
6. Balance The Warm With The Cool Tones 
Afraid the warm  yellow tone will overtake your entire living room? You could instead complement it with neutral tones like gray (for the walls) to make sure that the space doesn't look overwhelming.
Sure more warm tones like red and orange can aid visual stimulation. But to avoid it from being overwhelming, you can incorporate these in the form of little accessories or trinkets.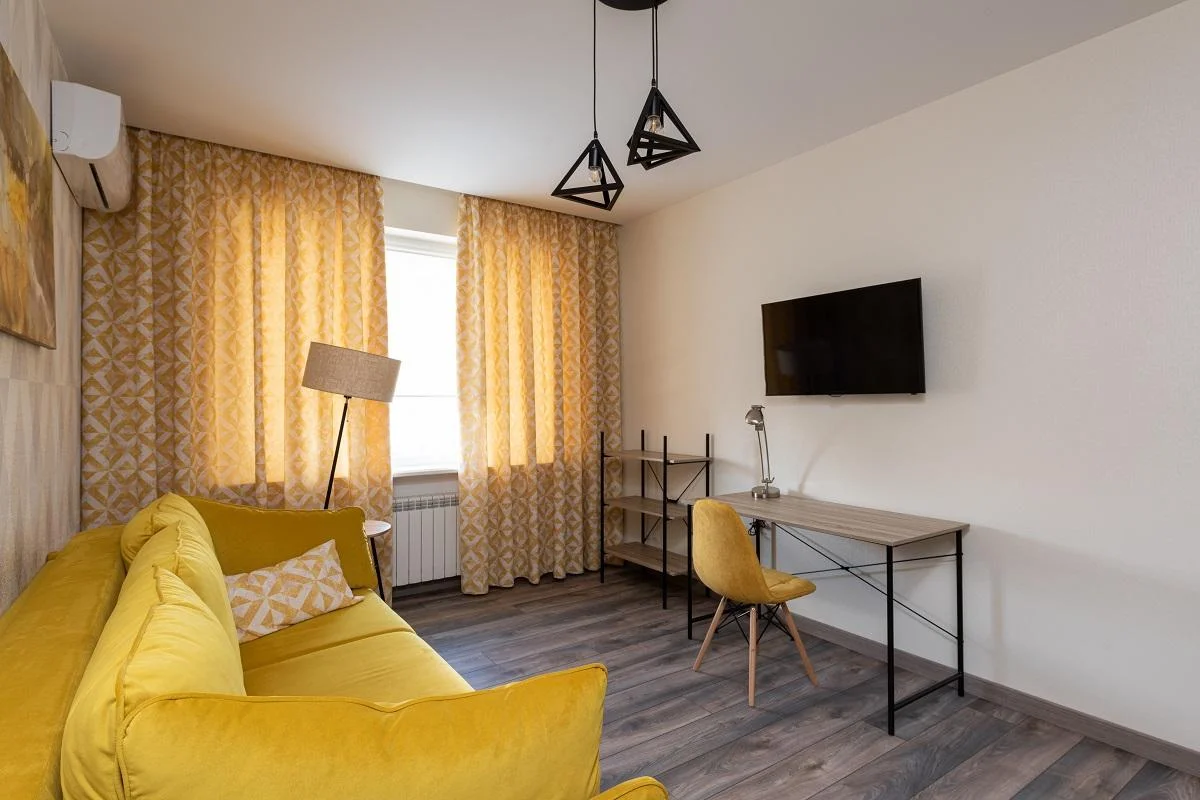 Final Thoughts 
A yellow living room idea may seem overwhelming at first, but if you ease into it, it might be just the thing you're looking for. Opening up your rooms with the tone of yellow will not only make them more refreshing, but it will also be more welcoming for your guests.
By pairing it with a statement piece like a yellow sofa, you're bringing a more cheerful look to your house. Along with being more inviting, the pop of color will give your room a different designer quotient. So, if you're drawn to bold colors, a yellow sofa is the perfect piece of furniture for your house. 
We hope this list has swayed your opinion on yellow sofas and encouraged you to create an innovative yet joyful space for family and guests alike. That's it from us, until next time! 
Related Articles 
How To Use Taupe Color In Your Home Decor
The Best Colors for Master Bedroom
20 Super Modern Chester Sofas That Will Make Your Home Look Classy
17 Best Furniture Stores in Houston Today
11 Best Leather Recliner Chair
13 Best Lift Top Coffee Tables to Consider
8 Best Bean Bag Chairs Right Now
9 Best Pull-Down TV Mounts to Use
McCulloch MC1385 or Vapamore MR100
How To Arrange Framed Photos On Walls
The 5 Best Hairpin Legs for Bed Timeless Designs