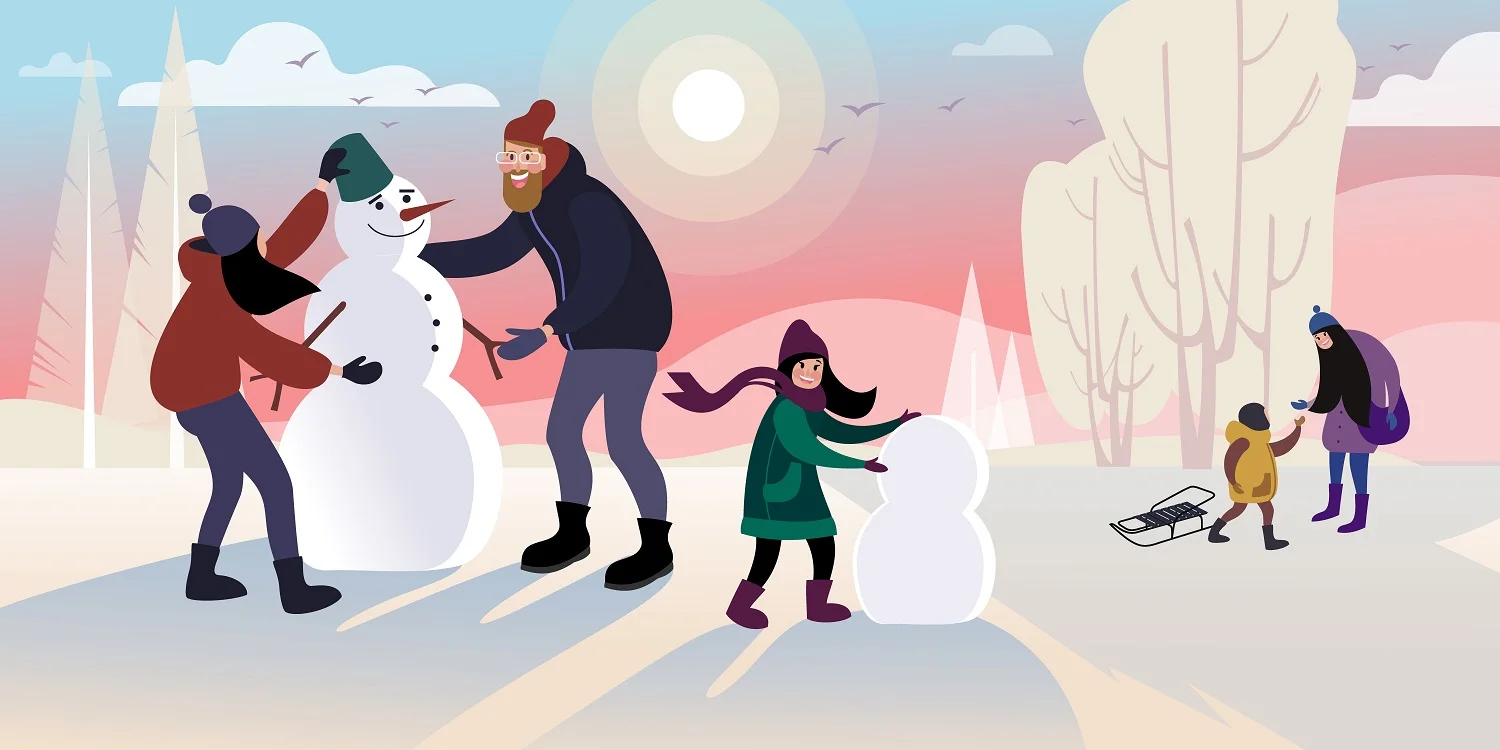 Winter – the season not only to be jolly but also creative. And making beautiful snow sculptures is one way to go about it!
Playing in the snow is one of the best feelings for children and adults alike. From making snowmen to snow angels, this magical time calls for all kinds of creativity. Now, with the advent of social media, more and more individuals are starting to create masterpieces in their backyards. No wonder then that snow sculptures are more popular than ever before!
If you are considering adding an interesting and fun element to your winter garden, a snow sculpture would be the ideal option. They're fun to create with family and friends, and the result looks stunning.
This detailed guide will give you 51 unique and exciting ideas for your next snow sculpture. If you're making one for the first time, these ideas are bound to kindle your creativity.
So, without further ado, put your gloves on, and let's begin!
Best Snow Sculpture Ideas
Cool Walrus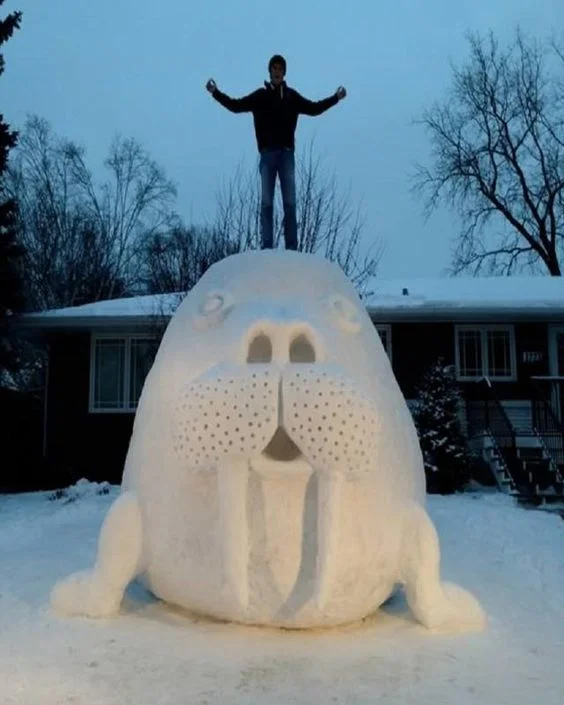 Creating a snow sculpture walrus seems apt this season. Who doesn't love these adorable, large-toothed creatures, right? Well, we don't get to see much of them around. This year, why not build a giant snow walrus that is sure to make everyone flock to see your creative endeavor? Sure, it won't be easy, but it'll be loads of fun!
This sculpture might take some time and effort to build, but it will be worth it in the end. Imagine yourself standing on top of its massive head and posting for your next Instagram post!
Game Of Thrones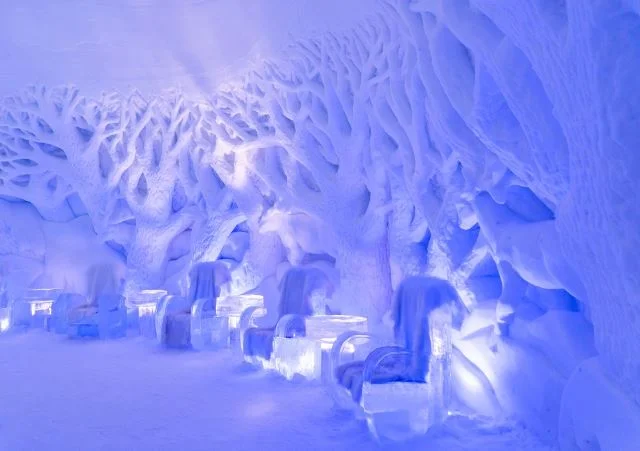 With all the buzz around this iconic TV series, it's hard to find someone who hasn't heard of it. Love it or hate it, Game of Thrones has created a revolution that is here to stay for a while.
Take advantage of your wintery wonderland by creating your very own winter-themed Game of Thrones setup. Carve out wiry trees into the snow, keeping enough room for the "Iron Throne."
With this snow sculpture in your backyard, you can expect throngs of people pushing their way in to get a selfie with your "thrones." Make it even more creative by adding a sign up front which says "Winter Is Coming."
Elephant Family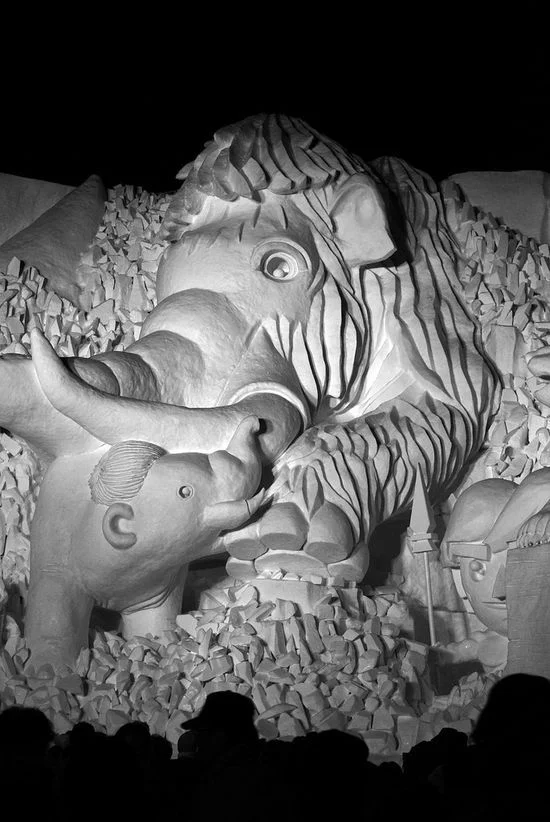 It's hard not to like this snow sculpture idea. Carve out a mother and her baby elephant, complete with their long trunks and beautiful ivory tusks. This project might take quite a lot of work and dedication, so ensure that you get all your friends and family to help you!
You can even carve out some trees in the background for added effect or keep the elephants as the main attraction. If you make them large enough, you can even let the kids climb on them and take pictures.
Winter Forest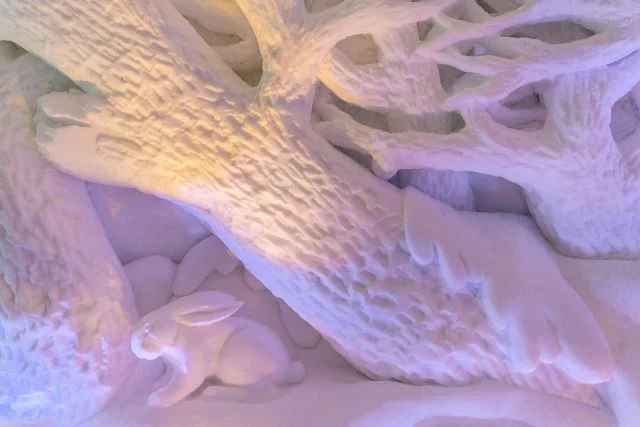 How about etching an entire forest scenery in the snow? This snow sculpture requires an impressive amount of skills and perseverance. However, as you can see, the result is quite magical.
Remember to carve out the little woodland creatures in your winter forest scenery. These should be relatively easier, as they will be much smaller than the massive ice sculptures we mentioned above. Add a few rabbits, deers, and maybe a large tree trunk to create an authentic look.
Frozen Mural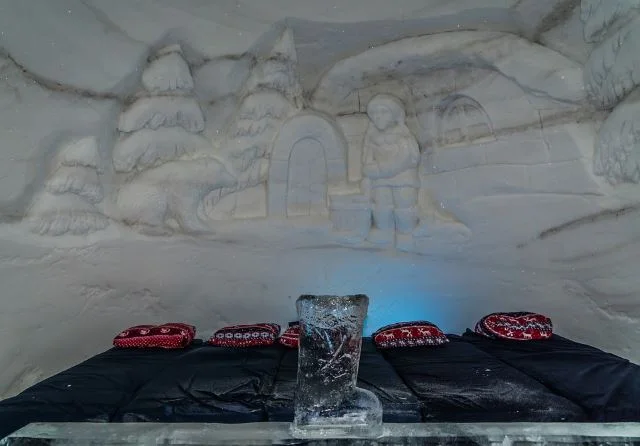 Looking at murals painted on walls is always fascinating. Nowadays, artists show off their creative side by painting murals and graffiti on alley walls, buildings, museums, and parks.
Let your creative juices flow by carving out a beautiful frozen mural for your next snow sculpture. You can take ideas and inspiration from different places to create your own unique set.
You don't need to create heavily intricate designs for this one if you don't want to. Just get started with the project and see what comes out of it!
Doggie Best Friend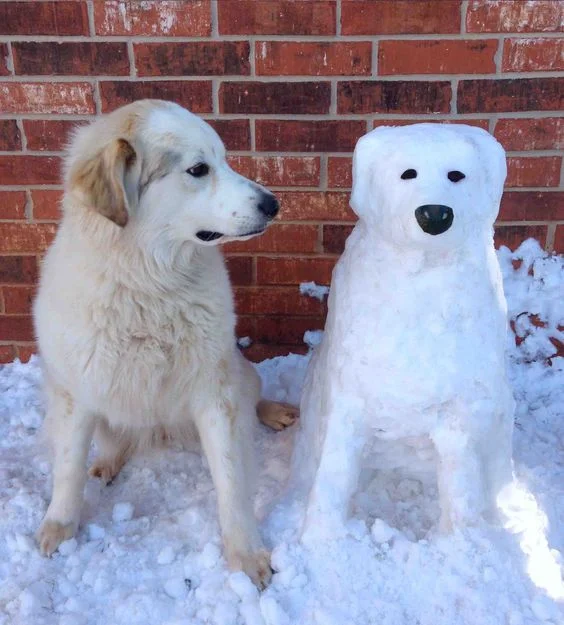 If you have a pet dog, why not use him as an inspiration for your next snow sculpture? Indeed, you agree that a dog is man's best friend, right?
Create a life-sized dog snow sculpture using your pet as a model, if you manage to get them to stay still long enough! Once you are done, you'll enjoy watching the confused looks from your dog, wondering why his new best friend isn't responding to his barks.
Use your creative style to sculpt the dog in whichever position you like best.
Snow Elk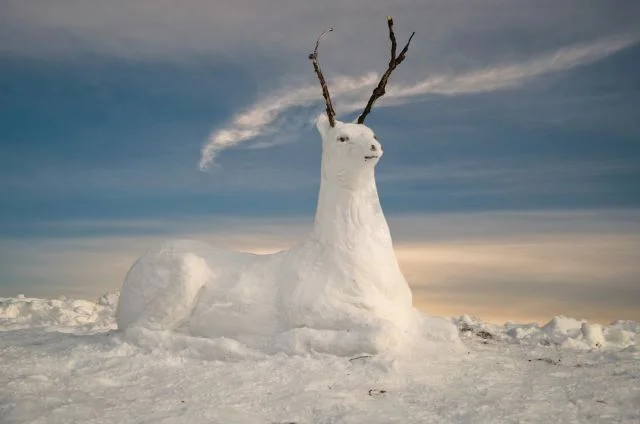 Another fantastic idea for your next snow sculpture can be a majestic snow elk. Use our reference image as inspiration and sculpt one sitting with its head high, looking over the frozen wonderland that is your yard.
To make it look even better, add two large twigs for its 'antlers' and some shiny black pebbles to create the 'eyes.' This wonderful sculpture is sure to inspire your friends and neighbors to create their own snow animals in their yards.
Ride The Tauntaun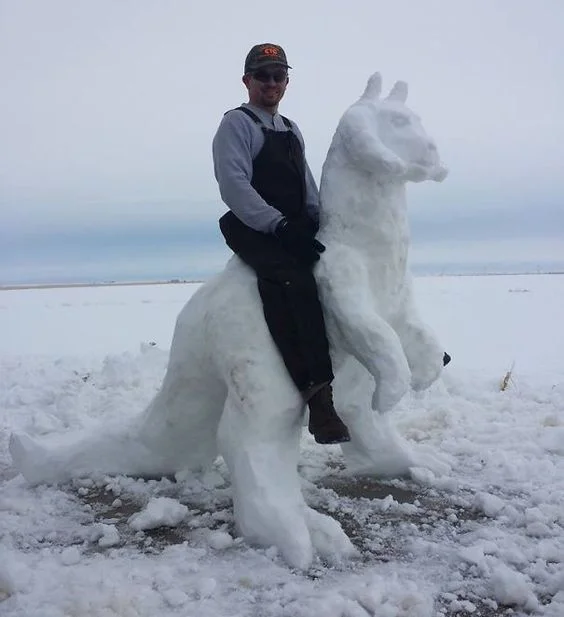 If you are a fan of the Star Wars universe, our next idea will be super exciting for you to explore. Sculpt a life-sized Tauntaun in your snowy yard in honor of the mystical species of snow lizard from planet Hoth.
What better way to pay your tributes to an all-time classic like Star Wars? This sculpture doesn't require an excessive amount of skills – just a little patience and the right concepts in mind. Make your figure big enough so you can ride its back – perfect for the next photoshoot idea!
Model Train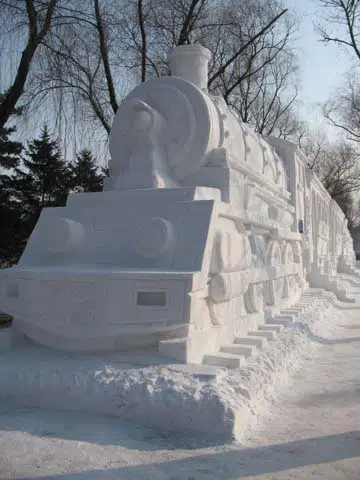 There are many train lovers amongst us who love to ride in them or build model trains in their free time. If you loved making these little model trains as a child (or even an adult), consider creating a large snow sculpture train this season.
Complete the look of your sculpture by adding railroad tracks, wheels, and a large funnel to let the imaginary 'steam' out. You can even add a few passengers in the boogies if you want to get really creative.
Alternatively, you can also create hollow spaces in the boogies to let people sit in the cooled chambers and enjoy the experience.
White Whale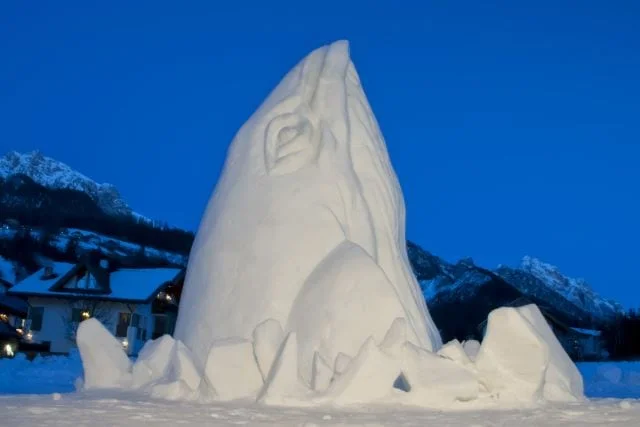 Sculpting a massive white whale can be quite a task! Well, how about carving just the top half of the whale instead?
Use your creative skills to carve a snow sculpture of the white whale pushing itself out of the 'water,' or ice. Don't forget to carve out large eyes at the sides of its face, a mouth, and the rigged textures under its chin.
If you prefer any other sea critter, you can make minor adjustments to our idea and create your own unique design. Maybe even add a giant iceberg to make your sculpture more authentic!
Sail Away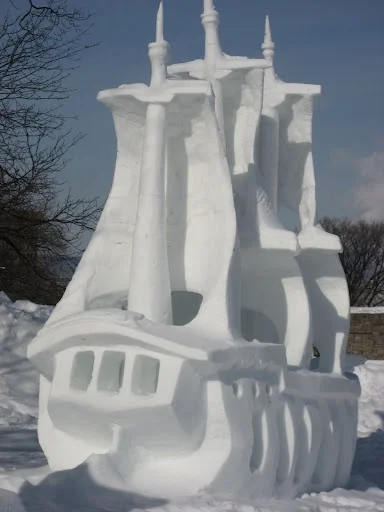 Since we already added a train, you didn't think that we'd forget about a ship, right? Some like train rides, others like cruises. Well, we like both!
For our next snow sculpture idea, carve a ship, complete with its sails, anchor, bow, and all. You can even get the little kids involved in this fun project by telling them to dress up as their favorite pirate.
Whether you have the Titanic in mind or a battleship, let your creative juices flow with this inspiration. You are free to choose the size and even the patterns you want to add to your snow ship.
Nativity Scenes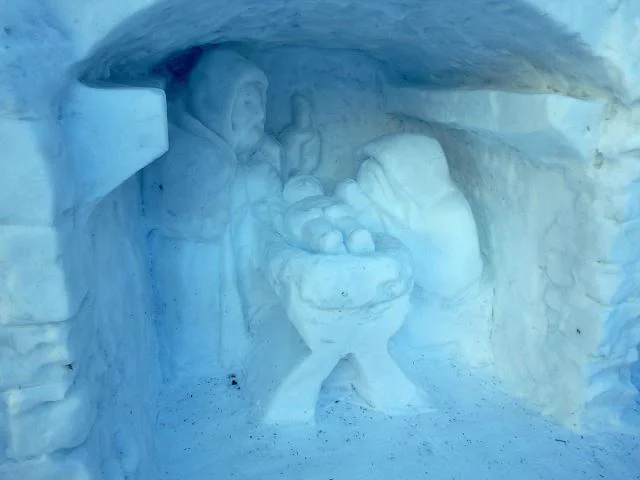 Sure, we've all seen a couple of great nativity scenes in our lives. Whether it's been in paintings or in the form of creative sculptures. This Christmas, how about creating an authentic nativity scene in your backyard using the abundant snow?
This classic religious scene can be a fun project for the entire family. Remember to include a spotlight, just to create more authentic lighting of your Holy scene. Finalize it with some decorative Christmas lights and soft music in the background.
The First Dance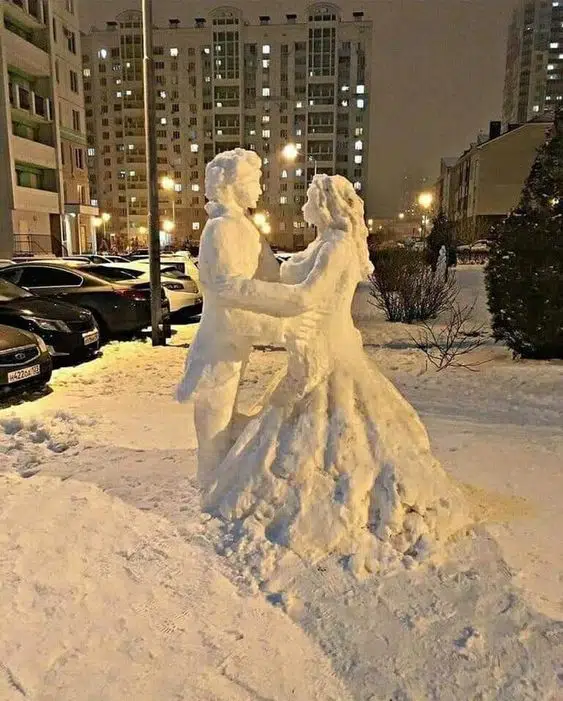 Are you a newly married couple celebrating your first winter together? Why don't you make a fun, bonding exercise out of this exciting snow sculpture project?
This next snow sculpture inspiration features a couple enjoying their first dance. The details on the bride's dress and hair are fantastic, but don't let that scare you! You can add as much or as little details as you want to your own sculpture. After all, it's the thought that counts, right?
Tree Climber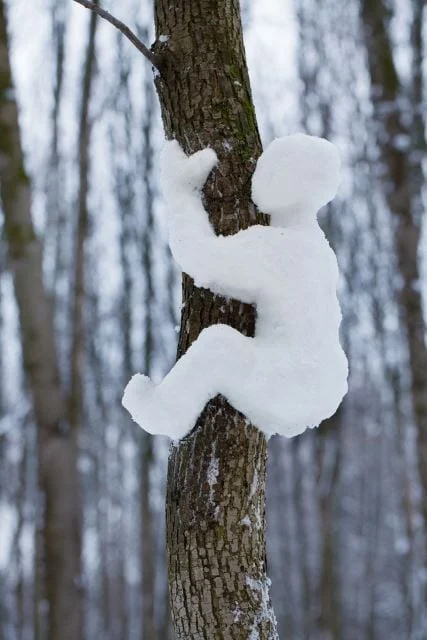 This is quite a unique and funny idea, but one worth trying out nonetheless! Here is a hilarious snow sculpture of a little man climbing a tree. As you can see from the image, there are no details for the eyes, nose, mouth, or hair. That's what makes this one so easy to recreate.
When creating your own little 'tree climber,' feel free to use pebbles to make the eyes, and add a scarf around his neck for added effect!
Snowman's Toilet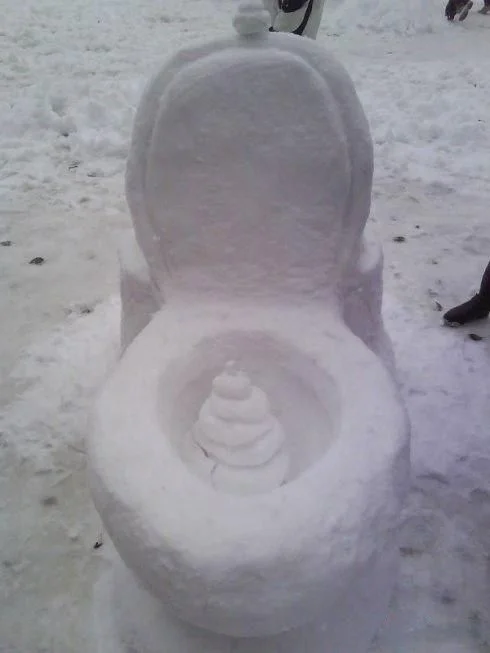 Well, this one is just for gags, but you have to admit, it's hilarious! Our next snow sculpture idea features a 'snowman's toilet' made purely out of ice and snow. Complete with a flush, a toilet bowl, and toilet seats, this inspiration takes your creativity to a whole new level.
Of course, the picture also features a little snowman turd, added just for laughs. You don't have to add this one if you don't want to, but then again, why not?
Shark Attack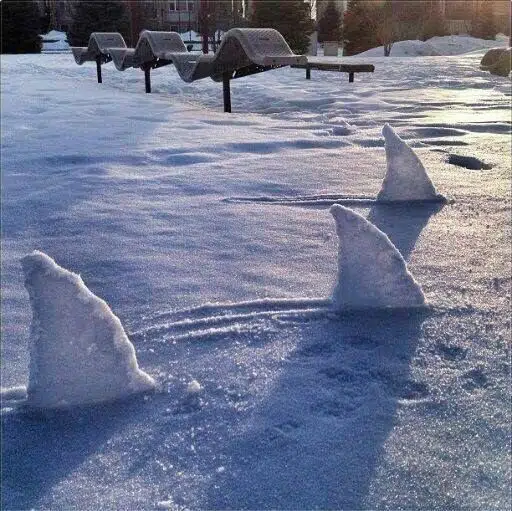 Moving on to our next recommendation, we have a recreation of the classic 'Jaws' movie. This snow sculpture features three shark fins created on the surface of the snowy ground. It gives us the effect of the sharks seemingly swimming right under the surface. Quite an eerie feeling.
This snow sculpture is relatively easy to create. All you need to make are three triangular 'fins.' Add a few strokes on the surface of the snow with your fingers to give the illusion of the sharks' swimming.'
Frozen Castle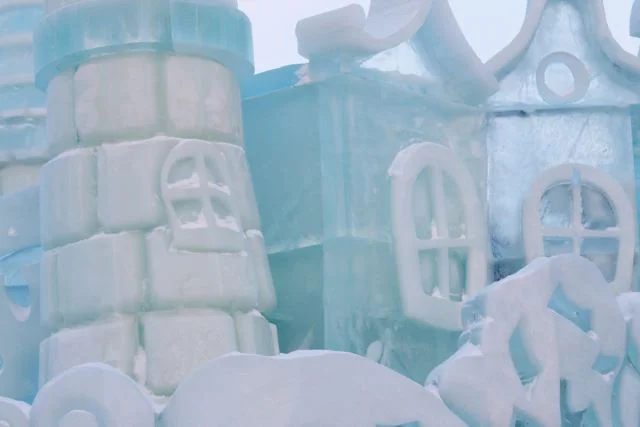 What was your favorite story as a child? Did you like Rapunzel, or were you more of a Harry Potter fan? Well, dig deep into your childhood memories and create this beautiful frozen castle for your next snow sculpture inspiration.
We recommend creating a blueprint for this one, as it can be quite detailed. It is a fun project to dive into with your friends, family, and children. You can go all out and create a massive, majestic snow castle that looks as magical as the fairytales.
Beer Belly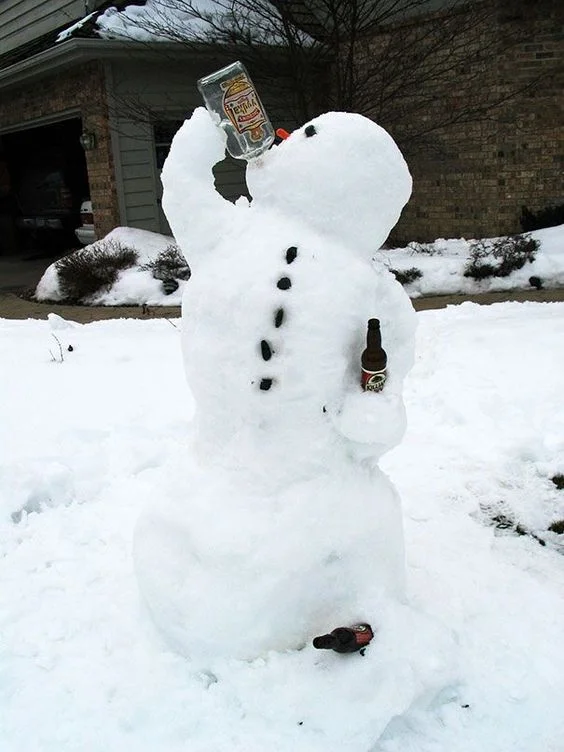 Are you always pining for a cold beer? Well, it turns out that your friendly neighborhood snowman is, too!
For our next snow sculpture inspiration, we have a unique snowman figure that can be seen chugging his favorite cold drink – beer. Create this piece by making a snowman, as you usually would. Once you're done, add the scarf, the carrot for the nose, and the pebbles for the eyes and buttons.
Now comes the fun part – place two beer bottles carefully, so it looks like the snowman is busy enjoying a cold one!
The Blazin' Fire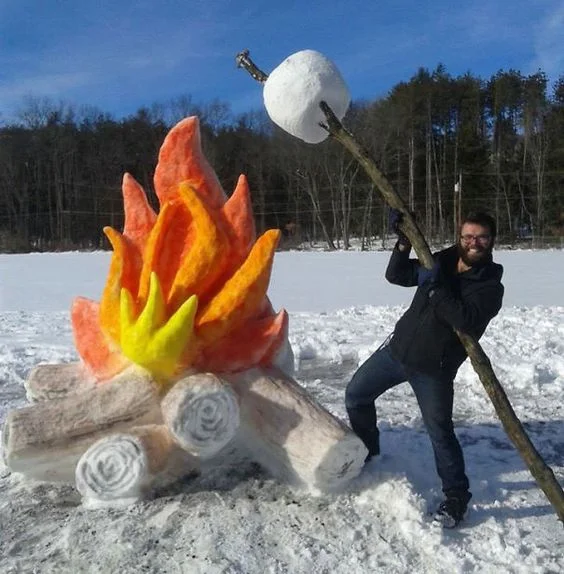 What can be cozier than a warm, toasty fire and a yummy marshmallow during the winters? In this next inspiration, create a 'fireplace' using snow as your medium. This one can be slightly challenging to create, but a super fun project nonetheless.
Start by creating the wood logs – use a stick to carve intricate designs, making them look realistic. Then, complete the massive 'fire' on top, adding orange and yellow colors to create an authentic vibe. Finish off with a giant, thin tree branch and a snow 'marshmallow.'
Dancing Elks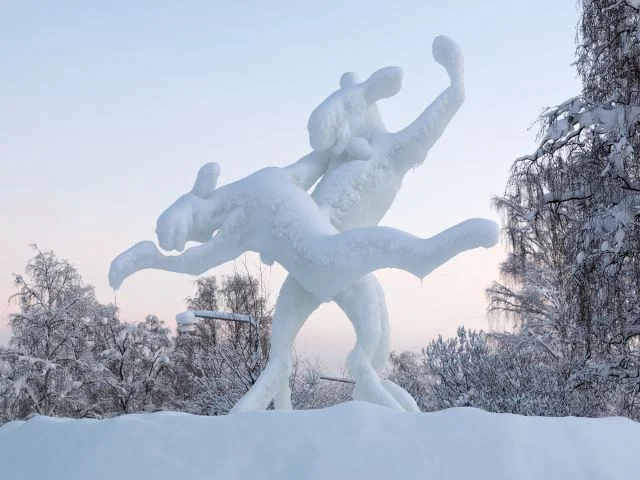 We've inspired you with our dancing couple and our classic Elk snow sculptures. Now, we bring you one that features both these themes together – the Dancing Elks!
As you can see in the picture, this snow sculpture is downright hilarious and a great addition to your winter garden. Don't get too worked up trying to make a complicated design with this one. The idea is to have fun and create something adorable and funny at the end of it.
Winnie The Snow Pooh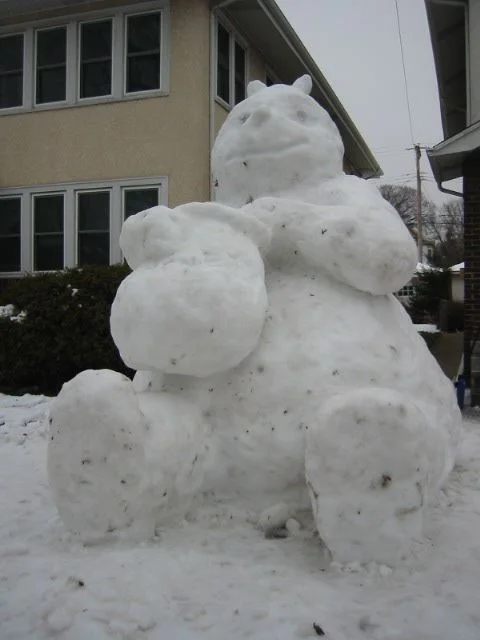 Who doesn't love the adorable, honey-eating cartoon bear Winnie The Pooh? Celebrate your love for this cute cartoon character of your childhood by making a Winnie The Pooh sculpture purely out of snow.
You can even add the beloved honey pot, which is Winnie's favorite snack – any time, any day! This snow sculpture will turn out to be a fun project to partake with friends and family. Distribute some sweet, honey candy at the end of the project before calling it a day.
Snow Woman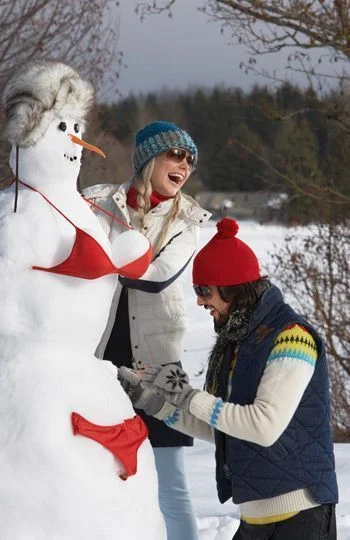 We've all seen plenty of snowmen all over the world. In fact, it is a staple for most people who are just looking to play around with snow. For a change, how about creating a snow woman this time around?
It's the same concept – create the basic structure of the snowman, and throw in some feminine garments to seal the deal. You can have fun with this one – as you can see in the picture, these people really decided to have fun building their 'snow-woman.'
'Warm' Messages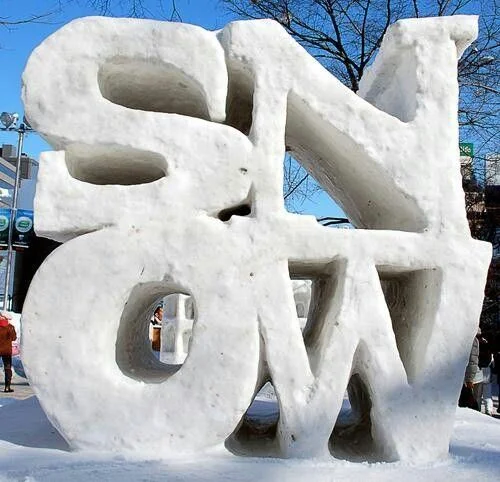 A great addition to your winter landscape this season can be a beautiful message made entirely out of snow. In this picture, you can see the words' Snow' created in neat, block writing. Use this as an inspiration to write whatever message you wish for your snow sculpture.
How about a 'warm' message, like 'Love,' 'Hope,' or 'Light'? You can choose to write your own name or initials or the name of your loved one. Get creative with it!
Snow Glow Castle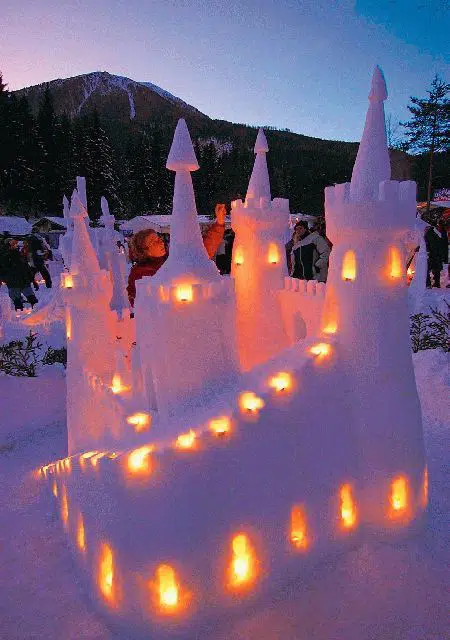 You might have already considered building a 'snow castle' this season, but how can you make yours stand out from the rest? Well, sometimes less is more.
Instead of opting for a very intricate design, use simple lighting elements to give this snow castle a unique appeal. Make the inside of your snow castle hollow, and add a few lights inside, making the castle light up from inside out.
This little touch instantly adds a magical appeal to your otherwise plain, white snow castle, creating a stunning appeal.
Queen's Crown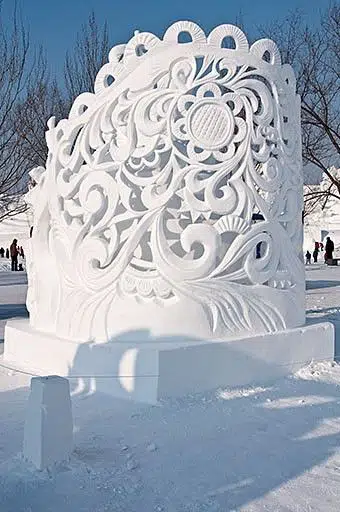 Here's your chance to make your own crown for yourself or the Queen in your life. This snow sculpture is quite intricate and will definitely take a good deal of patience on your end. However, the result, as you can see, is stunning.
This crown snow sculpture can be a great project to do with your partner or even as a DIY activity. You can take references from our image or choose something slightly less detailed by looking at other inspiration online.
Pixel Snow Art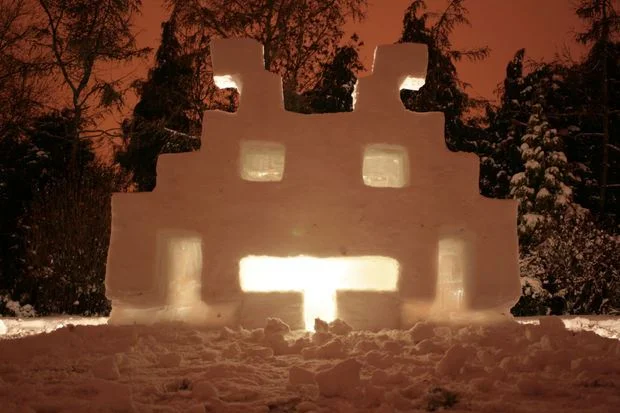 This snow sculpture is super impressive, both in terms of design as well as creativity. If you are a fan of robots, this snow sculpture can be an immensely fun idea for you to try. In fact, you don't even need others to help you make this – it's relatively easy but requires patience.
You can take some help by using 3D rendering tools to create your favorite cartoon character, fictional character, or emoji. Explore the various free 3D rendering tools online and make your favorite emoji or robot come to life.
Chinese Phoenix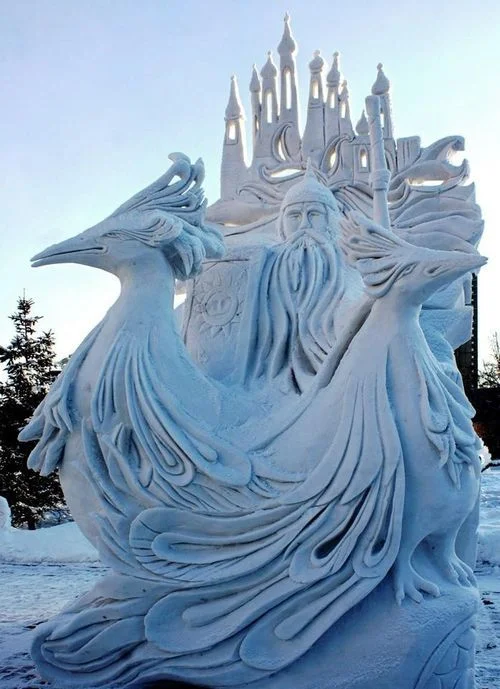 The mythical character and stunning bird, Phoenix, is said to possess magical powers. It is one of the most popular mythological creatures according to Chinese belief. This season, create your own magical creature in your backyard using this image as an inspiration.
We understand that this snow sculpture can be relatively challenging to recreate. However, there's no harm in giving it a try, right? Take some help from your friends or hire a professional to help you with this.
Gothic Skull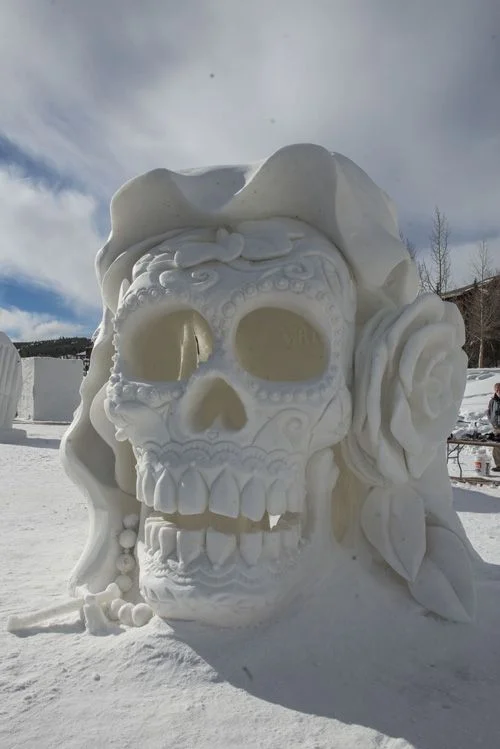 Let's face it; Gothic Skulls are both creepy and fascinating. There are certain kinds of people who really appreciate Gothic beauty, and if you are one of them, this might be your ideal project.
For your next snow sculpture inspiration, create this brilliant piece of art – a Gothic skull. Complete it by carving intricate floral designs, and a rose on the side of the skull, and large, creepy, human teeth.
Snow Kitty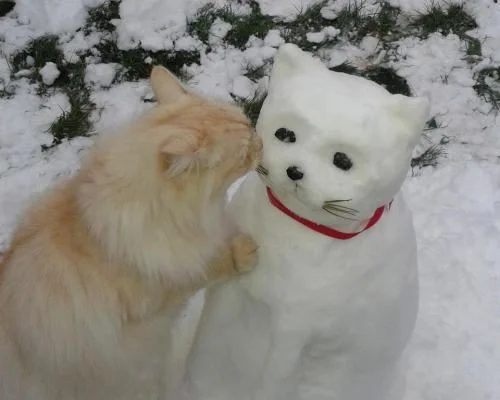 You've already seen our idea of creating a snow dog, but don't think we've forgotten about the cat lovers out there! This next snow sculpture is sure to inspire every cat lover and cat owner out there.
Create a majestic, white cat out of snow, adding black whiskers, beady eyes, and a bell around its neck. Don't be surprised if your pet cat tries to make friends with it! This snow sculpture is sure to turn some heads and confuse some people as they bend down to pat your life-like snow kitty.
Ice Hockey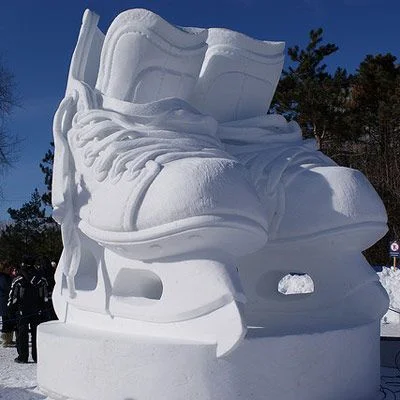 This ones for all the ice hockey fans out there. Why not celebrate your love for this fantastic winter sport by sculpting ice hockey shoes? Sure, this one can take quite a bit of time and effort, but it's worth it in the end, don't you think?
Don't forget to add the shoelaces and 'blades' under the ice hockey shoes. You can even add a hockey stick (real, or one made out of snow) to bring the look together. 
Cycling Snowman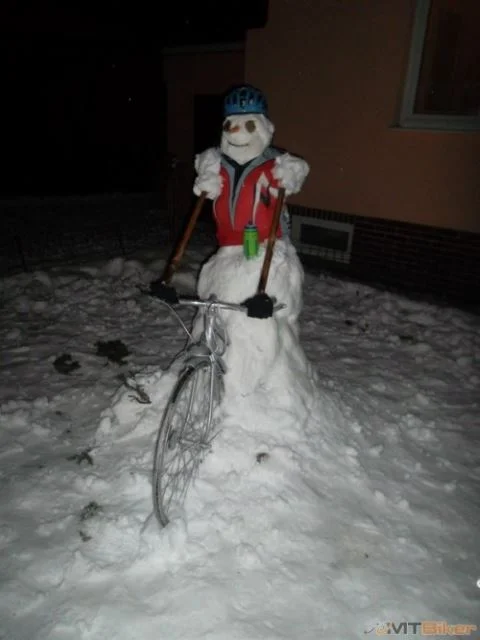 This guide is all about adding a unique twist to traditional snow sculpture ideas. Well, for our next idea, we bring you the 'Cycling Snowman.' This modern take on the snowman features a conventional snowman, complete with long, stick arms, a sweater, jacket, scarf, and hat.
Mount the snowman on top of a bicycle or a bike, and voila! You have your cycling snowman ready to race out to the world.
King & Queen
Next up is another excellent snow sculpture inspiration for couples. However, you can choose to create this one with your friends, family, or even alone.
Carve out the magnificent portraits of the King and Queen – you can choose any image you like for inspiration. This one might be slightly challenging, so don't shy away from taking professional help if you need to.
Sad Times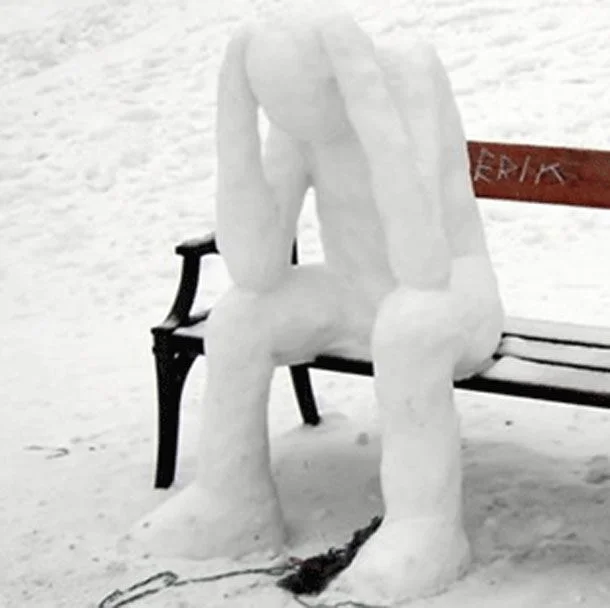 Sure, we all get a little sad sometimes. There's nothing wrong with it. This is a unique idea for a snow sculpture and something you can try out with your family. If you have a bench or chair in your backyard, consider making this 'sad snowman' sculpture.
Perch the 'sad snowman' at the edge of the chair, holding his head in his hands and looking down glumly. Of course, you don't have to stick to 'sad' if you don't want to. Create any emotion you wish to, using this as an inspiration.
Davy Jones — Monster Pirate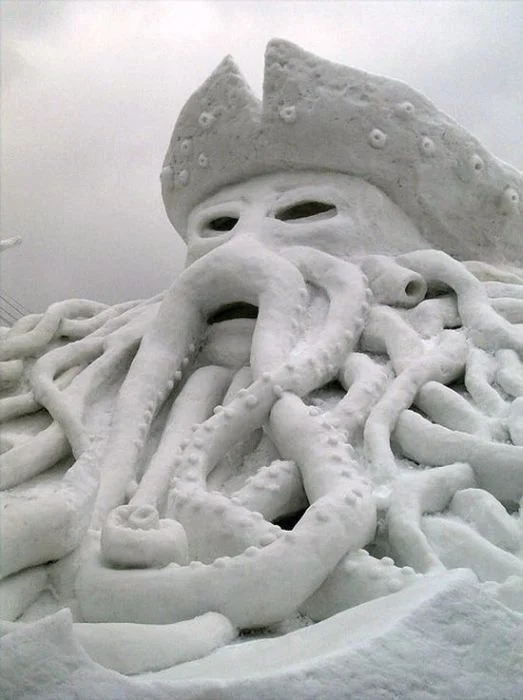 Are you a fan of the Pirates of the Caribbean? Then you surely know the character of Davy Jones, the Monster Pirate.
Using this old classic as your inspiration, why not create a striking snow sculpture that is sure to turn heads? Create this intimidating octopus, complete with the pirate cap, hollow eyes, and tentacles.
You can have a lot of fun with this snow sculpture project, so make sure to invite all the other Pirates of the Caribbean fans you know.
Kids Building Sandcastles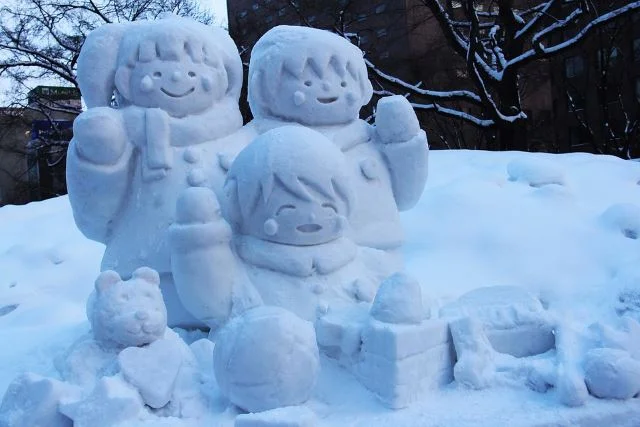 Well, this snow sculpture idea is unique and takes a little creative thinking. Carve a sculpture of kids building sandcastles, but do it entirely using snow as your medium.
Alternatively, you can make one where the kids are playing in a sandbox filled with their favorite toys. You can choose to add some real toys to the snow sculpture or make it completely authentic by creating the toys with snow as well.
Darth Vader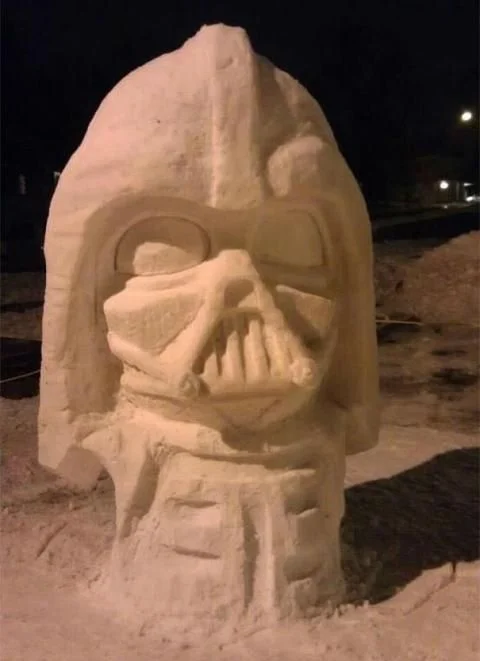 Any Star Wars fans out there? We're sure there will be many raising their hands right now. Well, for our next snow sculpture inspiration, we bring the classic Darth Vader, the Jedi-turned-Sith antagonist from the classic movie franchise Star Wars.
This one can be incredibly fun to create, especially if you can get together with other fans. Make the sculpture life-sized, just for effect. In this picture, the individual has chosen to sculpt only the face, but you can decide to make the entire body if you wish to.
Olaf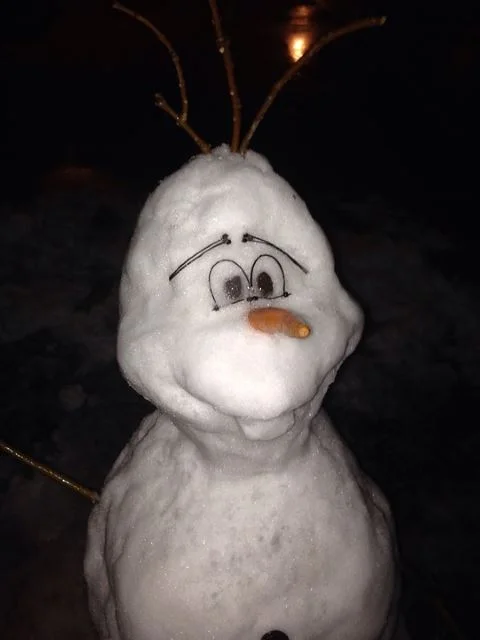 If you have kids at home, then you must have watched the movie 'Frozen' at least 50 times already! Well, this season, do a fun DIY project for your kids with this 'Olaf Snowman' inspiration.
It's pretty straightforward, and your kids will love making this one. Simply create a traditional snowman, and turn it into 'Olaf' by adding the sizable front tooth, a carrot for the nose, and the big, google eyes and sad eyebrows.
It's a simple yet fun project that all kids will enjoy. Plus, it'll keep them busy for hours.
Batman & The Shark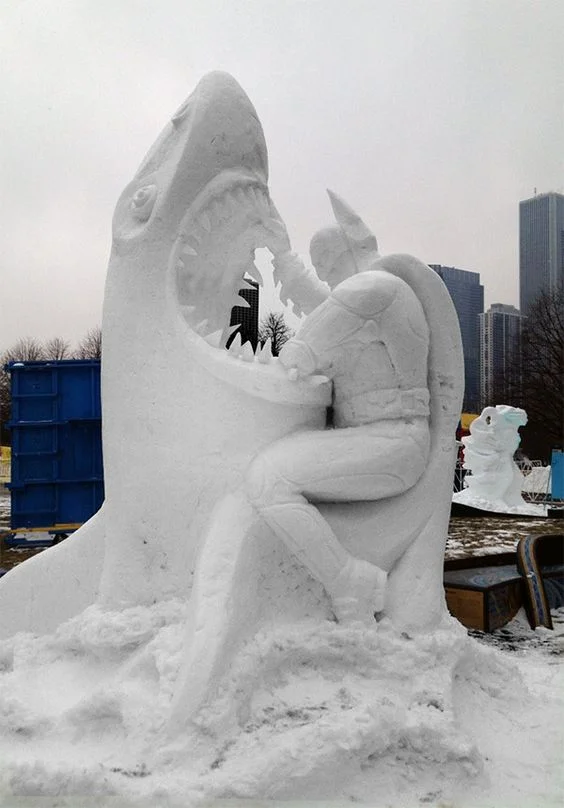 Any Batman fan will jump at the opportunity to create their all-time favorite superhero with snow. Try out something a little more creative by showing off this Dark Knight fighting against a mighty shark. Seriously, who can't this guy defeat?
Remember to sculpt out a mighty cape for Batman and the scary shark's large, sharp teeth. Can you guess who wins this battle? Well, we're rooting for Batman!
'White House'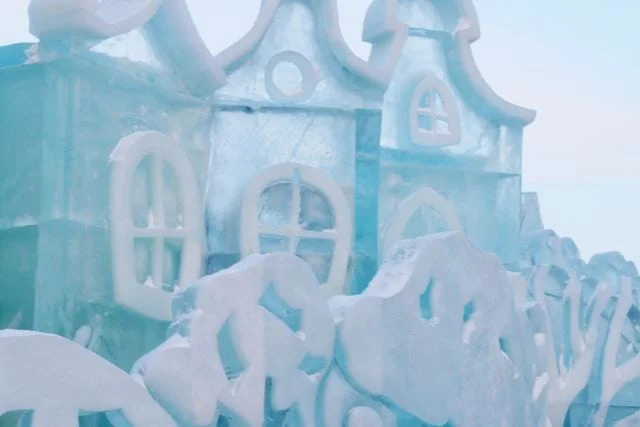 If you'd rather not create fairy castles and other such story tale themes, how about building a traditional 'house'? We decided to call this idea the 'White House,' and you can pretty much guess why.
Creating this snow sculpture can take quite a bit of planning, so make sure to have your blueprint ready before you begin! Make a fun project out of it by involving the children and even having friends and family help you.
Once done, take a stroll through the chilled 'house,' and don't forget to click pictures!
Bunny Hugging A Tree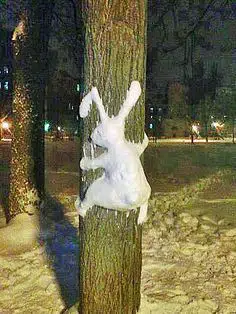 This next idea is similar to one of our previous ones – the 'Tree Climber.' The main difference here is, you would be sculpting a bunny out of snow. In some ways, it can be easier than carving a 'man.' Why don't you try both yourself and let us know?
Sculpting this little bunny might require skills, but it would be a fun endeavor anyway. You don't need to restrict yourself to just this woodland creature – go ahead and experiment with other animals!
Frozen Totoro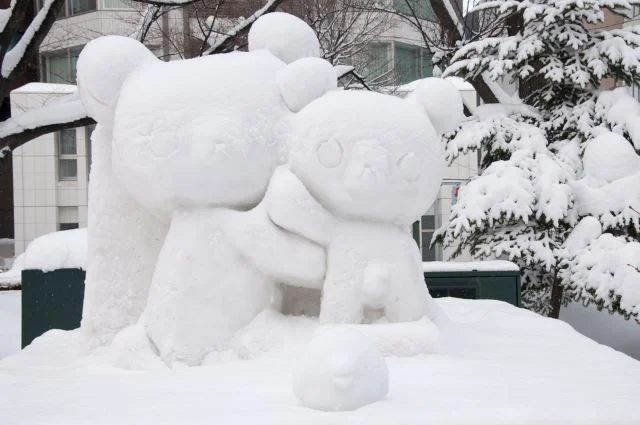 Are there any Japanese cartoon film fans here? If yes, then you surely know about the adorable cartoon character, Totoro.
This particular snow sculpture is an animated bear and seems to be a massive hit with children. However, there are innumerable adults out there who love this character as well. Create this snow sculpture using our reference image for inspiration.
Go big, or sculpt it as small as you'd like. The result will be a giant, adorable Totoro who everyone loves and will want to come and click pictures with.
Snow Mobile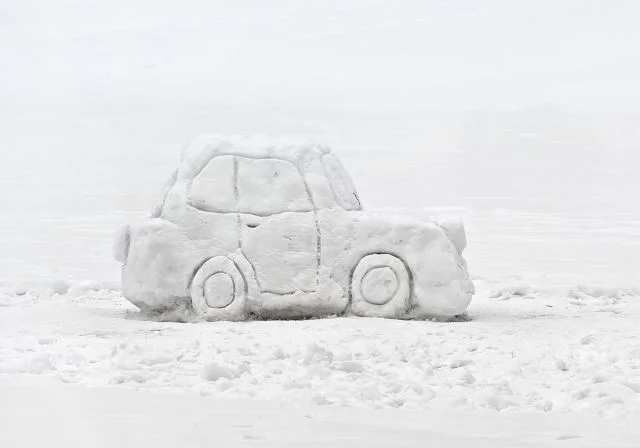 You've heard of the 'Batmobile.' Now, how about creating a 'Snow Mobile'? For our next snow sculpture inspiration, we bring a simple yet effective idea. This snow sculpture can be as simplistic as you like. Create the basic block structure of a car, carve out the round wheels, bonnet, headlights, and the rest of the little details.
However, if you're a massive car fan, you can really take your time with this project and recreate your favorite car model. Sure, it'll take a long time, but it'll be totally worth it.
Baymax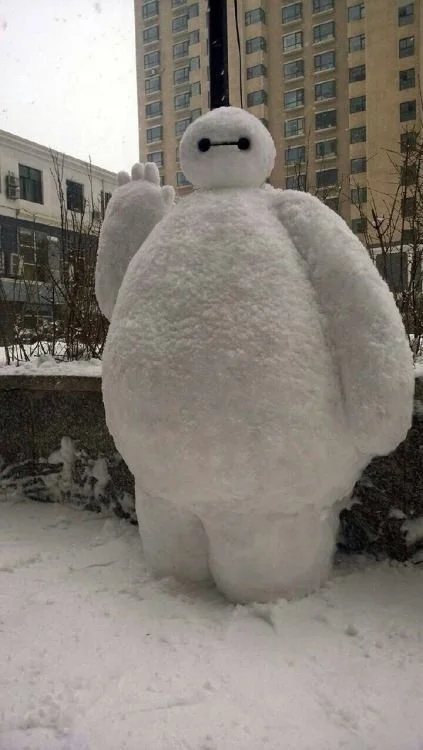 While we're on the subject of cartoon characters as snow sculptures, how about recreating the big, adorable giant Baymax? For all the Big Hero 6 fans out there, this snow sculpture will be super easy and super fun to make.
For this snow sculpture idea, it's best to go big. Create a bigger than life-size 'snowman' shape, and add the chubby, human-like arms and hands. Don't forget to add the big, black googly eyes. And, of course, his large signature belly.
Baby Snowman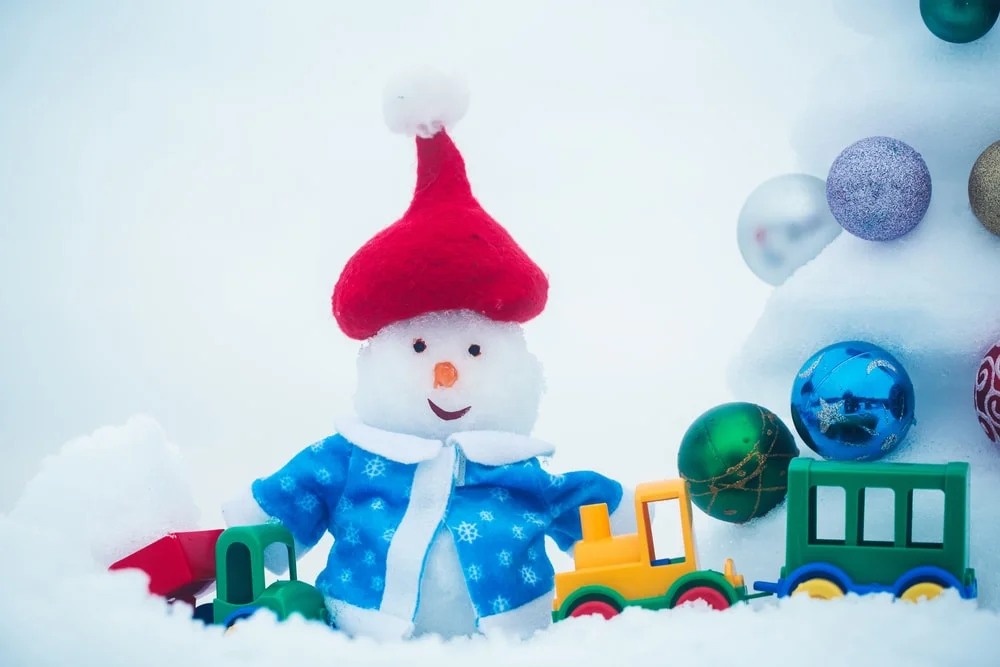 You can't go simpler than this – create a miniature version of the classic snowman for a cute addition to your winter garden. Your kids will love making this one. Make sure to get lots of pictures!
Stewie
Heard of the animated adult cartoon "Family Guy"? Well, you've got to love Stewie! As angry and adorable as he is, this snow sculpture idea is for all the Family Guy fans out there. Add an angry expression on the sculpture, just for added effects!
Mike Wazowski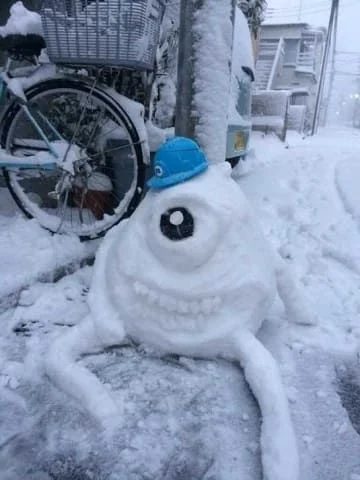 This next snow sculpture idea is for the kids and adult fans of Monsters Inc. Create your own version of Mike Wazowski, complete with the wonky hat, large, single eye, and an adorable, toothy grin.
Homer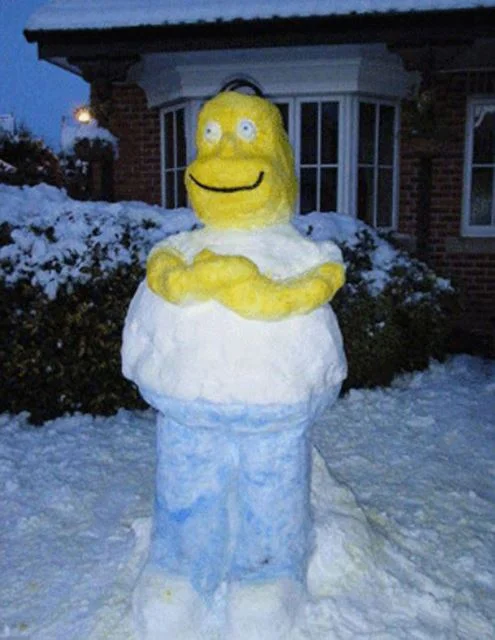 Moving on to our next idea, we have yet another cartoon character. This one is a snow sculpture of 'Homer' from 'The Simpsons.' For a more realistic effect, add yellow coloring to the face and blue to his pants.
Snoopy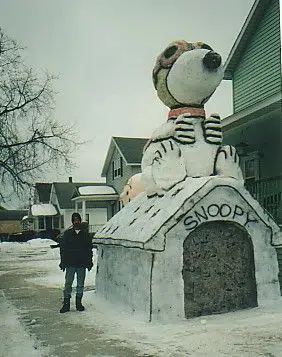 Here's another classic cartoon that everyone loves – Snoopy. Take the help of our reference image and create a large doghouse, perching Snoopy on top of it. This could turn out to be quite a large project, so take your time with it.
Eric Cartman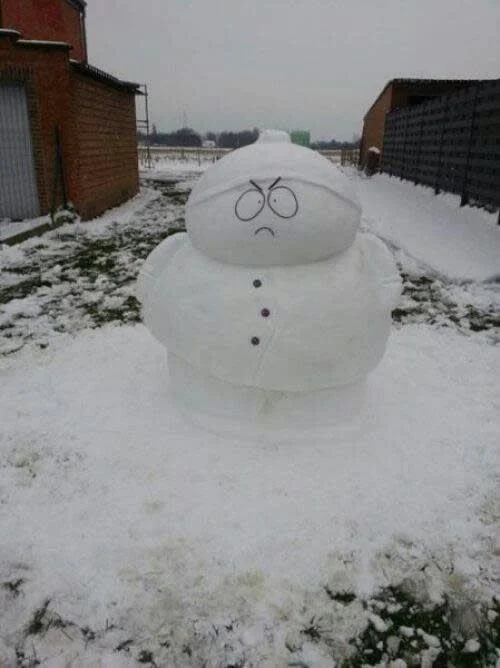 Another extremely funny, at times offensive cartoon character – Eric Cartman, from South Park! This snow sculpture is also easy to make, as it's essentially a fat snowman wearing a hat! Add the 'angry expression' for a better effect.
Archway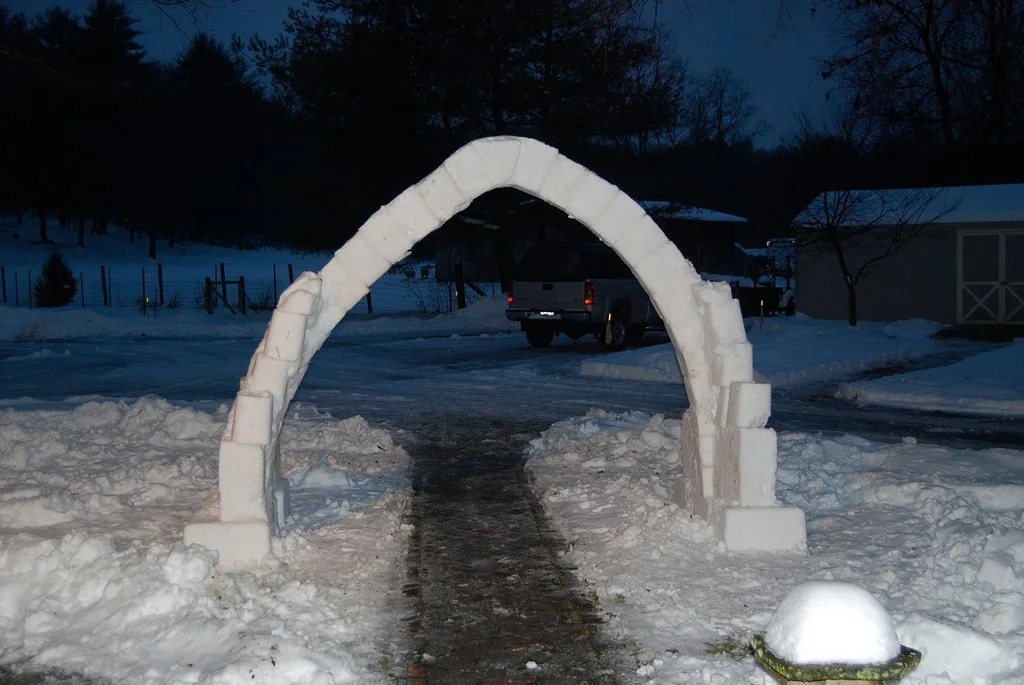 Our next snow sculpture idea is this magnificent archway built entirely with snow. You will definitely need some help with this one. Make sure it doesn't crumble as people walk under it!
Wicked Witch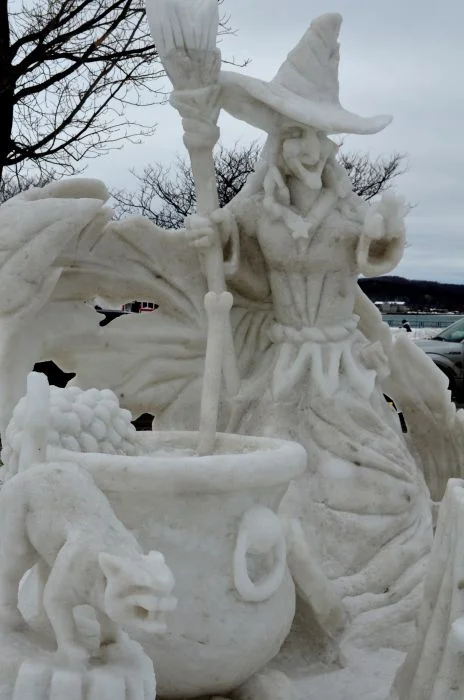 This next inspiration is for the skilled snow sculptures going through our guide. Create your very own 'Wicked Witch of the East' with this snow sculpture idea. Add the broom and a cauldron, and you're done!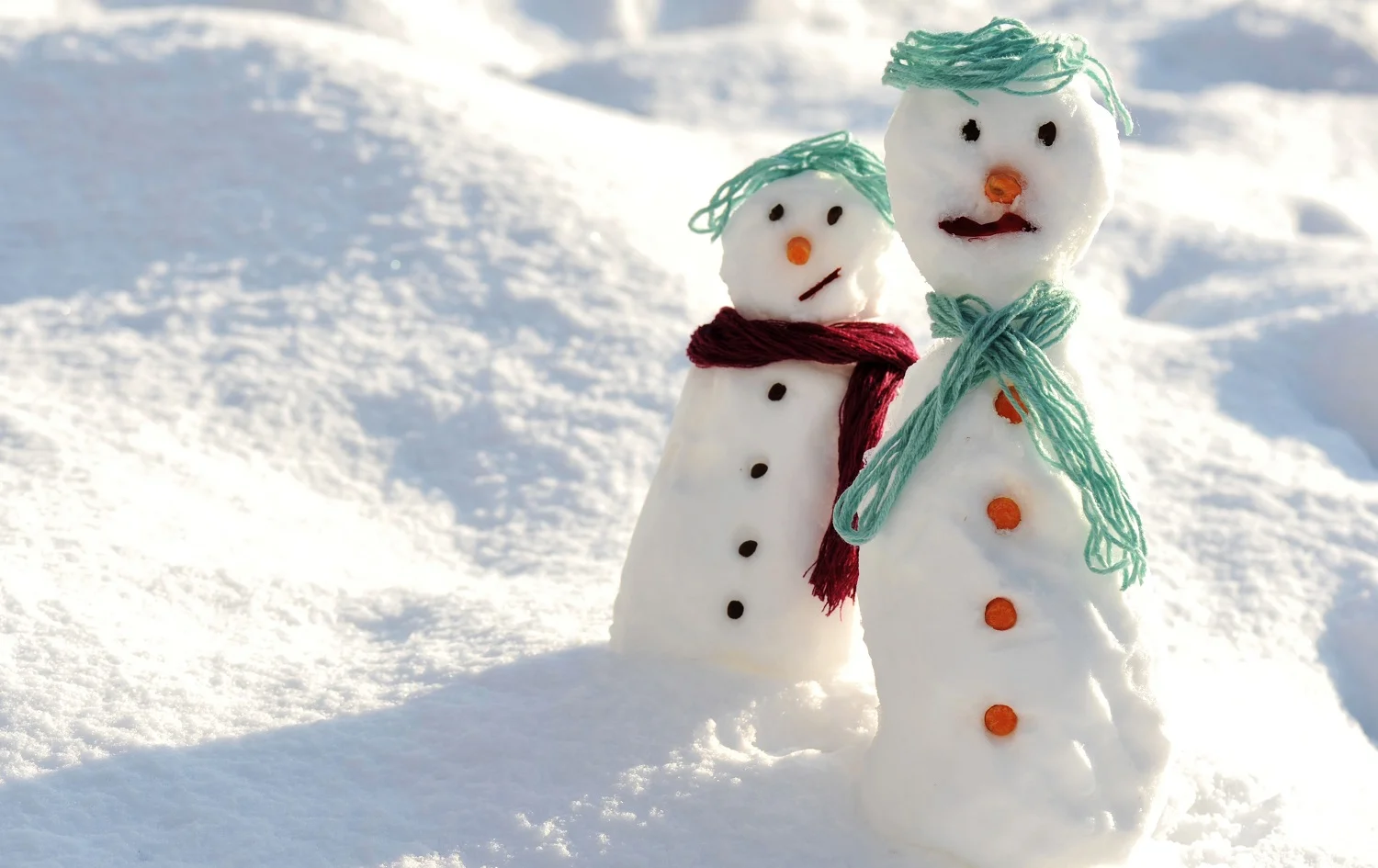 Conclusion
And with that, we have reached the end of our comprehensive list. This season, make heads turn with our eye-catching snow sculpture ideas.
While some of the ideas require quite a lot of skills, others are simple and fun to create. The main thing to remember is to have fun with it. After all, it doesn't matter how it turns out in the end, as long as you enjoy the process.
Well, have fun snow sculpting!
Related Articles
What to Do When Your Snow Blower Won't Start
Ariens Vs Husqvarna Snow Blowers | Obvious Winner?
Troy-Bilt Squall 2100 208cc 21″ Single-Stage Gas Snow Thrower [Reviewed]
5 Best ATV Snowblower Attachments  
13 Best Snow Joe Electric Snow Blowers  
4 Best Remington Snow Blower Reviewed | Buyer's Guide
4 Best Tractor Snow Blower Combinations  
How Much are Snow Blowers? [Costs & Maintenance]
13 Best Single Stage Snow Blower  
11 Best Snow Shovels Right Now
10 Best Snow Blowers For Large Driveways
7 Best Snow Brooms [Reviewed & Buyer's Guide]
4 Best Greenworks Snow Blower [Buyer's Guide]
9 Best Snow Blower for Wet Snow
3 Best Briggs and Stratton Snow Blowers
11 Best Snow Blower for Gravel Driveways
5 Best Commercial Grade Snow Blowers