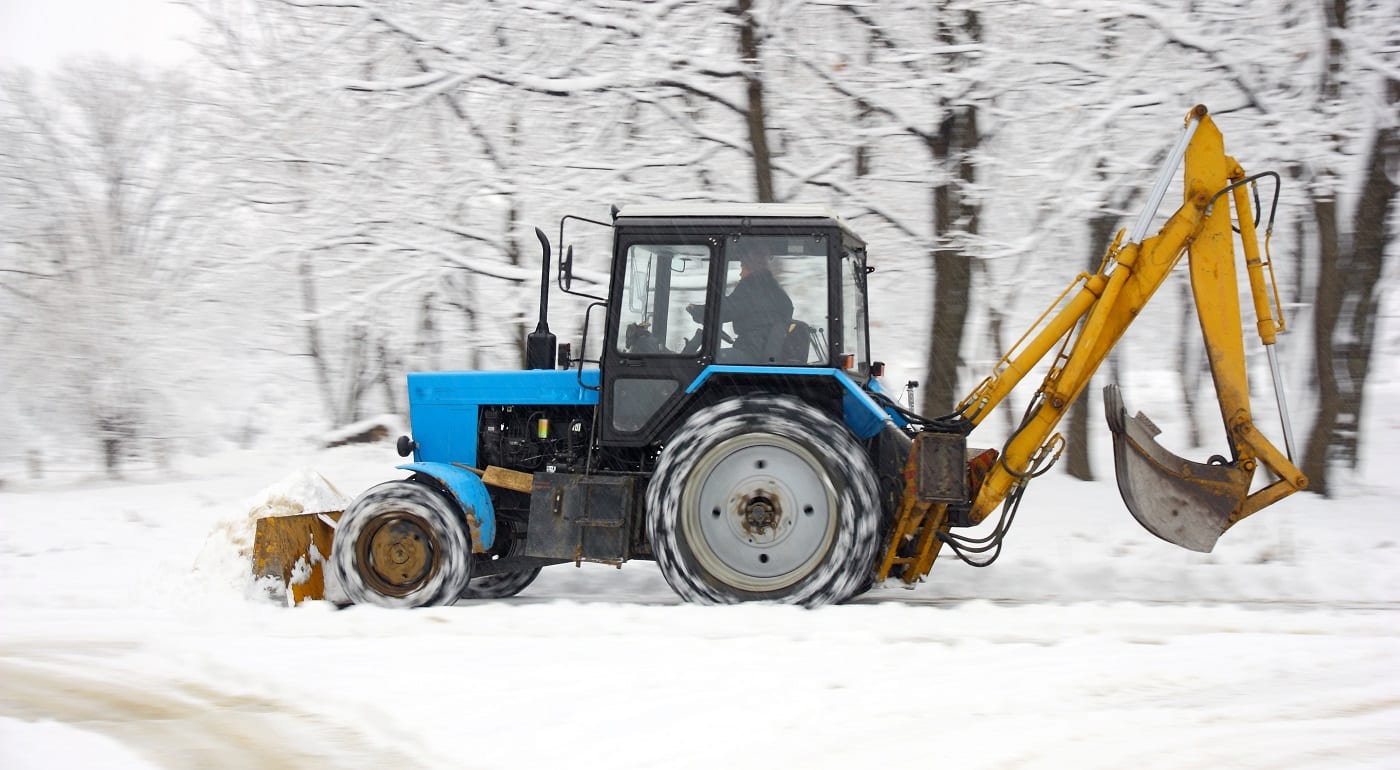 While you can take the help of ordinary snow blowers, we suggest you opt for something out of the box. Tractor snow blower combinations are all the rage right now as these hybrid tools help clear the snow quickly.
They're easy to use and thanks to the innovative design, you can undertake the toughest of tasks with ease. What's more, they deliver a high clearing capacity, while the durable construction ensures that you can use it for a long time.
But the question is, how do you choose from the many quality options available out there? To help, we've narrowed down four quality products that are taking the market by storm. We've also added a buyer's guide to discuss the essential aspects of this machine.
So, start your engines, and let's dive into the reviews.
Top Tractor Snow Blower Combos
IMAGE
PRODUCT
DETAILS

Our Top Pick

Our Top Pick

Arnold Snow Thrower

Replaceable skid shoes 
Steel construction 
Three-stage technology 

VIEW LATEST PRICE →

Husqvarna 5813457-01 Snow Blower

Two-stage blower 
50-inch clearing width 
Steel construction 

VIEW LATEST PRICE →

Husqvarna 587293701 Snow Blower

Steel construction 
42-inch clearing capacity 
12 feet range 

VIEW LATEST PRICE →

John Deere Snow Blower

Optional skid shoes 
44 inches clearing capacity 
Optional drift knives 

VIEW LATEST PRICE →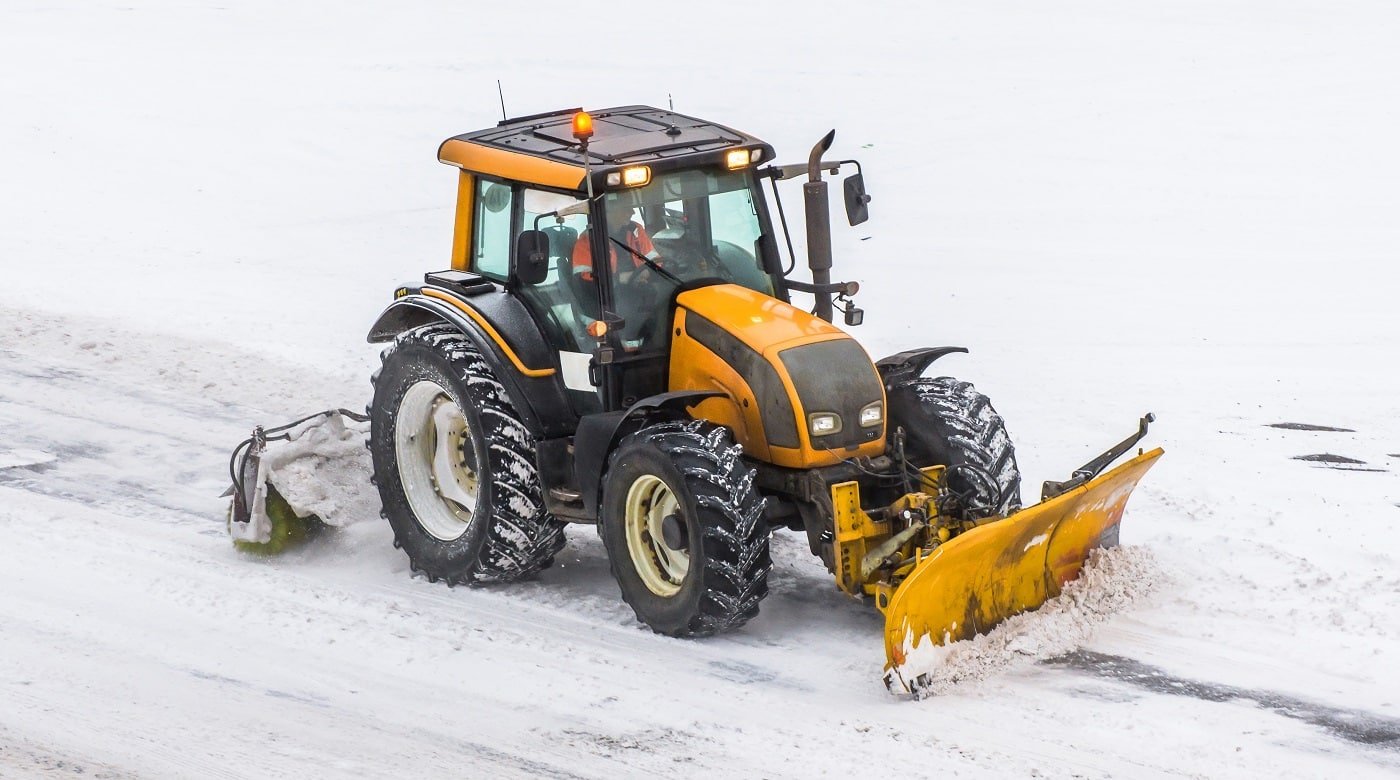 One of our top recommendations is the Arnold Snow Thrower, and with good reason. It has several quality functions, and even a cursory glance at the model will leave you coming back for more. You're guaranteed to get fantastic output, and unsurprisingly it has quickly climbed the charts to be on most people's wish list.
Why Did We Like It?
We start with the most critical aspect of a tractor snowblower combo, which is compatibility. The designers have done well, making it compatible with the Troy-Bilt Super Bronco lawn mower, supported by the latest three-stage technology. It considerably reduces work time as it clears snow 25% faster than other models.
Thanks to the high-volume accelerator, it can easily cut through snow and work well even under heavy snowfall. It clears 18 inches of snow without any hassle, which speaks volumes about efficiency. In that regard, the sturdy construction proves useful, made possible by the high-steel arch.
But the significant addition is that of the replaceable skid shoes combined with the scraper blade. It allows you to work uninterrupted and removes snow to large distances, keeping your entrances or driveways free of debris. You'll love all that it offers, and it's safe as well, which is sure to please most users.
What Could've Been Better? 
If it's your first time using a heavy-duty machine of this sort, it'll take some time for you to get used to it. Operating a hybrid machine isn't difficult, but you'll have to take your time to understand its intricacies in the initial couple of days. However, it isn't too tricky and gets better with practice.
Pros
High volume accelerator

Scraper blade

Fast

Clears 25% more snow

Efficient
Cons
It takes time getting used to it
If you thought our earlier recommendation was good, brace yourselves because the products keep getting better. Next up is the Husqvarna 5813457-01 Snow Blower, which is turning quite a few heads in the market, and a closer look reveals why. It has most bases covered, so rest assured you'll get your money's worth.
Why Did We Like It?
If you're looking for a powerful machine, then it's difficult to ignore what Husqvarna has brought for you. The striking aspect of the model is its slightly serrated teeth, and most of the energy from the engine is fed into it. It permits you to dig into the snow and effectively cleans the driveway or backyard, keeping your property safe.
We especially loved the clearing width of 50 inches, which comes in handy in times of heavy snowfall. You don't have to worry about it getting stuck, and you can conveniently navigate the machine to cover all corners of the property. Plus, it's well supported by the two-stage blower for fast performance.
Also, it's highly durable, ensuring you can use it for a long time. Much attention has been given to its sturdy steel construction allowing you to handle the turbulent winter months. You won't have any trouble getting the desired output, which is highly convenient.
What Could've Been Better? 
The price is one of the first things people see, and it's a let-down with this unit. We understand the higher cost given the range of functions on offer, and frankly, quality is more important than price. But if you've got a tight budget, it's difficult for you to loosen the purse strings.
Pros
Easy to use

>Durable

Versatile

Works well in heavy snow

Reliable performance
The Husqvarna 587293701 Snow Blower has many similarities with some of the other units available out there, but it has also made the necessary upgrades. There's a lot to like about it, and if you're looking to achieve a powerful performance, we assure you won't be disappointed.
Why Did We Like It?
First and foremost, you get great control, allowing you to pick up and throw snow 12 feet away. It delivers outstanding coverage, so you can clean the farthest corners of the property without any difficulty. In that regard, the easy-to-use up/down switch proves useful, allowing you to raise or lower the attachment quickly.
It'll also please you to note that it can navigate uneven terrain comprehensively to deliver much-needed stability during a task. You've got the option of making the necessary adjustments for which the 2000lbs ATV comes in handy. It highlights the user-friendliness on offer, ensuring you can swiftly complete work.
What's more, it works well in tight areas, and despite having a bulky build, you can get into narrow spots for a smooth experience. It's a multi-purpose model with the necessary sturdiness to last a long time, so you need not worry about it breaking down prematurely.
What Could've Been Better? 
You may find it difficult to back up in the snow, but this is not a significant issue; you'll get better maneuverability with practice. Other than that, the wires to the left side of the tractor get hotter with increasing runtime because the exhaust deflector blows to the left. So, little breaks in between will allow the machine to cool down.
Pros
2000lbs ATV

Exceptional coverage

Up/down switch

Can navigate tough terrain

Can access tight spots
Cons
Left-sided wires get hot

Challenging to reverse the machine
John Deere is a well-known brand that has been around a long time, thanks to its superb range of machinery. The John Deere Snow Blower is no different and has been making all the right noises so far due to its fantastic coverage. But that's not the only good thing about it; read on to find out more.
Why Did We Like It?
We begin by discussing the heavy-duty nature of the model; you can use it in areas like a recreational park. It can move snow for greater distances, highlighting the fantastic coverage and all-round ability of the machine. To deliver high-output, power is derived from the two-stage blower, which provides consistent velocity for working in wet conditions.
It's compatible with several models and has a 44-inch clearing capacity, which makes it incredibly versatile. Additionally, John Deere has been proactive in their approach, thanks to the inclusion of the two 42lbs Quik-Tatch weights for stability. It improves traction and makes work more manageable, so you get a safe experience in the harshest conditions.
Another significant upgrade is the optional drift knives present on each side of the blower, which you can use for heavy snow. Plus, with the optional skid shoes, you can prevent wear and tear of the driveway, keeping your property in top condition.
What Could've Been Better? 
Most users have found the installation procedure quite complicated, which doesn't bode well for the unit. It'll take you considerable time to get all the components together, so we suggest you remain patient. You'll ultimately get the hang of it, so it's best not to rush, lest you've to start all over again.
Pros
Two-stage blower

Fast

Suitable for heavy-duty applications

Quik-Tatch weights

Improved traction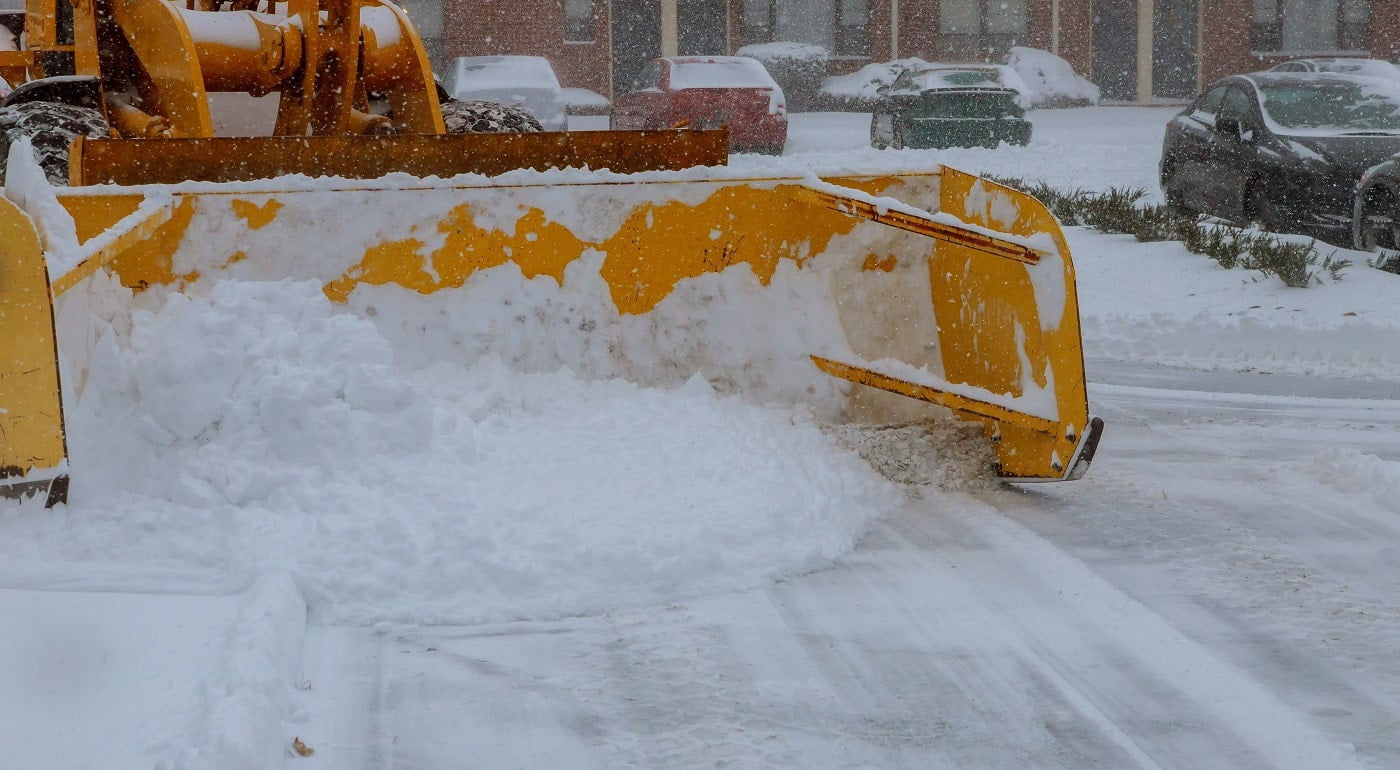 Tractor Snow Blower Combination Buyer's Guide 
We're not done yet; before you rush into the market to bring home your choice of machine, there's something we need to discuss. Tractor snow blower combinations have several components and it's not an easy task trying to distinguish between two similar products. 
What you can do is check out the points we've listed below to get a better idea of the essential aspects of tractor snowblower combinations. These points have helped us form our list and will help you make an informed decision as well.  
Durability 
We begin with durability and what better way to judge the effectiveness of your purchase than to see if it can endure the hostile weather. As a tractor snowblower combo, it'll have to deal with all types of tasks, from removing snow to navigating harsh terrains. 
Furthermore, when you're investing in any tool you expect to get reliability in return because it isn't possible to make frequent purchases. You're already working in freezing cold temperatures and the last thing you need is for the tractor snowblower to malfunction. With a sturdy unit, you can enjoy working since there's no need to worry about it breaking down. 
Ease of Use 
Secondly, while choosing a tractor snow blower combo you're confronted by the numerous sizes that are available. However, that's not an excuse to compromise with user-friendliness because irrespective of the size you need to get optimum output. You should try to figure out if the unit reduces your workload and increases efficiency, so it might work well for you. 
Even if you're a novice, it should be understandable what various components do and how the different parts function. That said, we must mention that any new machine bought to improve output at work, takes some getting used to. So, don't rush but take your time as you adjust to the new configurations. 
Designers must ensure that the transition from new to old is smooth for which clear instructions are a necessity. Furthermore, the steps must be detailed clearly, allowing you to quickly come to grips with its various features. 
Versatile 
Having talked about durability and user-friendliness, it's time to discuss versatility. Your machine can't afford to be one-dimensional; it must be equipped to handle several tasks with ease. While the primary purpose of a tractor snowblower combo is to remove snow, versatility plays a key role in handling numerous situations.  
You never know what you're going to encounter from one year to the next; therefore, it's best to be prepared. Be it puddles, heavy snowfall or slush, the machine must have all the relevant functions to handle both small-scale and heavy-duty tasks.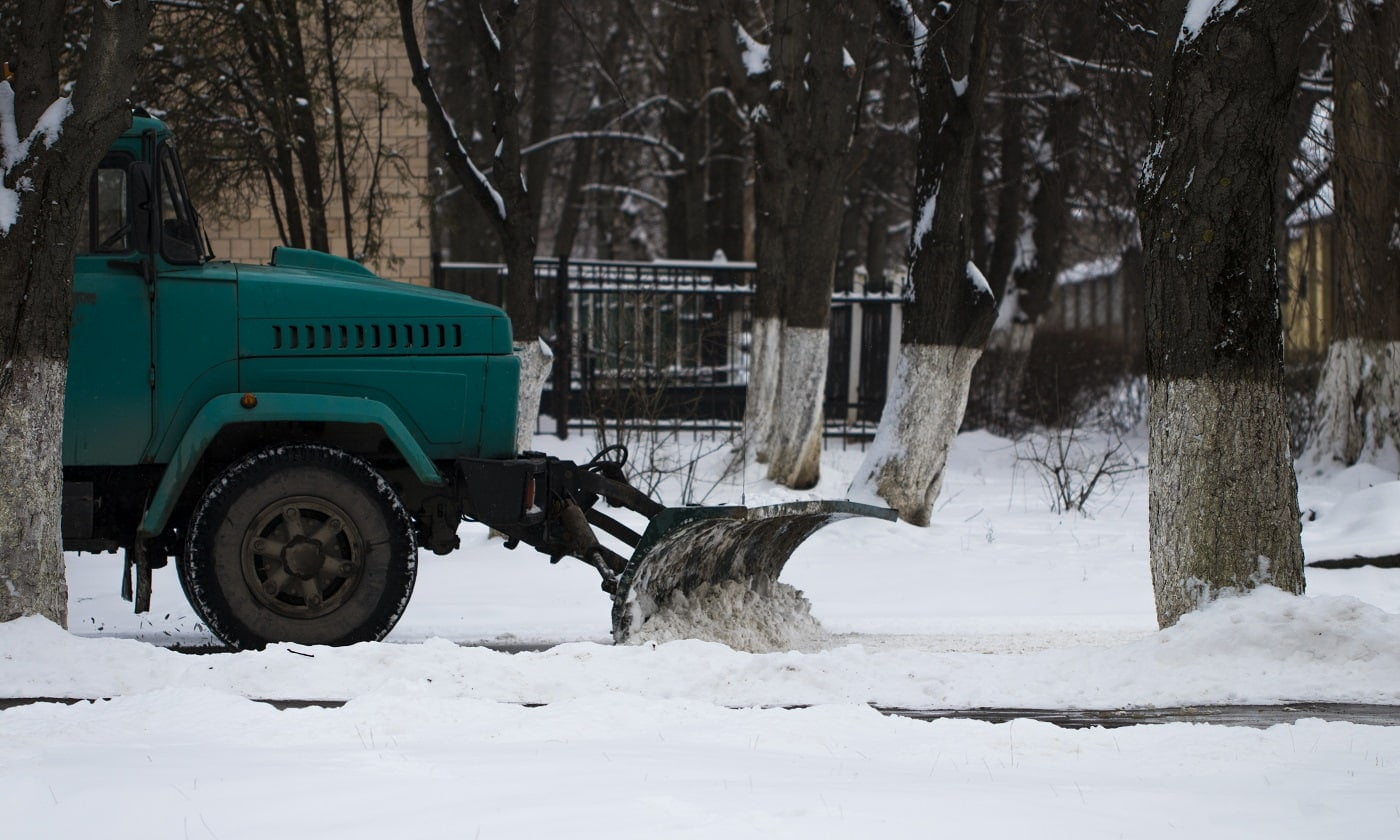 Verdict 
Those were our selection of the best tractor snowblower combinations; hopefully, you've developed a better understanding of the product.
These heavy-duty power tools work well in tight areas and provide fantastic coverage, which comes in handy for various tasks. Plus, all the components are available with the model, so you need not make any additional purchases. This will help you take proper care of your property and efficiently clear the snow.
Before signing off, we've decided to assist you a bit more by narrowing down the top products in various categories. You can choose the Arnold Snow Thrower for the best overall performance, while the Husqvarna 5813457-01 Snow Blower has unmatched power.
Apart from that, the Husqvarna 587293701 Snow Bloweris highly versatile. That's all the time we've got; we'll be back soon with more exciting reviews. Till then, stay safe, and always wear a mask.
Bye, take care!
Related Articles
51 Best Snow Sculpture Ideas to Consider this Season
What to Do When Your Snow Blower Won't Start
Ariens Vs Husqvarna Snow Blowers | Obvious Winner?
Troy-Bilt Squall 2100 208cc 21″ Single-Stage Gas Snow Thrower [Reviewed]
5 Best ATV Snowblower Attachments  
13 Best Snow Joe Electric Snow Blowers  
EGO Power + Snow Blower SNT2100 Reviewed Today
4 Best Remington Snow Blower Reviewed | Buyer's Guide
How Much are Snow Blowers? [Costs & Maintenance]
11 Best Snow Shovels Right Now
13 Best Single Stage Snow Blower  
11 Best Snow Shovels Right Now
10 Best Snow Blowers For Large Driveways
4 Best Tractor Snow Blower Combinations
3 Best Briggs and Stratton Snow Blowers
11 Best Snow Blower for Gravel Driveways
5 Best Commercial Grade Snow Blowers