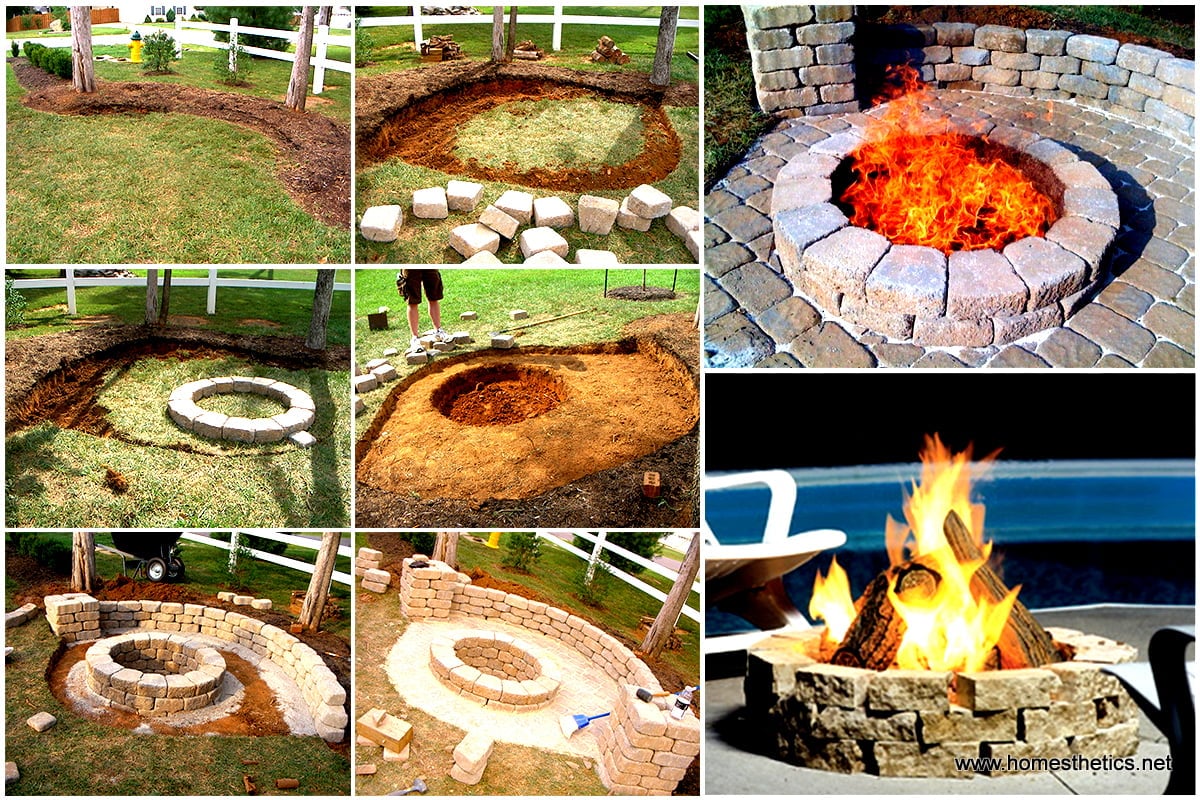 A backyard is a great privilege. A small land of your own, a few square meters of grass to enjoy walking on bare feet, a simple tree that offers you two apples a year, shade in every season and support for your Christmas lighting every year. It is unique. You should take advantage of this small portion of heaven in your property, you should create an luxurious DIY Fire Pit to enhance your backyard landscaping design, maybe create a DIY Cob Oven to cook your pizza outdoors for that extraordinary natural taste. Maybe even a swimming pond, a simple pool for ambiance, a DIY small pond realized out of a recycled tractor tire or a pergola design to obtain more shade.
Be the creator of your own destiny and start working on something worthwhile. All the items and DIY projects mentioned above are obviously items encouraging social cohesion, entertainment with friends and family in the shelter of your own home, maybe around a cozy and warm fire in your fire pit materialized in the backyard. This is the unofficial definition of quality time, this is the recipe to well being and happiness from our point of view.
With these warm thoughts nestled in our mind we have researched and found an extremely good guide on how to create a DIY fire pit project in your own backyard. This resides here as fuel for your imagination and it should not be treated as a perfect guide or model. It is up to you to envision your own grand design that would blend in your small portion of heaven perfectly. It is up to you to create a relation between your small pond, swimming pool, cob oven and patio or pergola if they exist, all these should be connected somehow. If you need help, ideas or opinions in that matter, do not hesitate to contact us.
Step 1
This is the site, untouched. Here a fire pit will be erected in the following steps, slowly enhancing our backyard.
Step 2
Start planning, get a hoe or mattock and shape the floor and position of the future fire pit, imagining how it will eventually look like. Play around and find the best position, connect it to your exterior atmosphere.
Step 3
After deciding on the shape and size heavy stuff follows. If you do not have the necessary condition to dig up about 1,5 tons worth of dirt, earth, find a friend that can help you with it. Prevent an injury and work smart before working hard.  This operation has been realized to maintain the floor level of the fire pit at the same level with the turf. Basically the depth of the floor stone has been excavated.
Step 4
After an enormous effort we have the floor ready. It is time to prepare and mark the floor of the fire pit as well. Simply place one ring of the fire pit well and trace it on both exterior and interior, on the ground, with a shovel . This will help you position the well of the fire pit properly, saving you time and energy on digging .
Step 5

Almost a foot deep the fire pit well is. This allows the base to be buried, enhancing the aesthetic value of the end result.
Step 6

At this point, five or six hours have passed since start. It is time to measure your performance by leveling the entire thing. If you want to ensure the quality of the end result, use a level.
Step 7
It is time. Carefully position and level the base level of the pit well. Use some dirt or sand to position the rock on the same level and make sure everything enters the hole you've dug. The results showcased above have been obtained after 2-3 attempts. Work with caution and dedication.
Step 8
Finish the well and continue the same technique on the fire pit wall, make sure that the end pillars are connected, tied into the wall .
Step 9

Except capping, the walls and pillars are finished.
Step 10
At this point, some paver base has been poured and tamped on the floor to extend its lifespan . Give it a while to dry out well before laying the floor.
Step 11
The easy puzzle pieces have been laid. The floor is ready to receive the edge pieces. This basically means hour of fun chiseling the small angled spots above. This step is very important so treat it accordingly, it will pay a huge role in the end result so go get the chisel.
Step 12
As stated above, chiseling pavers is to fit exact volumes ain`t easy nor actually fun. More than half of the pieces busted have declined our request to occupy a certain volume into space and broke as they wanted. If you have some power tools and experience on them, is worth using them, you might save some time and pavement pieces.
Step 13

Sweep the remaining sand to prevent accidents in the entertaining area.
Step 14
This is a close up after the first application of sand on the fire pit floor. It looks neat and happily you can run over it with the lawn mower after all these hours of digging.
Step 15
Enjoy! You have done a terrific job and came a long way to create this core of human cohesion, coziness and warmth. You should treat it accordingly and enjoy it to the fullest, now don't forget to add a good paver sealer to obtain that wet look and enhance the aesthetics of brilliant design!
We really hope that this DIY Fire Pit Project served you right whether you have actually started to build one or you are just feeding your imagination. We would love to hear from you and if you've completed such a project, we would love a few pictures to complete this article.
Photo Courtesy to Christian Grantham on Flickr
Related Articles