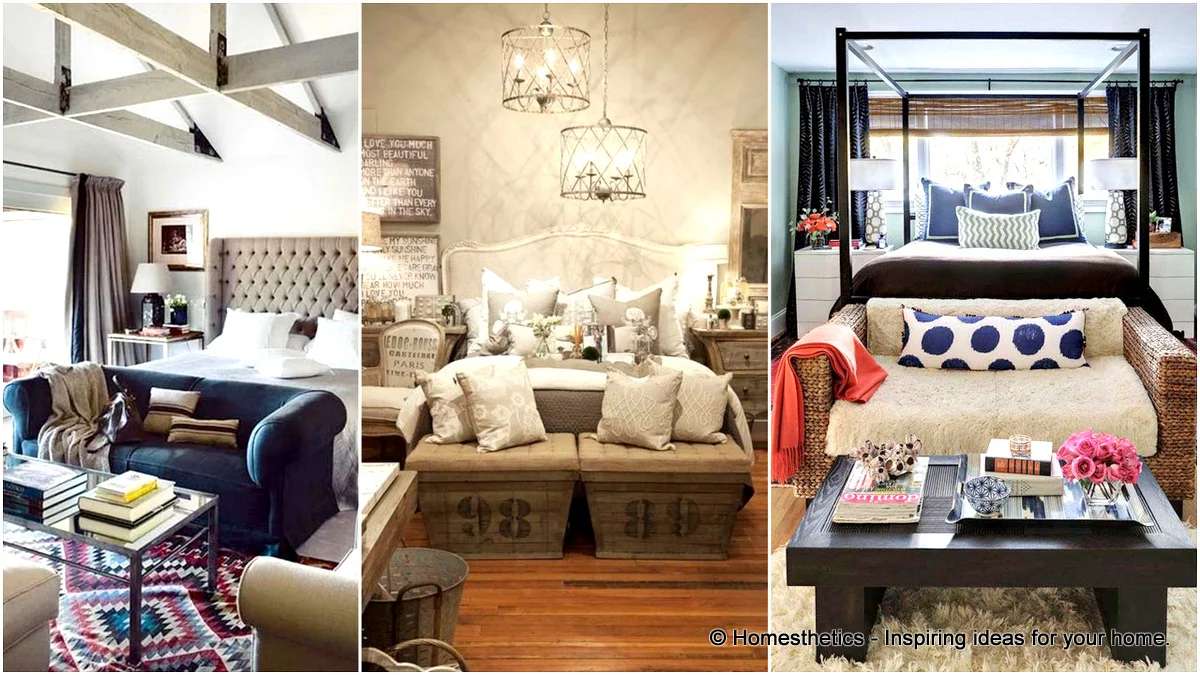 A part often overlooked in your bedroom carries a huge role : the foot of the bed. Despite being the component of your bed that welcomes visually the inhabitants into the room, the foot of the bed is often not decorated nor it is used for practical manners despite its extraordinary position in the room. We have curated a list of 32 super cool bedroom décor ideas that address this issue, showcasing how the strategic position can be used for both functional and aesthetic purposes with ease.
Cast a glance and surge inspiration, we would love to hear your opinion on the subject in the comment section below.
Cool Bedroom Décor Ideas
#1 place a small vintage bench and improve you décor in seconds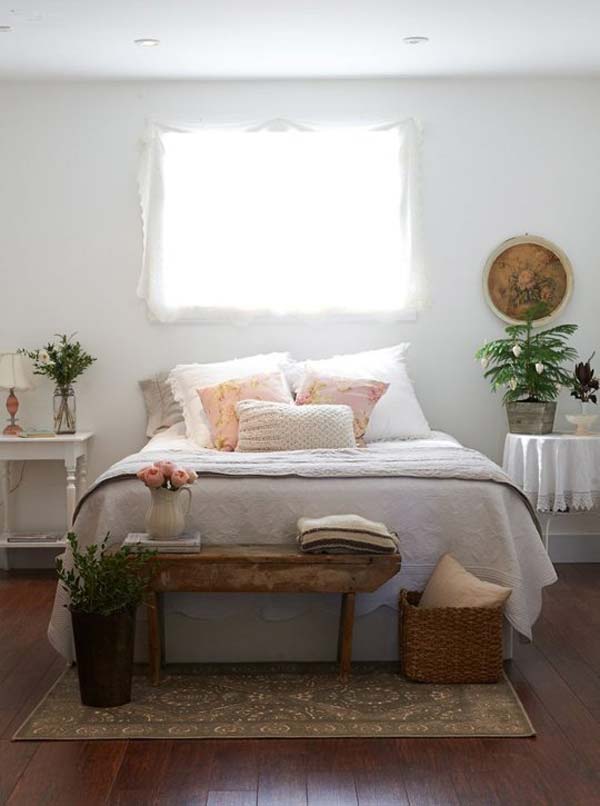 A simple decor summons simple, pure elements of great design. It requires attention to details and good taste.
#2 nestle a small sofa at the foot of the bed and create a reading nook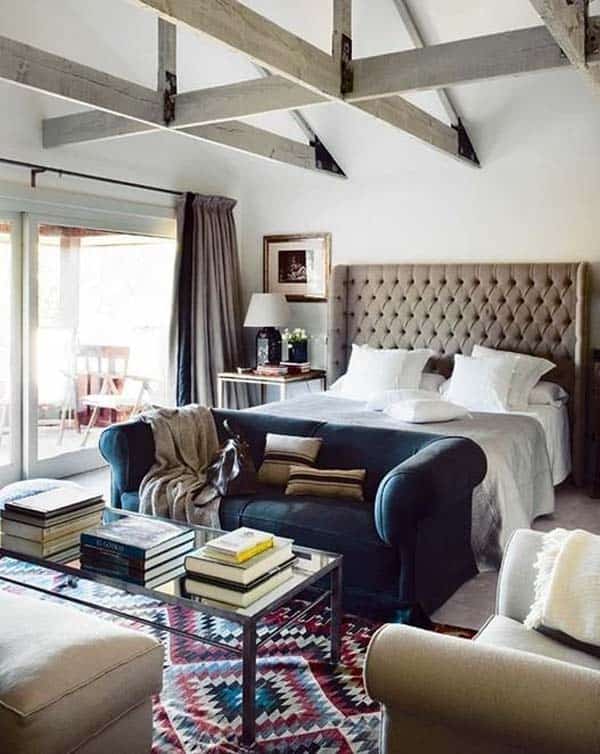 A clutter free bedroom can withstand multiple pieces of furniture. The height of the room and the glazed walls are emphasizing this arrangements.
#3 up-cycle wooden crates and nestle books at your grasp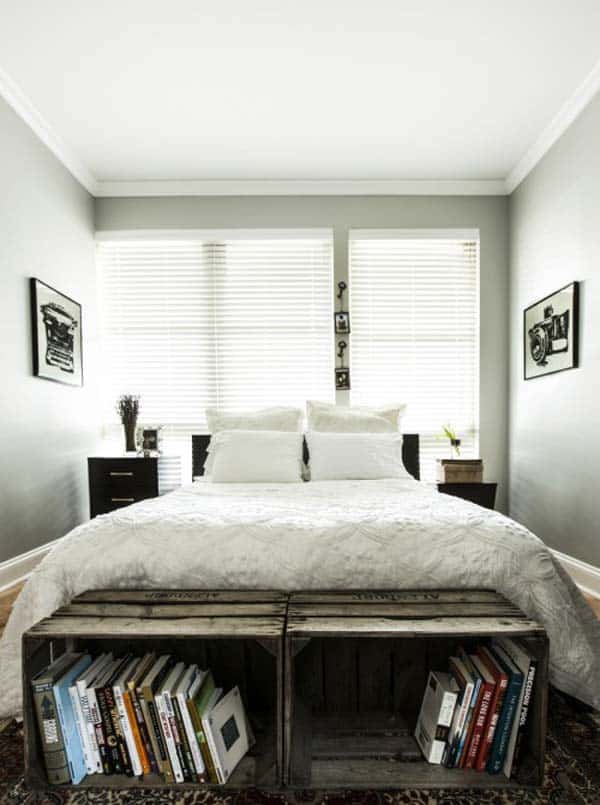 Use beautiful elements to complete simple tasks. The wooden texture brought with the boxes adds coziness and warmth to the bedroom setup.
#4 bring vintage charm in an eclectic décor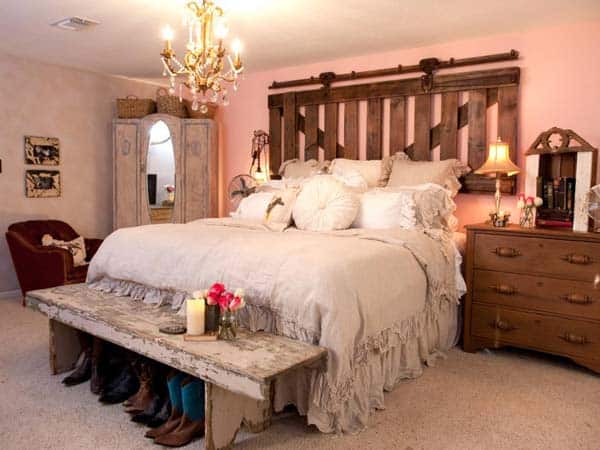 Notice how cozy and friendly the bedroom presents itself thanks to the multiple wooden textures featured.
#5 a small bench with storage can emphasize your décor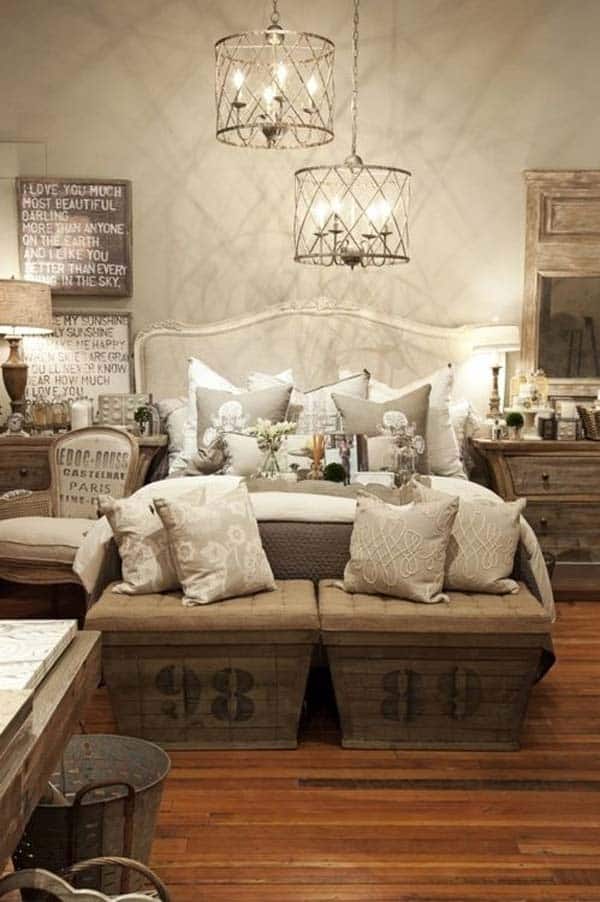 Equilibrium in a stunning bedroom design.
#6 tailor a small desk in your bedroom décor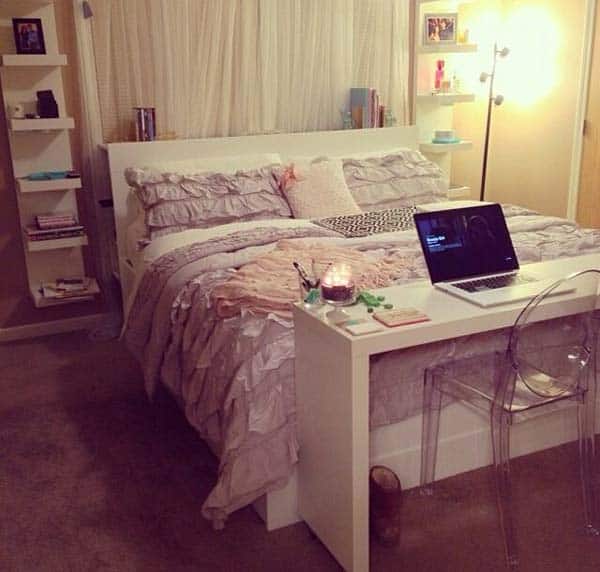 Note the transparent chair that emphasizes the feeling of space in an already airy, sensible décor.
#7 create a small library in your bedroom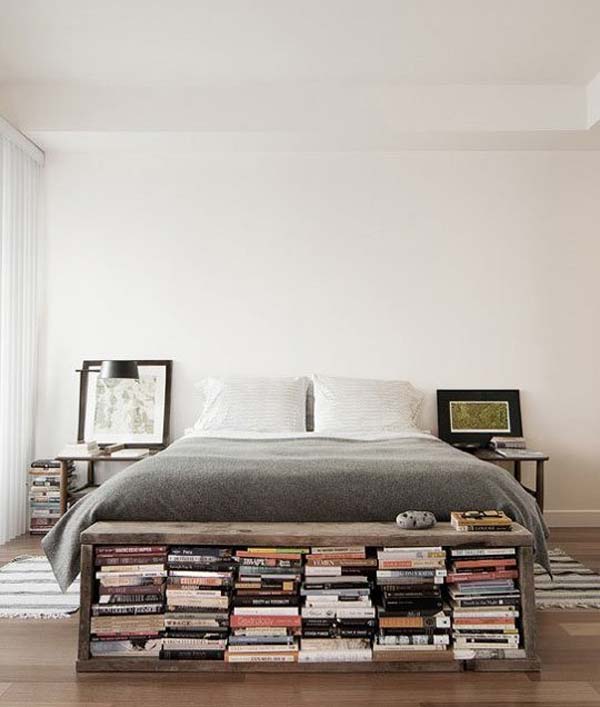 #8 wooden textures brought in the bedroom at the food of the bed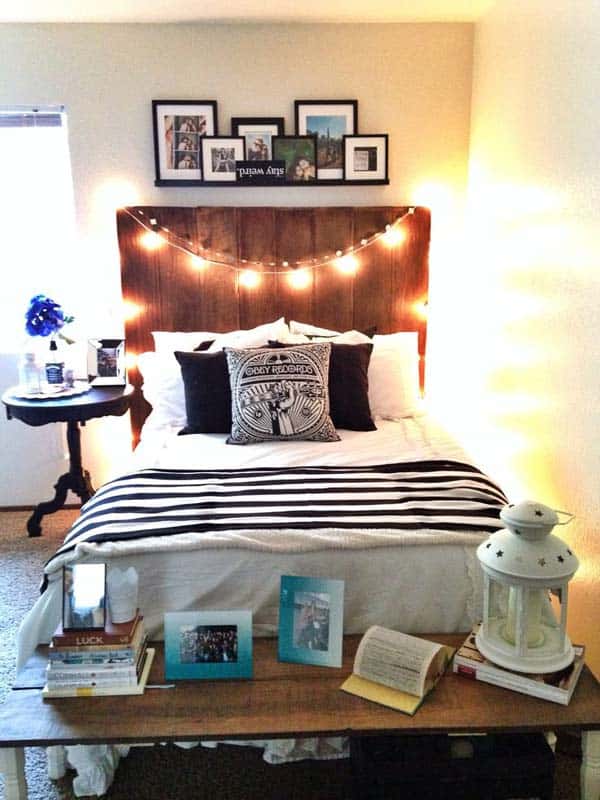 The beautiful pallet headboard sustains this element visually.
#9 create efficient bedroom storage in a graphic natural manner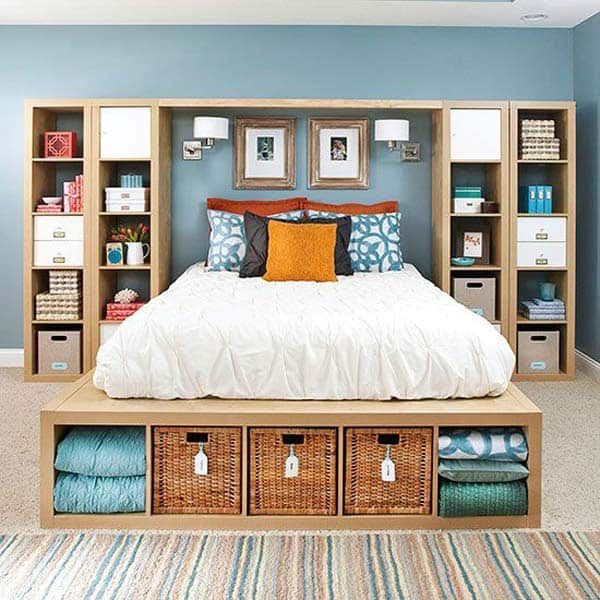 Rectangular shapes are efficient and graphic.
#10 choose a bed defined by efficiency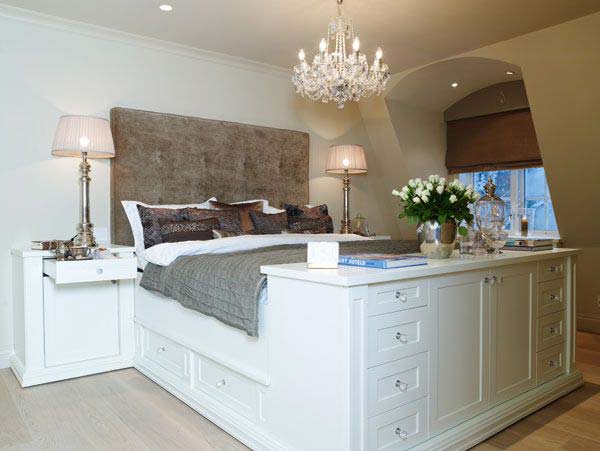 #11 create a small refuge for your pet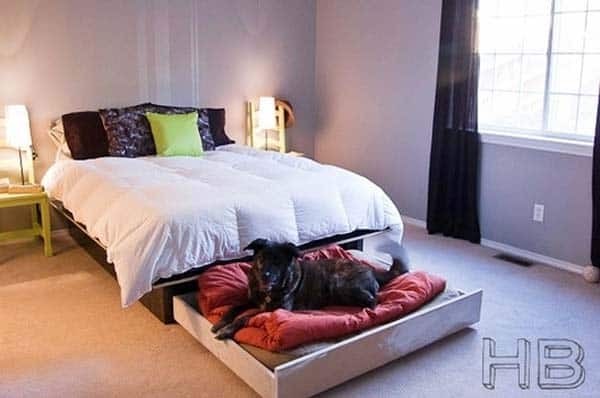 Invite your lovely pet to sleep by you.
#12 beautify your mornings with a flower vase on a small desk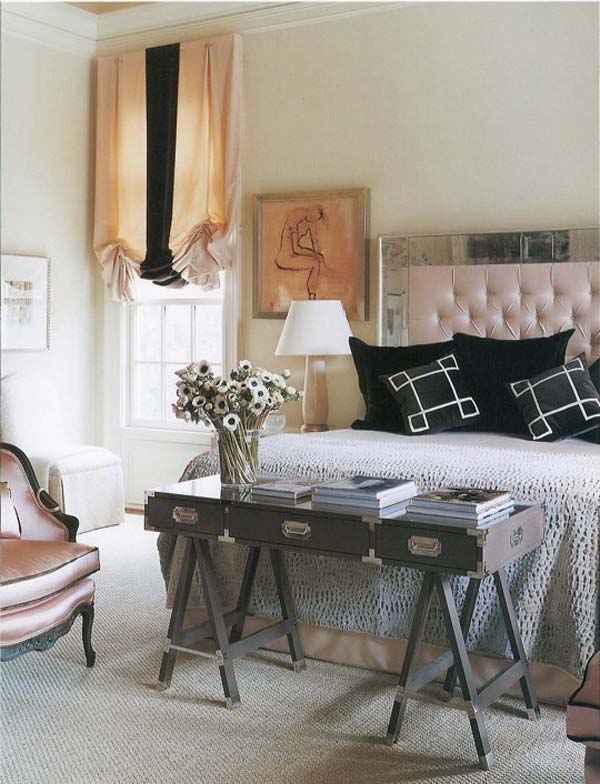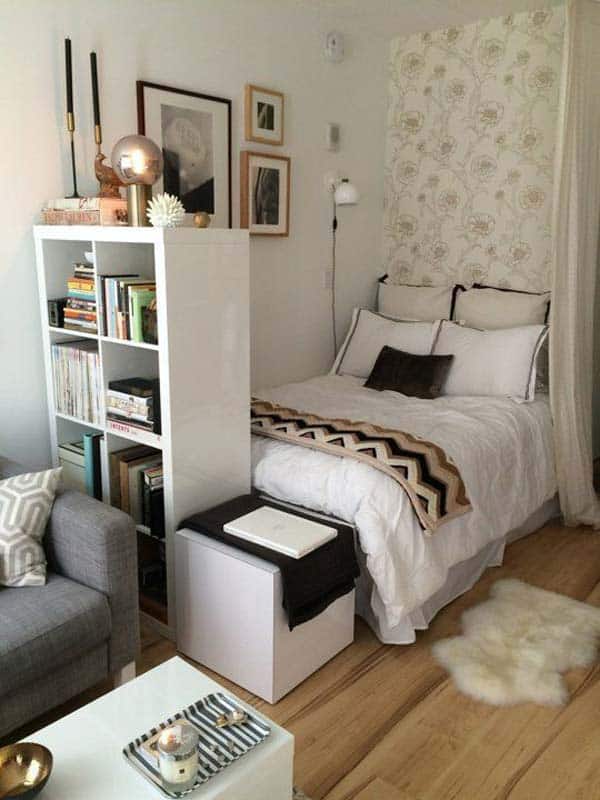 #14 bring colors through two ottomans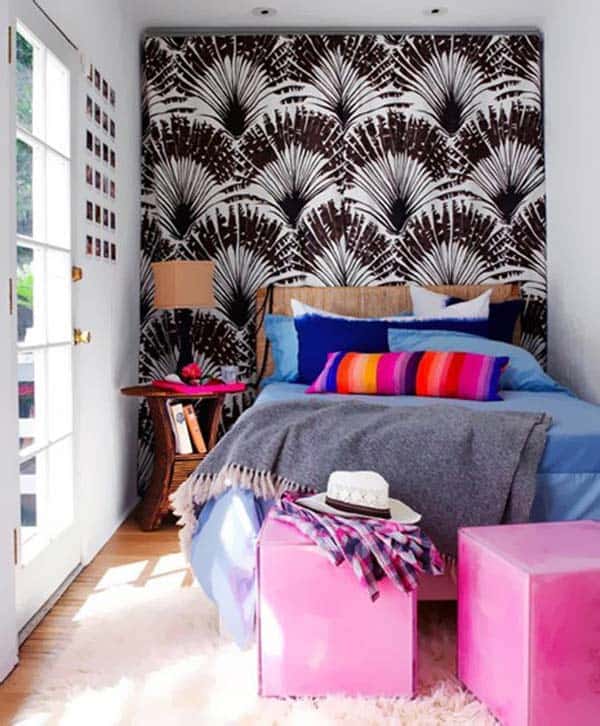 #15 a coffee table can hold your magazine at grasp in style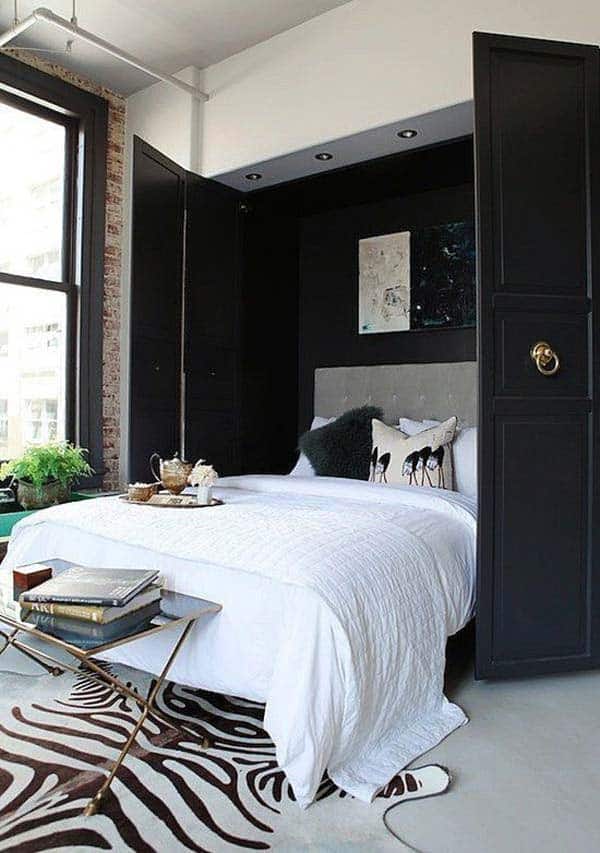 Industrial balanced look with modernist touches.
#16 adopt a shabby chic foot of the bed storage option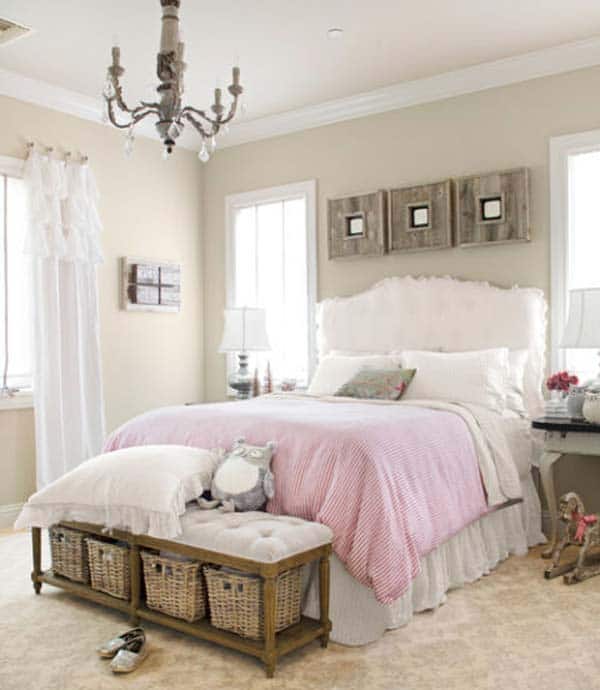 #17  interior flood by light with small desk at the foot of the bed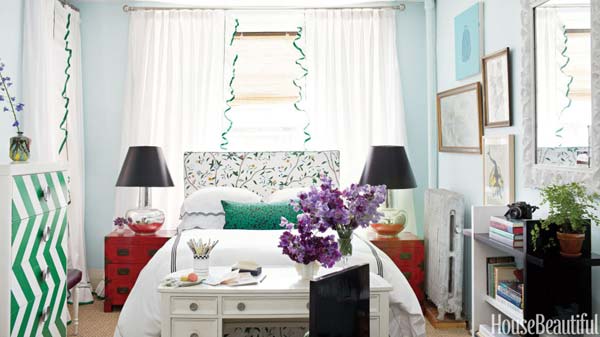 #18 use a small sofa to obtain more sitting options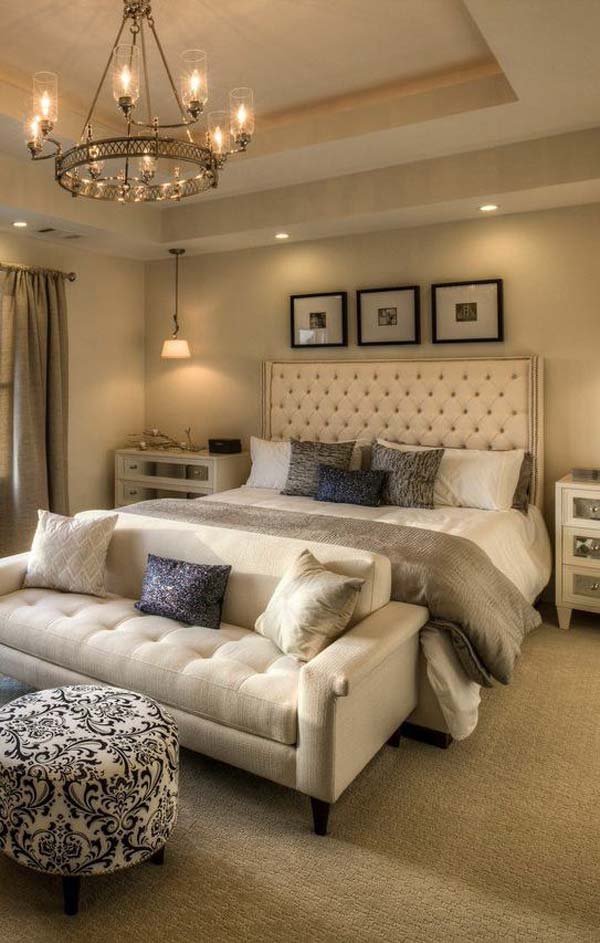 #19 tailor a minimalist functional bench at the foot of the bed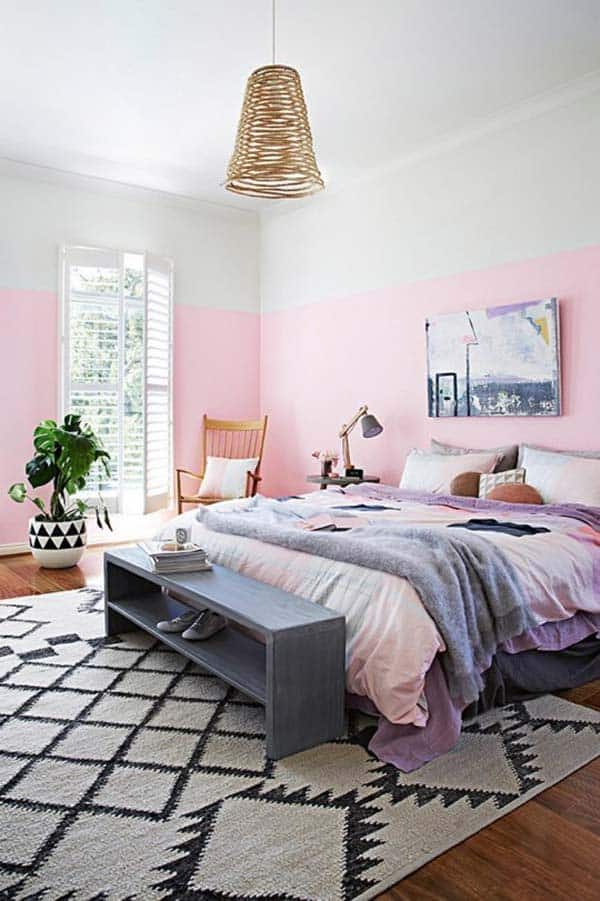 #20 use inexpensive ikea solutions to emphasize storage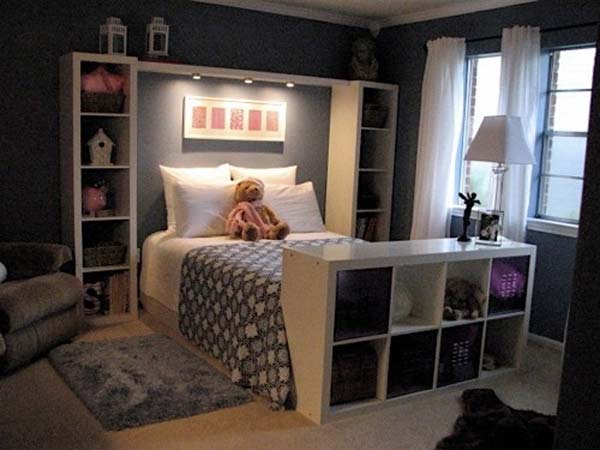 #21 cool bedroom décor with old bathtub at the foot of the bed and pallet headboard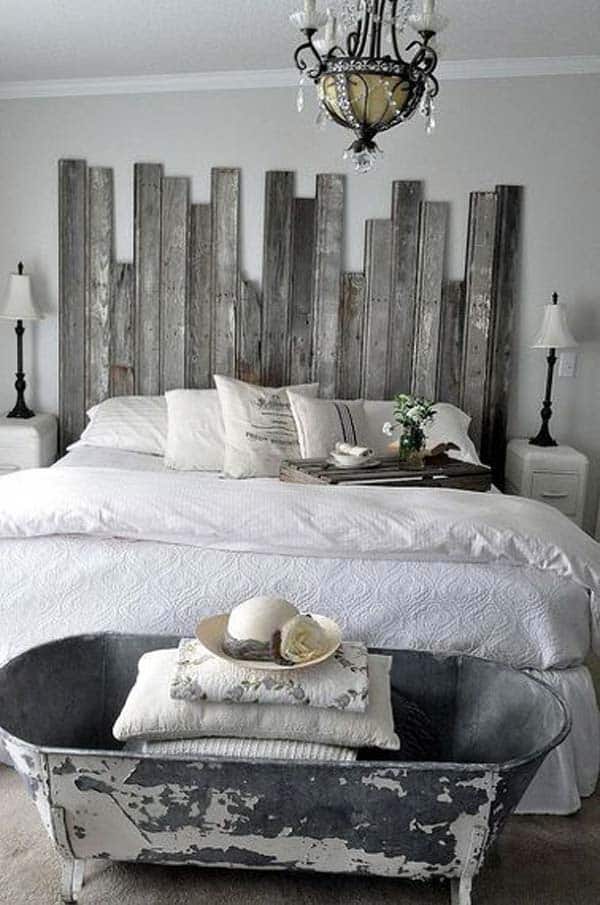 Style is hard to define but the setup above would define it well. Rare and beautiful and sensible decor.
#22 simple inexpensive elements can increase bedroom storage easily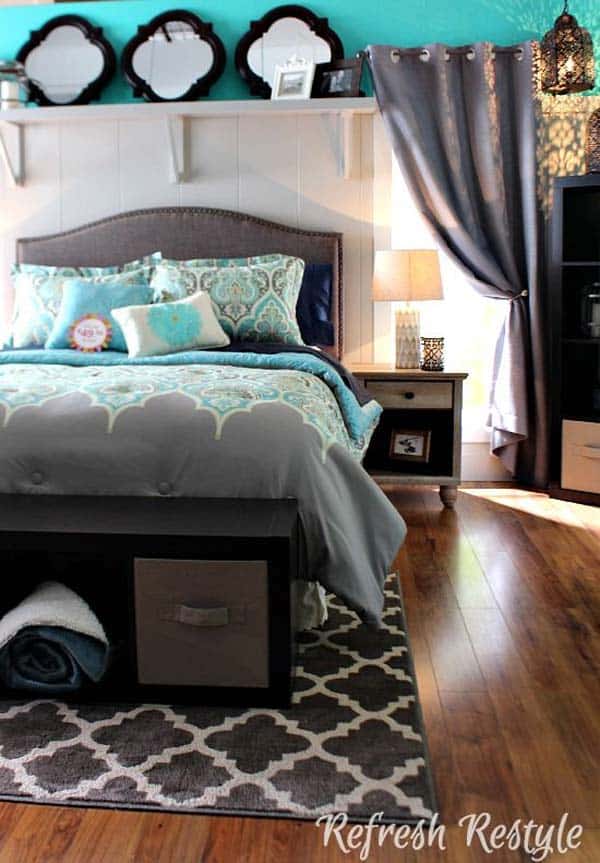 #23 create a visual separation in open plan and tailor a small desk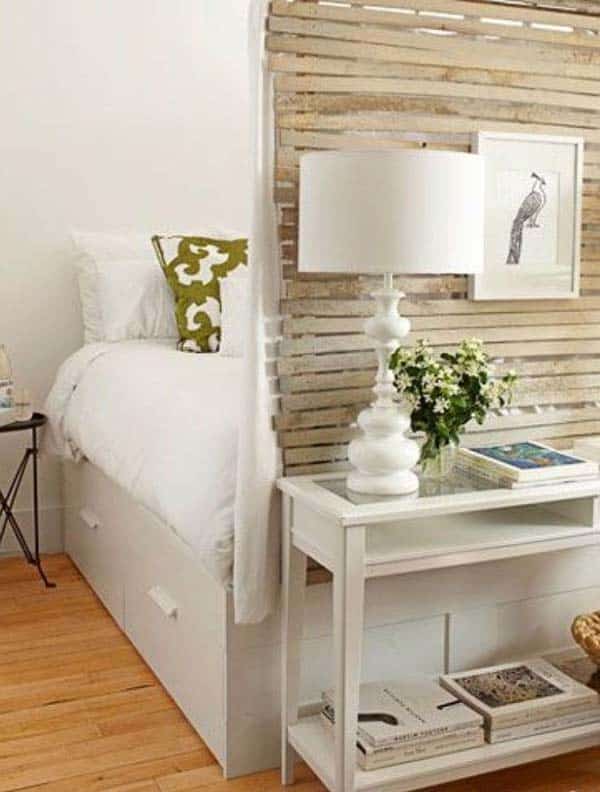 A simple and efficient solution for open plan spaces; obtain two beautiful and graphic working functions in one spatiality.
#24 create a small reading nook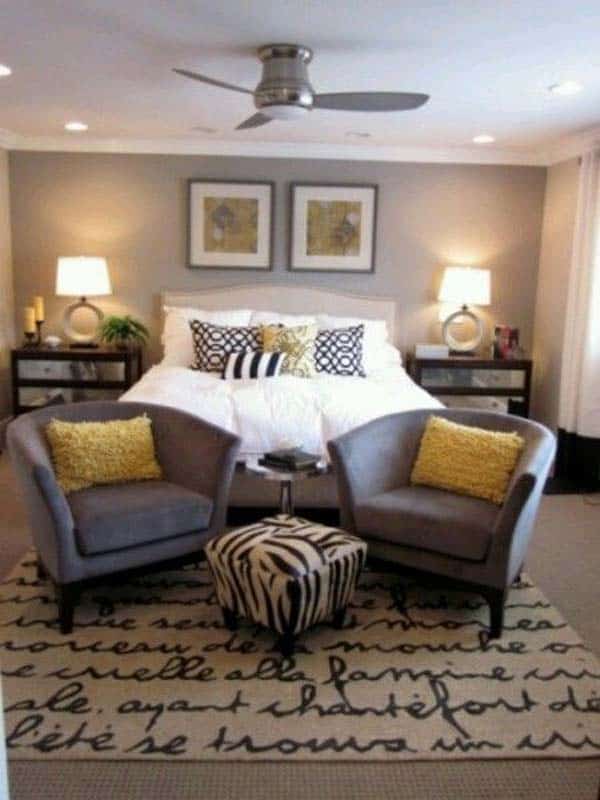 #25 use an element with multiple uses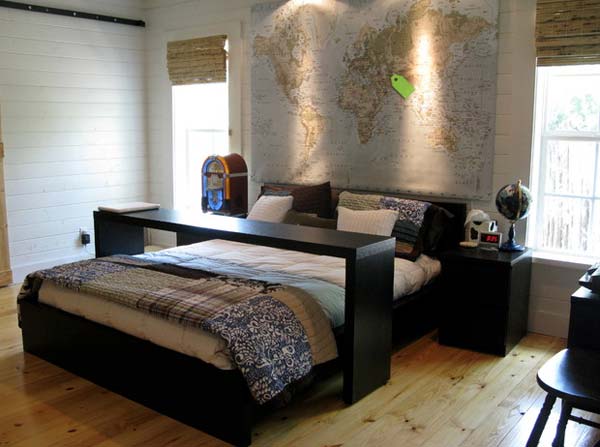 The tall bench above can slide back and forward offering breakfast in bed, a laptop stand and a simple clothes resting place in one versatile element.
#26 colorful small couch serving as reading nook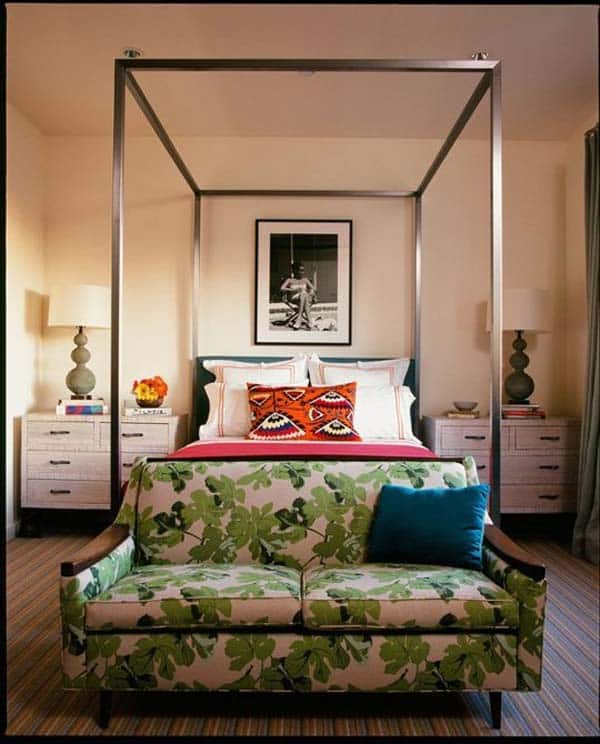 #27 beautiful wooden storage doubling as a rest area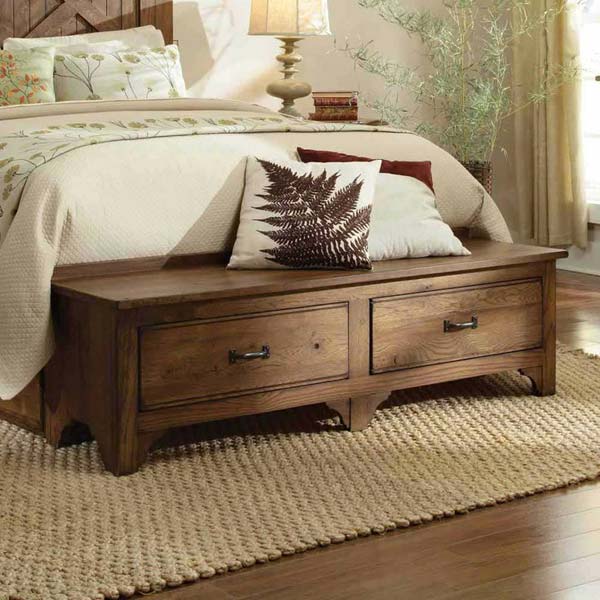 #28 simple foot of the bed element doubling as storage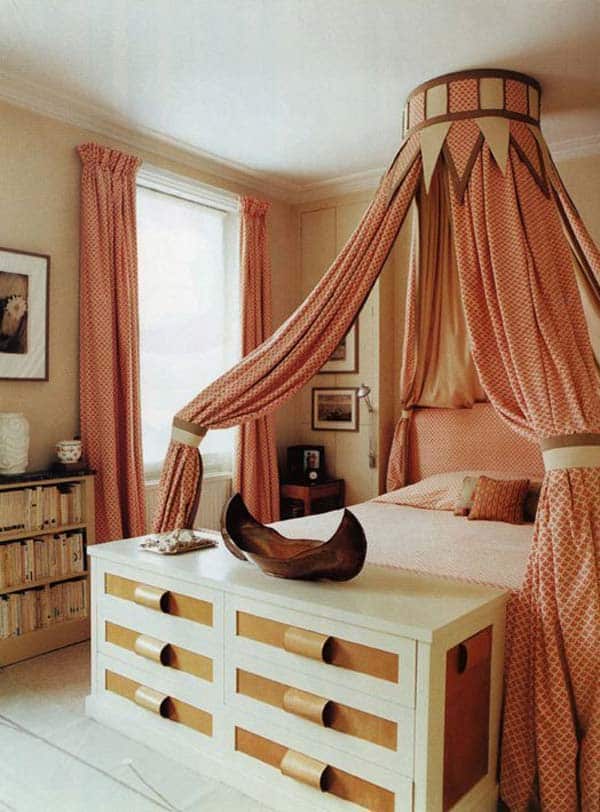 #29 small bed having a foot of the bed dress area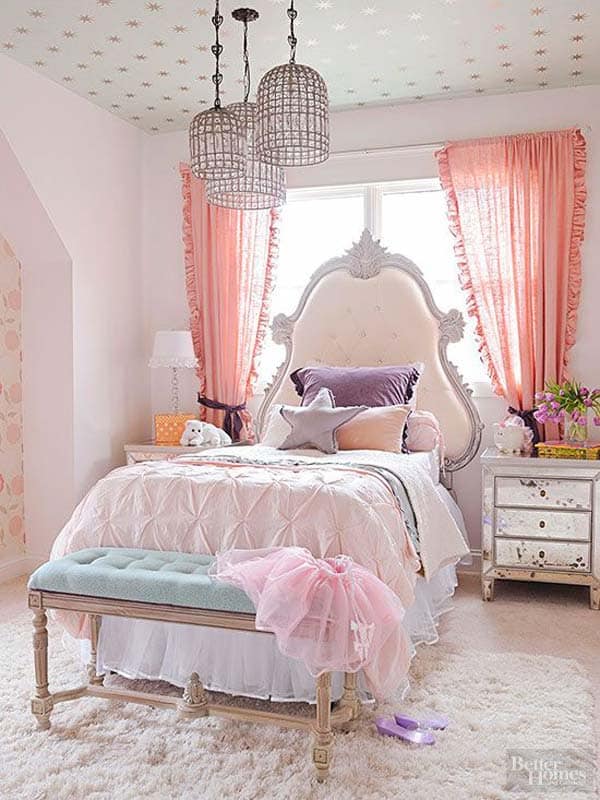 #30 save space and position your lounge chair at the foot of the bad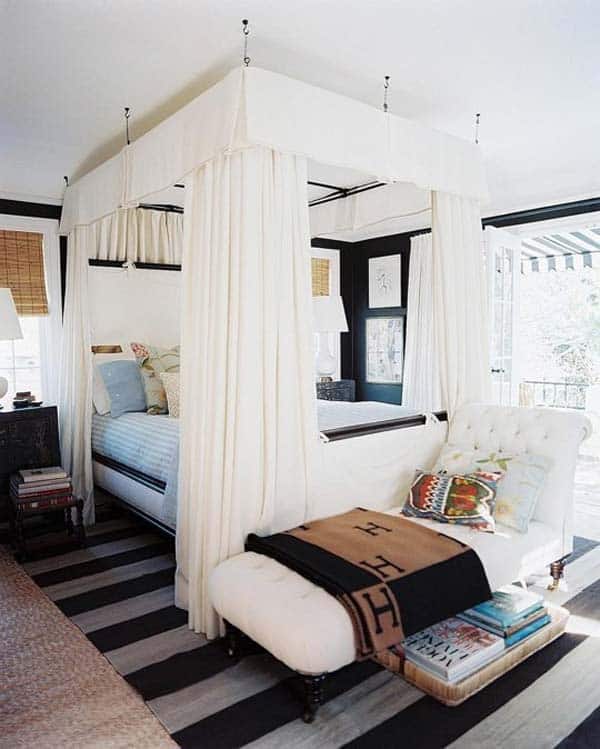 #31 rest unit with coffee table and small sofa at the foot of the bed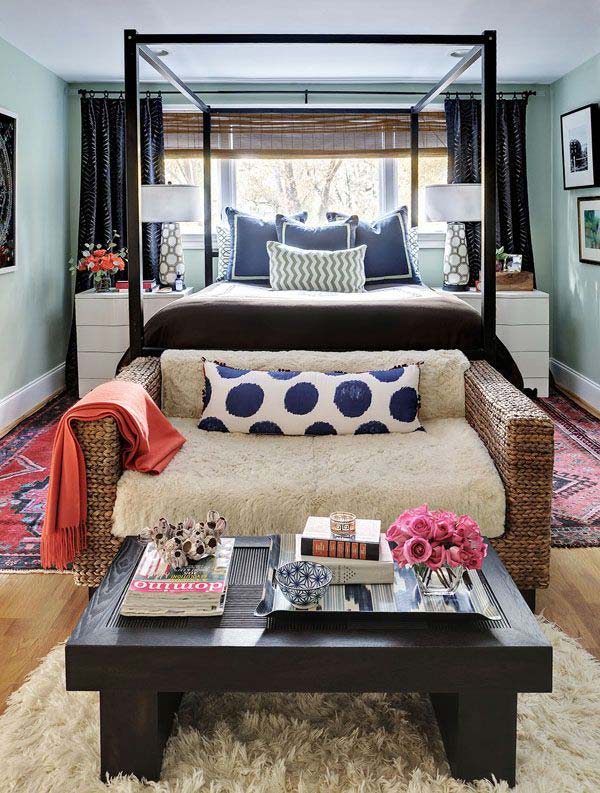 #32 beautiful wooden chest emphasizing aesthetic values and storage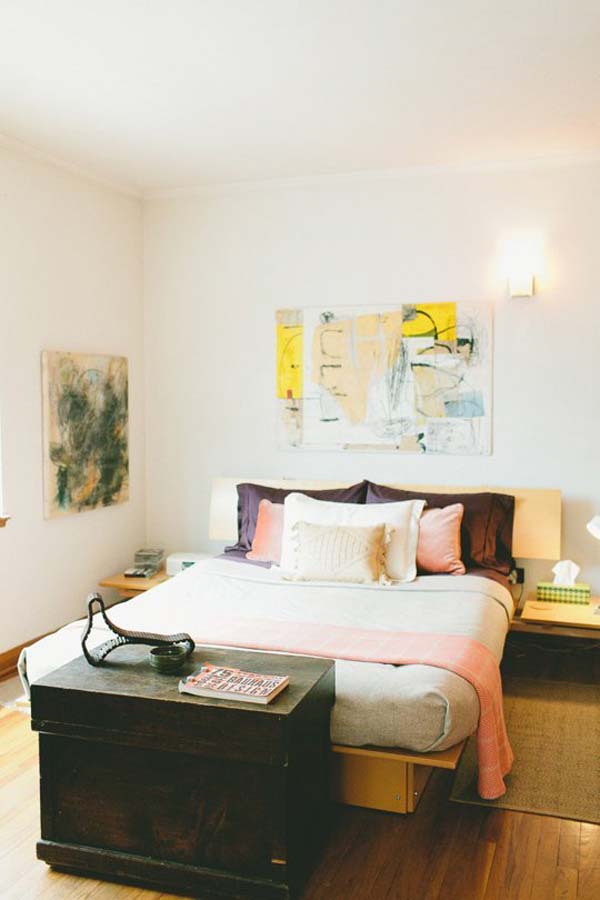 Source Unknown
Simple and beautiful solutions in multiple design lines have been showcased above. Your scenario is certainly different but hopefully these will serve as a starting point in your interior décor endeavors, inspiring you to create something beautiful, tailored to your needs.
We would love to hear your opinion on the subject in the comment section below.
Related Articles
The Best Colors for Master Bedroom [All You Need to Know]
12 Ways To Put Your Bedroom Corner Space To Good Use
29 Brilliant Easy to Build DIY Platform Bed
21 Mindbogglingly Beautiful Fairy Tale Bedrooms for Kids
21 Super Small Nightstands Ready to Fit in Petite Bedrooms
37 Simply Spectacular Tree Bed Designs to Pursue
Recycled Pallet Bed Frames – DIY Pallet Collection
15 Creative Small Beds Ideas For Small Spaces
30 Small Bedroom Interior Designs Created to Enlargen Your Space
37 Smart DIY Hanging Bed Tutorials and Ideas to Do
Bedroom Christmas Lights Ideas For A Cozy Atmosphere
32 Dreamy Bedroom Designs For Your Little Princess
100 Inexpensive DIY Headboard Ideas for Your Bedroom Design
47 Stylish Floating Bed Design Ideas
53 Incredible Hanging Beds to Float in Peace
33 Epic Navy Blue Bedroom Design Ideas to Inspire You
6 Best Vacuum Cleaners for Mattress