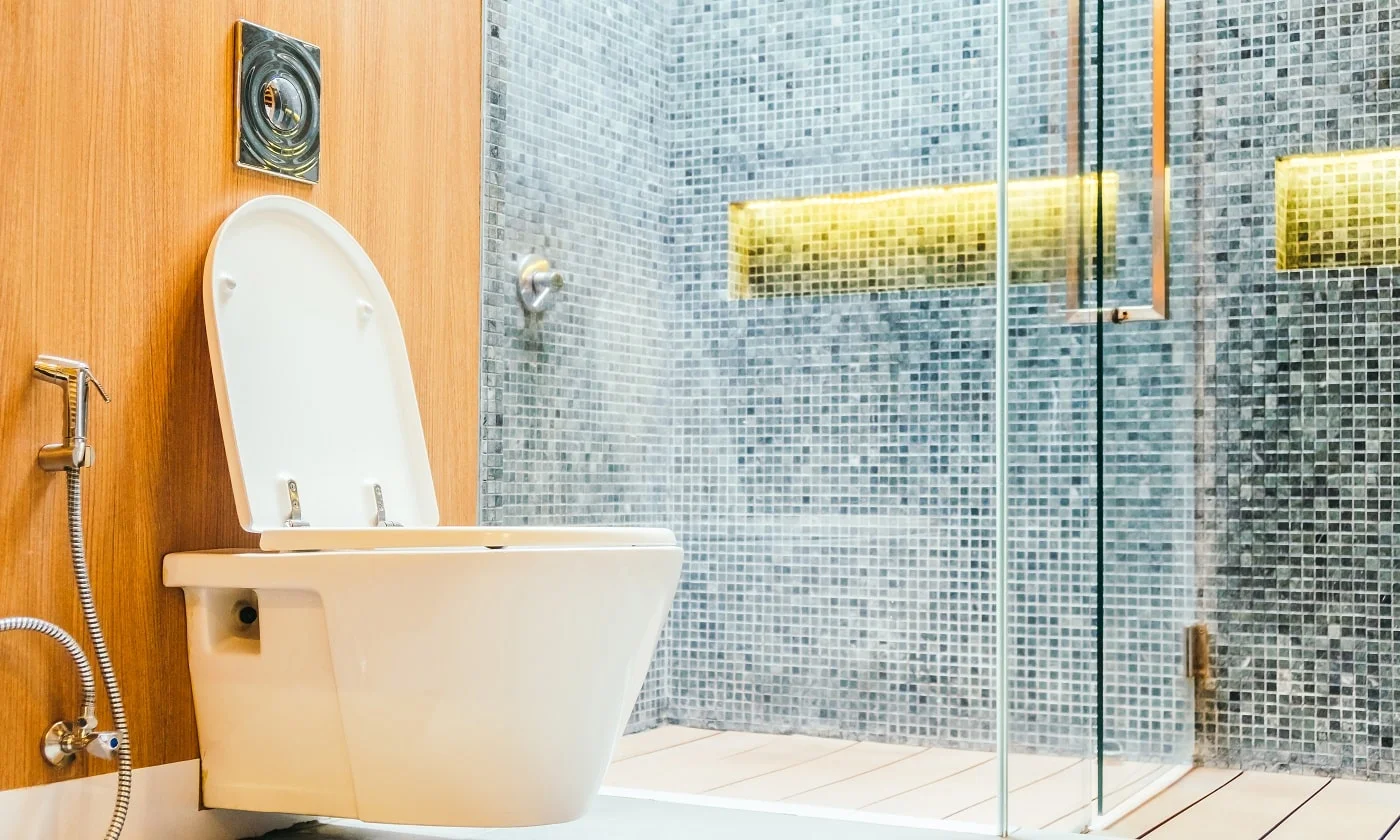 Let's face it, finding a good toilet within a budget can seem like a Herculean task. It has to work well and help conserve water too. 
Plus, we all agree that a lot of time is spent in the bathroom on a daily basis. Hence, it is essential to invest in something comfortable and efficient. And that is where Gerber has stepped in with their brilliant range of toilets. These are reliable and will ensure that you have a comfortable experience for years. 
They come in different designs and will work well with those looking for an economical choice. You can place them in homes, offices, and restaurants too as there are different sizes for all types of bathrooms. 
Having said that, let us move on to the 5 best Gerber toilets currently in the market. We have done in-depth research before coming up with this list; the pros and cons have been listed down too. 
So, what are you waiting for? Dive in now! 
Best Gerber Toilets
Are you looking for a reliable and efficient toilet to fit your needs? Gerber toilets have a wide selection of top-rated models with features such as flushing systems and powerful cleaning capabilities. Here is the list of the 5 best Gerber toilets that you should consider when making your choice: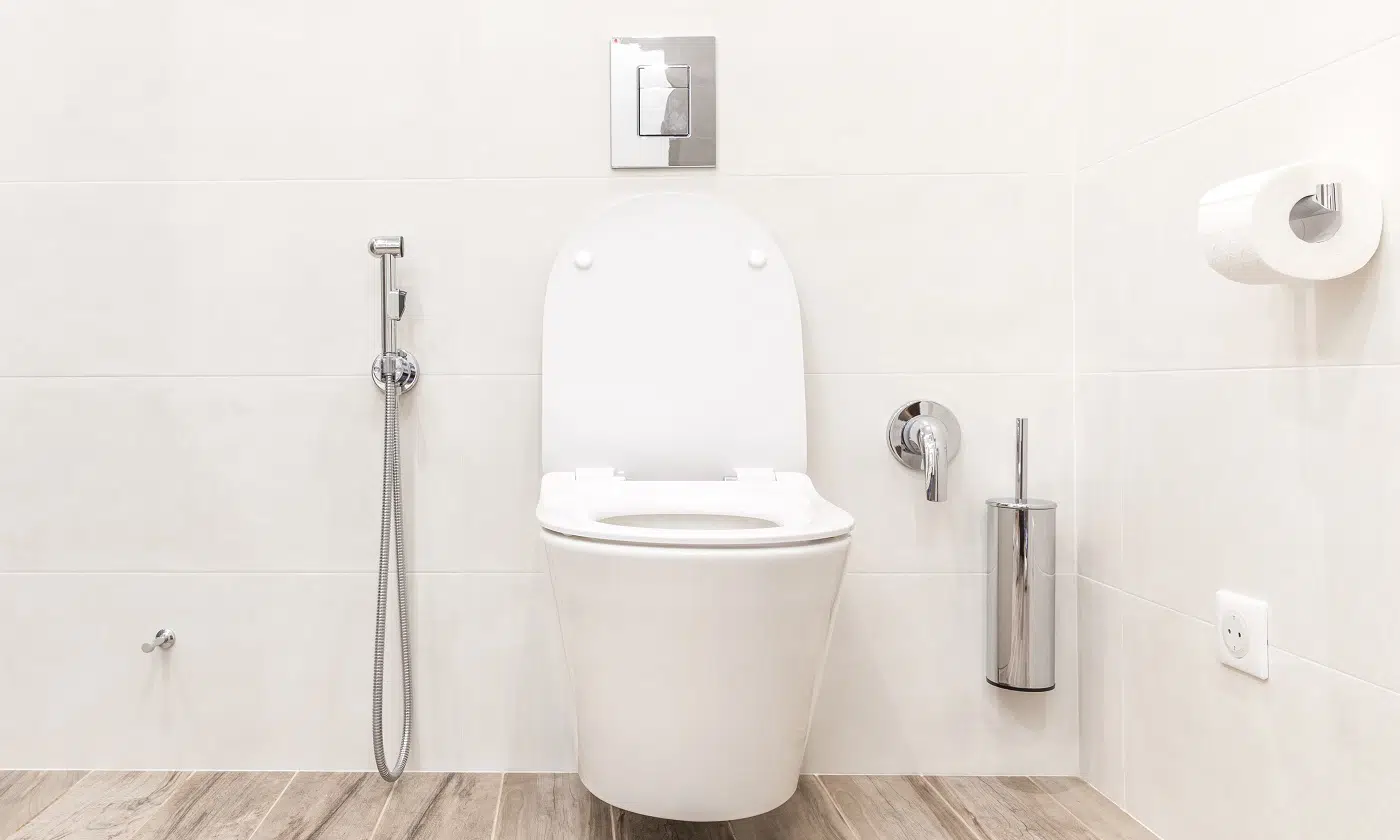 If you are looking forward to professional performance and a well-designed toilet, then the 21-377 Ultraflush Elongated Toilet will be an excellent fit. It is known to be highly durable and will provide you with the required style and comfort.
Why Did We Like It?
This is made of white Vitreous China material, which is glossy and looks attractive. If you want to add some vibrancy to the bathroom, change your old toilets to uplift the ambiance. The surface also stays clean for the longest time. 
Next, let's talk about the elongated shape this toilet has and the comfort it provides. The product has a height of 14-16 inches, making it perfect for people of all heights. Also, for better stability, it is attached to the tank with the help of 6 points. This makes it very steady, so there is no risk of falling off. 
Moving on, the surface is smooth and easy to clean. All toilet cleaners will work with this, and you will be getting a clog-free performance as well. 
What Could've Been Better?
The only issue here is that you will be purchasing just the bowl. All the other parts have to be bought separately, raising the costs a level. Also, there is no dual-flush mode, but that should not be much of a problem. It serves its purpose well, and you should not have anything to complain about. 
Pros
Can be cleaned easily

Flush power of 1.6 gallons per flush

Backed by WaterSense certification

Pressure-assisted bowl

Glossy white attractive material
Cons
Only bowl is sold

No dual-flush mode
If you are searching for a water-efficient product, then the Maxwell G0020022 will work superbly well. It is known to save gallons of water every year, and that is a necessity today, considering the severe water shortages. Read on to know more about its bells and whistles. 
Why Did We Like It?
This is a product that you can install at home without professional assistance. It is lightweight and can be carried around during the process of installation. In fact, its lightweight design is what makes it easier to handle it; you can complete the process without needing another person's help. 
Secondly, it has a well-detailed body, which reminds one of its old-world charms. Its compact body is also simple yet elegant and will add to the decor of the bathroom while fitting into any round front space. Although elongated in shape, it can fit into small bathrooms. 
Plus, it is easy to clean as the surface is very glazed and smooth. You can use almost any toilet cleaner, and the jet sprays will help you clean it well. The dual-fed siphon jet will assist you in this process. 
What Could've Been Better?
One disadvantage that we noticed here is that you might need to flush twice at certain times. Although it functions at 1.28 gallons per flush, the force is slightly lower; hence, you might need to use it twice. But other than this, we did not notice any significant issues. 
Pros
Easy to install

Compact design

ADA compliant

Dual-fed siphon jet
Cons
Flushing twice is required at times
Up next is a product that is perfect for people on a budget. The Viper GWS 21518 Complete Toilet-in-A-Box is a set that includes both the toilet and tank. Its glazed surface stands out, and it will look new for a long time. Moreover, you will find its performance very impressive.
Why Did We Like It?
This is not a fancy product, but it will serve your requirements well. Made of vitreous china, this has a glazed surface and will surely add to the decor of the bathroom. Also, the elongated shape and the 17-inch bowl will not take up too much space. But it will provide enough room to sit comfortably with your feet touching the ground. 
Next, it has a flush power of 1.28 gallons per flush. This is very effective for both solid and liquid wastes and should be able to clean the bowl well. Plus, the surface is well-glazed and remains clean. It is resistant to waste buildup, making it easier to maintain. 
Moreover, the product meets ADA requirements and can be used by people with disabilities. 
Plus, it is not pricey and will not burn a hole in your pockets. This is a budget option where both the toilet and the tank are provided together. 
What Could've Been Better?
Although you get both the tank and toilet, the seat is not provided with this pack. You will have to buy it separately. But now that you know this, you can order it beforehand so that both are delivered at the same time. This will save time, and you can install it immediately without having to wait. 
Pros
Known for lower water consumption

Meets ADA requirements

Flush rate of 1.28 gallons per flush

Glazed trap way for easy flushing
Are you looking for a toilet that comes with a toilet seat and can be immediately installed? The Avalanche 21-014 is an excellent fit and is known to be a one-piece option. This will provide you with a superb flushing experience and can fit into tight spaces. We honestly believe that this has a lot of advantages packed in one option!
Why Did We Like It?
It offers a seamless finish as it is a one-piece toilet along with a seat. We found that there are fewer gaps between parts, and hence dirt and germs do not get corners to grow in. This not only makes it easier to clean but also is a healthier option to keep in the bathroom. 
Next, it is some inches higher than standard toilets. This makes it ADA-compliant and can be used by people with disabilities. We found this to be of great advantage as the seat was more accessible. One does not need to bend to get on the seat, and that reduces movement for physically weak people too. 
What's more, it is WaterSense certified, which means it conserves water making it environment friendly. The item works with dual-fed siphon jets, which increases the water pressure and hence prevents blockage in most cases. 
What Could've Been Better?
The only issue is that it is not made for short people or kids. Shorter people or kids below 5 years might find it difficult to sit on the seat comfortably because of the raised height. Take this into consideration while you are making a choice to prevent any issues in the long run. 
Pros
Backed by a 10-year warranty

Fluidmaster® flapper is corrosion resistant

Dual fed siphon jets

Toilet seat included
If you are looking to renovate your bathroom, then the Viper TB-20-562 is going to be a great choice. It comes with a bowl, tank, and toilet seat, along with all the essentials in one pack. We got a sanitary bead, color-matched metal tank lever, wax rings, bolts, and bolt caps completing the entire package.
Why Did We Like It?
This product is a High-Efficiency Toilet (HET) and is WaterSense certified. Both of these make it a very environment-friendly choice. It will help you reduce your water consumption rate while ensuring that the bowl is cleaned well after every use. Plus, it has a flush rate of 1.28 gallons per flush and dual-fed siphon jets, which are the secrets behind its commendable cleaning capacity. 
Moreover, it features a wide water surface, which will help clean the entire bowl whenever you flush. Just pull the color-matched lever on the tank, and you are good to go. It is equipped with a 2-inch glazed trap-way to provide easy movement of waste. Plus, it is resistant to clogging, and that is great news. 
Moving on, it boasts of the best Fluidmaster 400A fill valve, which will help in the easy anti-siphon operation. It also makes sure that you can replace it without any issues. 
What Could've Been Better?
While the product offers a lot of conveniences, one might have to bend slightly while sitting. That may not be possible for people with disabilities. But if you do not have someone in your family with any known disability, then this is going to be a great choice. 
Pros
Big dual-fed siphon jet

Fluidmaster 400A fill valve

2-inch trap way for easier waste removal

High-Efficiency Toilet (HET) certified
Cons
May not work for people with disabilities
Benefits Of Using An Elongated Toilet
While there are 2 popular types of toilets, the elongated one is more common and will be the best option to go with. To explain it further, we have penned down our reasons, and you can read on to find out all about them. 
Better At Preventing Clogs
While round toilets are compact, they hold less water; hence, there is more chance of clogging. But in the case of elongated ones, they are bigger and can hold a lot of water. This prevents clogs and makes it easier to clean and take care of. 
Plus, the large surface makes it easier to wash as there are fewer corners that are difficult to reach. Some options have very few creases or folds, preventing germ build-up.
Elegant Design
While the round-shaped ones have been in the market for many years, elongated versions are newer. They look more sleek and elegant and will add to the décor of your bathroom. If you have minimalist or modern décor, this will fit right in.
Plus there are some options that can provide an old-world charm. This will fit well with any rustic décor and you can even pair it up with pastel-shade furniture.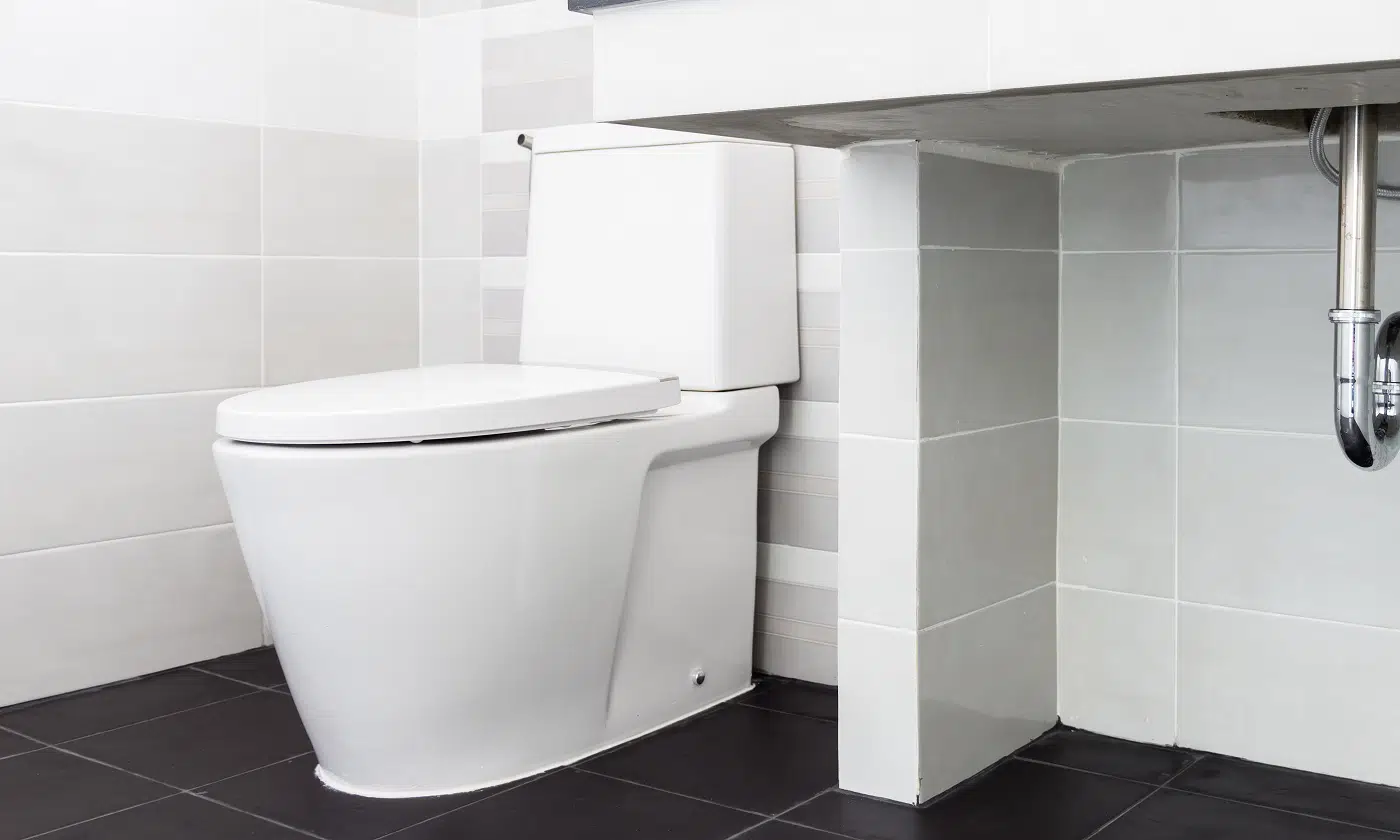 Gerber Toilets Buyer's Guide
Now that you already know about the best products available, it is time to quickly take a look at the considerations that will help you make a choice. We have listed them in this section for your benefit. 
Size Of The Bathroom
What is the size of the bathroom that you have? If you have a very small space, it is best to go for a round-shaped bowl rather than an elongated one. However compact the elongated version is, it will take up more space. 
Also, a gap has to be left behind, and that adds to the space taken. So, measure the area that would be occupied after you check out the dimension of the product online. Purchase one accordingly after having compared both of the above. 
Convenience
You should pay attention to convenience too, and that is determined by who is going to be using the toilet. If you have very young kids, then choosing a round one instead of an elongated option would be preferred. This is because the kids might not be able to sit all the way back easily. But with round seats, they would not have to face a problem. 
On the other hand, if you have seniors in your house or people with disabilities, the elongated options work better. There are elongated options that are ADA-compliant and would work well for them. 
Color
While previously white was the only option, today you will get toilets in different colors. You can also mix and match by getting a reasonably priced white toilet and pairing it up with colorful or patterned seats. There are seat covers available today, which are designed with funky patterns too. 
Cleaning
Now when it comes to toilets, cleaning is an essential process, and it is best to purchase one which is easy to clean. We will recommend checking if the surface is going to be glazed and slippery. This kind of surface does not let waste stick to them, and it is easier to clean too. 
Gerber Toilets FAQs 
Are Gerber Toilets Durable?
While Gerber does not make expensive premium products, they do make ones that will last longer and will provide value for money. Each one of their offerings is made of solid quality materials and will surely last you for years to come. 
Do Gerber Toilets Come With Warranty?
Yes, all the Gerber Toilets are backed by a limited warranty, but the number of years differs. Some might have warranties extending for 4 to 5 years, while others can have up to 10 years of limited warranty. So, we will recommend reading the product description thoroughly before purchasing. 
If you are still unsure, you can call up the customer care representatives to ask them. 
Where Do Gerber Toilets Come From?
Previously, this company was based out of Chicago, and the original toilets were created in the US, But then it shifted hands, and a Taiwan company took over. The headquarters then shifted to China. So, if you have an old Gerber model, it would probably be made in the US. But the new ones are being made in China. 
If you have unclogged other toilets before, this one works in a very similar way. Take a plunger and push and pull a few times after placing it in the trap way. Once you do that, flush the toilet, and it should be cleaned. 
Otherwise, use some dishwasher or detergent and let it settle for a while. Then repeat the entire activity with a plunger as we mentioned above. Flush, and you should be good to go but we will recommend checking it one more time just to be sure.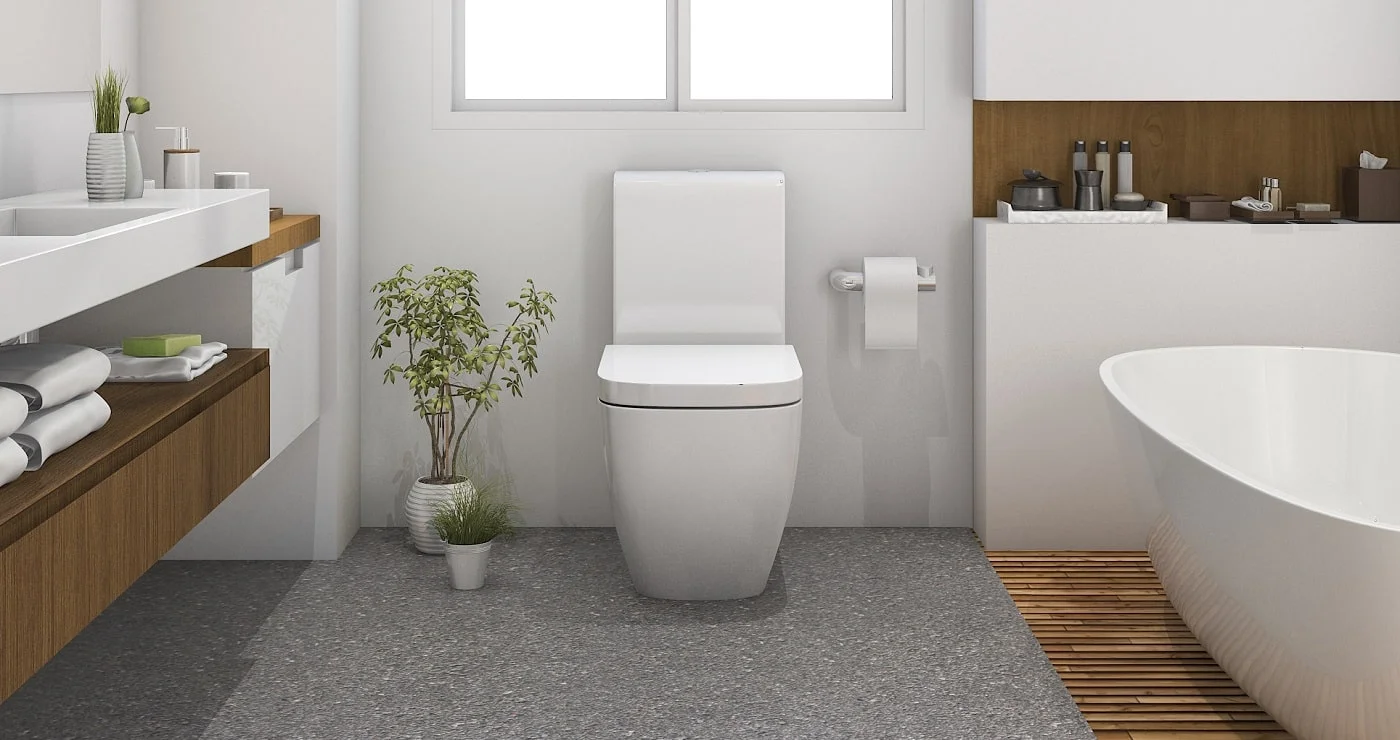 Best Gerber Toilets Final Words
While round toilets have their set of advantages, elongated ones are way more comfortable and are more commonly used. They will support you better and will not make your legs go to sleep. 
Now some bigger brand names might be offering similar features as Gerber, but almost nobody matches the price that this brand sells its products at. You will be getting exceptional functionality without burning a hole in your pockets.
With this, we will take your leave, and we hope you know enough to make a choice. Let us know if you have any further queries in the comment section below.
Happy shopping! 
Related Articles
9 Best American Standard Toilets Right Now
8 Best Bidet Toilet Combos Right Now
13 Best Soft Close Toilet Seats
7 Best [Macerating] Upflush Toilets
13 Best Septic Tank Treatments
7 Best Dual Flush Toilet [Reviewed & Buyer's Guide]
Toto Neorest NX1, 550H & 700H [Reviewed & Buyer's Guide]
Kohler Santa Rosa Toilet Review [All You Need to Know]
Convenient Height Toilet Review [All You Need to Know]
11 Best Toilet Flappers [Buyer's Guide]
11 Best Toilet Clog Removers [Reviewed & Buyer's Guide]
11 Best Automatic Soap Dispensers