Today's review will be especially appealing to DIY enthusiasts because we're discussing spokeshaves. 
For those of you in the woodworking business, spokeshaves are vital components that help remove scratches from the surface of the wood. Moreover, they help carve the wood into intricate shapes to handle various projects. 
It'll please you to know that thanks to the advancements in design and planning, these tools are more efficient than ever. One of the eye-catching aspects is the streamlined design that delivers flawless cuts, thereby making it user-friendly. Also, the high adjustability ensures that you can fine-tune the spokeshave according to your needs. 
That said, how will you choose from the many models available out there? We've narrowed down the nine best units that are making all the right noise. Besides, there's also a buyer's guide section to clear any lingering doubts. 
So, let's begin, shall we?
Top Spokeshaves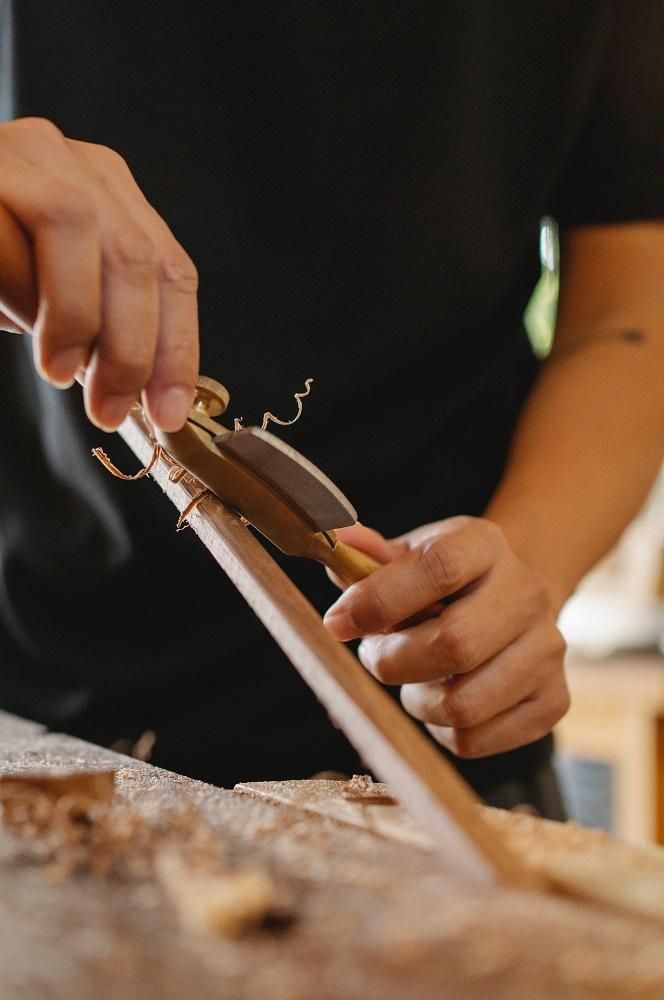 If it's your first time using a spokeshave, then we recommend giving this model a try. Swpeet has made significant strides to create a product that delivers the best results even with the most inexperienced hands. Plus, with features like the heat-treated blades and double-screw adjustment, you can make your projects stand out.
Why Did We Like It? 
This 10-inch spokeshave has 46mm carbon steel blades, so you get incredible power and durability for a reliable experience. The designers have ensured that the blades are sufficiently hard at 58-60 HRC, complete with contoured handles and corrosion-resistant epoxy coating. Therefore, you'll find it comfortable to work for extended periods. 
We liked the double-screw adjustment mechanism, allowing you to adjust the thickness of the lock stable for smooth performance. Hence, it proves useful for dealing with different tasks, highlighting incredible versatility. Besides, the blade has been subjected to heat-treatment to retain its sharpness for a long time.  
What's more, the streamlined design delivers faster cuts for improved output. Plus, it's easy to use, permitting seasoned professionals and first-timers to get the desired results.
What Could've Been Better? 
Initially, you might struggle to get the correct blade depth because it takes time to make the right adjustments. Also, after regular use, the soft brass of the tensioning screw may start to wear down, thereby causing issues with tensioning. So, we suggest keeping spare components close by. 
Pros
Carbon steel blades

Double-screw adjustment

Heat-treated for durability

Streamlined design

Cast-iron surface spray
Cons
Takes time to adjust

Issues with tensioning
Our next model has focused a lot on durability, but that doesn't mean its other functions have gone for a toss. There's a lot to like about it; no wonder this spokeshave has made fast progress to rank among the best products. This is one of the most popular units available out there.
Why Did We Like It? 
It has several exciting functions but let's start by looking at its precise performance. Robert Larson has added two adjustment screws that play a pivotal part in shaping the wood as per your needs. You can accurately adjust and change the settings of the blade based on different tasks. 
You'll also find this model easy to use, and all you need to do is pull and push the spokeshave to smoothen the surface of the wood. So, it has an advantage over a hand plane, and we can understand why buyers have taken a liking to it. 
When it comes to sturdiness, it features hardened steel and cast iron body that will last a long time. Therefore, it's suitable for daily use, and rest assured, you can get consistent results without any hassle. 
Meanwhile, components like step stools are included with the unit to save you the trouble of additional expenditure.
What Could've Been Better?
Although it includes all relevant components, you'll have to fine-tune the various parts to get the desired results. We must also mention that you're likely to experience a slight chatter along with high-pitched screeching, which isn't ideal. It could lead to buyers opting out of the purchase to look at other models. 
Pros
Longevity

Accurate

Versatile

Easy to use

Step stools included
Cons
Needs fine-tuning

Slight chatter
An important consideration while buying a spokeshave is the design of the blades. And this is one aspect where our next model has managed to eclipse other brands. Without being too fancy, the innovative shape is perfect for making fast and precise cuts. We assure you'll have a great time working with it. 
Why Did We Like It? 
We'll begin by discussing the carbon steel blades, which measure 52mm in length and have a thickness of 2mm. The toughness of this spokeshave proves particularly useful when working on complex surfaces and irregular patterns like curves or arcs. Furthermore, it's available in two different lengths – nine inches and ten inches – for greater convenience. 
Moving on, the comfortable contoured handles allow you to work for long hours without feeling fatigued. So, it's a user-friendly product, ensuring you get the best results daily. Plus, thanks to the corrosion-resistant epoxy coating, it retains quality for a long time to handle work demands. 
What's more, it comes with dual handles for improved control, permitting you to tackle intricate projects. We found that it isn't only effective for working in a straight line, but you can also operate it from different angles. As a result, it delivers optimum output in most situations.
What Could've Been Better? 
We noticed a little flex in the middle of the blades, but that's not a cause for concern. It won't be a problem to sharpen the blades and get a flat surface. Besides, as seen with other models, you'll have to remove the paint from the bottom of the blades. 
Pros
More control

Corrosion-resistant epoxy coating

52mm long

Suitable for curved surfaces

User-friendly
Cons
Needs sharpening

Paint coating leads to uneven bottom
Amazon Basics is a trusted and well-known brand that has struck the right chord with customers, owing to its fantastic range of products. Therefore, let's take a closer look at the spokeshave that this brand has conjured up, leading to a mostly positive response from buyers.
Why Did We Like It? 
This spokeshave promises to be another terrific recommendation as it's ideally suited for curved woodworking projects. In that regard, the double-screw adjustment mechanism comes in handy, allowing you to accurately position the cutters based on different tasks. Unsurprisingly, it delivers precision output to make your projects stand out. 
Along with curved surfaces, it also produces the best results on planes, shapes, and other complex materials, making it a versatile unit. And to tackle various tasks, a lot of attention has been focused on durability, with the blades being heat-treated for greater resistance. Similarly, the alloy steel construction ensures that it lasts a long time for consistent output. 
Apart from that, you'll notice the double handles providing more control and enhancing the user-friendliness of this unit. Lastly, it weighs one pound, which is incredibly lightweight, thereby permitting you to work for extended periods without any hassle. 
What Could've Been Better? 
Some users have said that the adjustment screw is unaligned and doesn't contact the blade, leading to performance issues. Going by reports, we feel that the slight bump in the casting has led to this issue but rest assured, it's not unsolvable. Understandably, it takes time to get the hang of it.  
Pros
Double handles

Sturdy

Works for extended periods

Accurate

Weighs one pound
Cons
Issues with the adjustment screw

Slight bump in the casting
We're at the halfway point of our list, but there are many quality units we're yet to review. Next up is this unit from Glarks, offering the perfect combination of durability and cutting depth. Therefore, it's highly reliable, assuring a fantastic return on your investment and generating substantial buzz in the market. 
Why Did We Like It? 
The Glarks spokeshave is a versatile model, ensuring you can handle various tasks. There's an additional blade for quick replacement and reliability for wood crafting, craving, and other woodworking projects. Therefore, it's an all-round unit that has most bases covered, which will surely please customers. 
Coming to its other aspects, we found the 10-inch size ideal for supporting the 45mm blade, providing more maneuverability. What's more, the high-grade metal and steel construction improves the lifespan of the blades, ensuring it doesn't break down in the middle of work. In that regard, the 2mm thickness proves efficient, permitting you to quickly complete work. 
As seen with other models, the double handles deliver greater control and are well-supported by the adjustable-screws for precise output. Lastly, the blades have been heat-treated and covered with a corrosion-resistant epoxy coating for longevity. So, you get consistent output daily. 
What Could've Been Better? 
These blades can't be used out of the box and require a fair bit of effort to get ready. The main problem is with the paint, and you'll need to sand the paint off completely to get an even alignment. Other than that, the blades need sharpening and should be kept in an oil bag. 
Pros
Adjustable screws

Double handles

45mm blade length

All-round unit

Heat-treated
Cons
Unsharpened blades

Needs aligning
Anndason Spokeshave has raised the bar in terms of quality, thanks to features like the hardened blades and contoured handles. While most units have looked at delivering accurate cuts, this brand has allowed users to get much-needed comfort while working. As a result, buyers are queuing up to check out its features. 
Why Did We Like It? 
First and foremost, this spokeshave is suitable for all users irrespective of whether you're a professional or a first-timer. And we would like to highlight the adjustable cutter to back up our claims. This cutter is ideal for shaping chair legs, seats and working on other curved surfaces, making it extremely efficient. 
Moving on, the unit weighs 5.28 ounces, but that doesn't compromise on the sturdiness of the blades. It's quite hard, having a 58-60 HRC value to support the carbon steel body. Hence, it can endure the demands of daily use while the 44mm length allows you to make fast and accurate cuts. 
Other than that, thanks to the heat-treatment, the edges retain their sharpness. And for more control, the designers have added double contoured handles, reducing stress and making work more manageable despite a longer runtime. 
What Could've Been Better? 
Both the blades are painted, which leads to unevenness, as seen with other models. So, it's important to flatten the surface to get the desired output. Also, users have encountered adjustment issues since the nuts and the slot of the base don't align. 
Pros
Subjected to heat-treatment

Doesn't wear out quickly

Double contoured handles

Comfortable

Efficient
Cons
Uneven surfaces

Unaligned components
We hope you're enjoying the guide because there are more quality units lined up. Next up is the Stanley Spokeshave, which has many similarities with other models; however, the fine grey iron construction has left a mark on customers. Seldom do we come across a tool that offers versatility and precision in equal measure. 
Why Did We Like It? 
So far, we've looked at several tools that work well on different curved surfaces, but this unit has taken versatility to a new level. It's primarily suited for operating on convex surfaces, something that's not seen with other products, thereby giving it an edge. 
Furthermore, this spokeshave has a fine grey iron body, which looks good and proves robust for daily use. Rest assured, it will last a long time, and there's no need to worry about it breaking down in the middle of work. Thus, it's extremely reliable and reduces work time. 
We loved the twin thumbscrews that deliver a smooth experience, ensuring you can adjust the blades depending on the type of cut. Not surprisingly, most users have spoken highly about the accurate output, which is essential for woodworking. And speaking of accuracy, the metric system is a wonderful addition for making precise measurements. 
What Could've Been Better? 
Firstly, this blade needs sharpening before you can work on more demanding projects. Users didn't face problems while making fine cuts, but the chattering proved to be an issue when shaping thicker wood. So, it's essential to be patient as it takes time to get used to it. 
Pros
Accurate

Suitable for convex surfaces

Versatile

Sturdy

Easy to use
Cons
Blade needs sharpening

Difficult to work on thicker wood
One of the first things buyers look at is the weight of a spokeshave because these are diminutive tools. The challenge for engineers is to incorporate all the functions without making them heavy, and this unit is a testament to their hard work. All the components are in sync with each other for optimum output. 
Sale
Why Did We Like It? 
Of all the products on our list, this spokeshave is perhaps the most elegant and attractive looking unit. Even more pleasing is that it has the functions to back up its appearance, making it suitable for various woodworking tasks. As a result, you get fine, smooth surfaces, highlighting the efficiency in handling different projects. 
Now, the overall weight is a meager 1.05 pounds, delivering excellent maneuverability to work from several angles. In that regard, the adjustable shoe proves useful, ensuring you can make the necessary changes for the best results. Meaning it improves control, allowing you to shave the wood single-handed or with both hands. 
Another aspect that deserves mention is the cast-iron body delivering durability for long-lasting performance. It can withstand daily use, permitting you to complete work and enhance efficiency. Furthermore, the corrosion-resistant coating along with the high-carbon blade helps maintain quality while reducing wear and tear. 
What Could've Been Better? 
We noticed that the foot and the flat of the bed were slightly uneven, and you'll need to flatten them before beginning to work. Now, it isn't a major issue, and neither does it take time to achieve the desired evenness. However, it doesn't bode well in terms of user experience. 
Pros
Adjustable shoe

Easy to use

Corrosion-resistant coating

Attractive

Ideal for shaping wood
Cons
Uneven components

Needs to be flattened
There's a saying that luck comes to those who work hard. Why did we mention this? Well, because the next brand is called Useluck, and it has worked extremely hard to build a model useful for different users. So, as luck would have it, the positive reviews have taken it to the top of the charts. 
Why Did We Like It? 
Let's start by discussing the SK2 material constructed blades with 58-60 HRC hardness, which is the standard for most spokeshaves. Additionally, these blades are heat-treated, which reduces wear and tear so that the knife edge can last a long time. You'll be pleased to see that the engineers have included four replacement blades as well, just in case. 
Keeping in mind that there will be first-time users, it comes with adjustable screws to change the position of the woodworking plane. Meaning, it's easy to use and proves convenient for various wood-related tasks. 
What's more, the body of the hand router plane is made of cast-iron while the scraper consists of 65Mn, heat-treated material. This allows you to shape the wood as per your needs and get a smooth surface for the best results. 
Interestingly, the blades are wrapped in a bag of oil to enhance rust-resistance while delivering a longer runtime. 
What Could've Been Better? 
The bottom is painted black, so there's a chance that you may get black color on the carvings, which isn't ideal. We suggest covering the bottom part or scraping off the paint if possible. Other than that, the face is not particularly flat, so you will have to sand it with a carborundum stone. 
Pros
Reduces wear and tear

Adjustable screws

Cast-iron exterior

Plastic bag with oil

Anti-rust
Cons
Painted bottom

Uneven face
Spokeshave Buyer's Guide 
It's time to focus on the buyer's guide, where we'll help you distinguish between the top models based on some essential aspects. Without further ado, check out the points mentioned below. 
Sturdiness 
To survive the harsh work environment and daily demands, the spokeshave needs to be durable. It should feature a sturdy construction that won't wear down easily and can withstand rusting or breaking. 
Adjustability 
Any spokeshave must have the necessary user-friendliness allowing you to fine-tune it according to your requirement. So, you can work on different shapes and carve the wood as per your needs. 
Price 
Finally, it shouldn't be too pricey, allowing most users to bring the model home. We understand that a quality unit will be priced higher, but the cost shouldn't be exorbitant. The manufacturers must look to balance the functions and the price, leading to increased demand.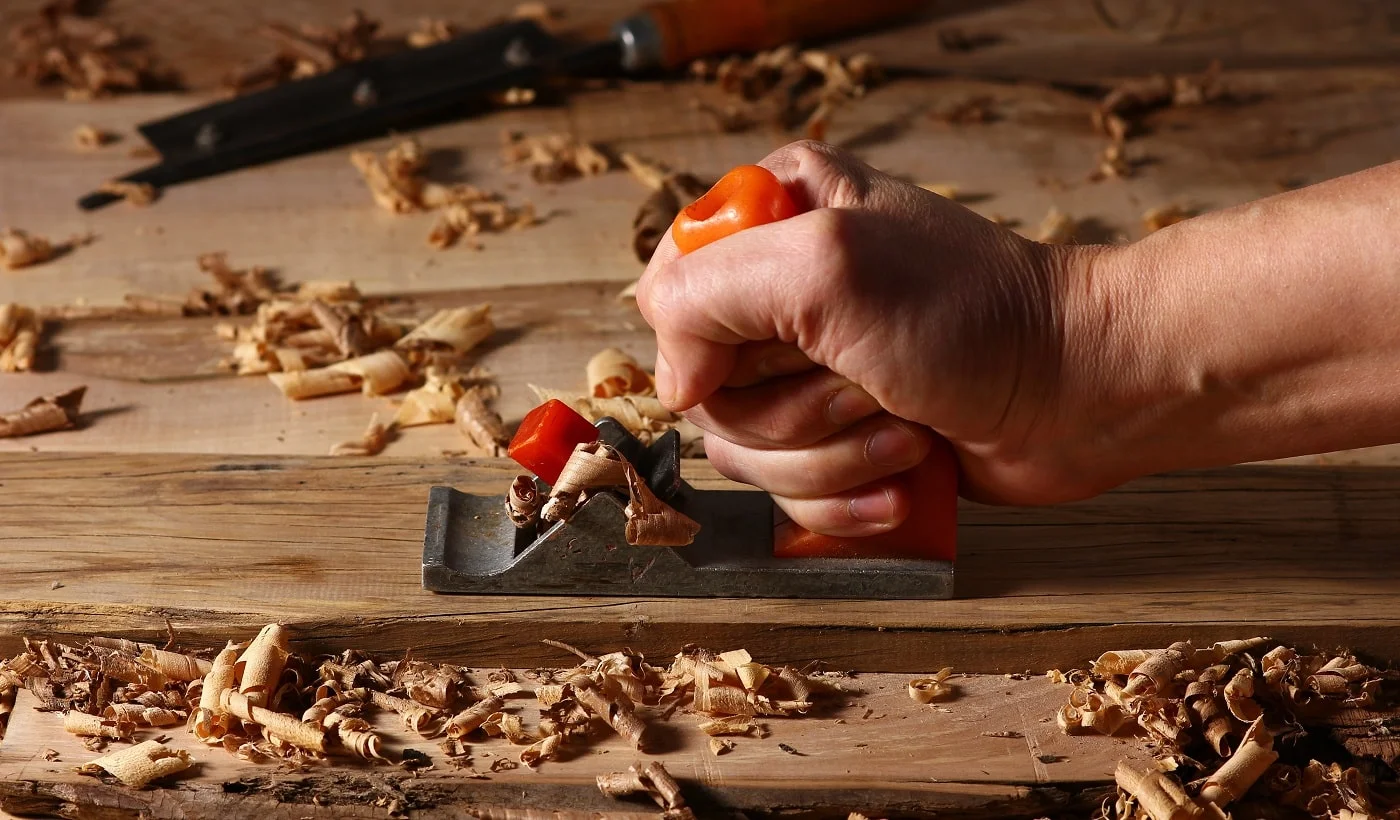 Verdict
We're down to the final section in our guide, and all that remains is to provide a few pointers. 
While we've covered most of the points in the product reviews and buyer's guide, one last thing needs mention. We've decided to highlight the top models in different categories to help you make an informed decision. 
After looking at the products, we felt that the Swpeet Spokeshave is the most balanced among all the units and delivers a seamless experience. Apart from that, the Robert Larson Spokeshave is quite noticeable for its incredible durability. 
That's all the time we have, and hopefully, we'll be back reviewing more exciting tools. Until then, enjoy the finer adjustments and smooth performance of the spokeshave. 
Take care, bye!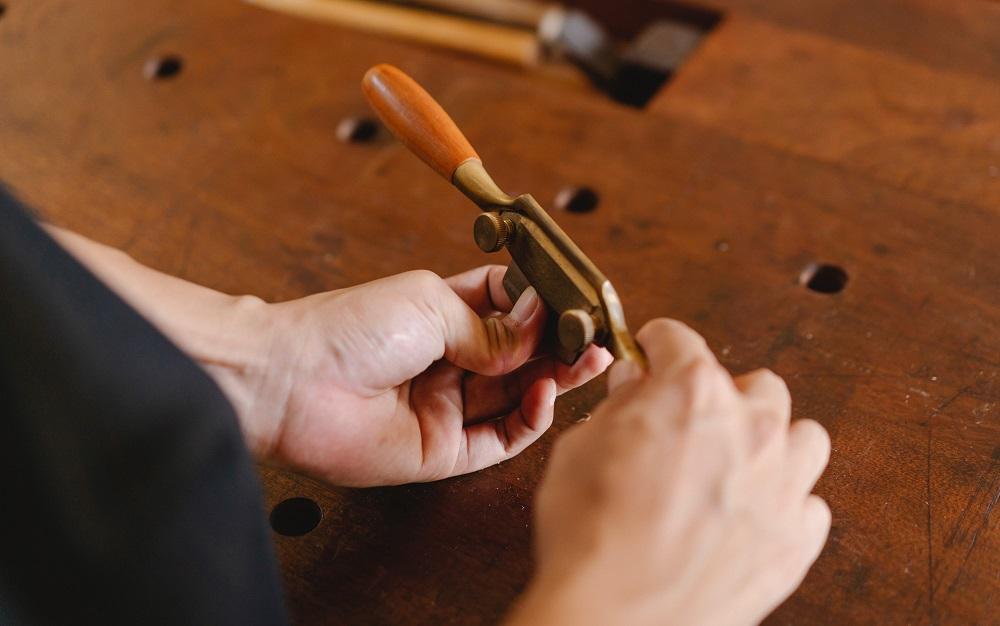 Related Articles
Planer Or Jointer, Differences And Use Cases
9 Best Benchtop Jointer for Woodworking