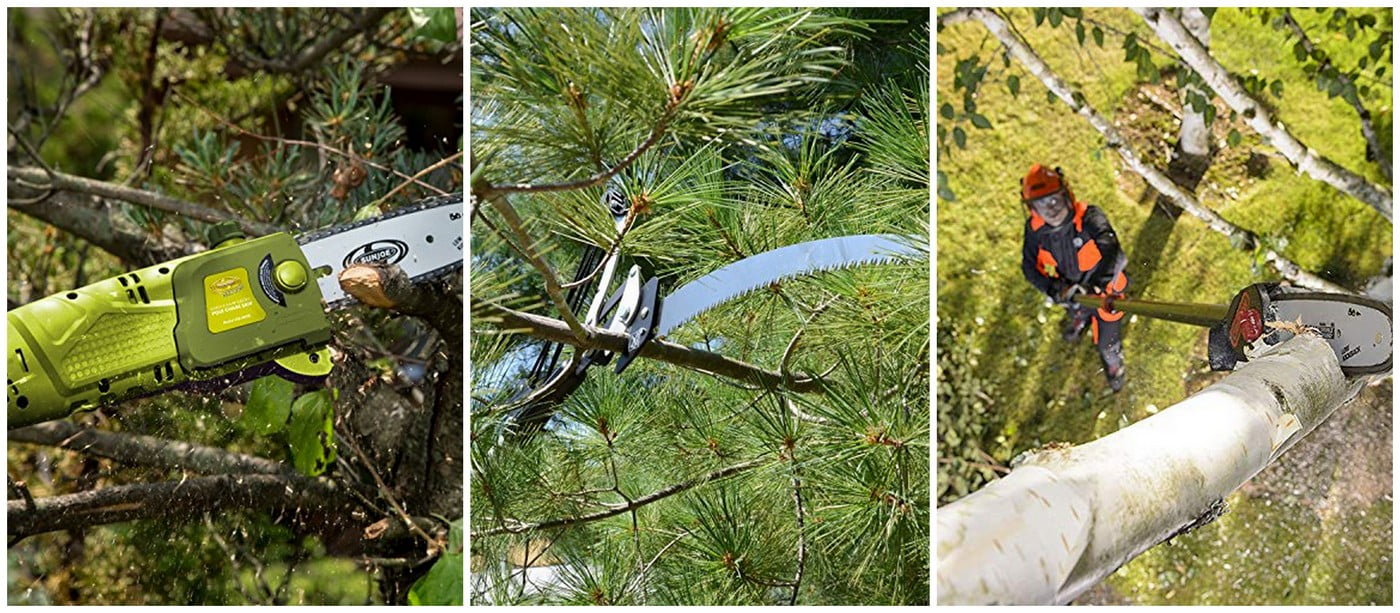 A passionate gardener's OCD is triggered in an instant when they find out that their tree branches are out of shape.
Pruning trees is quite a satisfying DIY task we enjoy during the weekends, but it can be stressful if we don't have the right equipment. So, what makes it so hard to choose the right pole saw to get the job done without any hassle?
Undoubtedly, the disastrous combination of a wide variety of products to choose from and very little information about what makes an ideal pole saw. Ultimately, we end up going for the cheapest ones without knowing what we're buying.
But don't worry, we've handpicked the top 10 longest and best pole saws for tree pruning to help you make a smart purchase. Also, we have included a buyer's guide in the end, to help you acknowledge the anatomy of the longest pole saw, so don't forget to check that out.
So, with that being said, let's get to the list of products!
Longest Pole Saws For Tree Pruning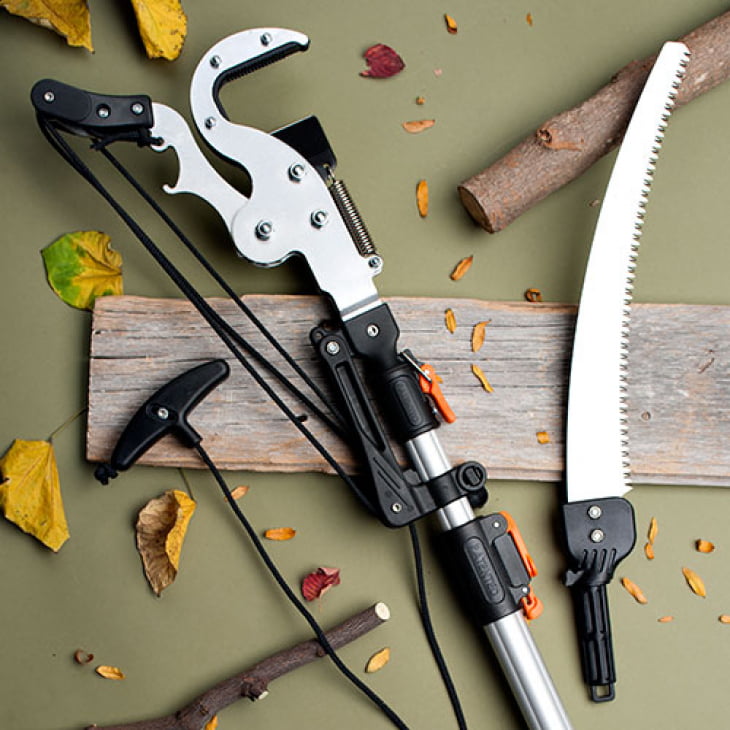 Sale
Sun Joe is an internationally renowned brand that specializes in manufacturing trailblazing equipment at a meager price. We've recently tested its all-new SWJ802E model, one of their best-selling longest pole saws in the market. As expected, this product left a considerably good impression on the grounds of user convenience and flexibility.
Why did we like it?
The product had initially surprised us with its immense flexibility, which helped it earn a thumbs up from us. To be more precise, this model comes with an adjustable head that can be bent into 3 angles – 0 degrees, 15 degrees, and 30 degrees. This feature makes it possible to reach unconventional areas with ease and make the cuts in numerous positions.
Now, although it's an electrically powered device, it was surprising to find that the model doesn't come with any tangling wires. Instead, the cables are configured inside the frame that prevents us from the stress of handling the wirings while using the saw. Furthermore, it offers a flexible pole that can be extended up to 9.4 inches, adding one more star in terms of user convenience.
Noteworthy to mention, the SWJ802E model is exceptionally lightweight for a motor-operated saw machine, as it weighs only 7.9 pounds. Thanks to that, our arms weren't fatigued at all after using the saw for a considerably long time. We're also satisfied with its low noise levels, which altogether provided us with a satisfying user experience. We would rate it 5 stars.
What could have been better?
In spite of its high user convenience features, the manufacturers failed to facilitate a considerably long power cord with this model. Due to this, the electric socket has to be incredibly near to the workstation. Otherwise, this wouldn't work. Furthermore, it's a bummer to know that the model requires regular oil refills.
Pros
Can cut at 3 different angles

Compact and ultralight frame

Automated lubrication

Low noise levels
Cons
Requires frequent refills
Sale
Although Worx isn't one of the biggest power tool brands in the market, it's an appropriate option to consider if you're a beginner with a low budget and zero experience. The most prominent example here is the Worx WG309; a multifunctional pole saw that left us in awe with its advanced features.
Why did we like it?
To begin with, this model offers an extended 10" bar, which can be wielded very quickly to the saw. This extended stick makes pruning the high branches of trees a lot more comfortable and enjoyable. Also, we have to mention how this model is built with sturdy plastic and metal, which combine to enhance its durability by a fair deal.
Now coming to its USP of multifunctionality, you can easily use it as a pole saw by attaching the stick, which helps in cutting the hard to reach tree branches with ease. Also, you can remove the stick and use the chainsaw to trim the small branches precisely.
Also, when it comes to cutting efficiency, we found the WG309 to be more effective than its competitor, the SWJ802E unit. We're saying this because the model comes with an advanced 8-amp motor that provides higher power to get the job done quicker. Furthermore, the manufacturers have raised the bar higher for user comfort with a rotatable handle, making it easier to auto-lubricate the device.
What could have been better?
While testing the model, we found the top of this product to be a little heavier than the bottom. This uneven distribution of weight makes it a little uncomfortable to carry around for a longer time. It is probably the only advantage the SWJ802E has over the WG309 unit, as it's quite lightweight.
Pros
Extreme pruning capacity

Multifunctional 2-in-1 chainsaw

8-amp motor

10" pole
Sale
If you're even a bit experienced at shopping for power tools, you're probably familiar with the goodwill of Black & Decker. This brand has set the standards a lot higher for innovations with its all-new LPP120 pole saw. This product features, without an argument, one of the highest lasting batteries we've come across.
Why did we like it?
This model strives for user comfort and portability, to begin with. Most of the pole saws, for instance, the JW280E unit, limit usability to a certain extent with their short power cords. On that note, this model exterminates this issue with its cordless feature, enabling it to be used without being dependent on any external power source.
As this brings us to its battery life, we have to mention that its 20V MAX Lithium-ion battery has impressed us with its extended coverage. To be more precise, its battery is capable of lasting 5x times longer than the regular NiCad batteries, giving it an instant advantage over most of the other products in the market. This model can also make up to 100 cuts in a single charge, which makes it pretty user-friendly and convenient as a pole saw.
Coming to its efficiency, these cordless pole saws offers us a decently long reach of 14 ft, which seems sufficient for tree pruning most high branches. Also, the chainsaw can cut as deep as 6" when it comes to softwood, which speaks for the power of its motor.
What could have been better?
This model is quite efficient at cutting through softwood; however, unfortunately, that's it. The saw isn't even half as useful when it comes to cutting through hardwood, which means that it can't be used for heavy-duty cutting tasks. Nonetheless, it still makes a decent piece of personal equipment.
Pros
Lightweight and compact body

Can cut through softwood easily

Impressive battery life

Reaches up to 14 ft
Cons
Not suitable for commercial use
Sale
Oregon is best known as the manufacturers of high-end and powerful tools and is mostly recommended by professionals. We had the opportunity to test its PS250-E6 model personally, and we must say, it has changed the way we used to view pole saws. It's one of the most potent pole saws you can find if you're willing to go a little above your medium budget.
Why did we like it?
There's a common saying among professionals that the cordless pole saws aren't nearly as powerful as the corded saws. However, the PS250-E6 model seems to cut through this stereotype with its impressive chainsawing power with ease (no pun intended). To be precise, these cordless pole saws boast enough power to slice through 8-inch trunks like butter, despite being a cordless.
Honestly, this model comes packed with so much power that it may seem overkill for typical yard jobs. That's why we'd strictly recommend this model if you're trying to enter into professional woodcutting or gardening. Now, this model also beats the Black & Decker model with its extended 15 ft long reach, making it even more favorable for heavy-duty work.
Also, we have to compliment the manufacturers for coming up with such a unique design to make it easier to carry around. The thing is, the product weighs approximately 13.5 lbs., which is a little heavy for a pole saw. However, the Mid-mount motor helps in distributing the overall weight of the product evenly, making it a lot easier to carry and use for a long time.
What could have been better?
Although there's not enough scope to complain about this rather splendid pole saw, we're not entirely satisfied with its noise levels. It can get deafeningly loud at times, for which we'd recommend the users to wear noise cancellation headphones for safety.
Pros
Potent motor

Can cut through hardwood with ease

Maximum depth of 8 inches

Mid-mount motor feature
Moving away from an electric saw a bit, we'd like to introduce you to one of the highest-rated gas powered saws in the market. The MAXTRA 2-stroke gas pole saw appears to be specially built for handling heavy-duty cutting tasks. If you're all about power and efficiency, you have to check out its beast of a 42.7 cc motor!
Why did we like it?
The main feature that makes pruning trees more comfortable is the ability to make necessary adjustments in the chain tensioning. The MAXTRA product supports this feature precisely, making the chainsaw a lot smoother and easier to work with. Furthermore, we've found a small air filter at one end of the model, which helps in extending the longevity of the product by a great deal.
We have to say, It's indeed a smart way of protecting the engine from overheating and similar issues. Furthermore, this model comes with an extended 10-inch pruning bar, which helps us trim hard to reach overhead branches with precision. We're also quite impressed with the chain brake on the bar, which can save the user from numerous accidents other than keeping the fuel tank full.
However, it doesn't end there, as the manufacturers seem to take user safety to a new level with a broad set of additional accessories. For starters, the tool kit comes handy at fixing the minor engine errors/malfunctions. Which otherwise (if overlooked) can damage the model in the long run. Furthermore, the chain cover and shoulder strap also make it a lot safer for us to use these cordless pole saws.
What could have been better?
There's a significant problem with this model- it's nearly impossible to use it for a longer time. To begin with, this product is too heavy to be a handheld saw. Also, its noise levels are intolerable; however, the manufacturers provide free mufflers to protect our ears while using this device.
Pros
Chain tensioning adjustment

Air filter for engine safety

10-inch cutting bar

Safety accessories

Anti-vibration settings
Cons
Deafening loud motor

Too heavy for a handheld saw
If you're looking for moderately efficient pole saws for small personal jobs at a meager price tag, try the TrimmerPlus TPP720 model. This product beautifully bridges the gap amidst semi-professional pole saws and DIY personal equipment without breaking the bank. We strictly recommend this product to beginners, considering how easy to use it is.
Why did we like it?
This one is an appropriate handheld manual pole saw that fits your budget and provides sufficient power to get your DIY tasks done. As this product is gas powered, it doesn't require any electrical power source to run, giving it a higher advantage in terms of portability. Moreover, we don't seem to have any complaints about its efficiency either, as it provides sufficient power for a product at this reasonable price tag.
Furthermore, we've found that this model comes with an impressive long reach of 12 ft., which makes it simply appropriate for small-end jobs. It also has a maximum cutting depth of 4 inches and can cut through softwood with precision. Although, what we've liked more is that the chainsaw also supports non-factory parts, especially manual poles, which can be useful at extending its reach by a fair deal.
Last but not least, we have to mention how ultralight this product is for a pole saw. While most of the products on our list weigh an average of 10 lbs, this model weighs around 7.1 lbs. without fuel. It also features an ergonomic grip and design, making it 2x times more manageable for us to use this product for a long time.
What could have been better?
One can say that the USP of this product is that it provides sufficient power needed for DIY personal jobs, and we'd even agree to some extent. But in the long run, the product falls short in terms of consistent performance. We can't guarantee that it can last for years to come, because it's incredibly low-priced. Also, it delivers very little power if compared with our other recommendations.
Pros
Supports non-factory parts

Suitable for DIY personal use

Considerably low price

Ergonomic grip and design
Sale
Jameson Tools is a brand that doesn't need an introduction when we're speaking of top-end equipment that makes our lives easier. Speaking of such innovations, we've recently tested its newest pole saw range, the LS-6PKG-6 unit. We're quite impressed with its double-pulley feature, which makes tree pruning easier than it has even been.
Why did we like it?
If you're into authentic vintage designed equipment, the LS-6PKG-6 model is something you must have in your storeroom/garage. We can say that it's highly durable because this model is built with sturdy wooden material. However, on the downside, some may assume that this wooden-built material would appear to be a little heavier than other plastic models.
However, it isn't true as the product features a center of gravity right below the middle point, which makes it easier to carry around and use. This model further takes the cake with its double-pulley system that gives us complete control of the device while pruning trees. We've found this model to be quite suitable for heavy-duty jobs, and recommend it for professional use.
The secret behind it is its 16-inch sharp saw blade, which slices through the hardest of woods with precision. Here's a little trivia- the blade design is inspired by the infamous marine predator, aka Barracuda fish. Furthermore, the product also comes with three 6' poles that enable the saw to reach up to a maximum height of 18 ft., if assembled.
What could have been better?
Although the design is pretty stylish, it isn't very convenient to work with. The manufacturers could have done a better job of designing the grip. And that's because we were struggling to have proper stability while gripping the bottom, which isn't a satisfying user experience.
Pros
Suitable for professional use

16-inch barracuda blade

Can reach up to 18 ft

Middle point weight distribution
Cons
Could have a better grip

cons
Silky Saws is often recognized as a "classic innovator" amongst professionals, as they offer the best-looking industrial models for heavy-duty jobs. The HAYAUCHI 177-02-41 model outshines every other product in the market when it comes to pole reach. Nonetheless, this model still has a lot more to offer in terms of cutting efficiency.
Why did we like it?
There are a lot more new features that this model brings to the table. For instance, it features sturdy aluminum poles that offer higher durability while giving us complete control of the blade. Also, noteworthy to mention, this beats the LS-6PKG-6 model in terms of pole reach, as it comes with a maximum range of 26 ft. With this much height, the model enables us to prune the toughest of trees in a jiffy.
Furthermore, the 177-02-41 also provides the user convenience that the LS-6PKG-6 had failed to address. In other words, the bottom of its pole comes with a rubberized grip and an advanced end-shock absorbing technology. This makes the model a lot more ergonomic and makes it very comfortable to work with. Furthermore, the saw blade feature a groundbreaking RETSUME technology that helps us cut through hardwood with precision.
Despite such advanced features, this machine is quite compact and weighs as little as 7.35 pounds (including the blade cover), making it easier to store. Also, although we were a bit skeptical about its stability due to its high reach, this product appears as highly stable at its maximum height.
What could have been better?
To be honest, there's nothing to complain about the 177-02-41 model, when it comes to overall performance and durability. Nonetheless, this product appears to be a little pricey in comparison with other products on our list. It would've been better if the manufacturers could lower the price tag a bit low so that more people can afford it.
Pros
Can reach up to 26 ft

The blade features an advanced hook

Extremely compact and lightweight

End-shock absorbing feature
Sale
Milliard Tools Co. is always one step ahead of the game and has established a name for itself with its groundbreaking products. We've recently tested its 6-16 ft extendable pole saw, and we're quite satisfied with its flexibility and user comfort. Under a considerable price tag, this doesn't seem quite bad for a medium-duty tool.
Why did we like it?
This pole saw, without a doubt, takes the cake when it comes to looks. This model is built with fiberglass material with a glossy grey finish, making it very pleasing aesthetically. Furthermore, the fiberglass also makes sure that the product will last for years to come and make medium-duty easier. On top of that, the pole body allows it to be extended up to a maximum height of 16 ft, giving us a decent reach.
Coming to its cutting efficiency, the model features a 14-inch long pole blade with 1.2 mm thickness. Fun fact- the saw blade is built with premium carbon SK5 steel, and it is sharpened on three different sides, which makes it very slick and razor-sharp. Furthermore, the unit also comes with advanced cutting teeth, which helps in achieving a greater grip while cutting the branches.
We're also quite impressed with how the blade offers a cutting depth of 1.25 inches, without going anywhere close beyond its limits. So, if you have plans of cutting some thick branches, this product can get the job done with precision.
What could have been better?
It's quite unfortunate how this product struggles with stability. It isn't honestly the most extended pole saw we've come across till now; we've tested longer pole saws that have offered higher stability. On the other hand, this product appears to be highly unstable when it is extended fully.
Pros
Sharp blade for smooth cutting

Built with fiberglass to last longer

Cutting teeth for better grip

Extends up to 16 ft
Cons
Very unstable when extended fully
Sale
The ultimate product on our list, the Fiskars Power-lever tree pole pruner, defines simplicity and convenience at its best. Fiskars is primarily known for its simplistic and flexible designs, and its 12 ft tree pole pruner carries forward this legacy with some cutting-edge features. Most importantly, its advanced Power-lever technology is something to look out for!
Why did we like it?
Where should we begin? It's an ideal pole saw when it comes to trimming small branches and pruning hardwood with precision. We were quite amazed by its power-lever feature, a unique technology that doubles the power of cutting that any normal tree pole pruner provides in the market. This way, the job gets done a lot quicker and easier.
It also offers a maximum reach of 12 ft, making it easier to prune the overhead branches. Although it isn't the longest pole saw we've featured in our list, it's still satisfactory enough to finish medium-duty jobs. Furthermore, Fiskers offers high-quality steel that is guaranteed to remain unaffected by rust and corrosion for a lifetime. It's a 15 inches long pole and is coated with a low-friction finish that makes it quicker to cut through hardwood.
The 12 ft pole is adequately locked with a quick-release thumb lock that offers higher stability while working. Also, after the job is done, one simple press of thumb can release the establishment as well. Last but not least, the pole is built with premium fiberglass material that assures us high durability.
What could have been better?
It's not the most advanced product, as the manufacturers maintain strict adherence to simplicity and convenience. So, even if it may be ideal for beginners and DIY enthusiasts, it may not be the best option for regular professionals. Also, this model offers a maximum cutting depth of 1.5 inches, which is too little for heavy-duty use.
Pros
Can reach up to 12 ft

15-inch razor-sharp steel blade

Advanced power-lever technology

Easy to use and store
Cons
Not recommended for heavy-duty tasks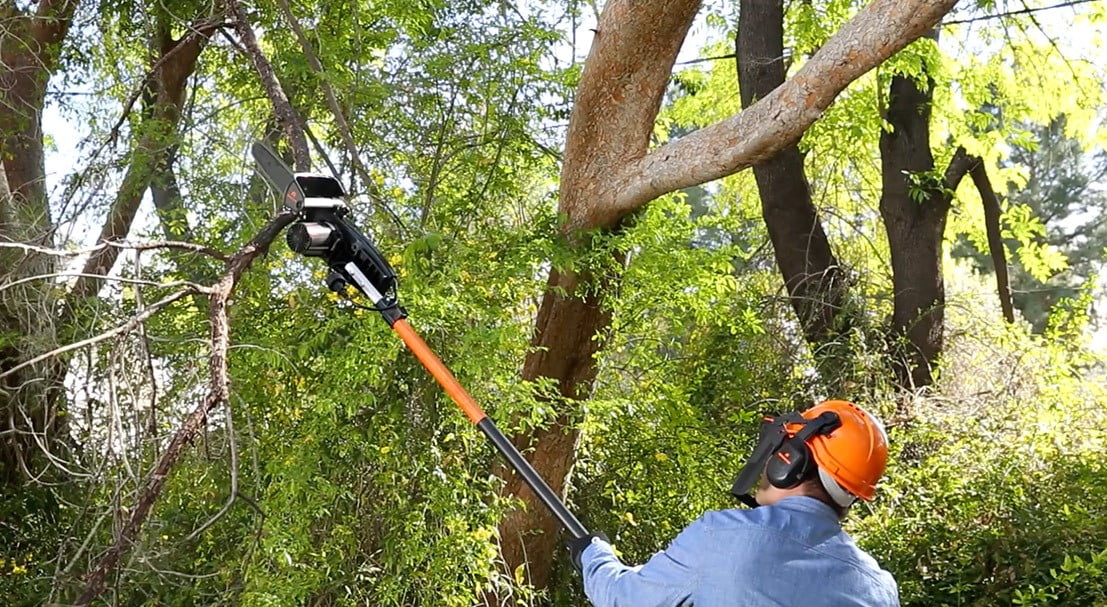 Longest Pole Saw Buyers Guide
Trust us, being introduced to the best pole saws doesn't make you an expert at choosing the best one instantly. It's like being told to choose between a V12 and a V16 engine when you don't even know what horsepower stands for.
But, don't worry; we're here with the nitty-gritty of pole saws that you should keep in mind while buying one in our extended buyers' guide. We'll begin with the types of saws and further explore the key factors to double-check while buying a pole saw.
Types of Pole Saws
Mainly, you'll find four types of pole saws in the market, such as-
Corded electric pole saws-

These are an ideal for the homeowners, as they are incredibly lightweight, low-priced and run on electricity

Cordless electric pole saws-

These serve the same purpose as the corded electric ones, except for offering higher portability and user convenience

Gas-fueled pole saws-

These are more appropriate for the professionals, as these are very powerful and can be used anywhere without being dependent on a power source

Manual pole saws-

These are very basic in terms of specifications, and are suitable for pruning and trimming gardens
Now, coming to the key features, you have to keep these following factors in mind while buying a pole saw!
Cutting depth
First and foremost, a saw that doesn't offer you a satisfying cutting thickness has ultimately zero value in terms of usability. If you're a professional, you should aim for the models that provide a minimum depth of 5 inches. Otherwise, if you're a regular homeowner, 1.5-2 inches will do. 
Maximum reach
The key benefit of using a pole saw is that it can reach heights that you cannot usually. On that note, always make sure that you're buying a model that offers a minimum height of 14 ft. Otherwise, it wouldn't be of much use to you.
Weight 
Remember that you have to hold these products upwards for a long time while working. In this situation, it is wise to opt for a lightweight pole saw, which otherwise will leave your arms fatigued after a harsh pruning session. Plus, a lightweight model also helps in maintaining higher stability, which is fundamental while using a pole saw.
Our Verdict On Longest Pole Saws
Pole saws aren't as simple as they were 7-8 years ago; technology has evolved rapidly, and so has this piece of equipment.
There are specs you've never heard of before, and it's better to be guided by an expert opinion while buying a pole saw. On that note, we hope that our extensive guide has been of help to you. Now, let's run a final highlight of our top picks.
If you're prioritizing pole length the most, we'd recommend you to buy the Silky 177-02-41 model that offers an impressive reach of 26 ft. If you're looking for a lightweight model, the Sun Joe SWJ802E unit weighs as less as 7.9 pounds. If you want a pole saw with the most profound cutting thickness, the Oregon PS250-E6 model can cut through 8 inches with precision, cutting thick branches comfortably has never been easier.
With that being said, we take your leave for now. But, we'll be back soon with more exciting product recommendations to make your lives easier.
Till then, stay connected!
Related Articles
13 Best Wood Routers for Professionals & Amateurs Alike
Simply the Best Stained Glass Ring Saws
49 FREE DIY Router Table Plans For an Epic Home Workshop
10 Best Shop Vacs For Dust Collection
Who Makes The Best Lawn Mower Engine Today?
11 Best Chainsaw for Milling Lumber