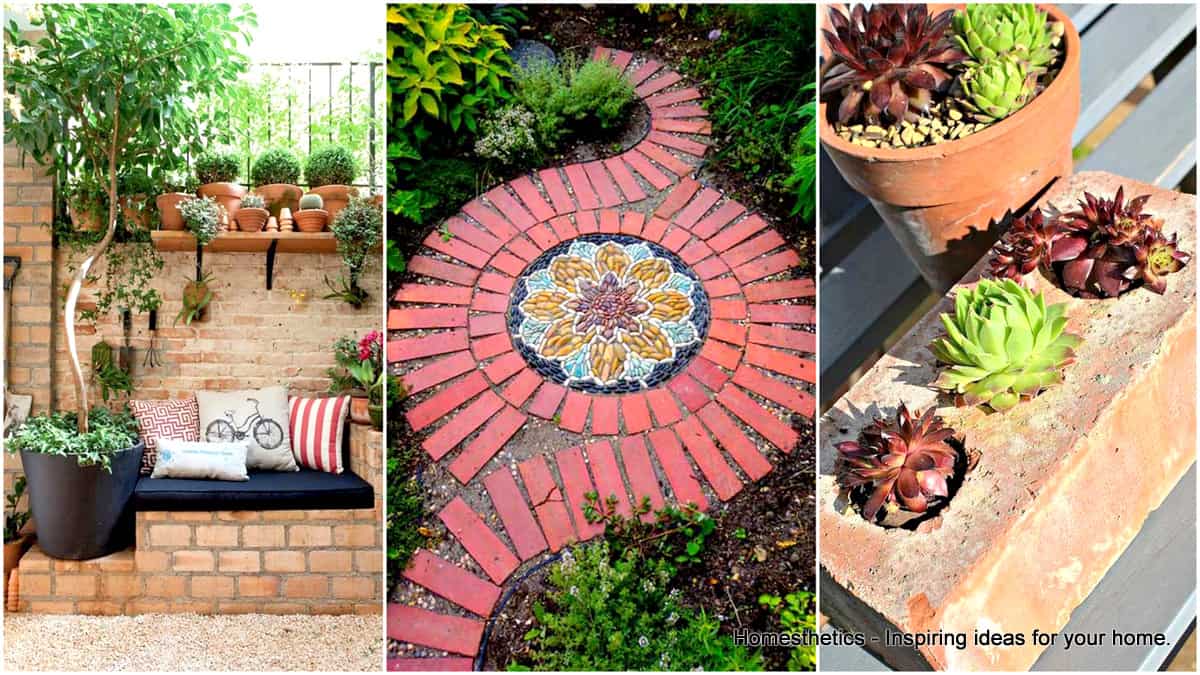 Bricks are small simple elements, the clay building material has been awhile and its presence surely did not go unnoticed. Present in most households in one form of another, the rectangular volume is renowned for its coziness and warmth and is able to create a strong, very desirable feeling of appurtenance in its spatiality.  Brick projects are very sought as a result and in the following list we have curated no less than 23 do it yourself projects that use bricks as a foundation.
The project do vary from easy to realize fire pit projects up to bookends and insect homes, showcasing the brick as a resilient, versatile material that should not be overlooked when it comes to crafting. Cast a glance on the gallery and surge inspiration, we would love to hear your opinion on the subject in the comment section below.
Beautiful DIY Brick Projects
1. build  a fire pit at home
Simple do it yourself project that improves your outdoor experience a great deal; make the most out of your backyard and spend quality time outdoor with family and friends around the firepit you`ve built.
2. realize simple insect homes in minutes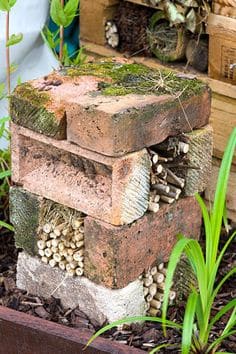 Simply place bricks on top of each other and insert various types of twigs and leaves to invite the little ones.
via Pinterest
3. Use ombre painted bricks as bookends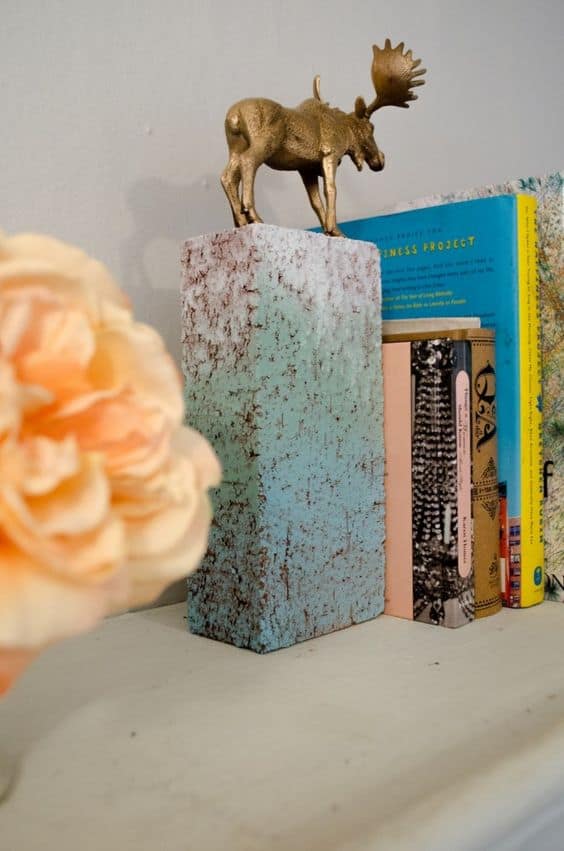 The beautiful craft can be realized in minutes, the gradient can wear any color and it can be finished in different textures, smooth clean ones for minimalist interior decors, rough, highly textured finishing for shabby chic ones; experimenting with home crafts is insanely rewardful.
via Pinterest
4. create brick tea lights for festive entertaining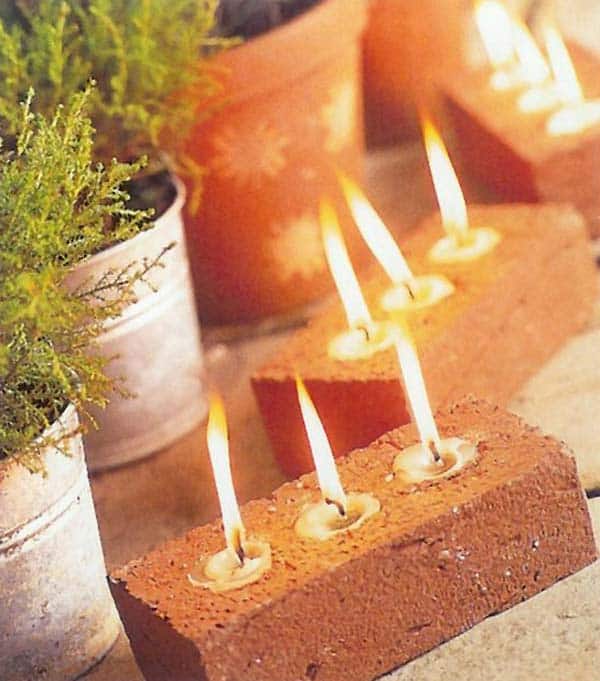 The simple craft can be realized by anyone with ease. Various drill bits can help you create the candle socket in minutes. You can use these to cozy up festive summer nights.
5. build a twisted brick garden arch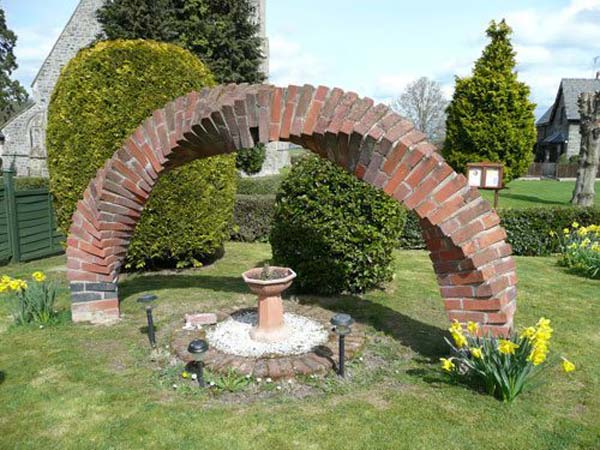 An interesting project that requires experience and time to realize. We encourage you not to attempt this project alone.
6. adorn a waterfall in the corner of your backyard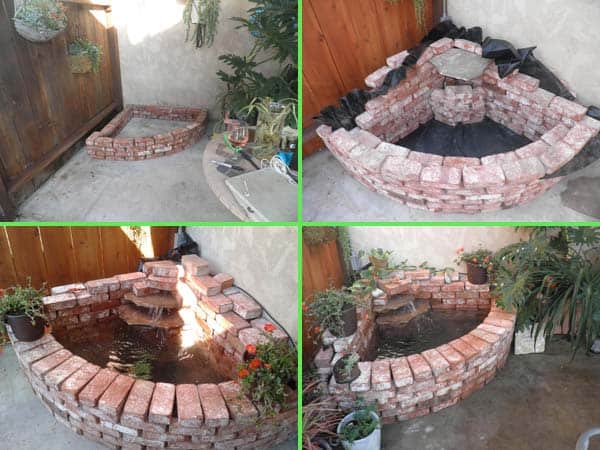 A simple waterfall can be realized through multiple means, bricks are an option, they emphasize through their presence thanks to their texture and they`re inexpensive.
Tutorial @ fishpub.blogspot.com
7. build a colorful joyful yard with bricks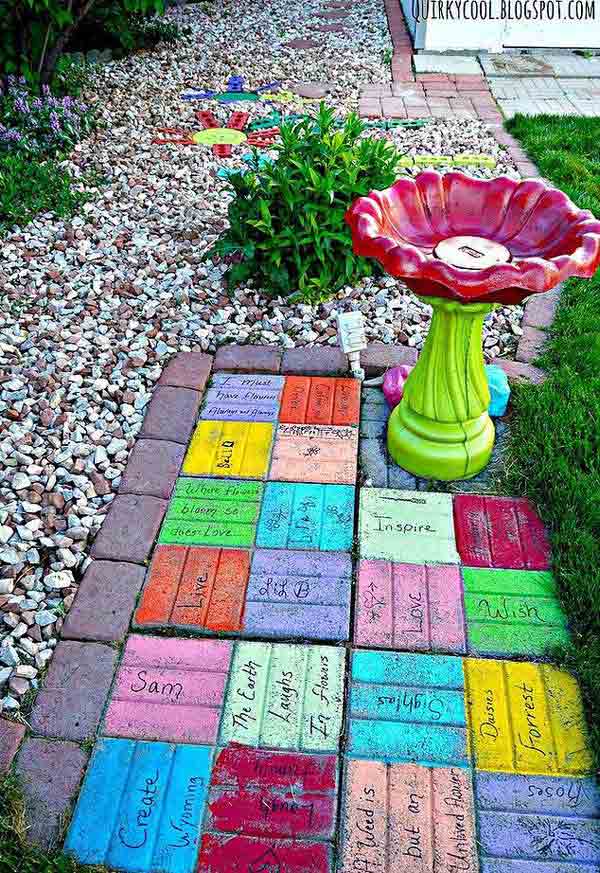 Give color a chance. Insert it through bricks and stepping stones and you can remove it at any given time with ease. Invite your children to play outside, help them customize their own playground.
Tutorial @ quirkycool.blogspot.com
8. construct a brick spiral garden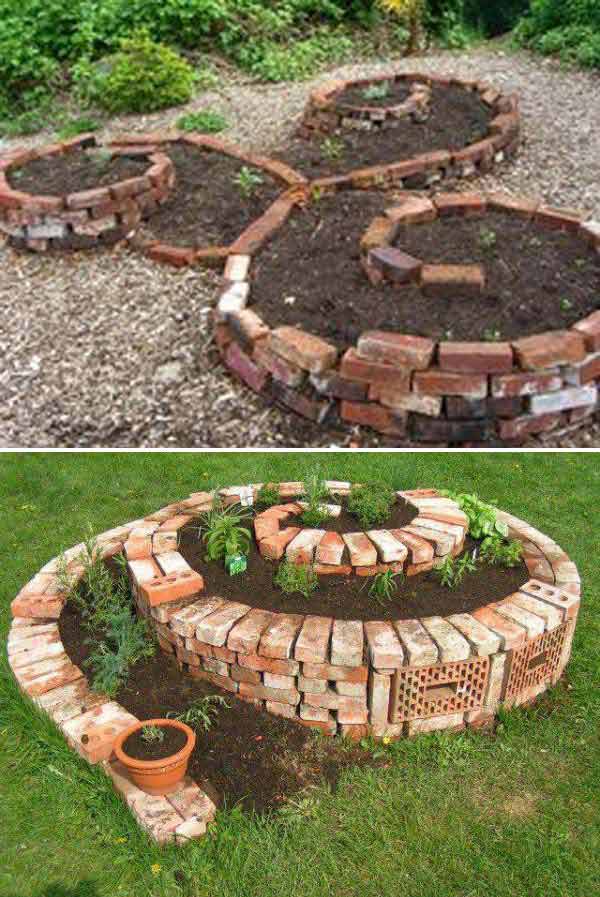 A spiral realized with bricks in your garden gives you a great opportunity, terraced organic layers for your herb or flower garden.
9. use bricks to create edging for your garden beds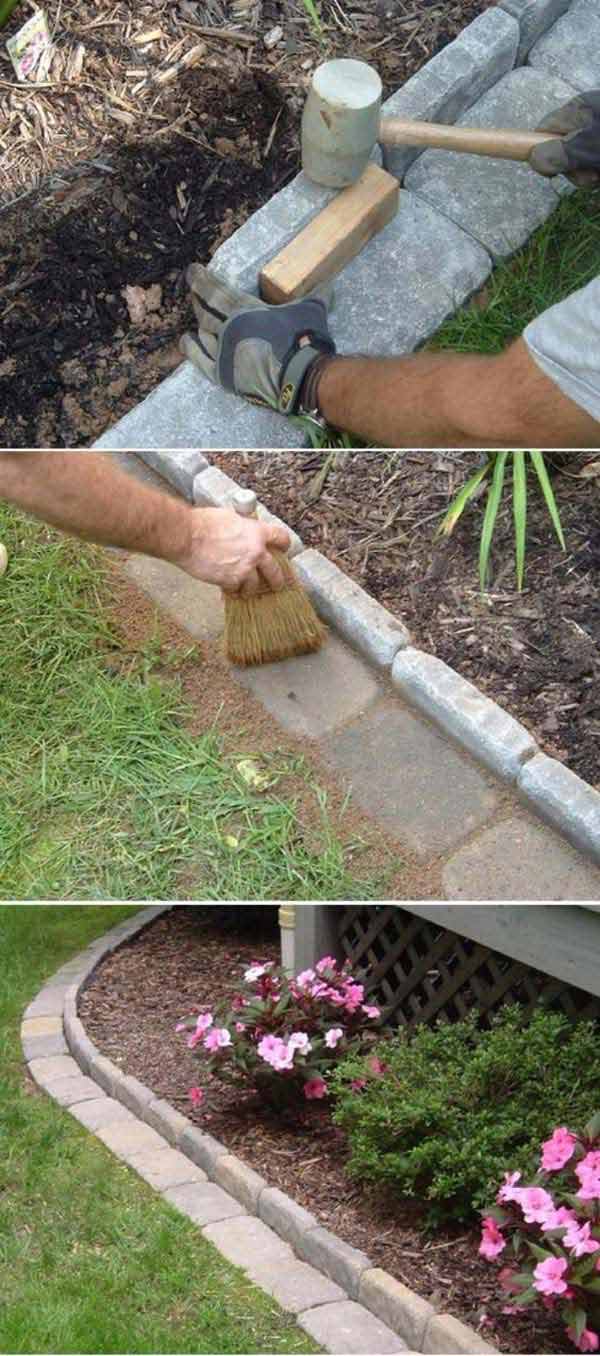 Improve your curb appeal with a really rewardful project that can be realized with ease at home; it requires no special tools beyond time and patience.
10. painted faux brick walkway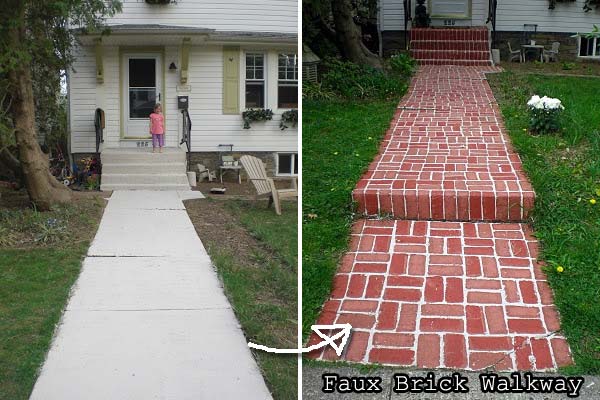 This would definitely be everyone`s cup of tea and the effect might fade in time, requiring periodic maintenance but the faux brick walkway is definitely  a change worth considering. You can have a great impact on your curb appeal with little to no costs.
Tutorial @ thepaintedhome.com
11. a simple fire pit can be built with simple bricks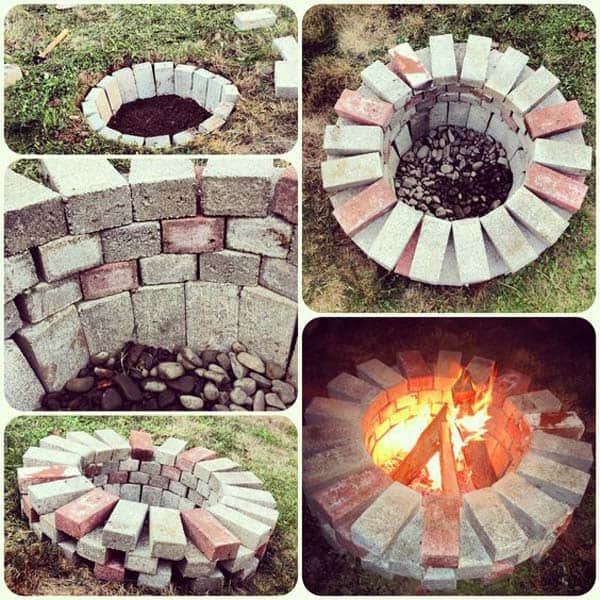 Fire bricks are not mandatory nor is the custom shape; regular bricks can do the job with ease and they add a playful, interesting spacing.
12. paint old bricks to look like books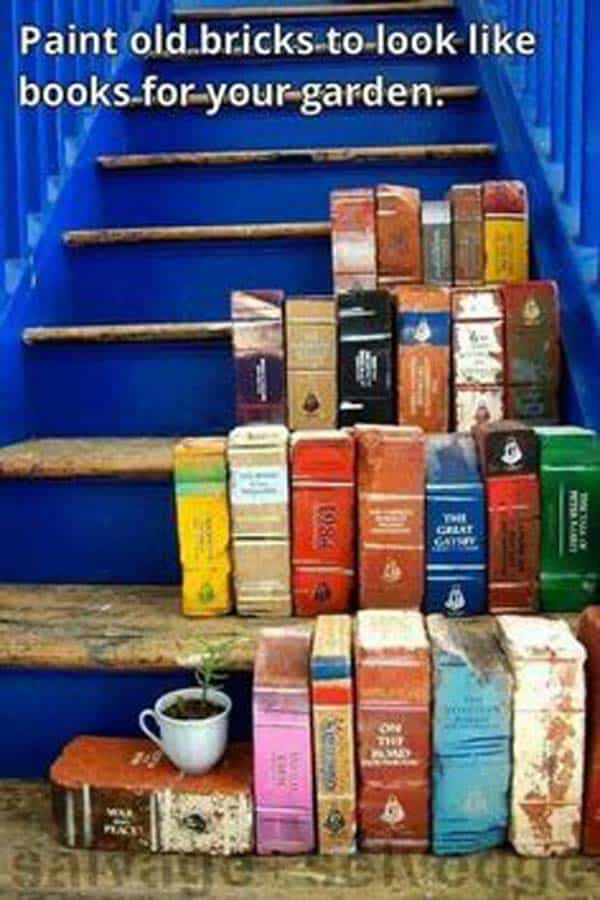 A really stunning project that can be used indoors and outdoors alike. Get creative with the brush and paint different models to create the natural vibe of a real library.
13. raise your brick birdbath stand to new heights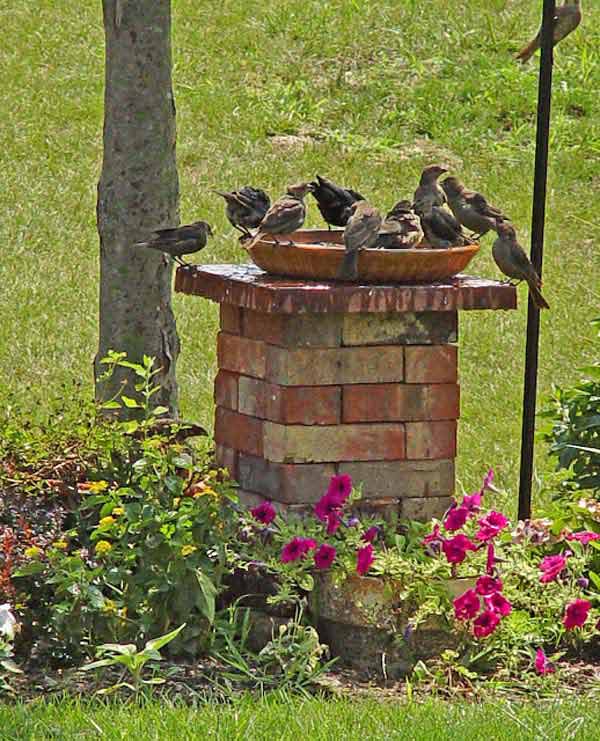 Improve the height of your bird bath stand or create a new one altogether; the brick texture certainly fits in the garden and the little creatures will surely appreciate it.
14. build a brick tree ring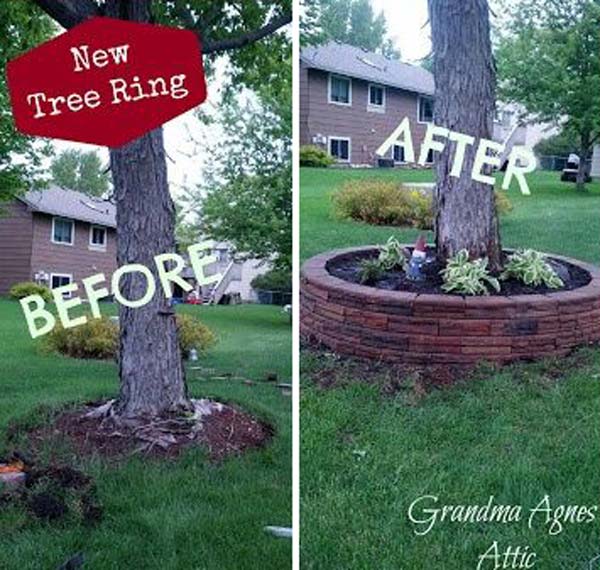 Your legendary tree deserves a special treatment. Improve your garden aesthetic values by edging the most valuable trees in your yard. The new soil can adorn flowers.
15. use bricks to create a cozy seating area

Immersed in vegetation bricks do look extraordinary. Nestle a cozy seating area or transform your potting station with bricks.
16. use bricks to highlight your garden arrangements

Terracotta pots combined with bricks can work beautifully but be carefully not to overdo it. Here the river rocks brake the continuity of color and create contrast.
17. upgrade your walkway with bricks

Brick walkways can change everything, their magical fairy-tale charm combined with greenery and wooden textures cannot be challenged.

Outdoor features can greatly enhance time spent outdoors, easy to realize and inexpensive the barbecue-fireplace unit is a recurrent element in today's backyards.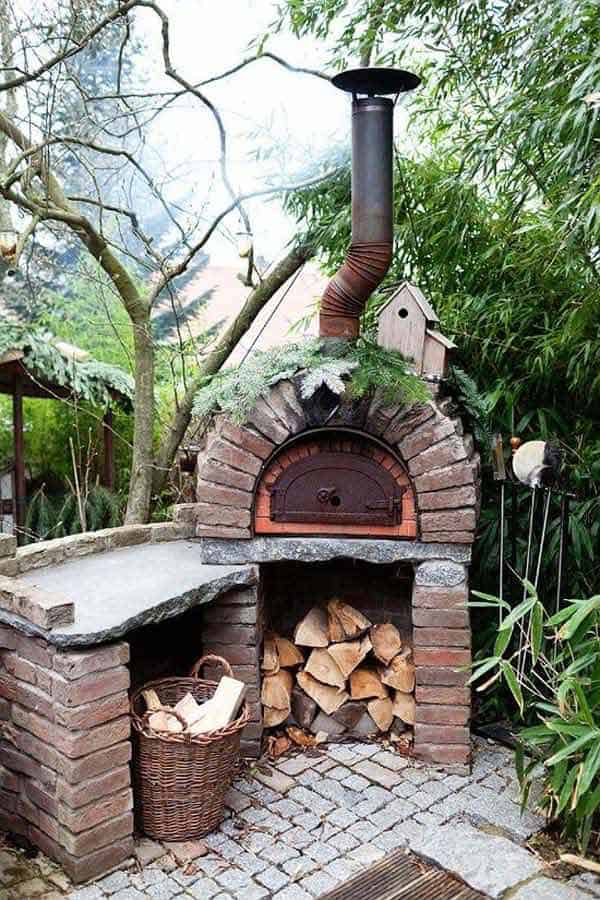 19. sculpt brick wall decor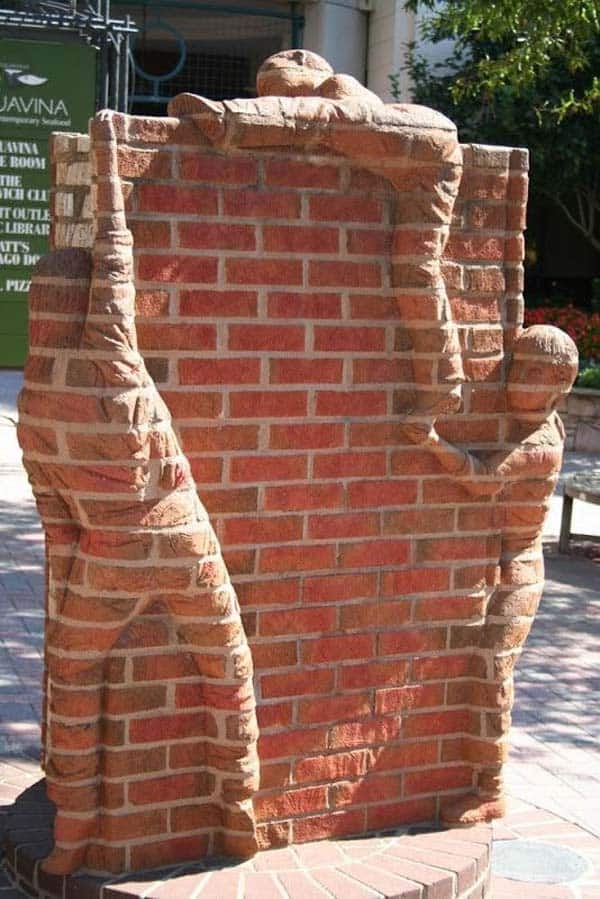 20. stack landscaping pavers into a beautiful fire pit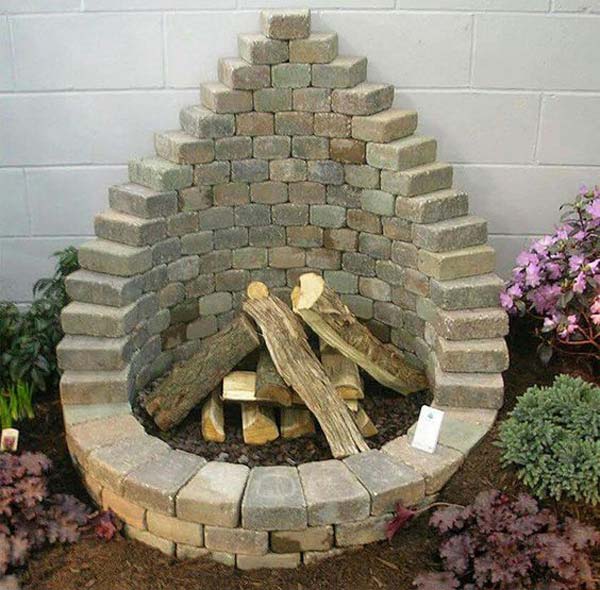 21. sculpt your pathway with bricks and river rocks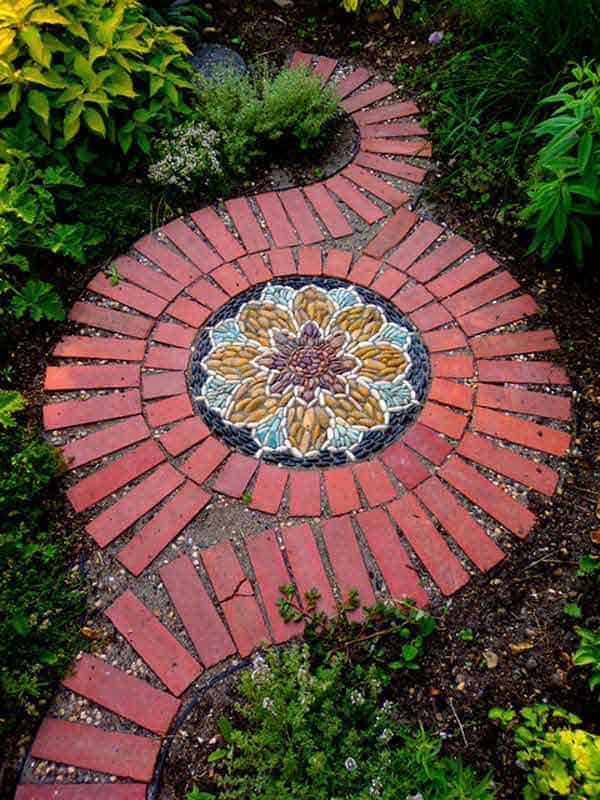 Mosaics pathways are remarkable showcases of creativity, plan ahead, start with small scale projects and beautify your garden.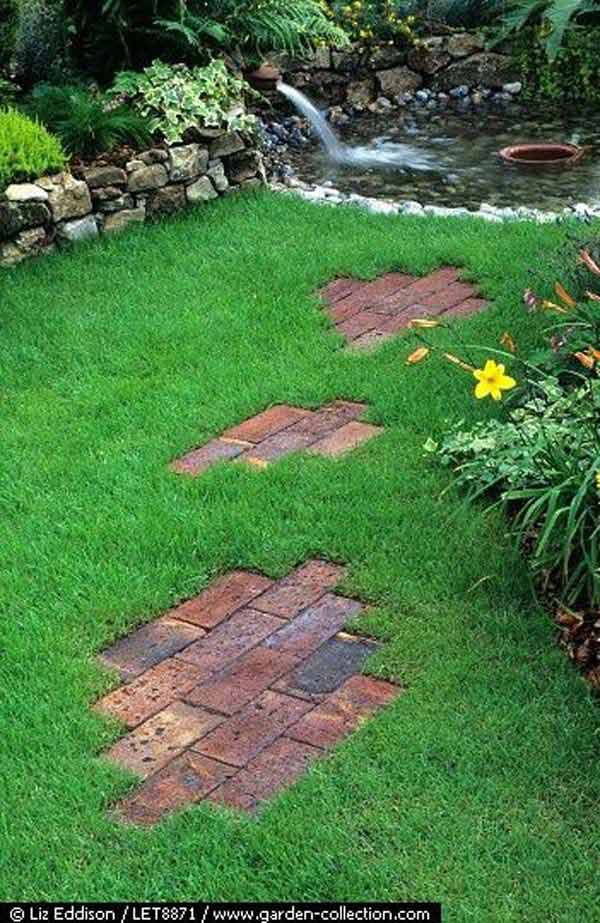 22. diy herb markers for your garden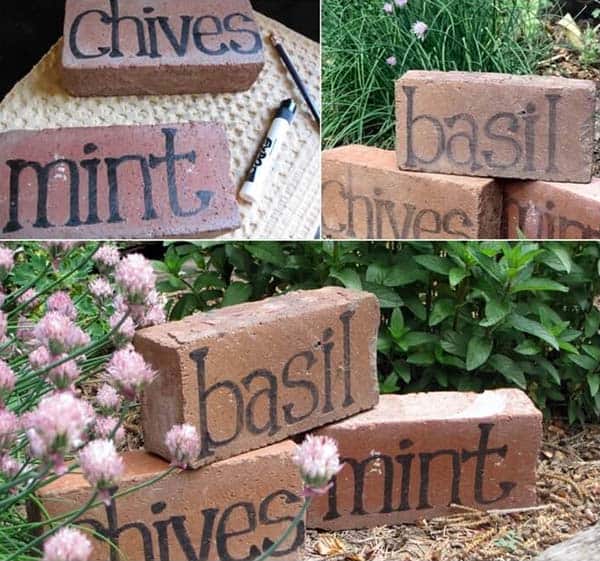 All you need is a marker and a few bricks. Stencils can be used to obtain a custom effect through various fonts.
Tutorial @ simpledetailsblog.blogspot.com
23. update your front porch with brick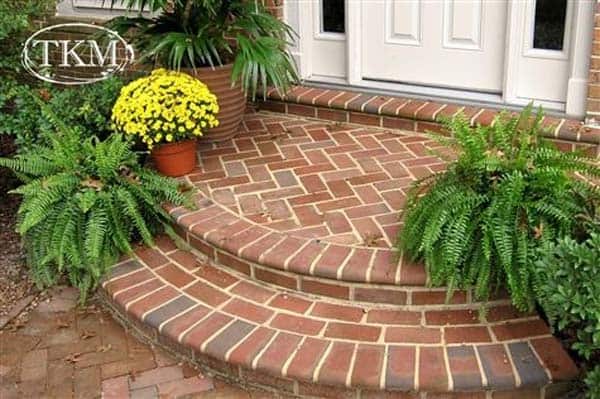 Whether your front porch is straight or curbed, bricks are up to the task and a well executed project will surely have an impact on the curb appeal of your home.
Bricks are interesting elements, elements that summon a feeling of coziness and warmth, very much like wood does. Needless to say that the wood and brick combination simply cannot fail and the aesthetic values of this setup will stand the test of time. These being said, the resilient nature of bricks recommends the item for outdoor crafts in particular, as it`s able to withstand temperature changes brilliantly. How do you use bricks?
We would love to hear your valuable feedback on the subject in the comment section below.
Related Articles
10 Best Folding Lawn Chairs to Rock
53 of the Best GreenHouse Plants for Happy Gardeners and Gardens
72 DIY Greenhouse Plans to Build Easily in Your Own Garden
5 Best Weed Barriers and Landscape Fabric for Happy Gardeners
Best Lawn Edging for a Legendary Garden 
5 Best Self-propelled Lawn Mowers Right Now
The 5 Best Lawn Mowers for St Augustine Grass Right Now
53 of the Best GreenHouse Plants for Happy Gardeners and Gardens
72 DIY Greenhouse Plans to Build Easily in Your Own Garden
5 Best Weed Barriers and Landscape Fabric for Happy Gardeners
7 Best Greenhouse Plastic | Buyer's Guide and Reviews
13 Best Trimmer Lines | Multi-Sided, Round, Square, Twisted & Serrated
8 Best Dump Cart for Lawn Tractor & ATVs | Buyer's Guide and Reviews
7 Best Shoes for Cutting Grass Comfortably | Buyer's Guide
11 Best Fertilizer for Citrus Trees Right Now
13 Best Poison Ivy Killer Reviewed
13 Best Fertilizer For Blueberries 
13 Best Organic Lawn Fertilizer 
13 Best Fertilizer for Tomatoes  
13 Best Fertilizer For Succulents Reviewed 
13 Best Fertilizer for Hydrangeas 
13 Best Fertilizer for Hibiscus 
13 Best Liquid Lawn Fertilizer Right Now