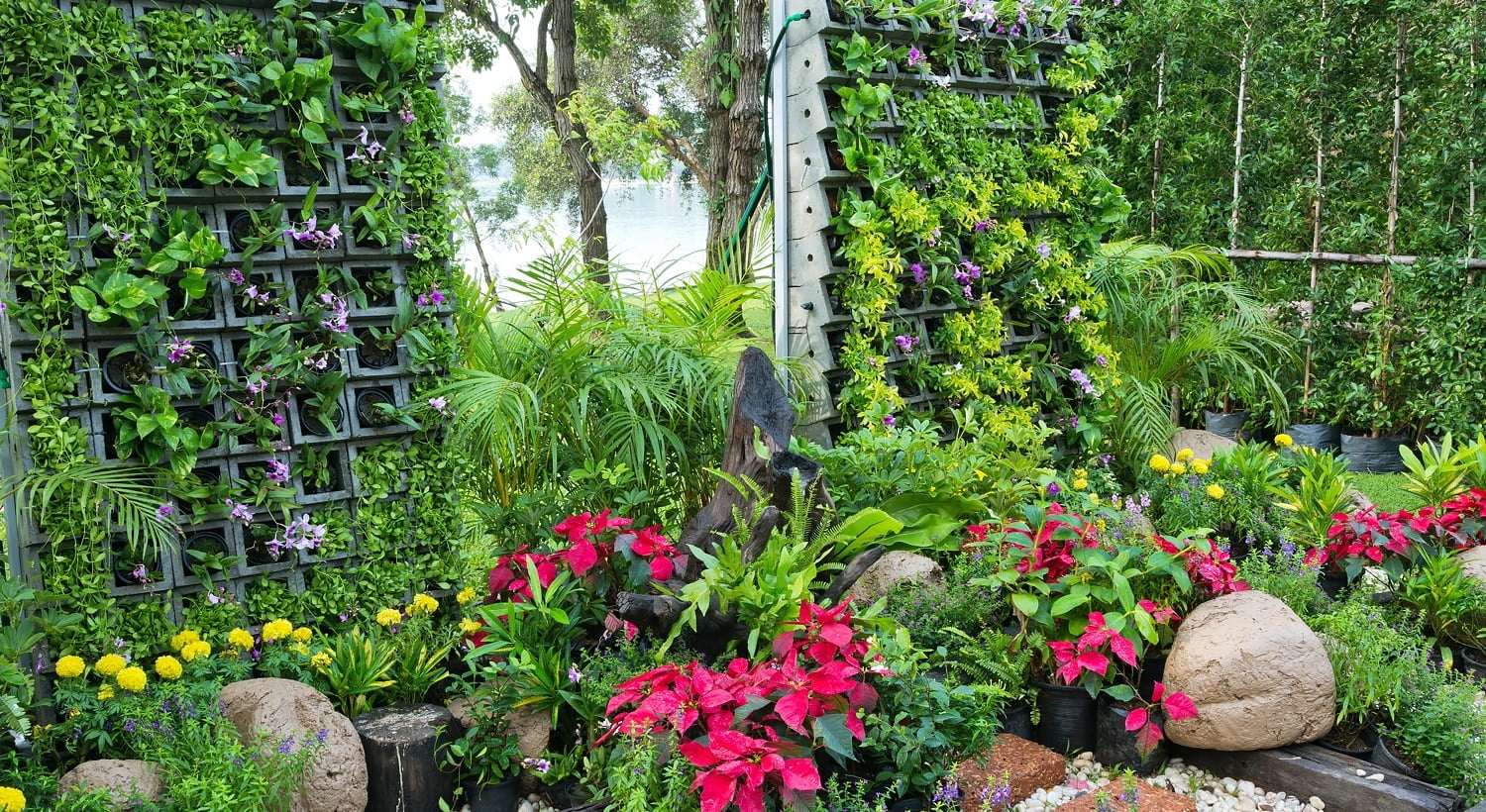 Do you want to try your hand at gardening but simply don't have enough room at home? Consider vertical gardening – a trend that's becoming increasingly popular!
Many people struggle with space in their homes, whether it is to introduce a new gaming center, kitchen island, or even just a few plants. If you have been considering trying the art of gardening but can't find enough space for it, we've got the solution for you.
Vertical gardening is a recent trend that is becoming popular because of its practicality and aesthetics. This trend involves planting upwards instead of downwards. Vertical gardens are space-saving, look great, and most of them can be fun DIY projects to enjoy.
You can recycle almost anything – from old cans to teapots, birdhouses, pencil stands, and so much more. So, if you're ready to take the next step but are stuck with ideas, we've got 59 creative picks for you.
Now, without further ado, let's begin!
Best Vertical Gardening Ideas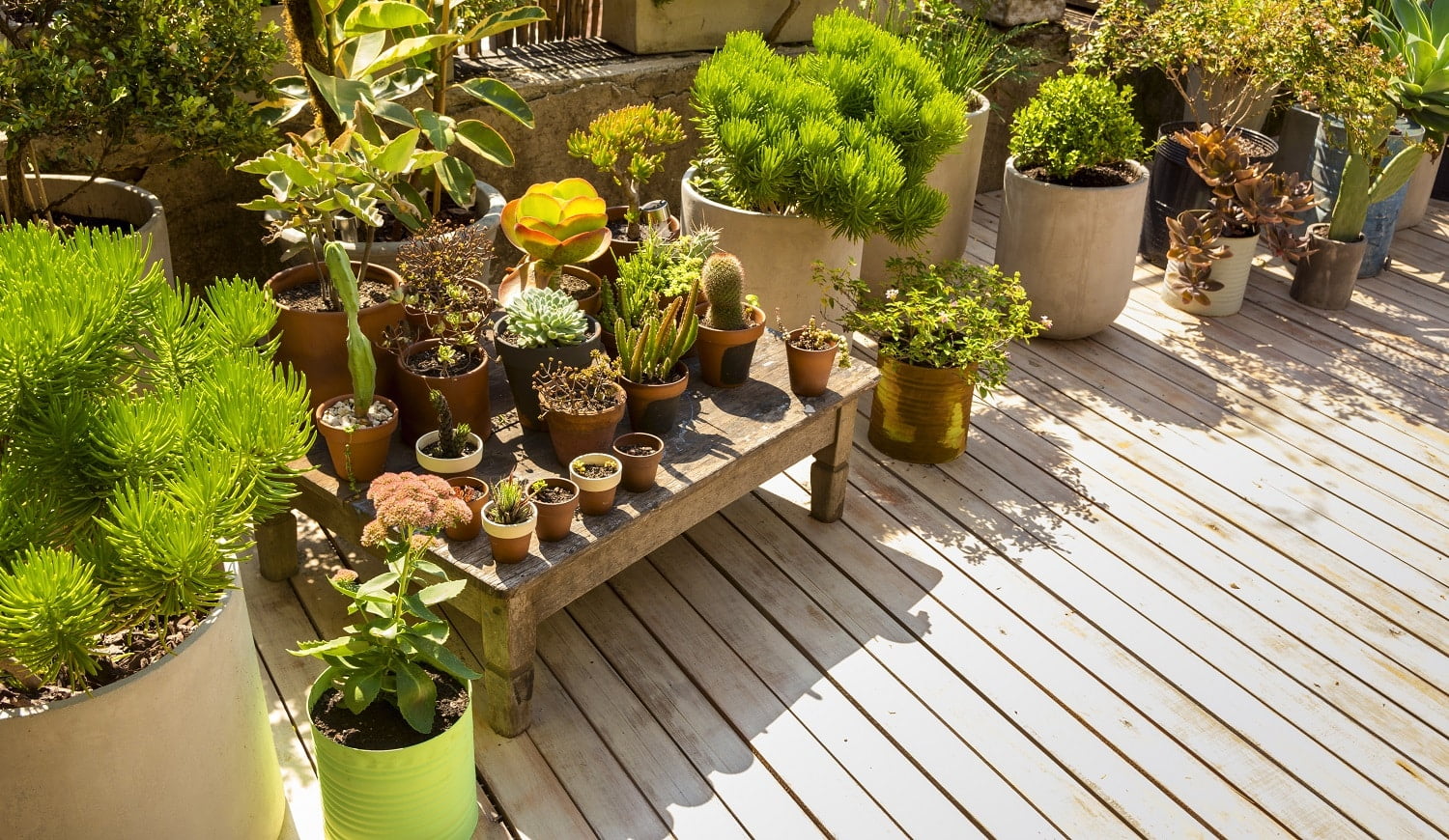 Landscape Fabric Garden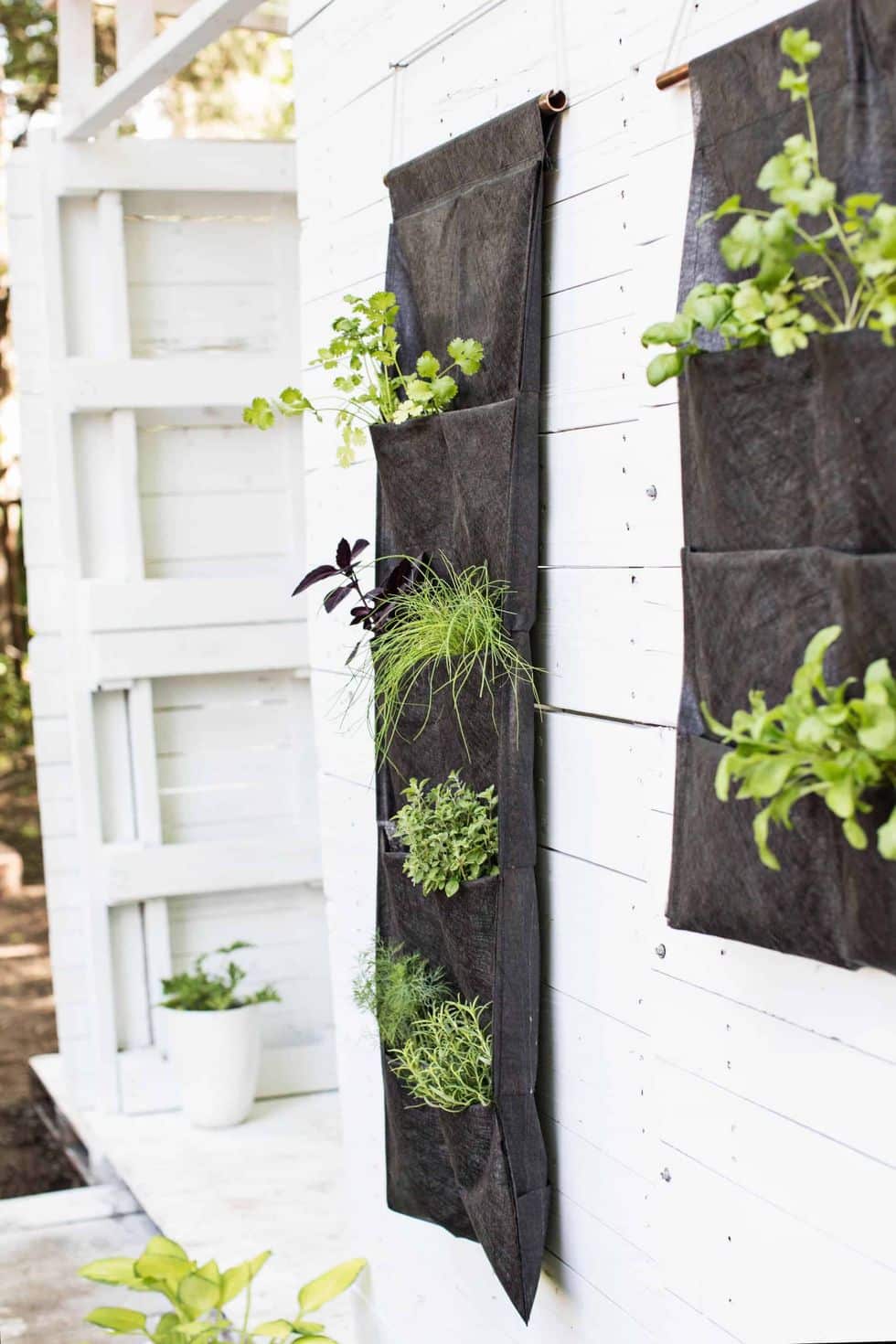 For our first vertical garden idea, we decided to use landscape fabric as planters. The material is soft and breathable, allowing the soil to breathe freely without restriction. Moreover, this idea packs quite a visual punch. You can choose to create more than one' pocket' vertically and pot different types of plants for added aesthetics.
This vertical garden idea is relatively simple to recreate at home. All you need is some landscape fabric, needle, thread, and scissors. Assuming you don't already have your seedlings purchased, you can buy different colored plants to add appeal to the vertical garden.
Pastel Planters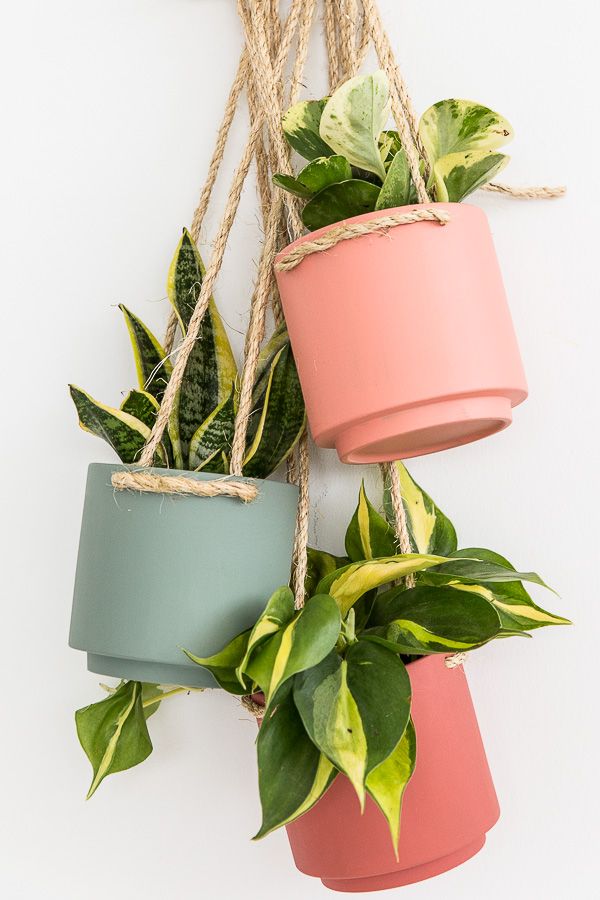 Our next idea involves using planters you already own (or getting a couple of new ones, if you don't have any at home). They are relatively inexpensive and will not create a dent in your expenses.
Of course, you can also use old cans that you can easily recycle. Bring out your acrylic paints and use pastel shades for this idea. The result is something sophisticated, minimalist, and simply gorgeous.
Use ordinary rope and a puncher to create holes in the can or planter. Thread the rope through them and hang your planters, complete with your new seedlings.
Recycled Plastic Containers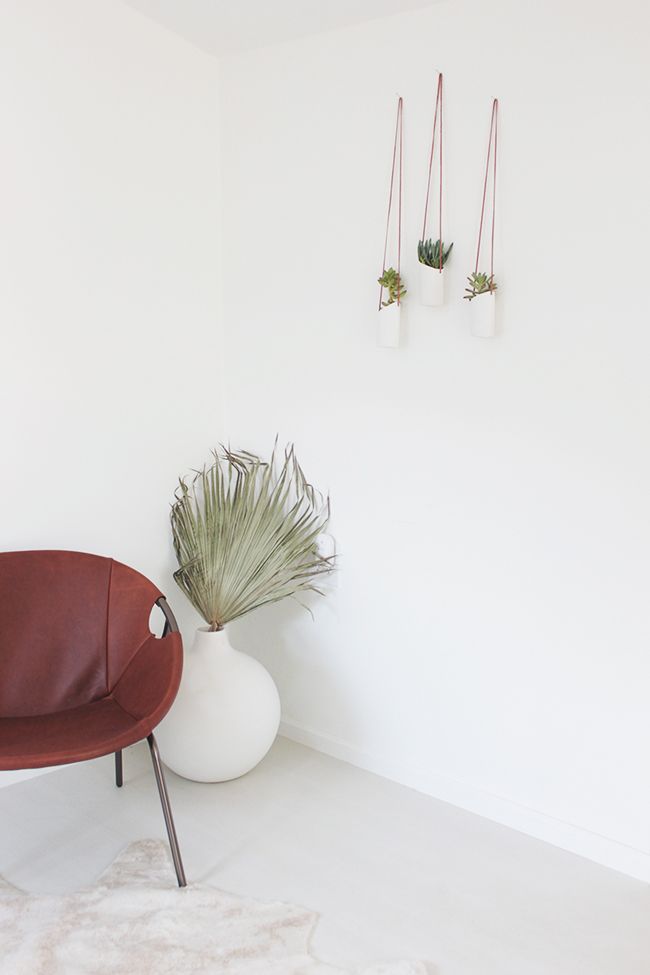 Let's face it; all of us have one too many plastic containers lying around the house. For our next vertical garden idea, how about recycling some of these old containers to create a beautiful vertical garden for your home?
Paint the plastic containers with any shade you wish – white, black, or multicolored. Make sure to choose a shade that complements the color theme of your home.
You can even punch a few holes in the containers to allow proper air circulation. It's really that simple! Plant a couple of succulents or evergreens for your indoor vertical garden.
Old Wooden Boxes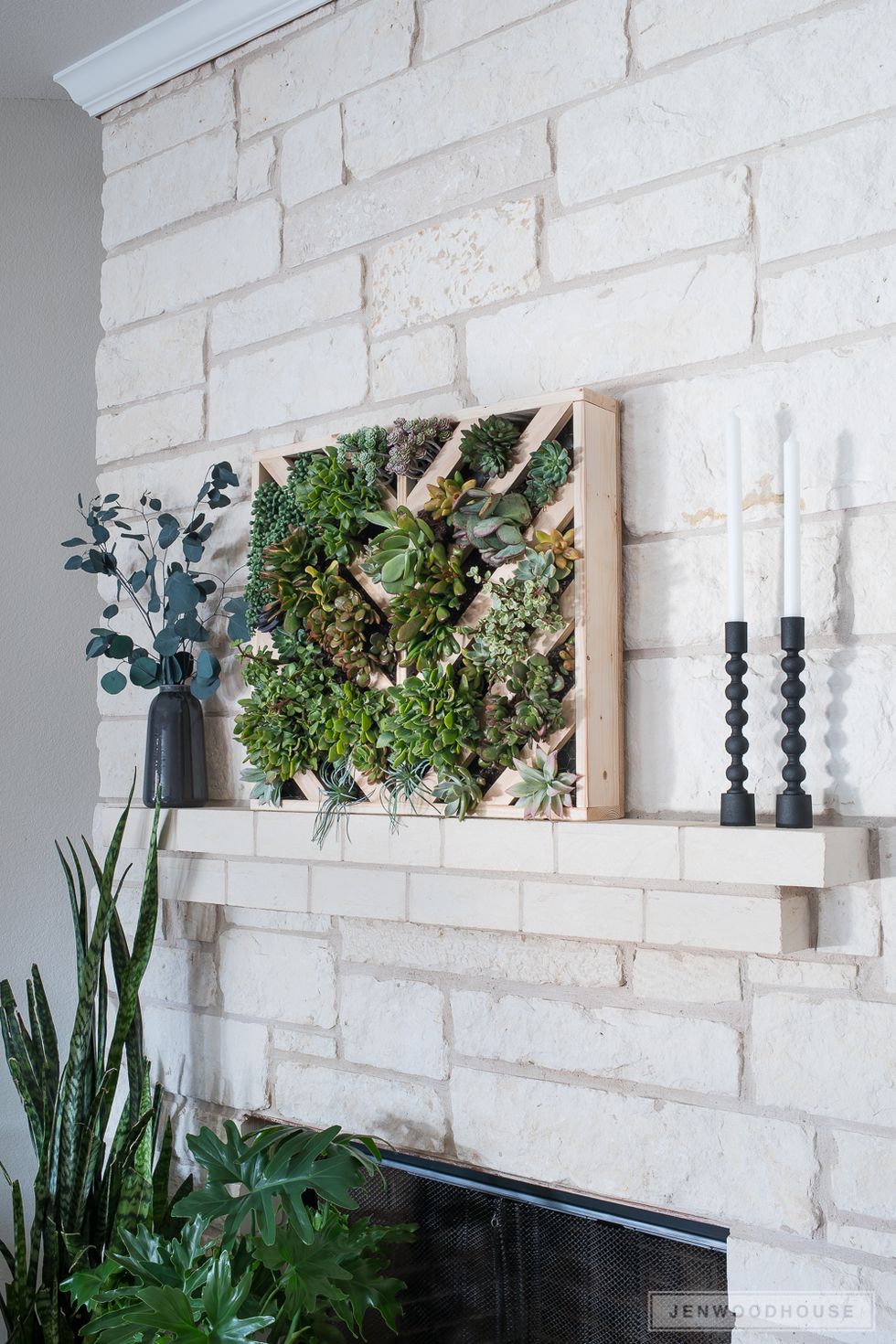 Do you enjoy spending time on DIY projects? If yes, then you'll love our next vertical garden idea that you can make entirely from scratch.
For this idea, pick out a few old wooden boxes (could be jewelry boxes or anything you think is usable). If you want to get really creative, take a saw and a hot glue gun, and create shelf-like inner borders in various shapes. If not, just glue a couple of boxes together to create a unique geometric shape.
Place cactus potting mix and your plants, and your vertical garden is ready to be hung!
Ceramic Pots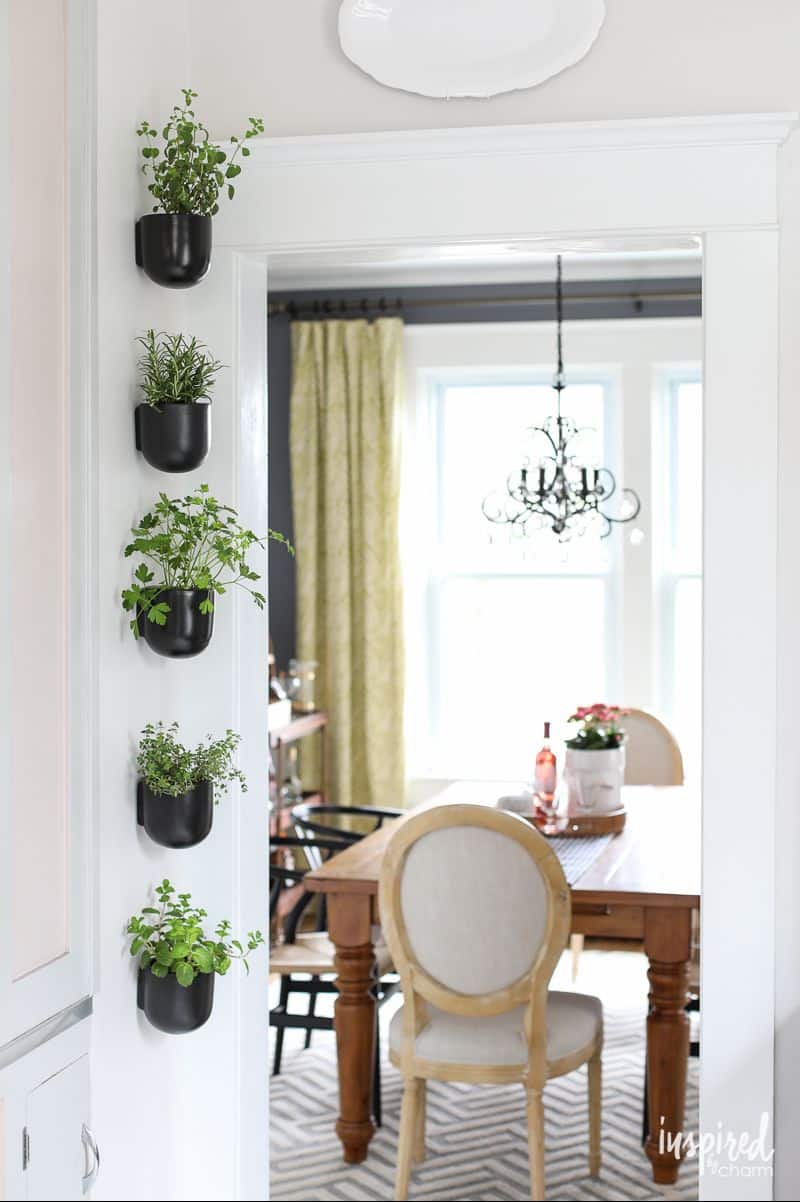 If you find yourself constantly running to the market to buy herbs for your dishes, how about growing them instead? For our next creative vertical garden idea, we present ceramic pot vertical gardens that are ideal for your kitchen herbs.
The best part about this DIY project is that you can customize the pots in any color. Paint them a classic white or black that will complement most interiors, or opt for a more creative project by painting designs and patterns using acrylic paints. Remember to use safe paints that will allow the soil to breathe easily.
Chicken Wire Fence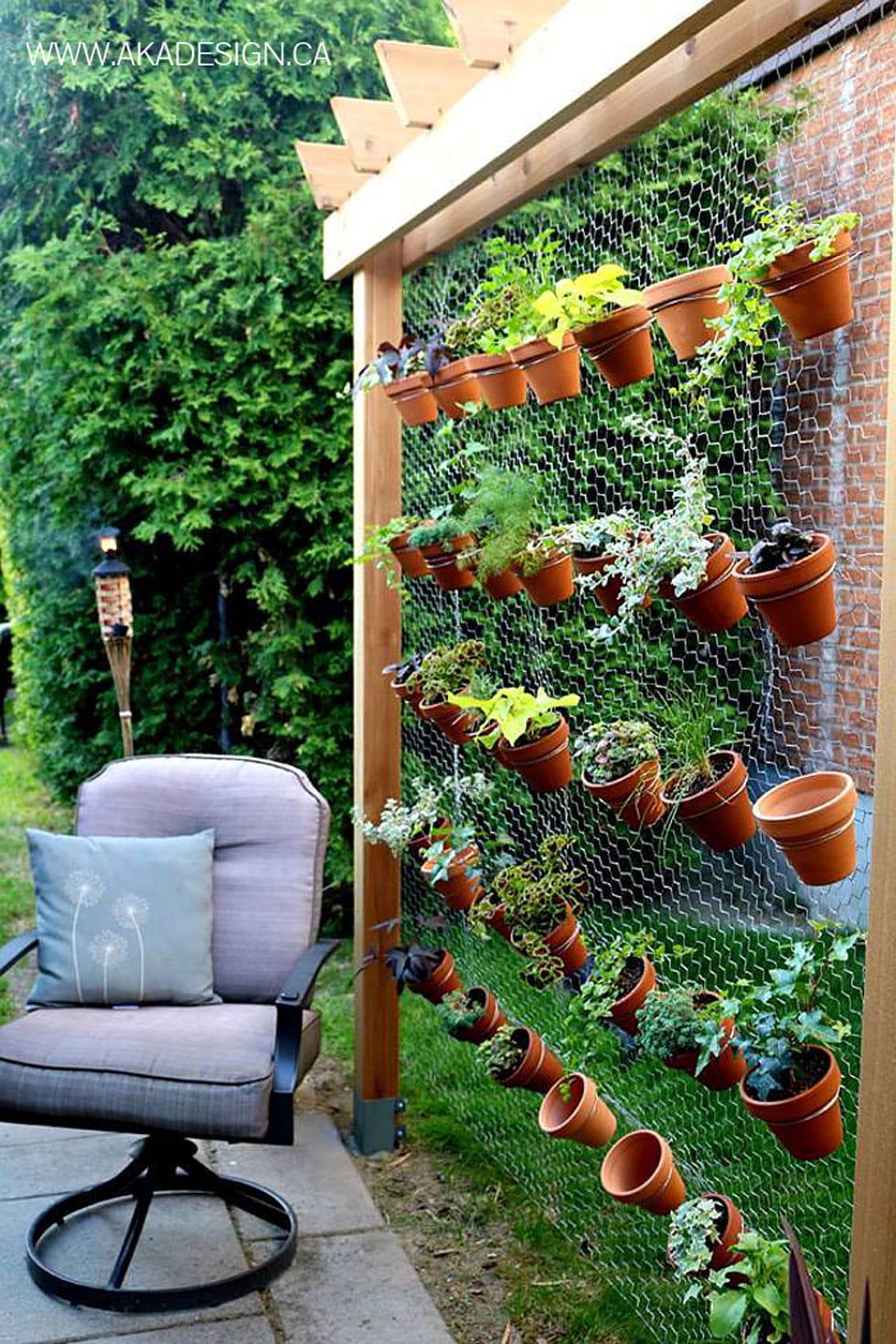 Our next idea features a time-consuming yet straightforward DIY project that is fun to create and looks super aesthetic. If you have an extra chicken wire fence lying around the backyard, it could be the perfect vertical garden setting for an outdoor garden.
You'll need a few pots (or as many as you wish to hang on the fence). Attach wire around the necks of the pots, hanging them vertically from the wire fence. Pot all your favorite plants in this outdoor vertical garden, remembering to trim off any excess wire to avoid injury.
Tin Can Planters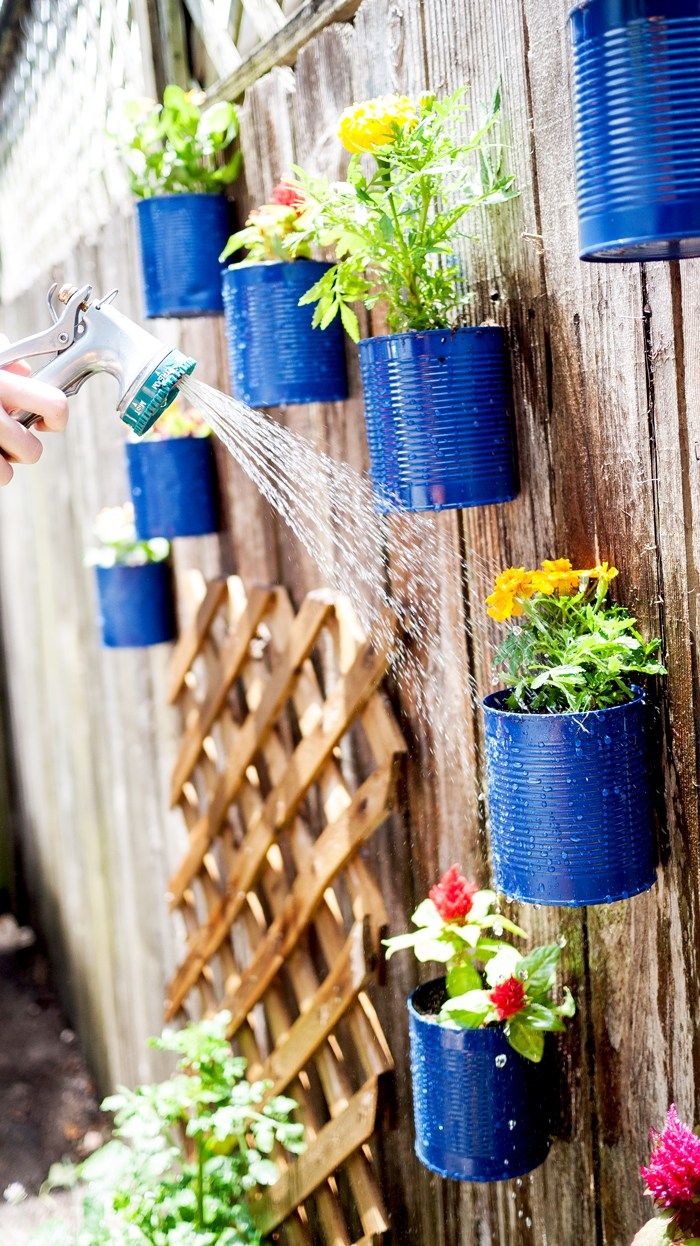 We all have old tin cans lying around our homes. Maybe you might have old beer cans, paint cans, or even canned fruit and other foods lying around. Well, these cans are perfect for making an innovative DIY vertical garden.
Get your paints and brushes out because this idea requires some creativity on your end! Paint the recycled cans in bright shades that will add a pop of color to your indoor or outdoor garden. Use wire or ropes to hang the cans from a fence or your walls. Place your favorite potted plants, and voila!
Diamond Hanging Planters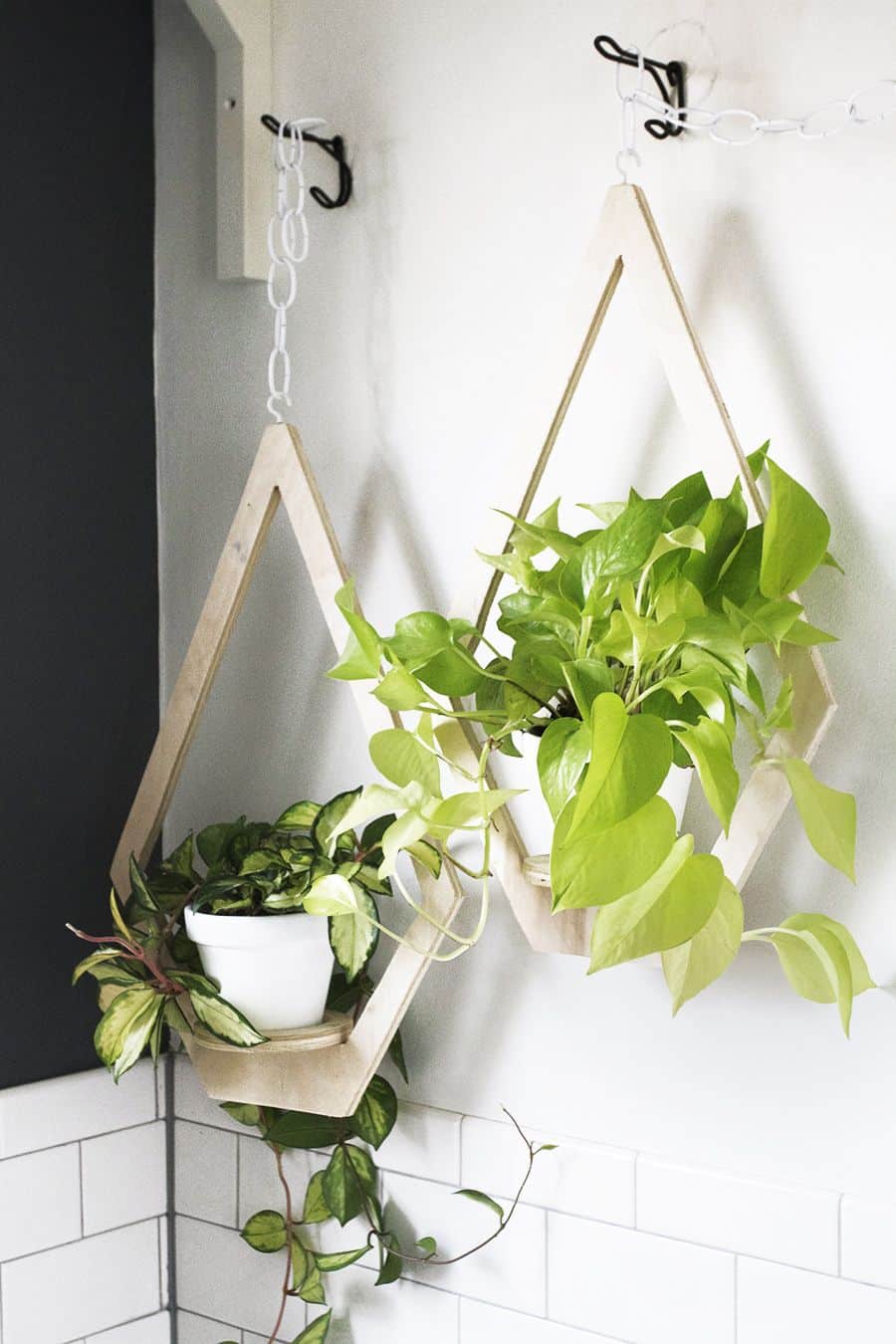 Here is another great DIY project for the creative bugs among us. Create your own hanging planters using old hangers, plywood, hooks, a drill, some screws, and finally, your pots and plants.
Using the correct dimensions, cut out a circular base on which you will keep your ceramic or plastic pot. Cut off the horizontal base of the hanger and add a diamond-shaped base instead. Stick the rounded pot base, spray paint the pot in your favorite color, and that's it!
Vertical Box Garden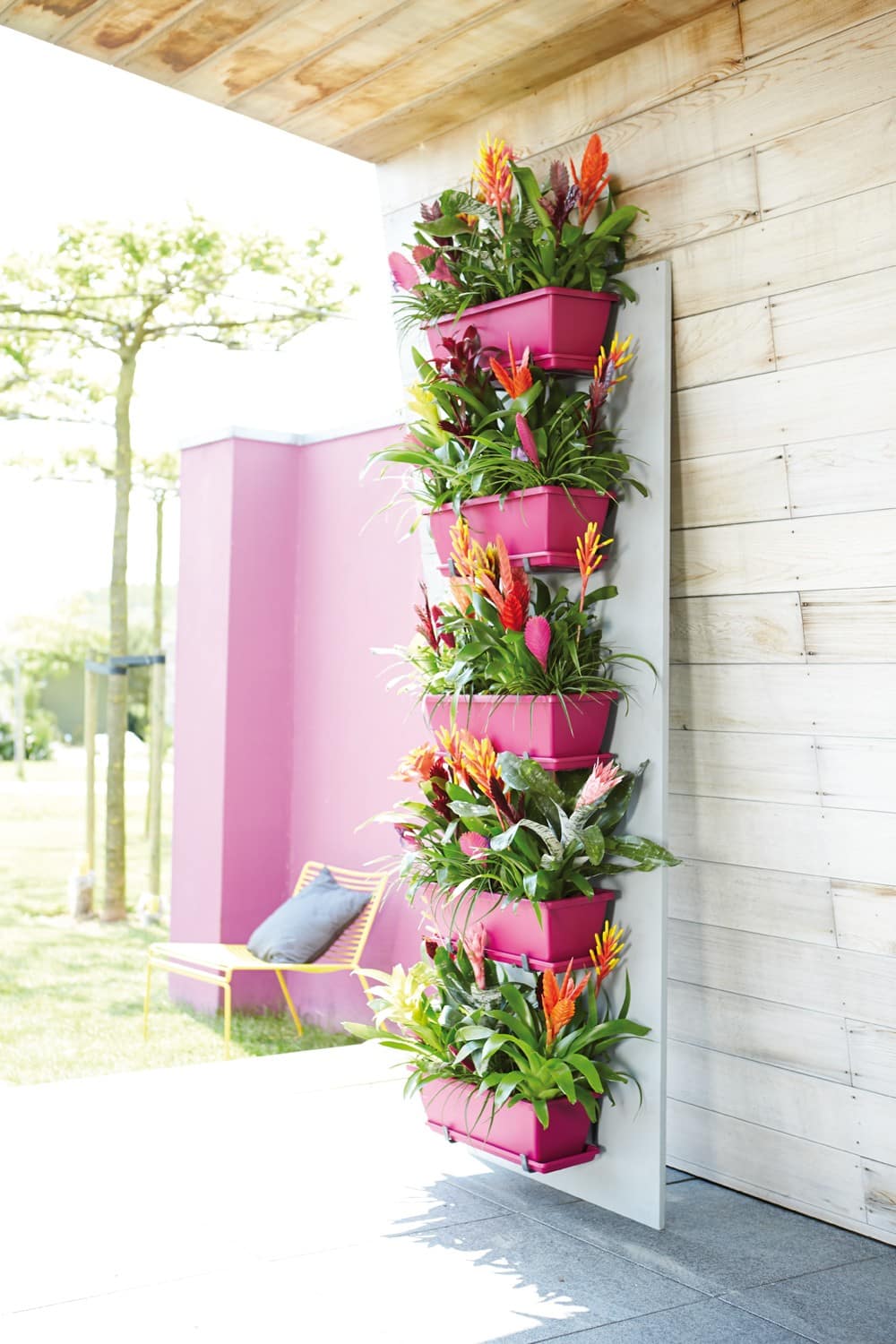 Our next vertical gardening idea looks extremely simple and elegant. The color theme can be decided by you (you don't need to follow out color combination exactly if you don't wish to).
This vertical gardening idea uses planter boxes painted in bright, eye-catching colors against a neutral colored board. You can change the color combination or even add planters in different shades for a bold effect.
This planter fence can be placed indoors or outdoors, depending on the style you have in mind. Place it next to the entryway of your home for a warm, welcoming feel.
Rustic Garden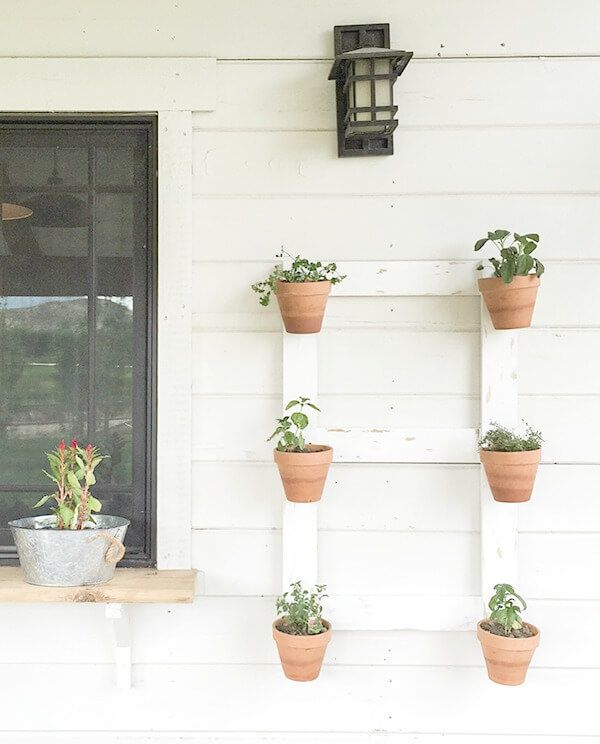 If you like the old, rustic appeal of slightly chipping paint, wooden borders, and the use of classic whites, you'll love our next idea. Creating this is quite simple as long as you have the right tools.
You'll need a couple of poplars, white paint and terracotta pots. Cut the poplar into symmetric pieces and connect the pieces using nails and screws or glue. Paint the planks white, and apply petroleum jelly on small areas before painting it entirely in white.
Once it's dry, rub off the areas with a paper towel to create the 'chipping off' style. Finally, add the terracotta pots with pot hangers, and you're done!
Wall Of Green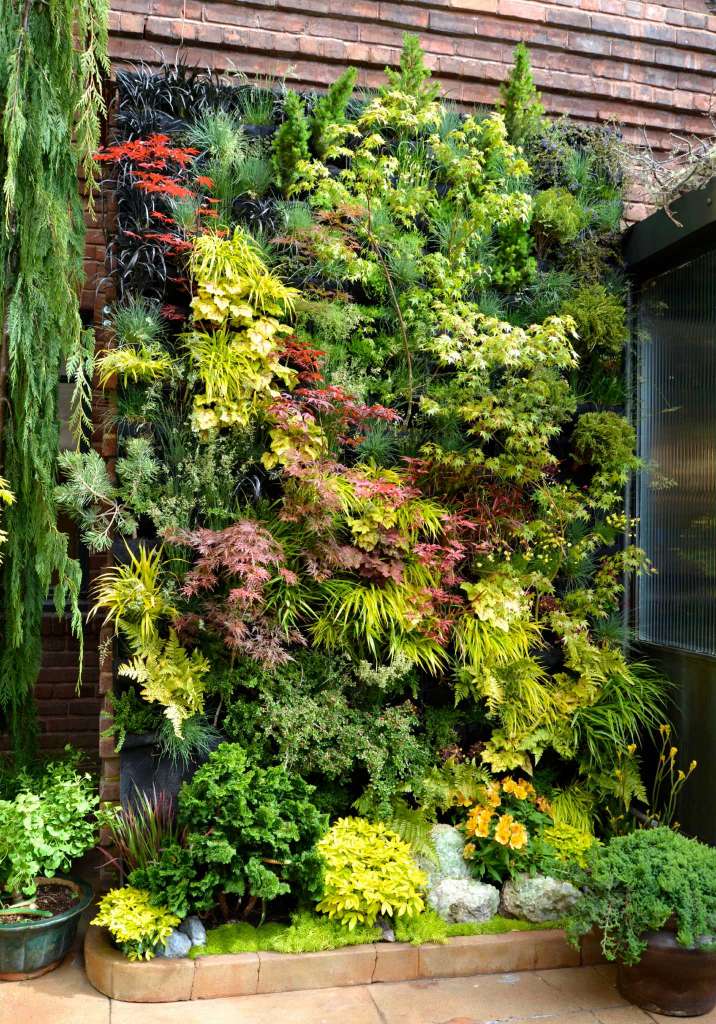 This vertical gardening idea is relatively bold and may take slightly more effort to maintain and upkeep. However, as you can see by the image, the result is eye-catching.
You can create a literal 'wall of green' by potting plants in close proximity along a vertical wall. It is crucial to ensure that these plants are sun-friendly (if you plan on keeping this wall outdoors).
The result is striking, as your wall of green welcomes your guests with warmth and brightness. The leaves tumble downwards in a kind of waterfall effect.
Brass Ring Hanging Vertical Garden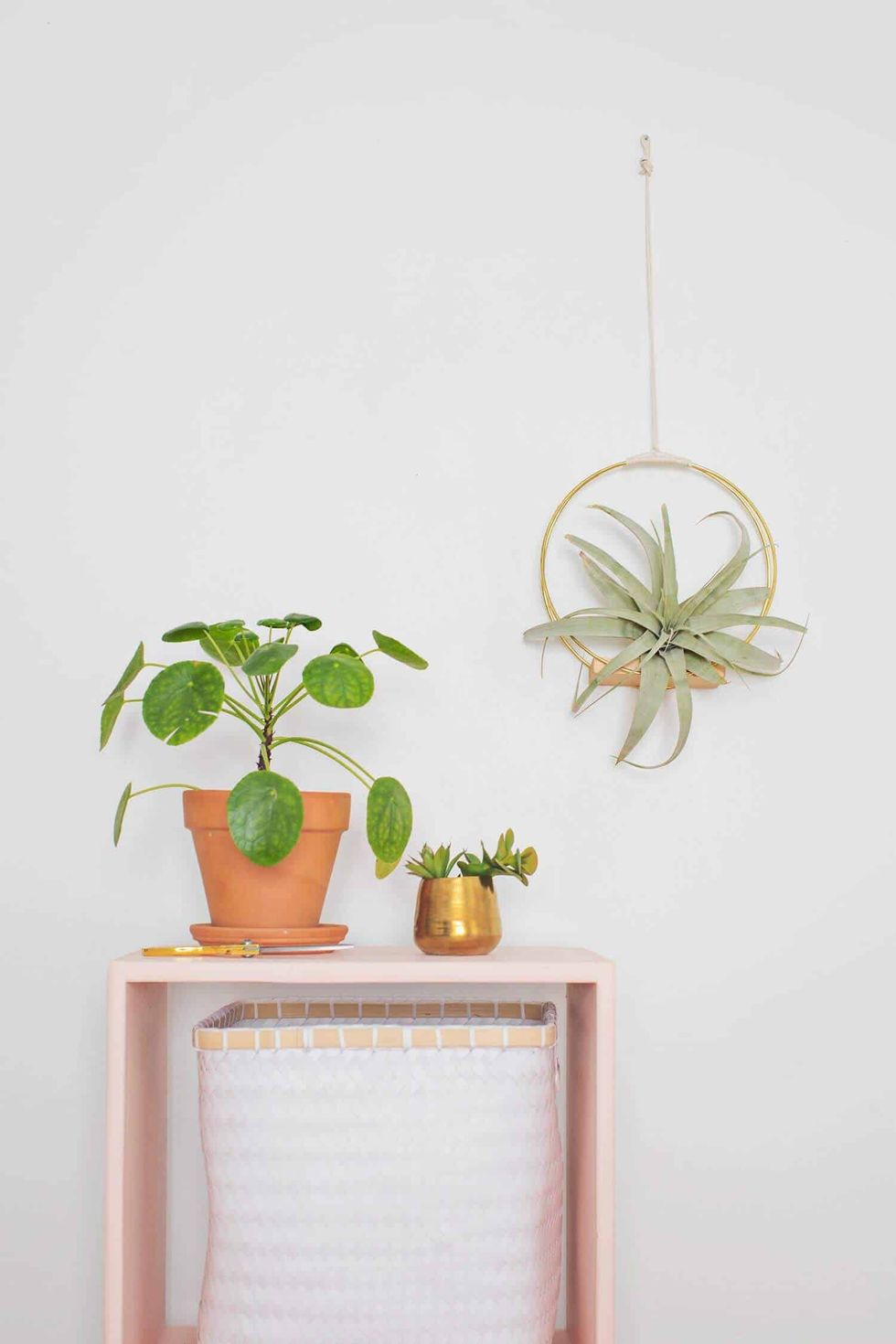 Here is an excellent idea for a vertical garden that looks extremely classy and sophisticated. The brass ring hanging vertical garden can be placed anywhere in your home or even outside. In our humble opinion, this design looks best against a neutral colored wall, but you might be more creative and figure out a different setting for it!
This piece looks best when complemented with terracotta potted plants. However, you can also experiment with plastic or ceramic pots. Opt for a plant with long, beautiful leaves for the best effect.
Clay Hanging Pots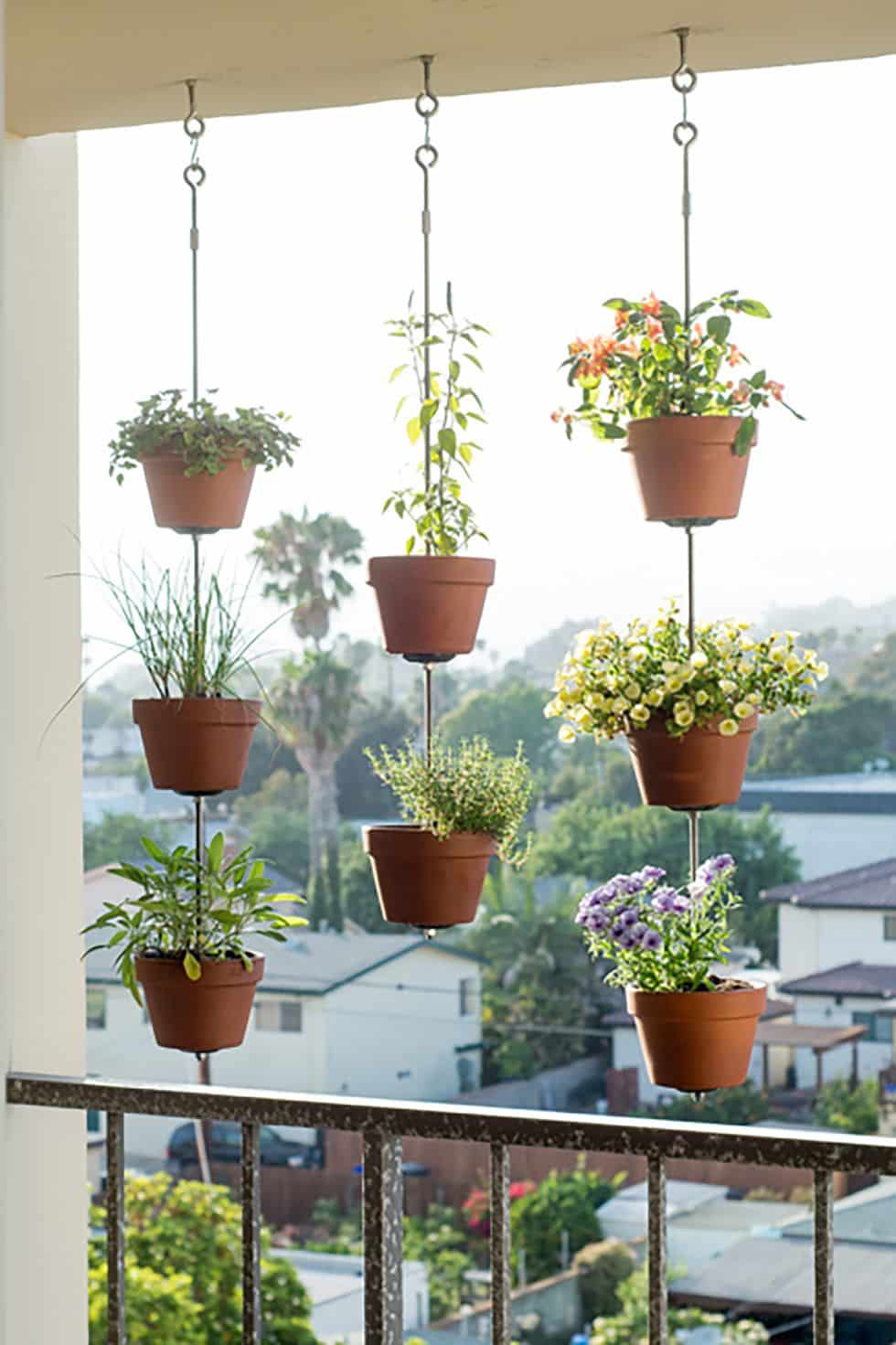 Clay pots have an inherently minimalist appeal to them. However, you may not have enough room in your home to place all your beautiful plants.
We ask you to consider hanging the clay pots vertically instead of placing them on the floor for our next idea. You can opt for rope, wire, or even buy a hanging kit online for hanging the pots. Depending on the rest of your decor, the material you choose for hanging the pots can make a huge difference.
Upcycled Ammunition Cans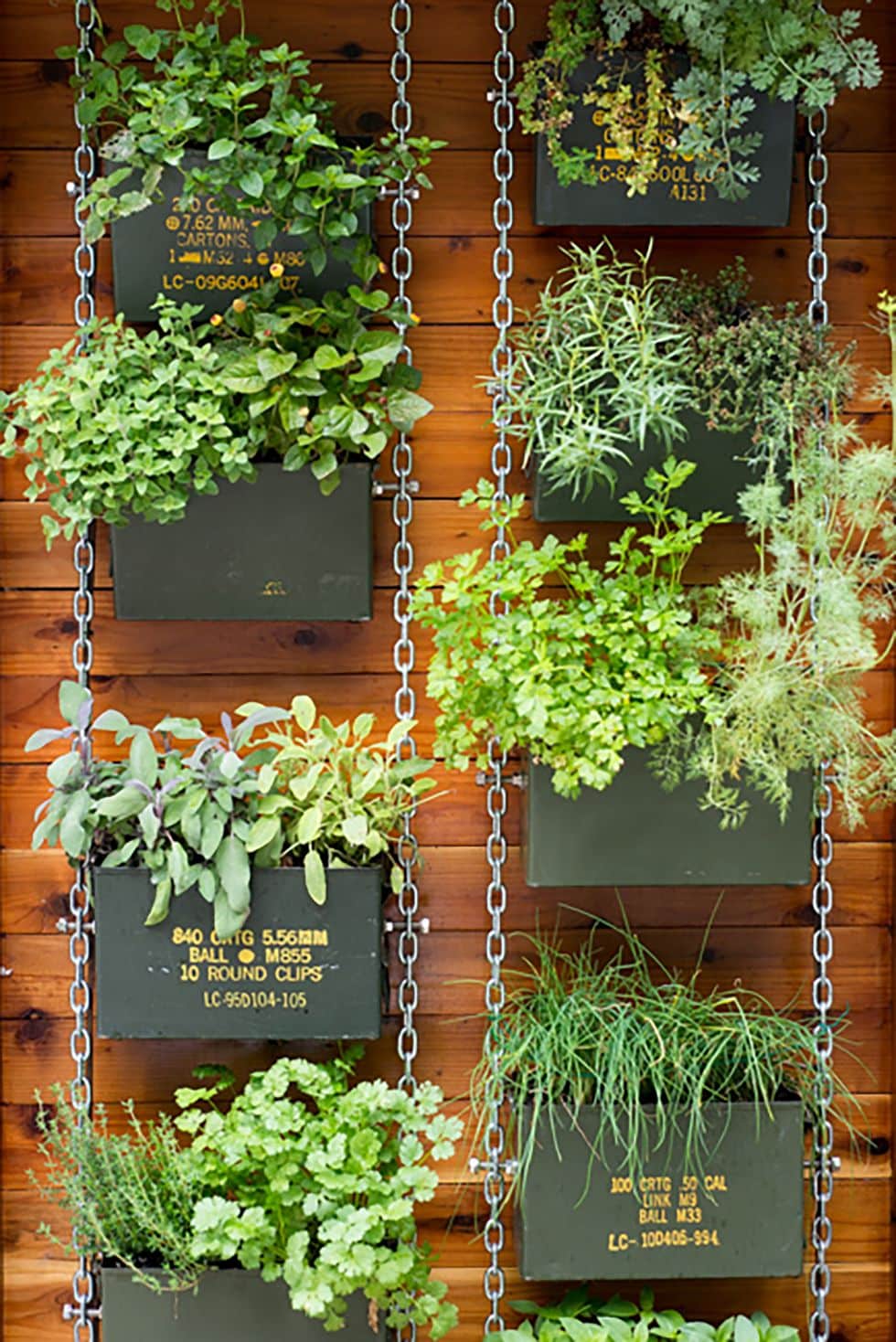 This is probably one of the wackiest ideas out there, but have you considered using upcycled ammunition cans as planters? If you can get your hands on them, these could add a unique and attractive appeal to any home.
The best part about this idea is that you don't need to paint, varnish, or make any major additions to these cans. Even if they are worn out or chipped, they will work great. In fact, this might even add to its appeal!
Plants Not Pipes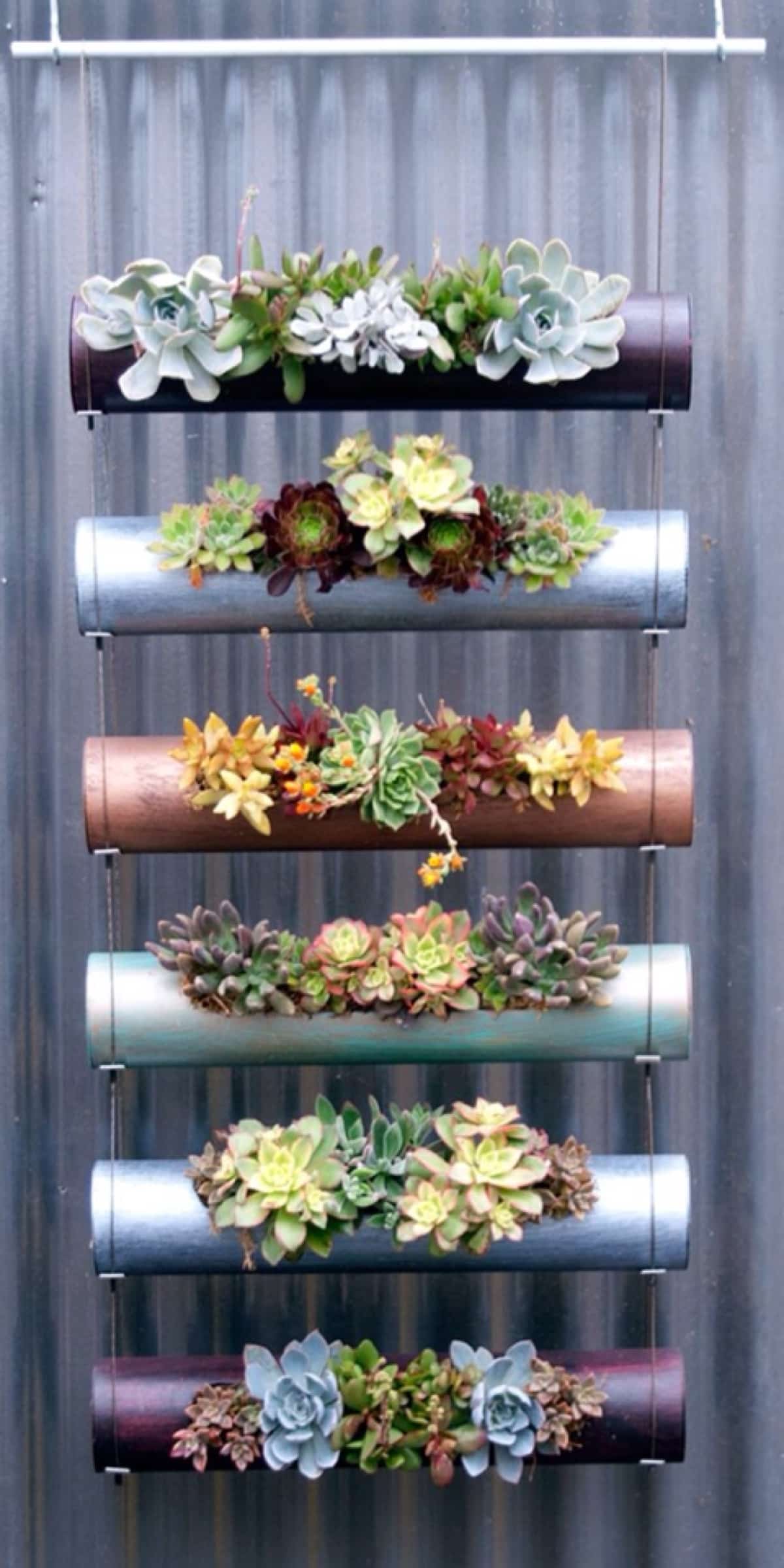 Some people can be really creative, and the proof lies in how brilliantly someone designed this metal pipe planter. Each pipe has been painted in metallic shades of gold, silver, bronze, and copper.
The addition of beautiful succulents has brought together the entire look to create a unique ensemble. When creating this at home, remember to use thin wires to attach the pipes in a ladder-like formation. Of course, you can choose to use just one pipe instead of multiple, if that's the look you're going for.
Wooden Diamond Vertical Garden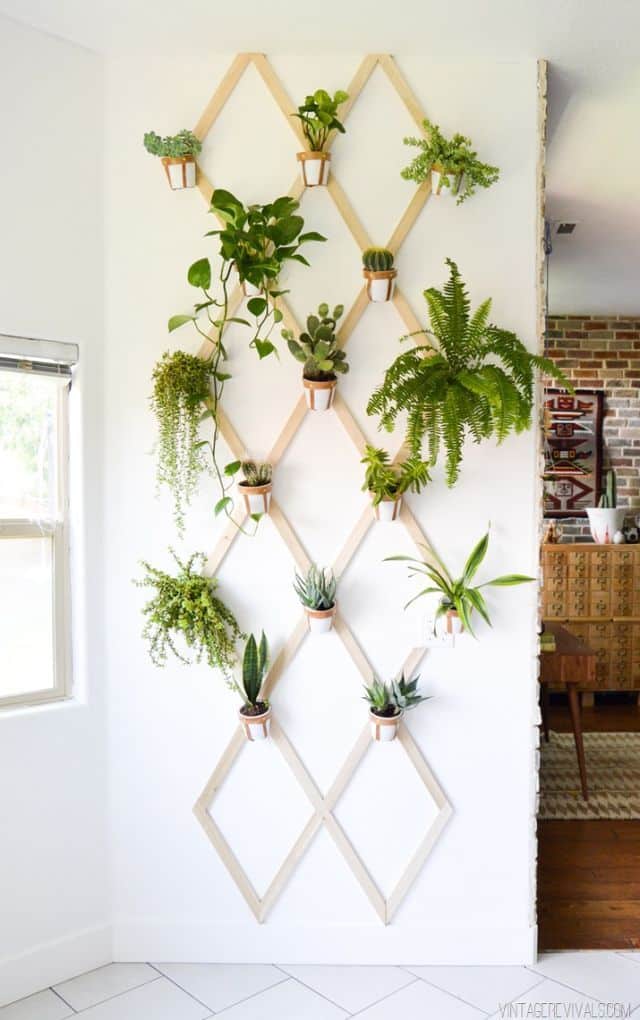 Does the name sound confusing to you? How can wood and diamonds possibly be integrated to create a vertical garden? Well, it's actually quite simple.
This wooden diamond vertical doesn't use any real diamonds, but diamond shapes created using wood. Now that sounds do-able, right? To create this unique trellis, you'll need a couple of power tools at hand. Use different varieties of plants against a neutral colored wall to create the most astonishing effect.
You can choose to cover an entire wall with this vertical garden design. Alternatively, you can experiment with a smaller area first and then move on to the entire wall design.
Pallet Gardening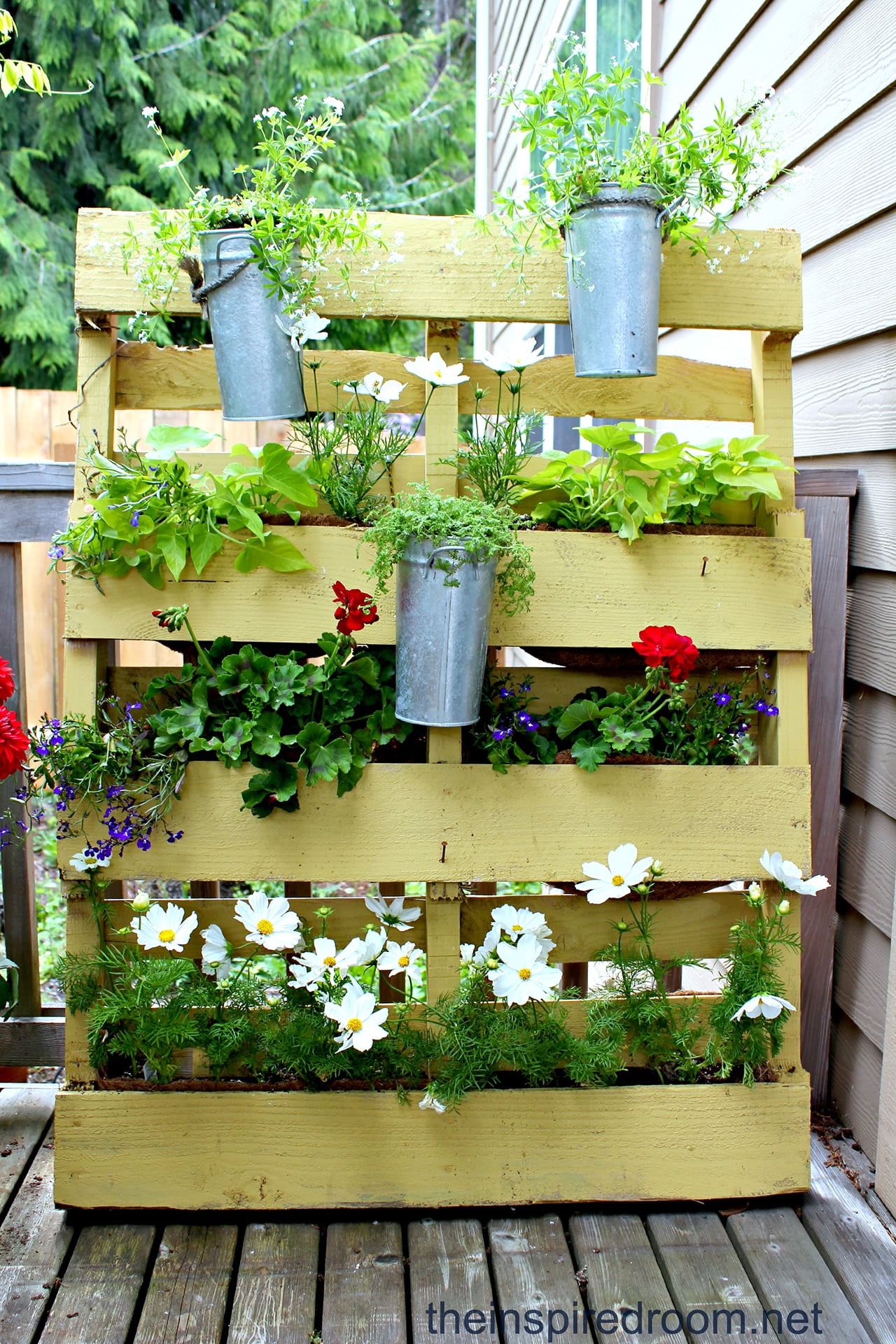 Here is an excellent idea where you can recycle old pallets that can be found in abundance in any stacking inventory. If you want, you can add your unique spin by painting it with bright colors or patterns. But even if you decide to use it as it is, the result can be quite simplistic yet intriguing.
The pallets can be used as horizontal planters where you place your potted plants. Add a different species of plant in each row to add variety to your vertical gardening design.
Steel Mesh Wall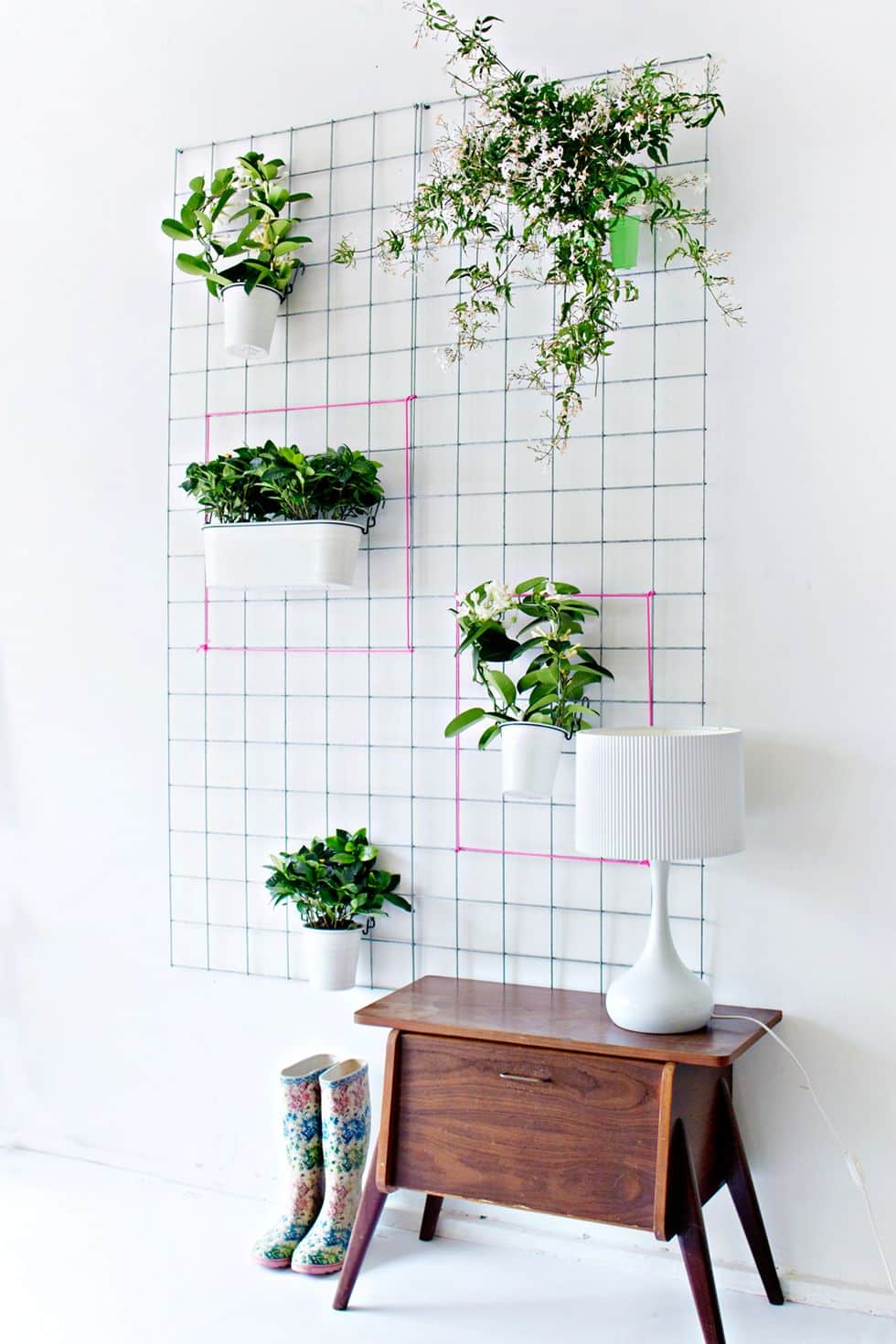 By looking at this steel mesh wall, you'll realize how simple yet effective this idea can be. With this wall design, you can choose to make it as large or small as you wish. In fact, this design hardly takes up any space on the wall because it is almost flat!
Again, you can place as many or as few plants as you wish to – depending on how you envision your vertical garden. Add terracotta pots, ceramic, plastic, or old recycled bottles turned into planters on your wall.
Living Sculpture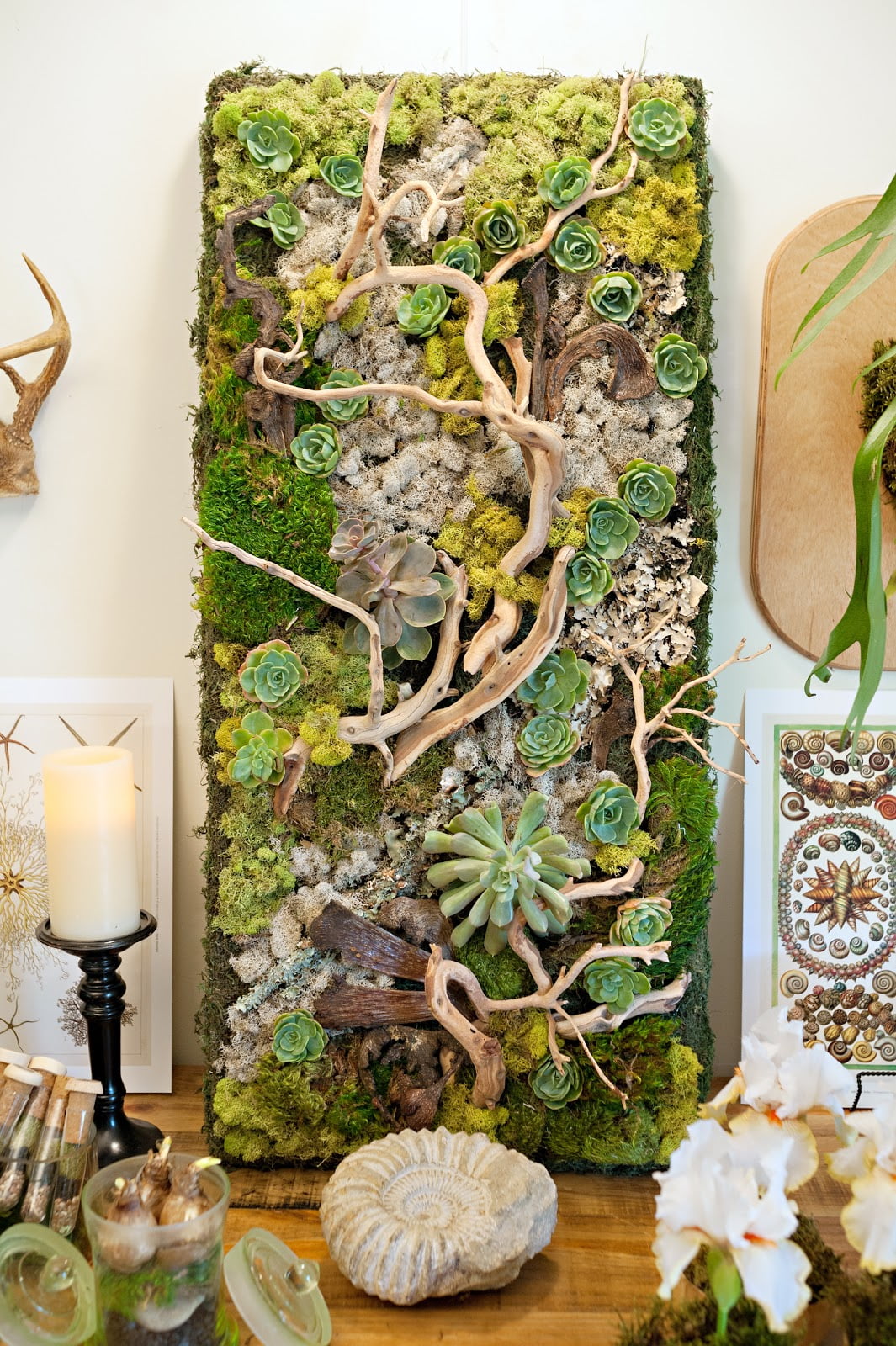 Our next vertical gardening idea is another unique and extremely striking piece. This one features a living sculpture – and yes, it's precisely what you're thinking. This wall panel is created by using a fascinating interplay of wood, greenery, and moss.
The best part about this idea is that it can be placed on the wall, as a centerpiece, in the entryway, or anywhere else you wish. It is a versatile piece of artwork that will look stunning in any place in your home.
Plant the miniature forest on a metal tray to allow easy portability.
Copper Pipe Hanger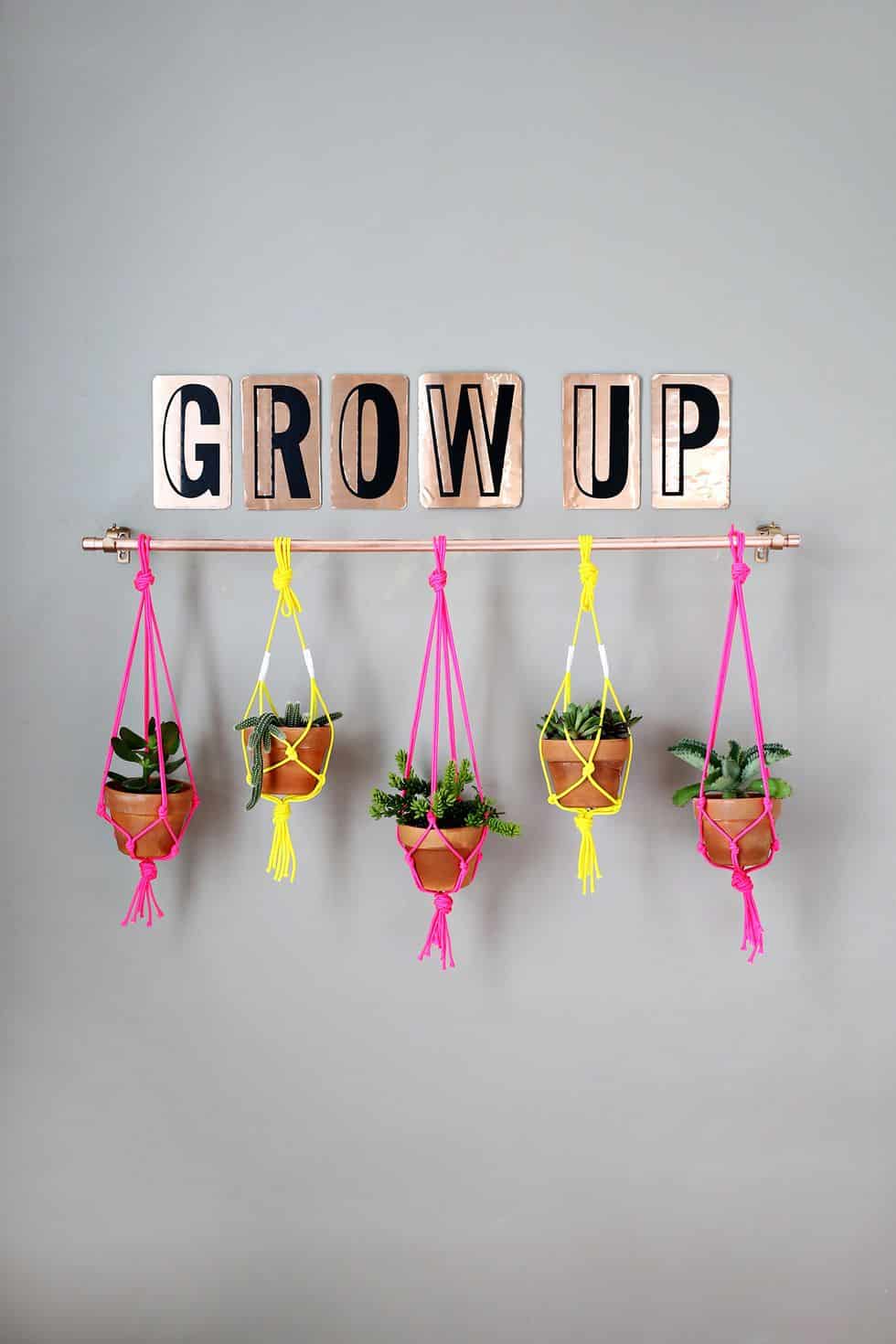 Coming to our next vertical gardening idea, we bring you the copper pipe hanger. This one is made using ordinary curtain hangers, but we decided to give it a copper paint job that would entirely transform its appeal.
You will need some hardware to install this one, but it is a fun DIY project, and the result is super aesthetic. Remember to use strong wires or wool thread to hang the small planters. We recommend using light pots and plants as you don't want to risk creating a mess in case the entire piece falls due to excessive weight.
Mason Jar Kitchen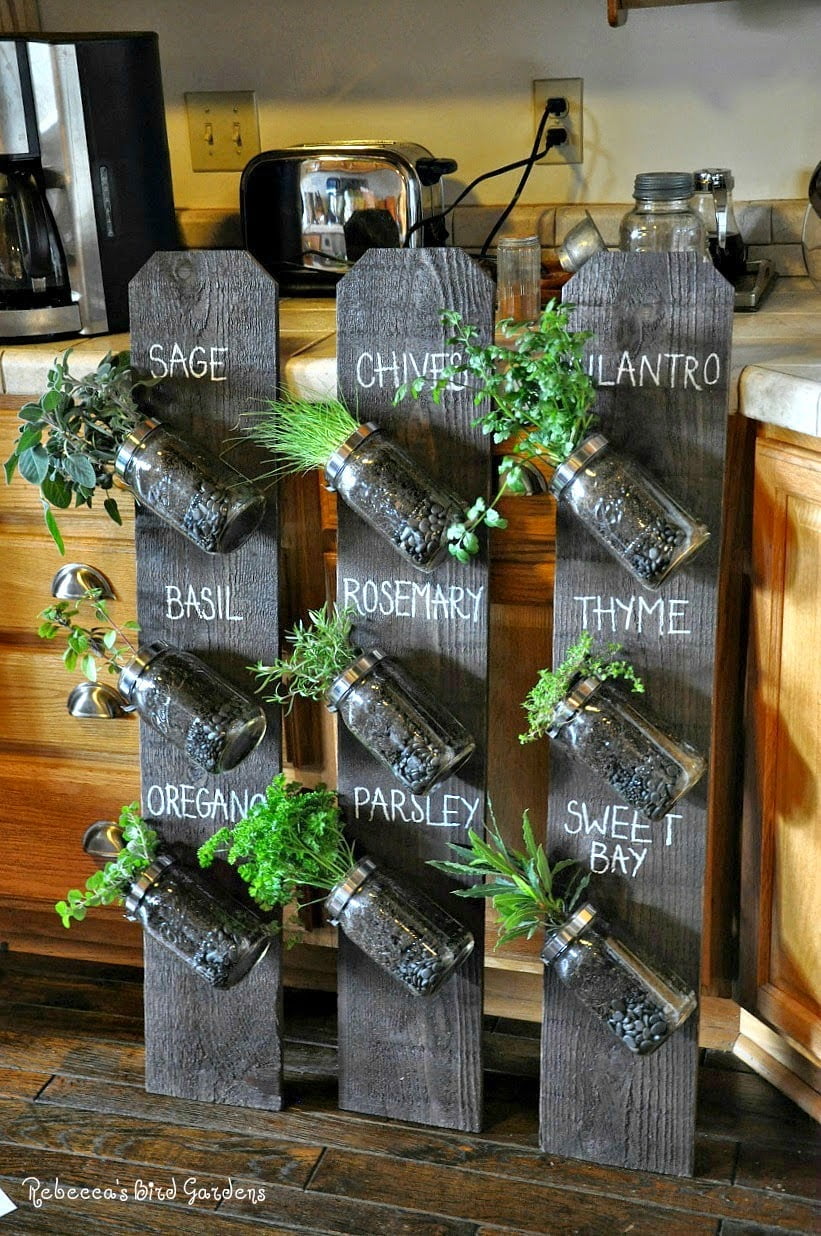 This next vertical gardening idea features extremely compact 'gardens' in mason jars. Attach each jar to a wooden plank and decorate it in your kitchen for quick and easy access to all your favorite herbs.
All you need is a few mason jars, soil, and your favorite herbs for this DIY project. Get hold of a couple of cedar fence boards, and you're done! You can label each tiny 'herb garden' using chalk (to make it easy) or opt for a more creative approach to labeling.
Hanging Herb Garden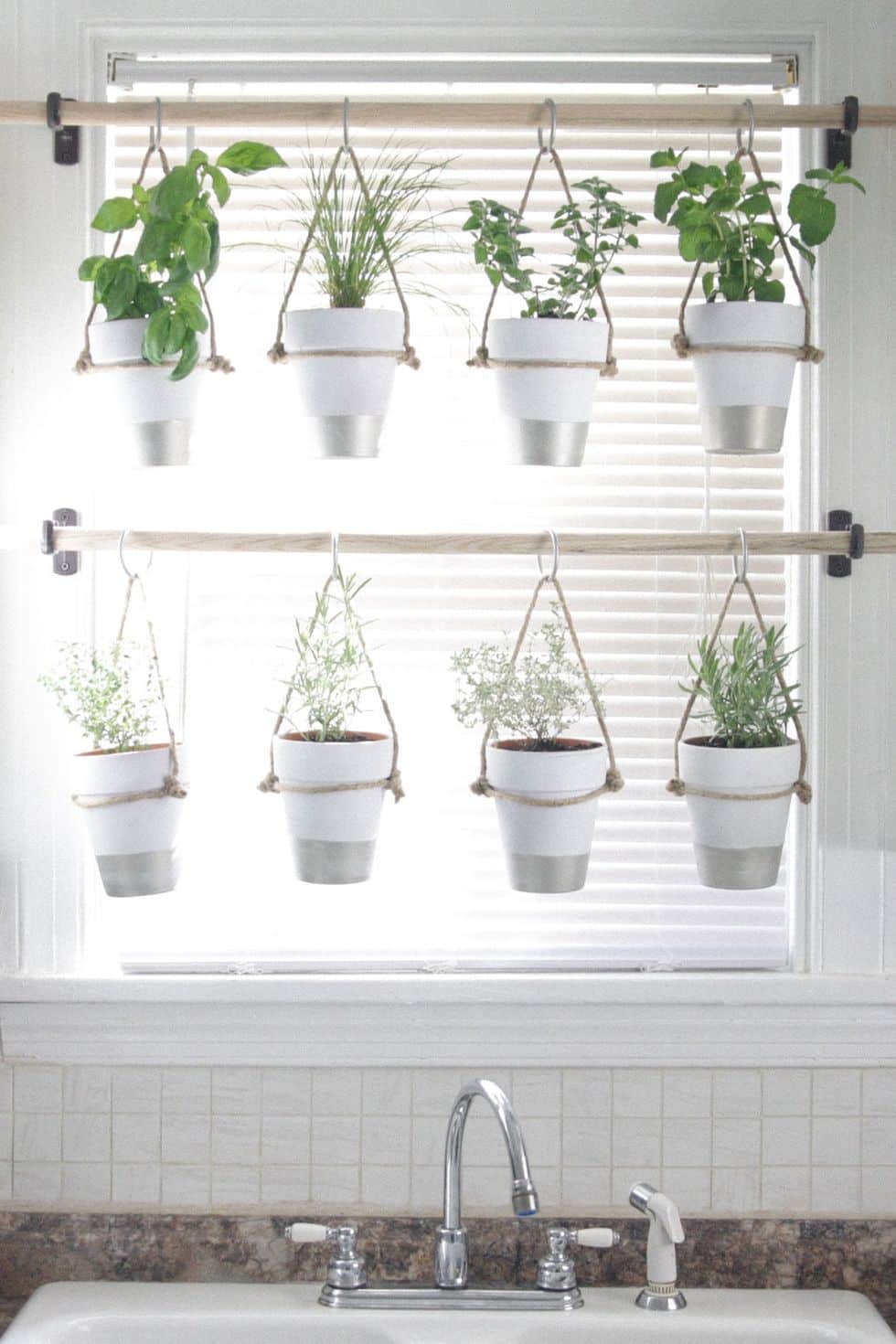 We have already featured a couple of hanging hear gardens on our list; however, this one is super easy and looks exceptionally classy when it is done. This hanging herb garden has been created with the help of a shower curtain rod, clay pots, and curtain brackets. The other items, like the herbs and soil, can be purchased later.
While you can hang this absolutely anywhere that has space to hang curtain rods comfortably, most people tend to use this idea in the kitchen. It gives you easy access to all the herbs you need to use without having to run outdoors constantly.
Basket Blooms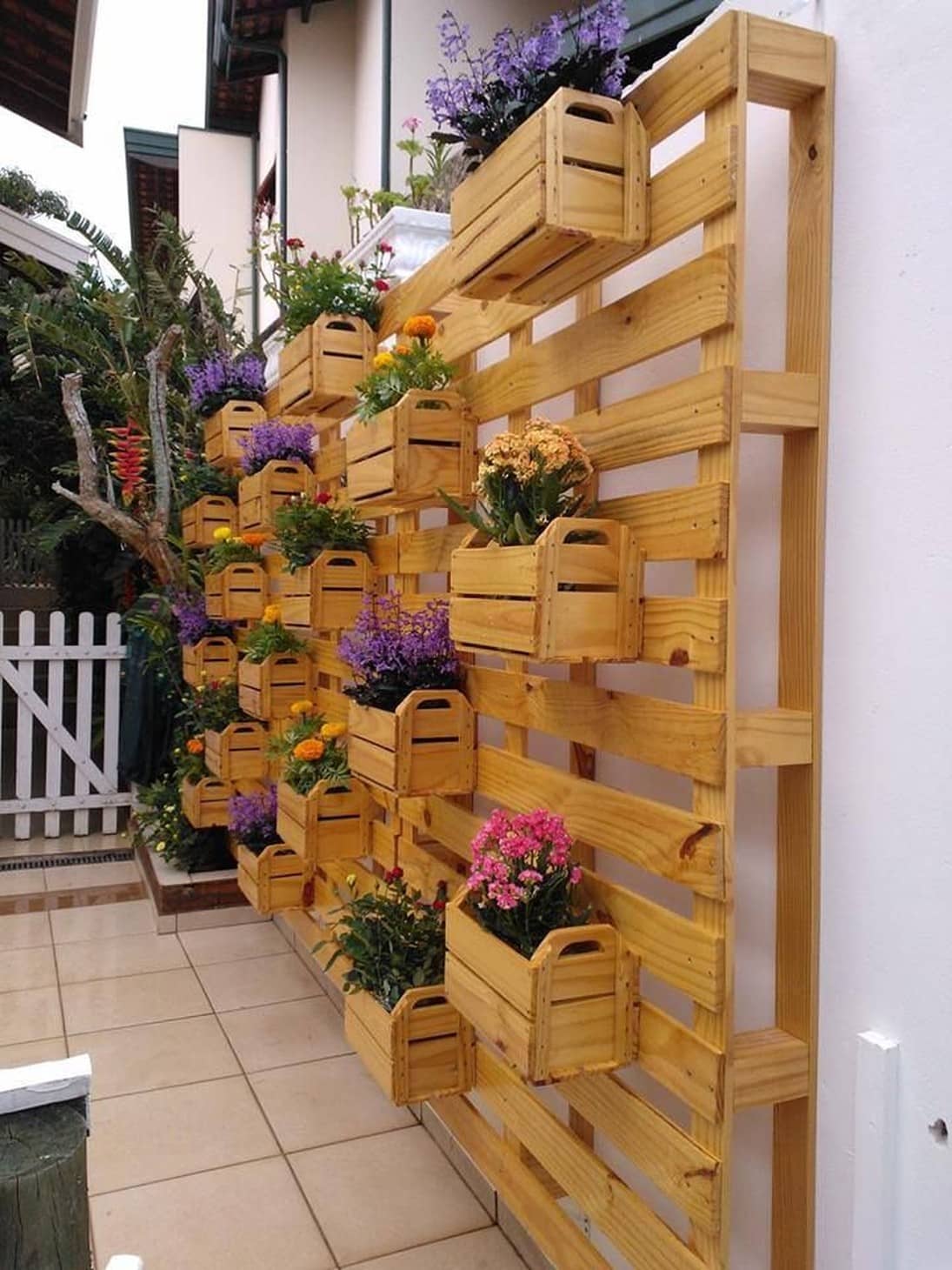 A basket full of blooms sounds like a sweet deal right off the bat. The countryside inspires this next vertical gardening idea. Using a lumbar wall fence as a background, hang as many wooden baskets as you can, covering the entire facade of the wall.
Plant the season's most vivid blooms or opt for a variety of herbs, creating your very own herb basket garden. This works best against a neutral wall that'll draw all the attention to the colorful blooms.
Crates And Foliage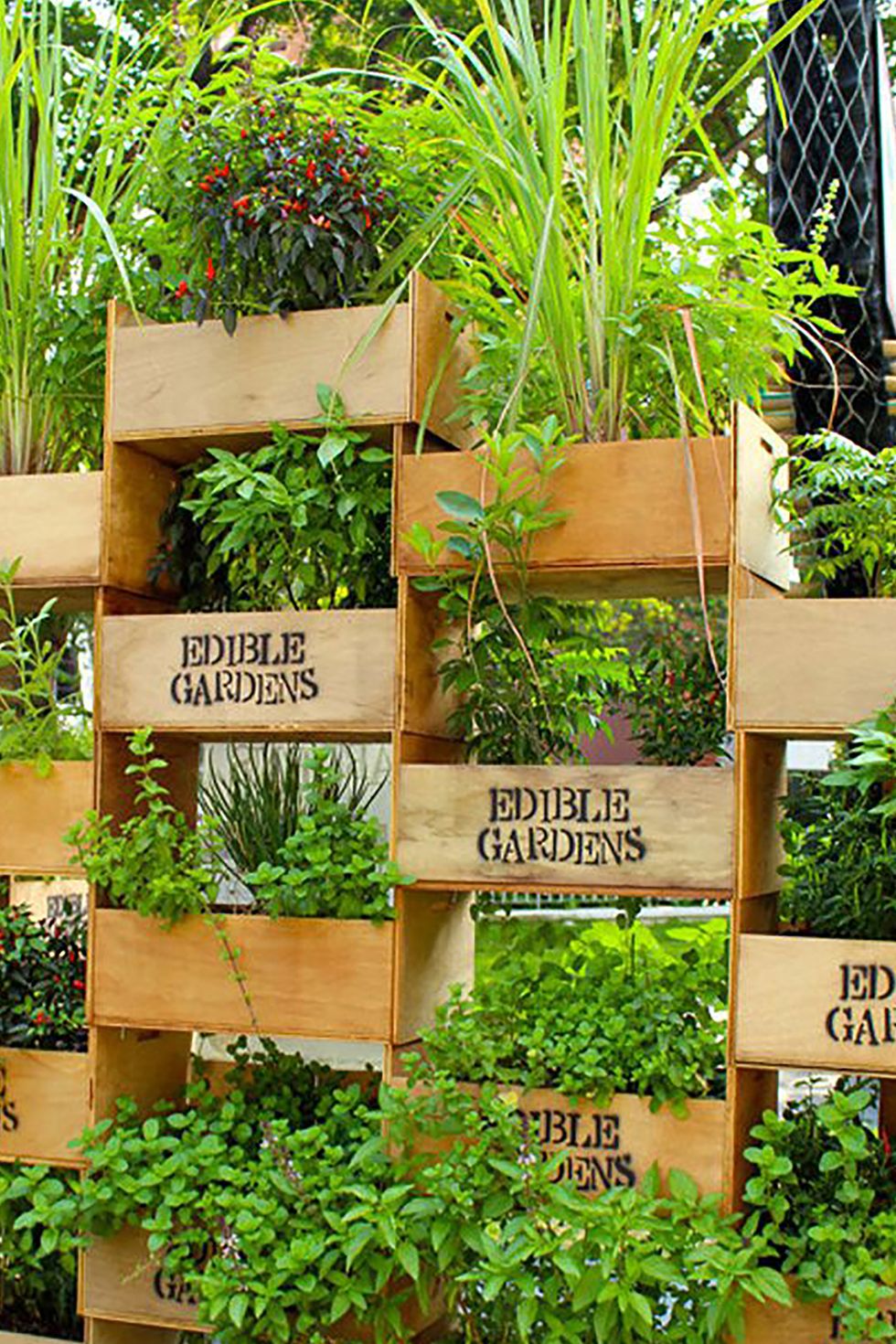 Old crates are plentiful, and you might even find some lying around your backyard. Well, how about transforming these old crates into a DIY vertical gardening project? This project looks aesthetic and is super functional for growing most types of plants and herbs.
Find some space in your garden and create a pyramid structure using old crates stacked on top of each other. If their positions look too precarious to you, reinforce its stability by using wooden planks for support.
Rustic Planter Gardening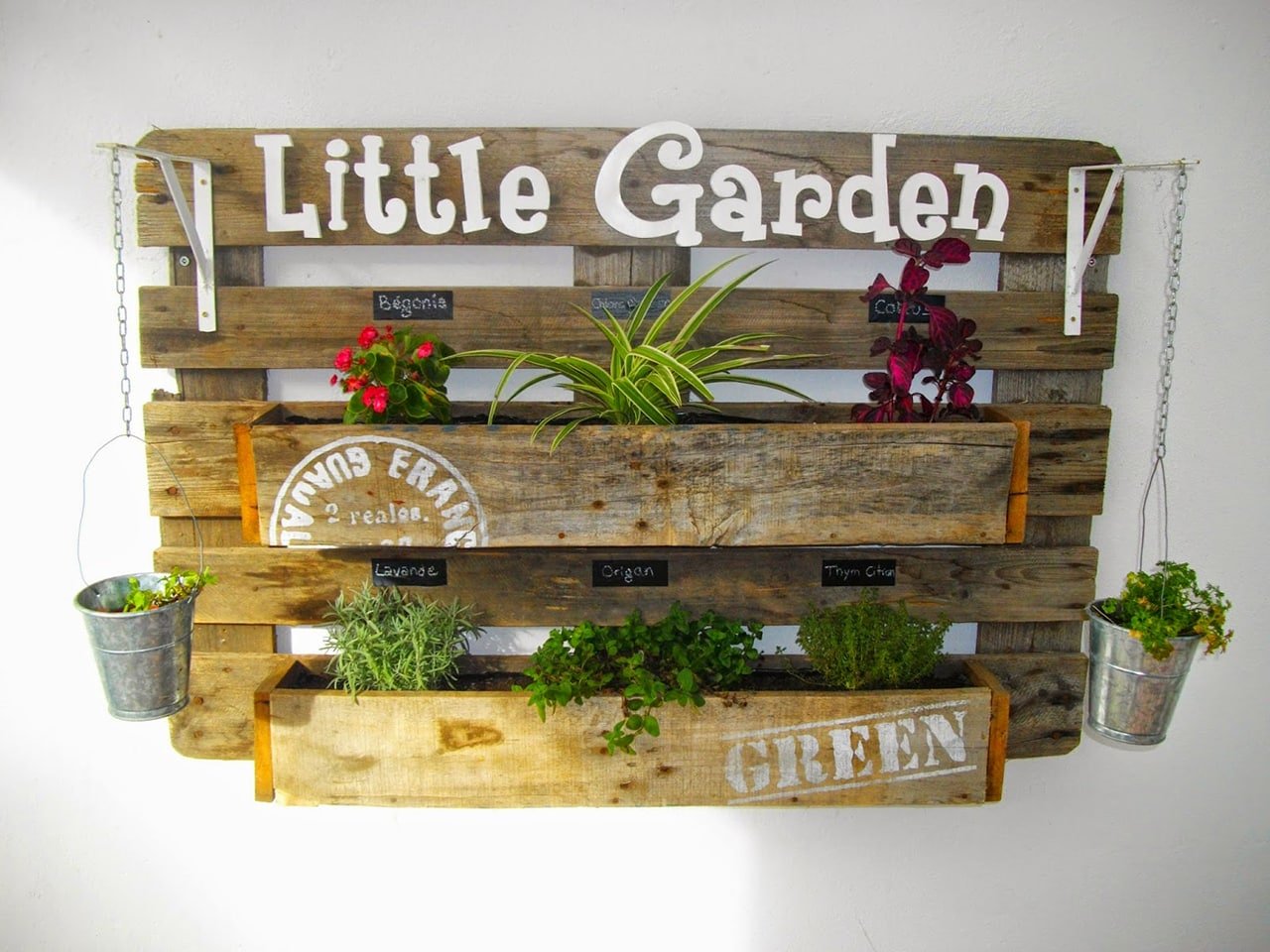 Our next vertical gardening idea is similar to our previous one but has an entirely different, rustic appeal. This one has been made using pallets and reinforced with iron bars. Two buckets have been hung using chains for support on either side of the structure, creating a completely antique appeal.
The tin buckets can be used for planting other varieties of plants or herbs. Label each planter with the name of the herb or spice you have potted. Place this outdoors to create your vertical garden or indoors for a herb garden inside the home.
Minimalist Wood Garden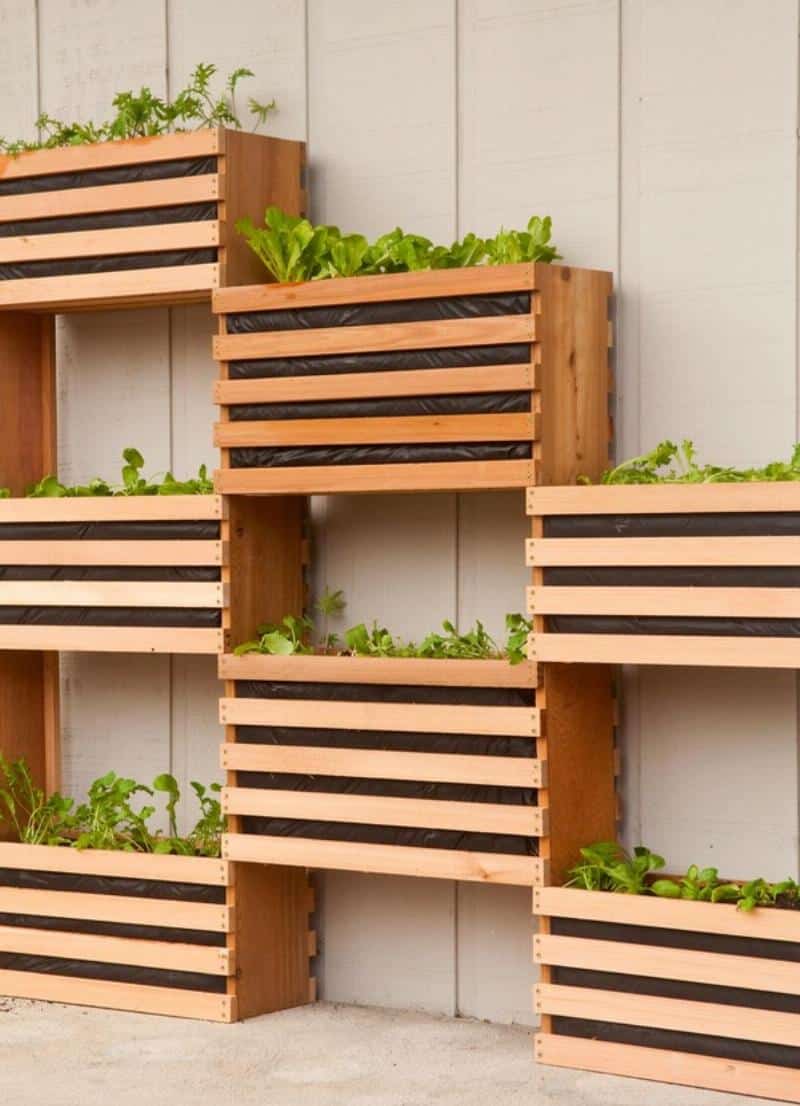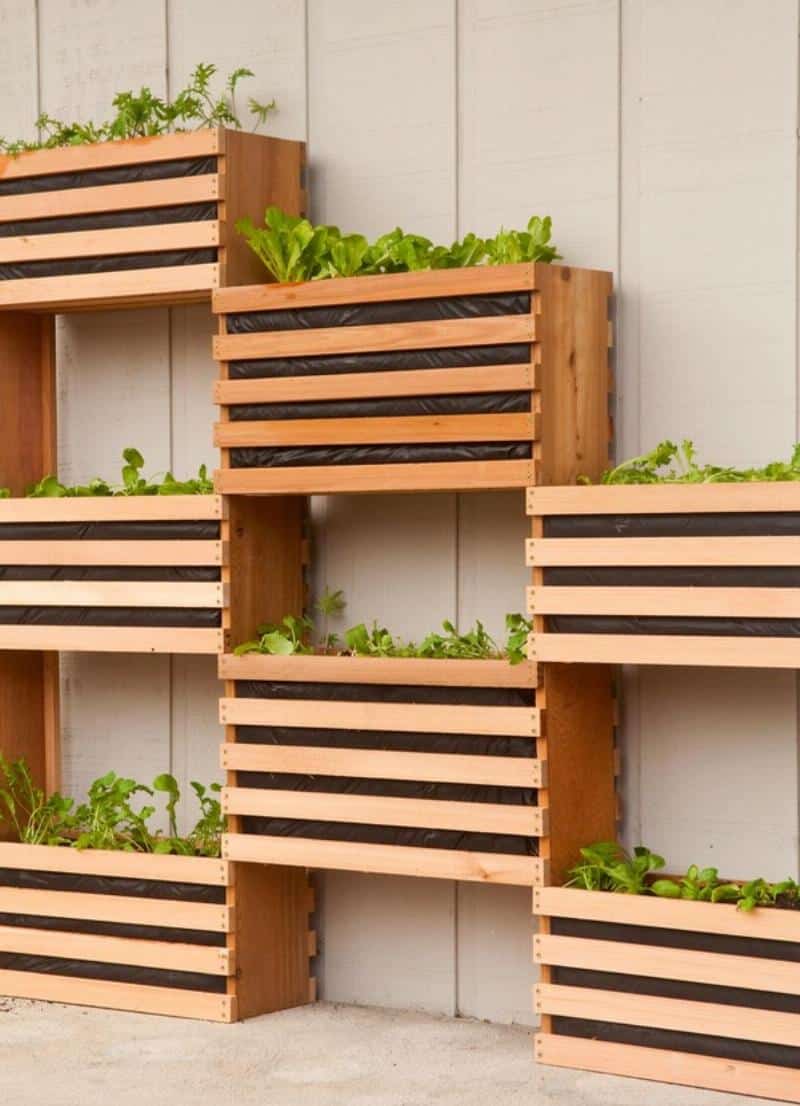 Moving over to our next idea, we have the minimalist wood garden. This one features cedar boxes stacked in a 'boxed' design to add appeal while saving space in your home. The vertical garden can be filled with beautiful, small plants and using the appropriate soil needed.
You can even choose to plant succulents that require less maintenance and watering. This will ensure that the cedar does not rot due to excessive watering. Place it against a neutral background for the best effect.
Muted Terracotta Pots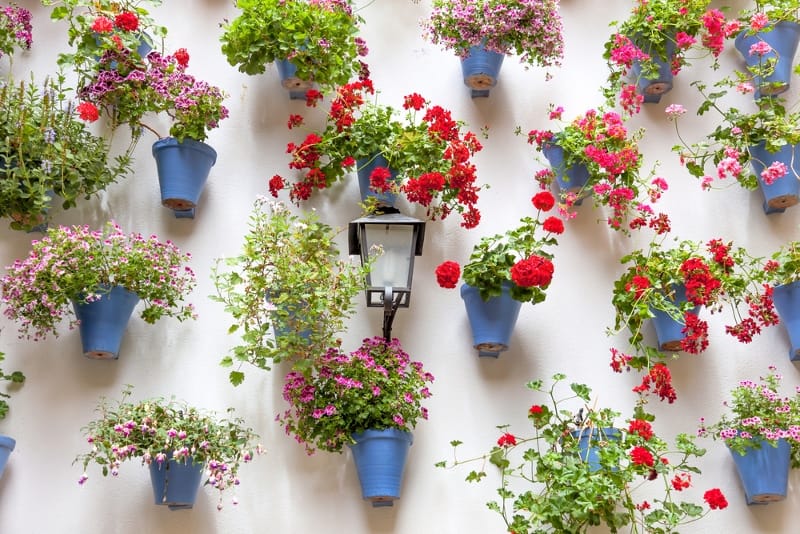 If you have a dull, neutral-colored wall in your house that needs some sprucing up, then consider our next idea for your vertical gardening project. To create this look, get a couple of terracotta pots and paint them in muted, pastel shades of your choice. This image features muted blue shades hung against a white wall.
The uniformity of the blue terracotta pots against the brightly colored flowers provides a striking appeal. It can transform the look of any dull wall, making it a wonderland of bright flowers.
Soda Bottles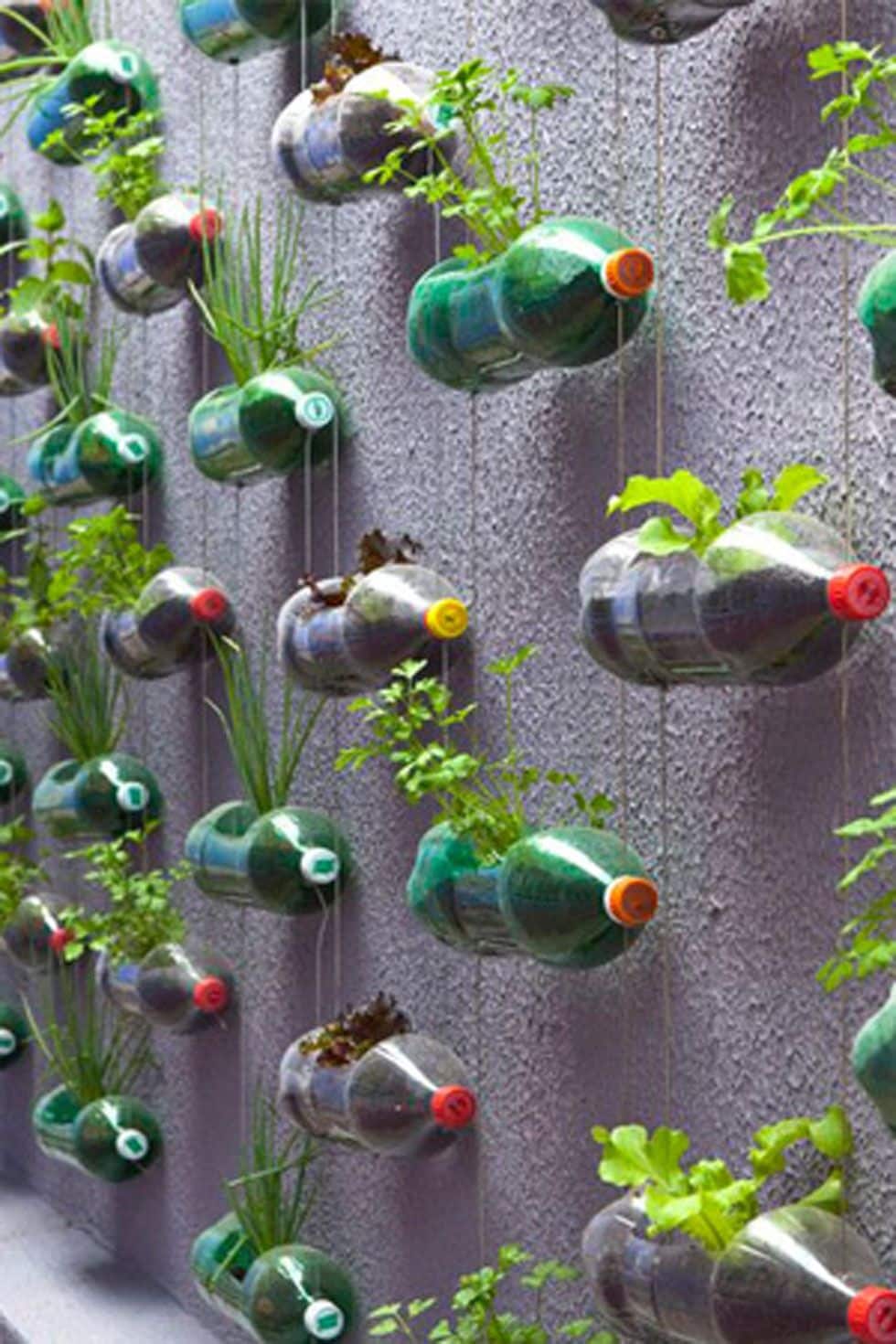 Almost all of us drink soda or some kind of drink that comes in plastic bottles. Most of the end, we end up throwing the bottles away. However, you can turn this trash into treasure with our next idea in a few simple steps.
Using a paper cutter or a sharp knife, create a large gap in the plastic bottles. Fill it with soil and plant flowers or herbs of your choice. Finally, hang them using ropes, wires, or a clothesline.
Shoe Rack Vertical Garden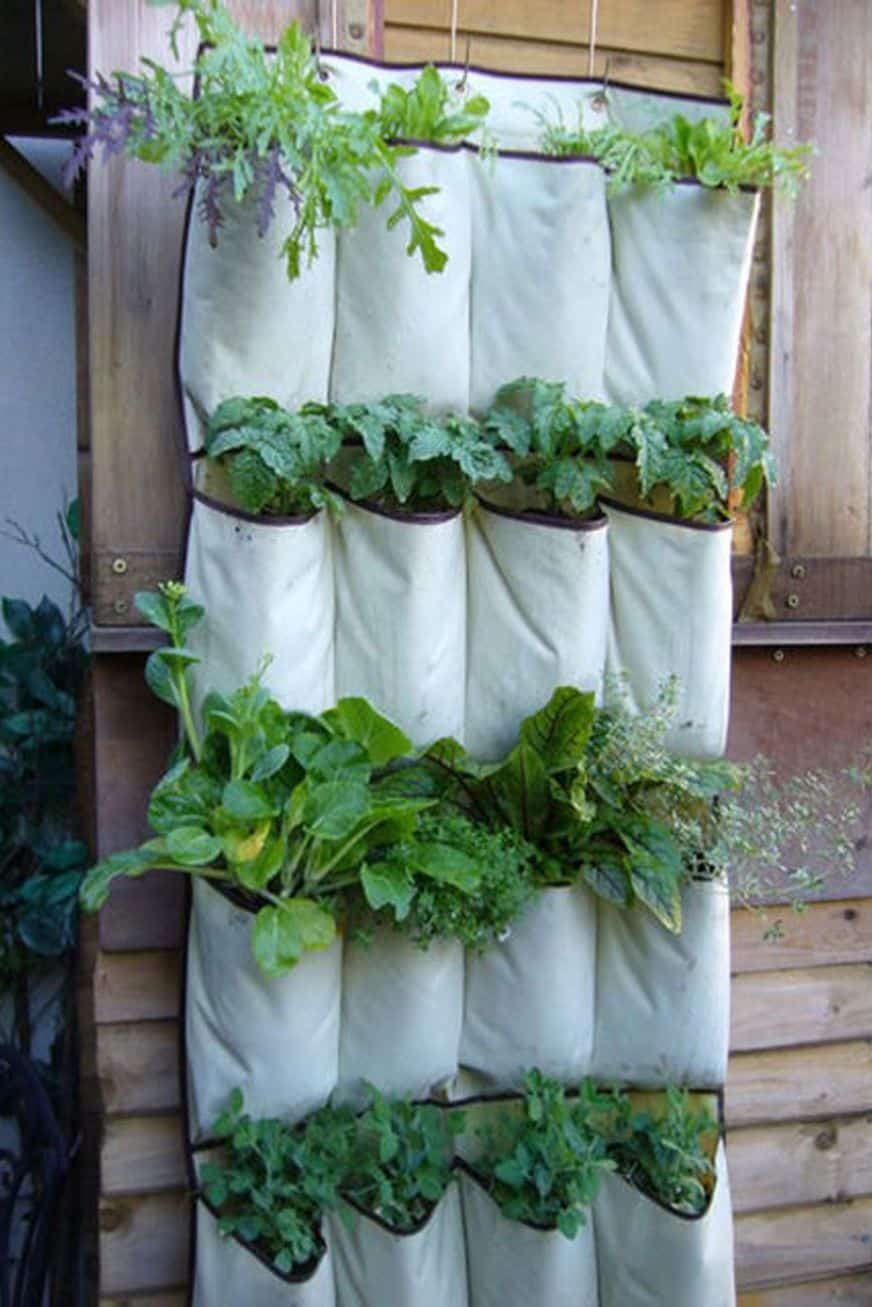 Ever thought of repurposing an old, cloth shoe organizer into a vertical garden? Well, most of the work is already done for you, as the shoe organizer features multiple 'pockets' for planting your fresh flowers and plants in.
The size of these pockets is ideal for planting individual flowers and herbs. Place the vertical garden outdoors for a mess-free planting and watering experience. You can get a little more creative and paint some of the pockets in bright colors or patterns.
Dresser Garden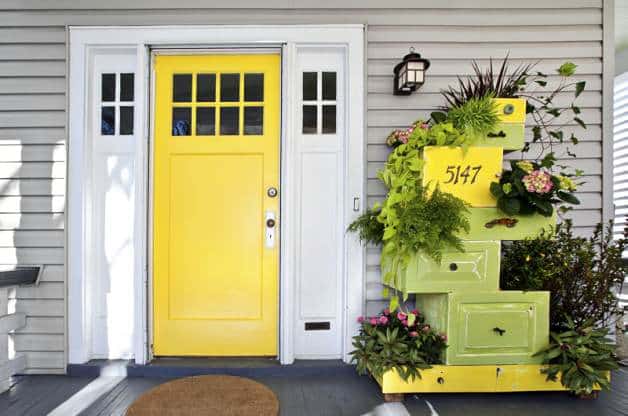 If you have an old drawer that you were planning on throwing away, keep it for this next vertical gardening project. The clever use of these old drawers for planting colorful blooms can be eye-catching and functional at the same time.
Use spray paint or traditional painting tools to add a splash of color to the old drawers. Place it outside your home in the garden or your entryway for a great addition to any home. Remember to varnish the paint, so it doesn't suffer damage through pollution, dust, or sun damage.
Driftwood Sculpture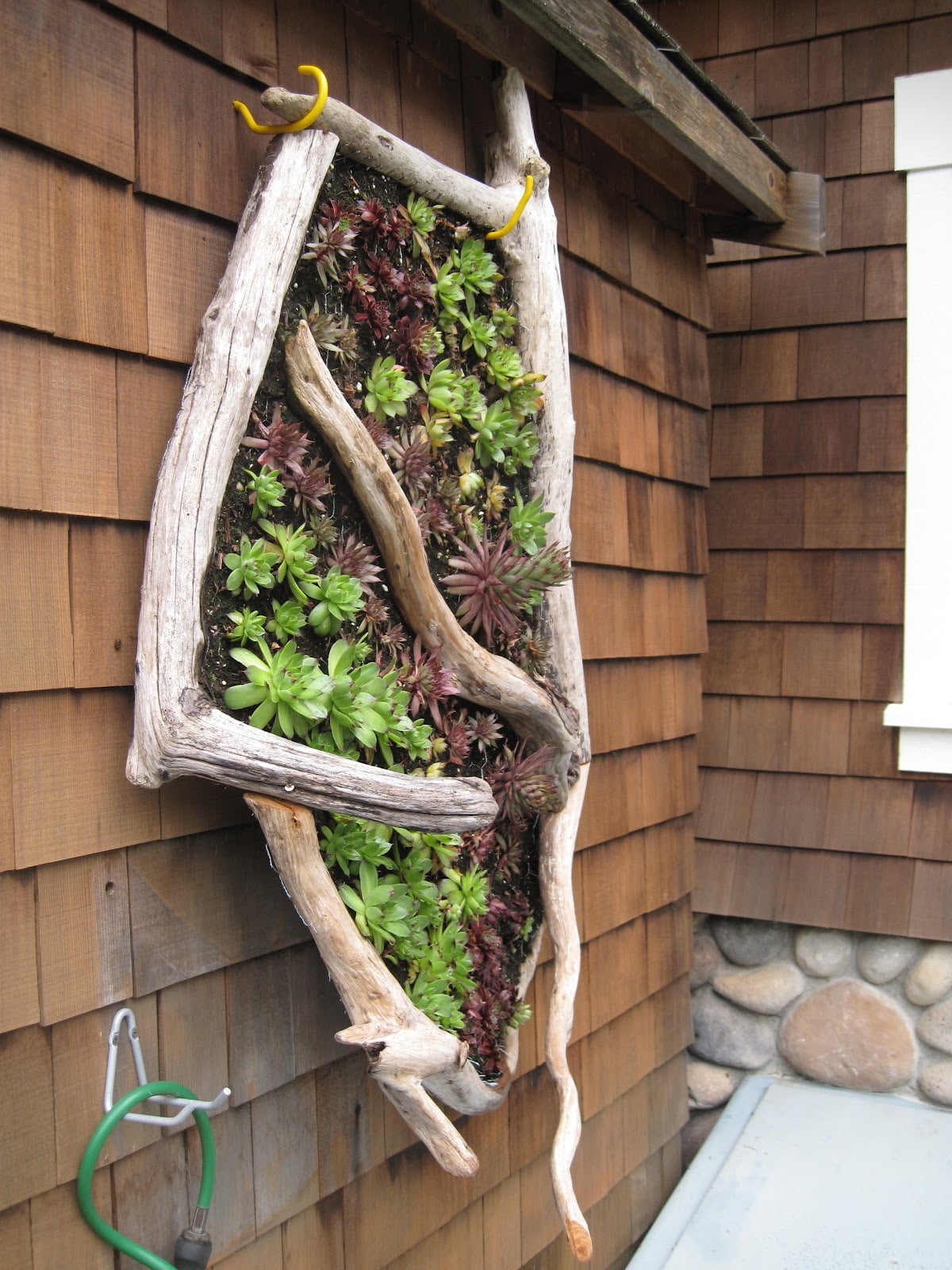 Do you love succulents but can't find the appropriate place to adorn them in your home? You can make a living sculpture out of pieces of driftwood and beautiful red and green succulents for our next idea.
The living sculpture is exceptionally aesthetic and can turn any bare wall into a masterpiece within seconds. Succulents can be an ideal choice of plants for this idea, as they require low maintenance and are not excessively thirsty for water or sunlight.
Self-Irrigating Vertical Garden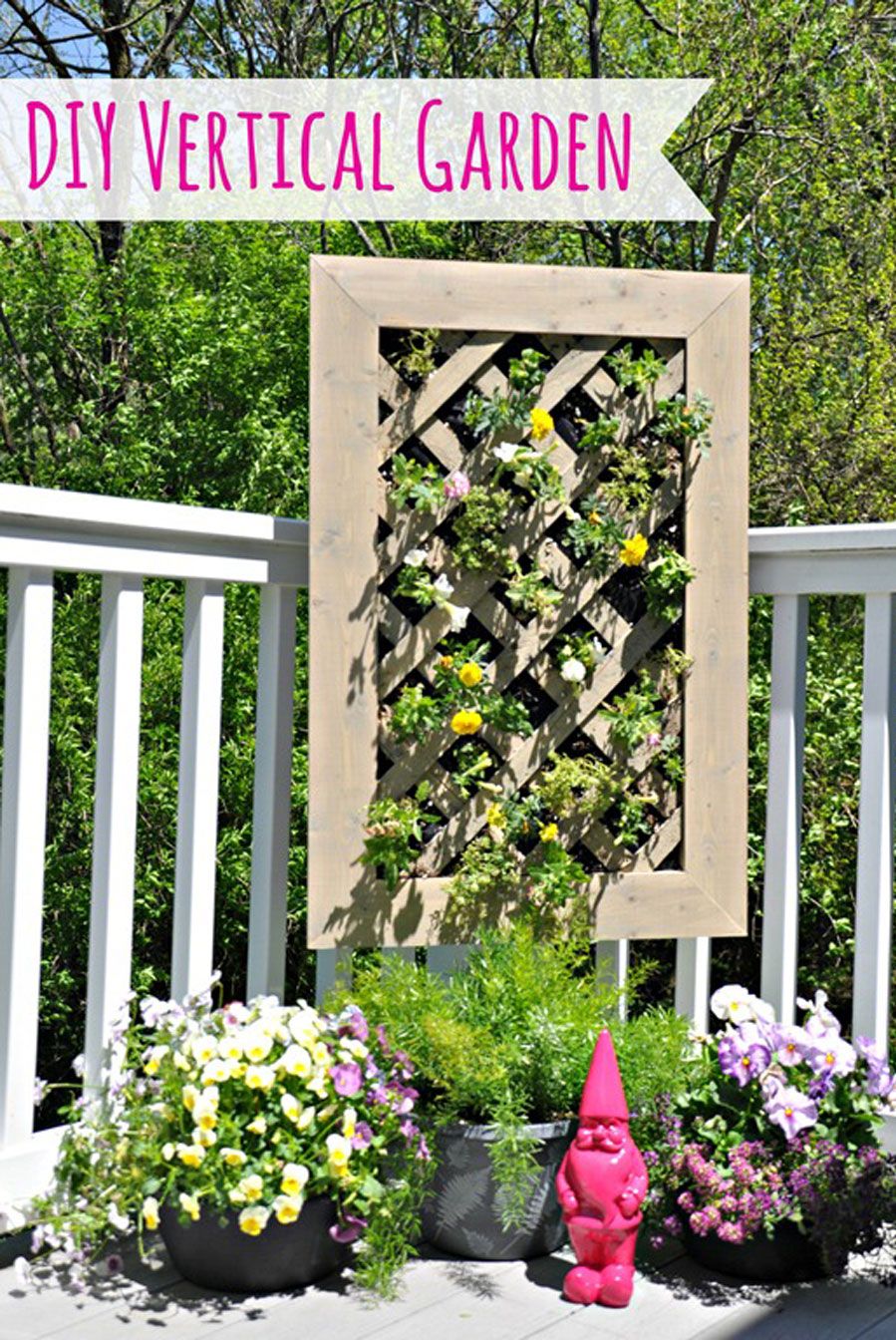 As the name suggests, this vertical garden is self-irrigating and completely low maintenance for those gardeners who can't make time to tend to their plant pets.
Of course, creating this will take about 3 to 4 hours, but it can be an enjoyable DIY project for those who like to do things with their own hands. Overall, the result will be something magnificent that works as a great addition to your garden.
Tree Trunk Planter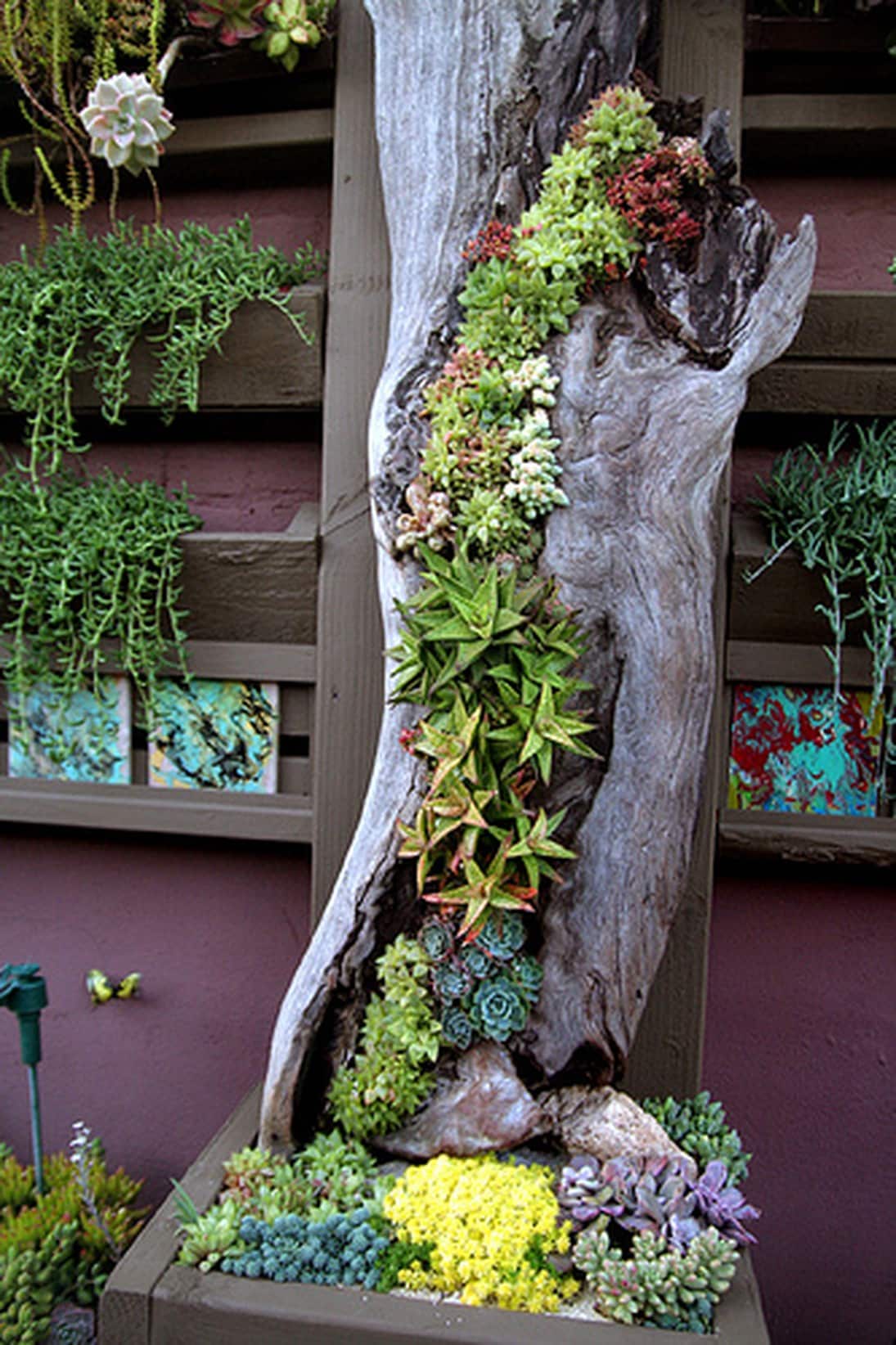 There is no end to some individuals' creativity, which can be seen from our next vertical gardening idea. Using a desiccated tree trunk and some beautiful succulents, this next piece looks like something straight out of an art vault.
You can make this yourself by using a part of an old tree trunk and some of your favorite plants. Opting for succulents will make maintenance and upkeep easier, as they are inherently low-maintenance plants. Place it against a neutral board for added effect and texture.
Bookshelf Garden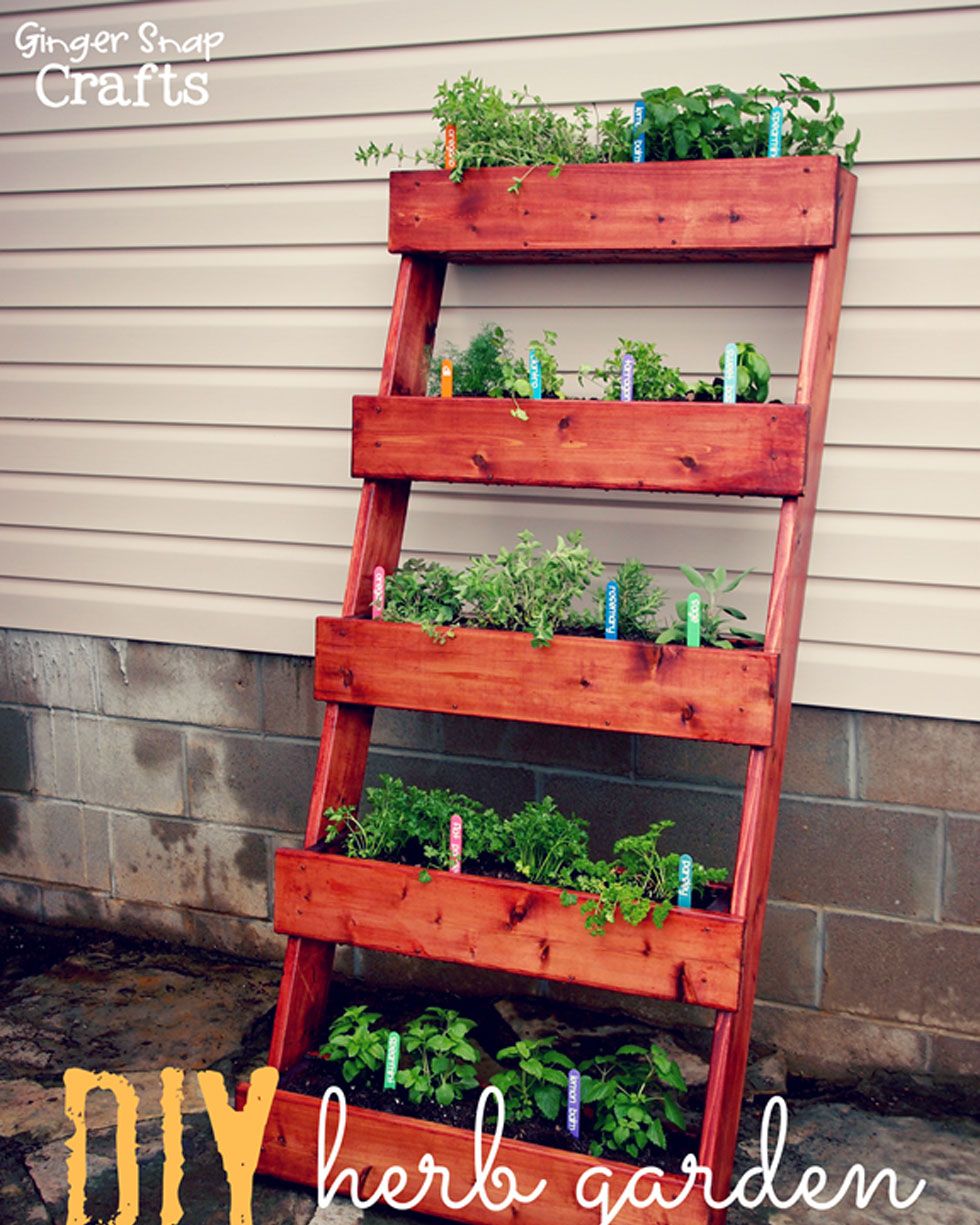 Using a couple of planks of wood and cedar troughs, you can create a kind of leaning bookshelf that features all of your favorite plants. Making this bookshelf is relatively simple; all you need are a couple of basic tools, wood, and plants.
Place this leaning bookshelf against a neutral wall to draw attention to this new addition. Alternatively, you can also paint the wood in bright colors and add beautiful green foliage.
3D Wall Garden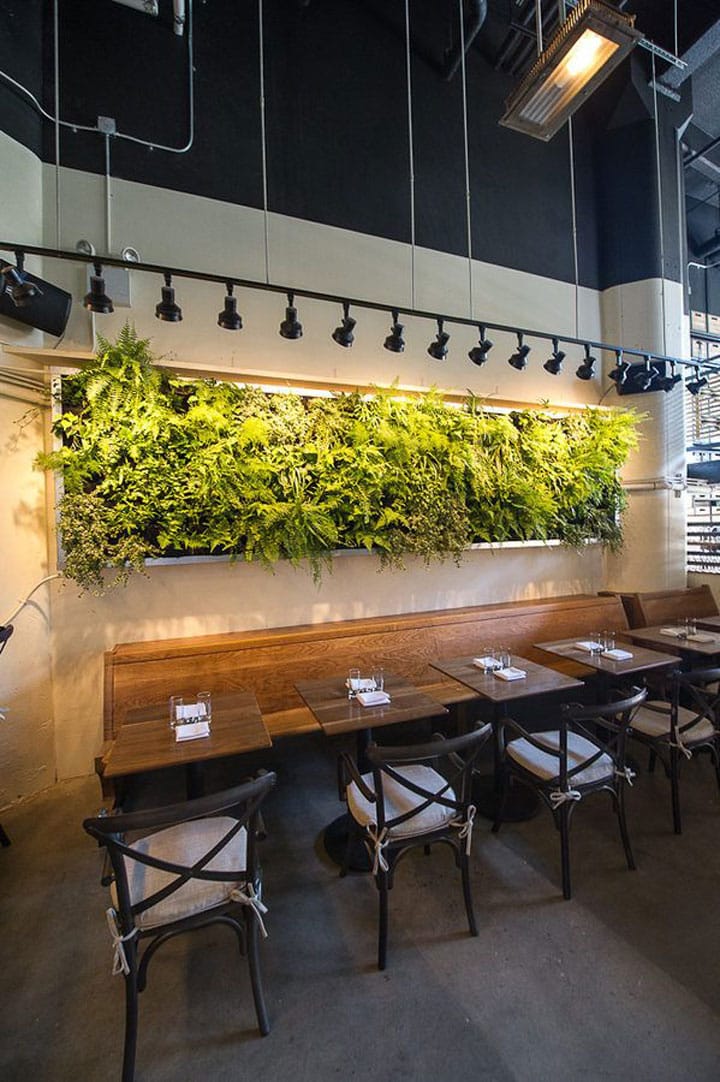 We have a 3D wall garden that looks stunning against almost any backdrop for our next vertical gardening idea. Use metal frames to border to bulging, green leaves to create a contemporary meets vintage appeal for this one.
It is best to use ferns requiring minimal attention and care, as it may not be practical to regularly water these plants. The modern aesthetic of this wall garden looks best when placed against wooden backgrounds. However, don't keep that from experimenting with your own style.
Bird Bath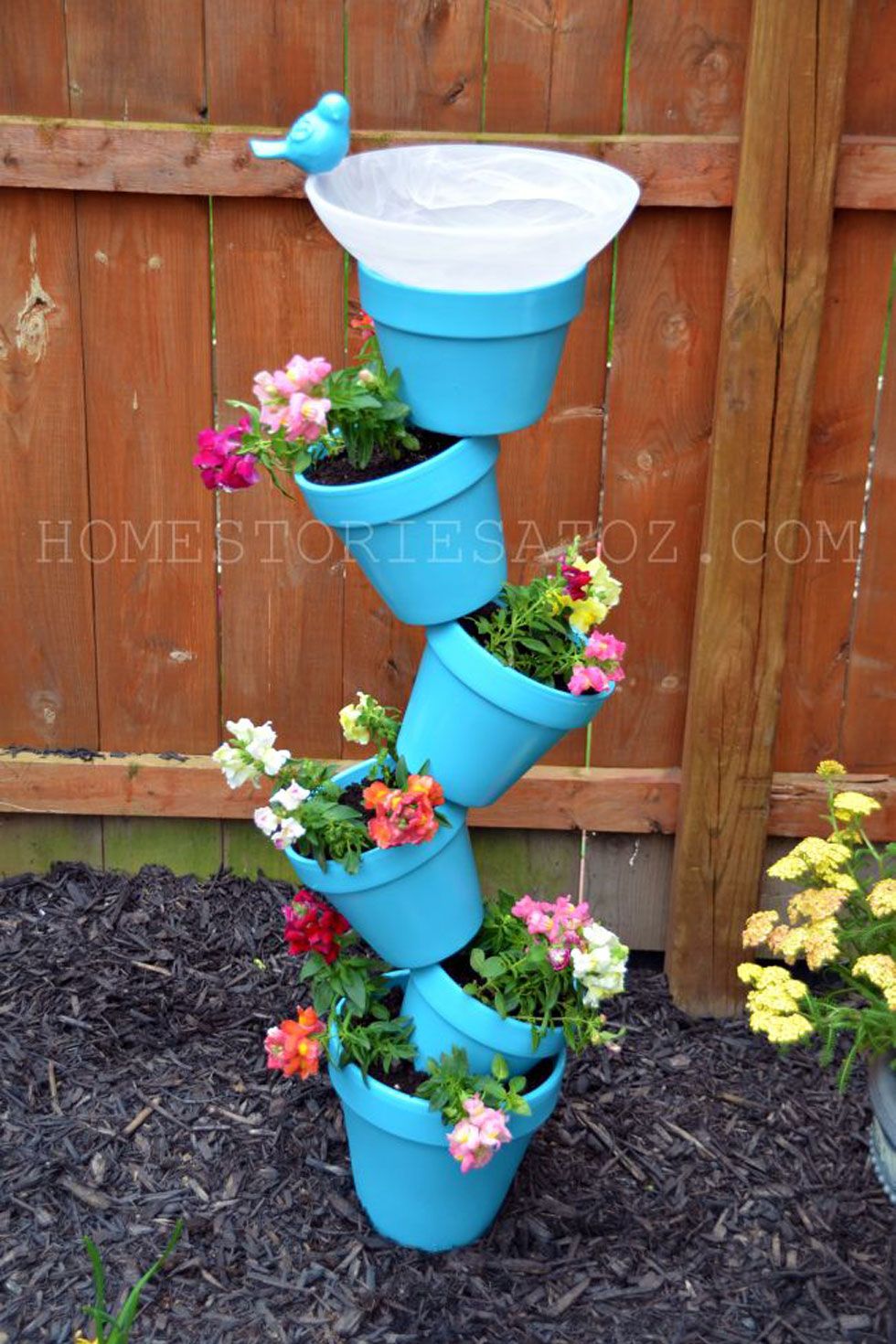 This is a perfect addition to any garden, as it works as a birdbath and a vertical garden in one. Although it looks complicated, it is relatively easy to create and will not take too many tools.
It is best to use different sizes of terracotta pots for this one, as you will need to stack them on top of each other. Paint them in bright colors and place a large plastic container on top filled with water for feeding visiting birds.
Zen Garden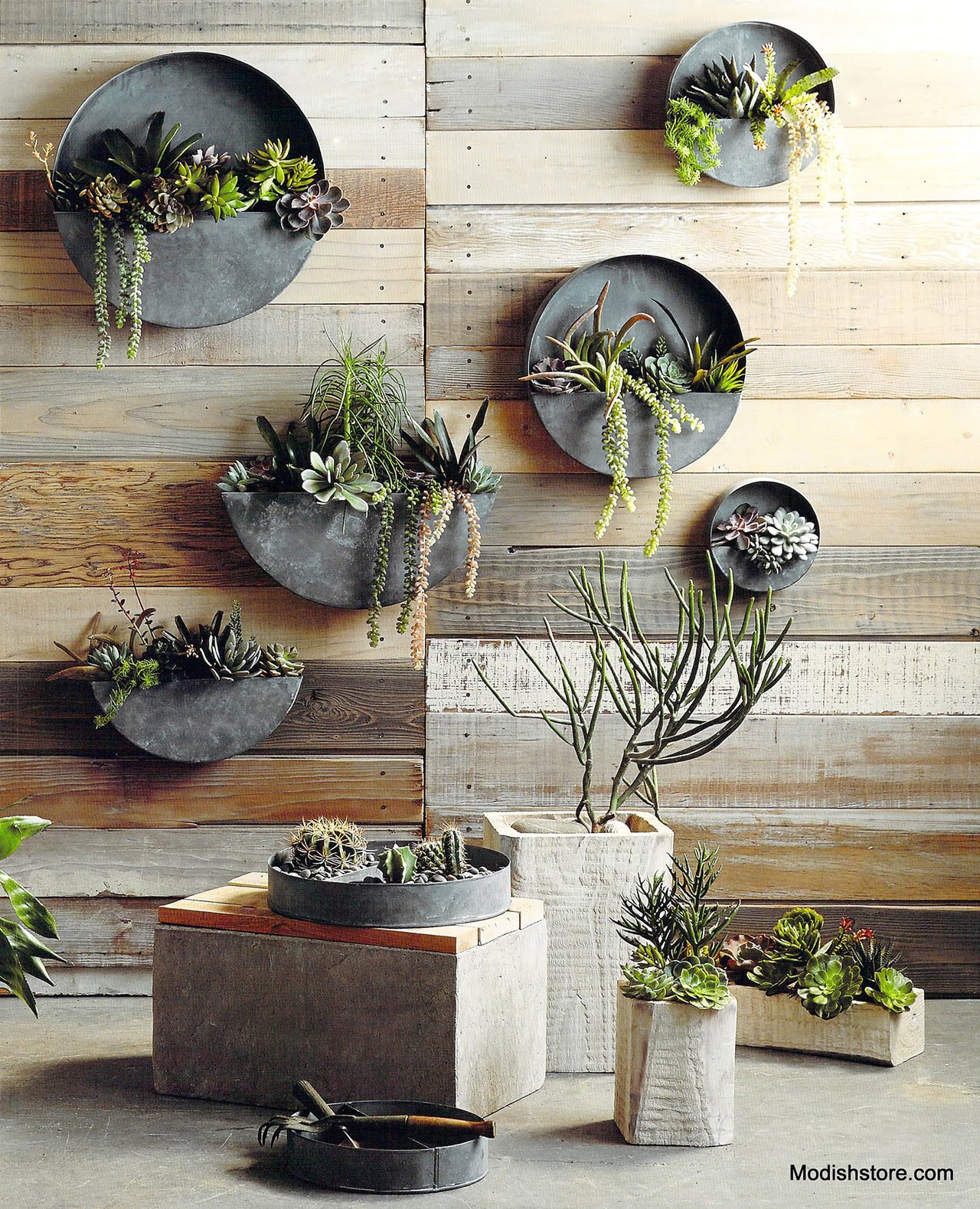 If you are looking to take a minimalist approach to your vertical garden, then this idea might be perfect for you. Take a couple of zinc plates, saucers, bowls, and anything else that catches your eye. You can use a variety of shapes and sizes for this one.
These planters bring all the attention to its minimalist appeal and look stunning against almost any backdrop. Use plants or succulents with minimal foliage for this idea if you want it to match with the rest of the minimalist decor. Of course, you can also choose to plant bright flowers if you wish.
Birdhouse Garden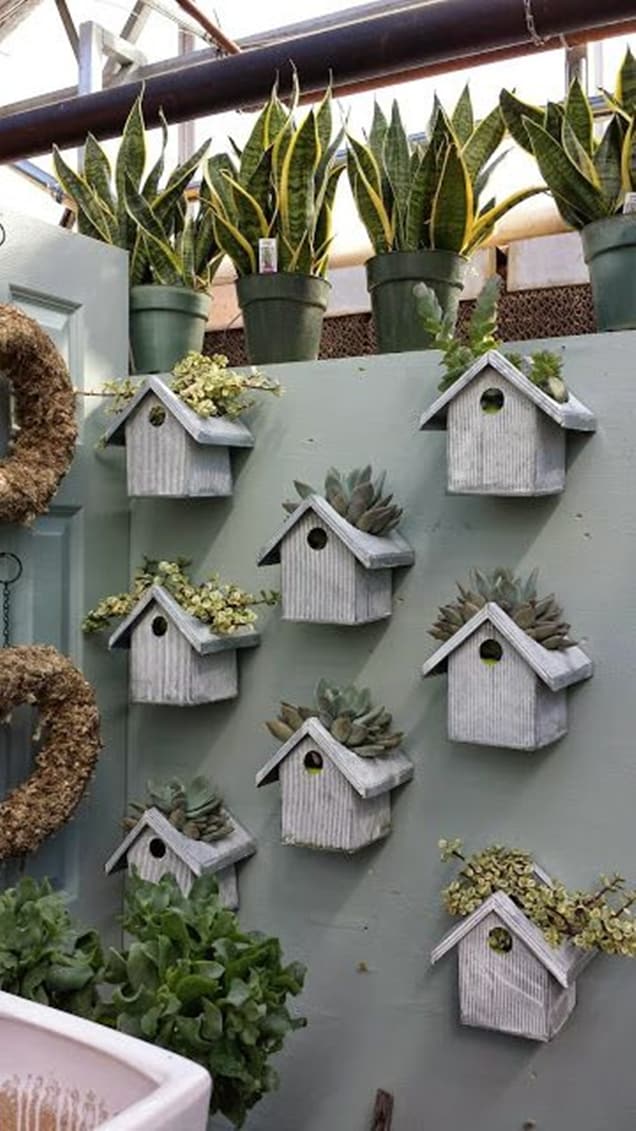 This next vertical garden idea is perfect for nature lovers, as it brings together all the beautiful elements of nature. If you have birdhouses lying around your home, then you already have most of the work done for you! However, if you don't have any, don't worry. You can still create this beautiful piece without much hassle.
Plant your succulents or herb garden by using birdhouses as a planter. Paint them in bright shades or keep the old, worn-out look for a slightly different appeal.
Hanging Bucket Garden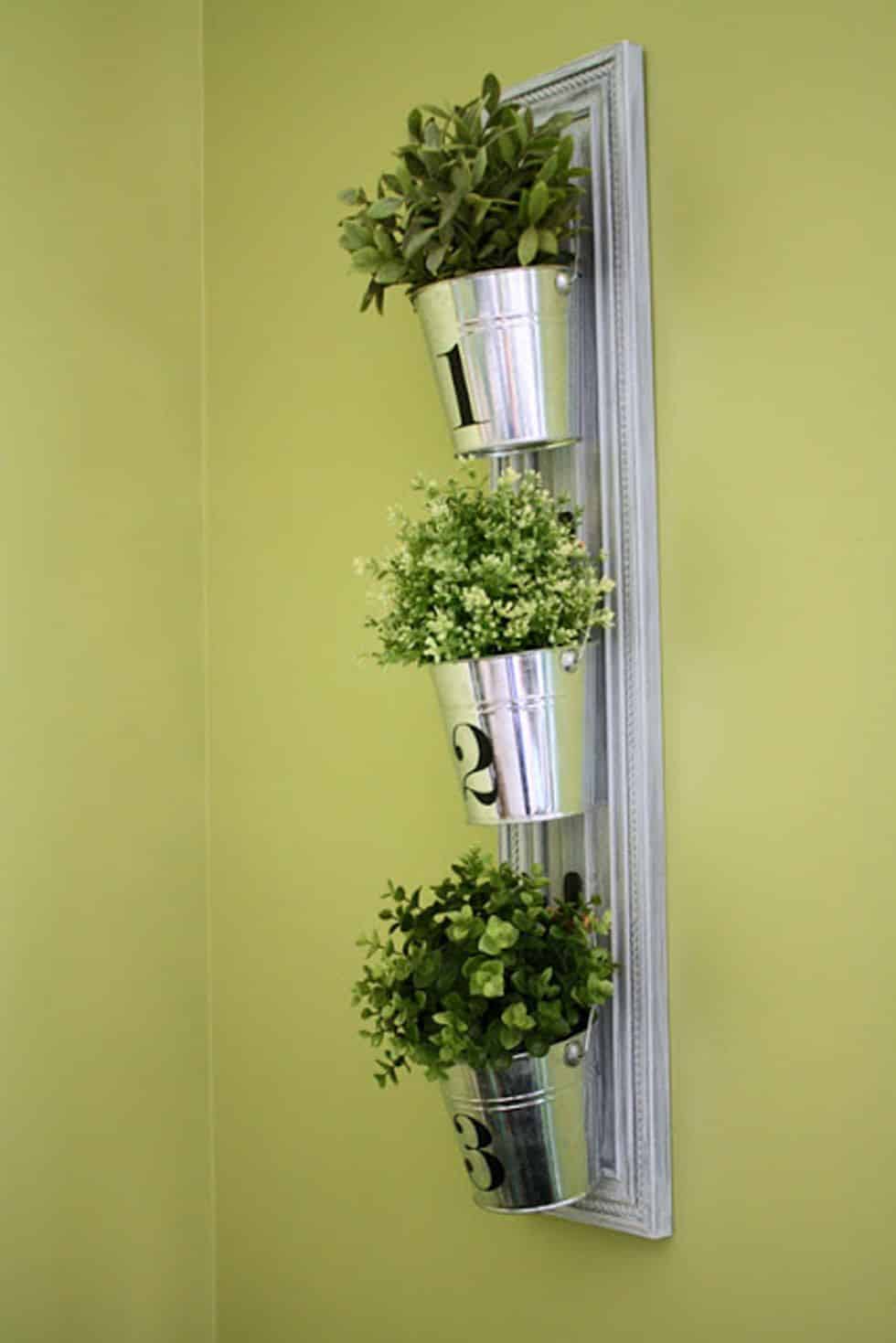 Looking to save space while recycling old materials around your home? This tin bucket hanging garden can be a perfect addition to your home, office, or any space you can spare. Of course, it doesn't take up too much space in the first place, making it ideal for gardeners looking for a compact vertical garden solution.
Adding a door frame for the border can add a unique touch to this hanging bucket garden idea. Make sure to use plants that require low maintenance, so you can keep the vertical garden looking fresh all year long.
Seed Containers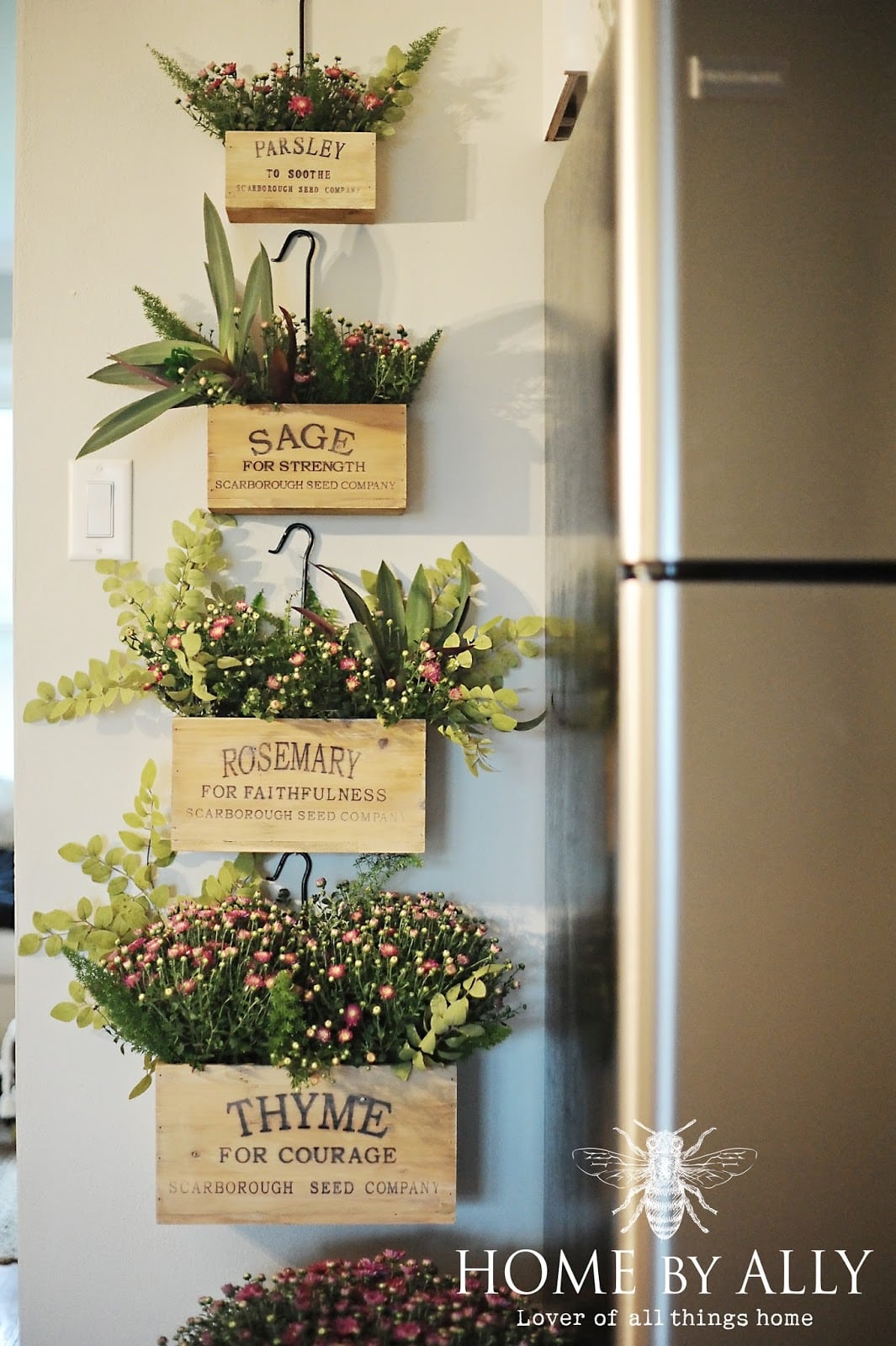 Coming to our next vertical gardening idea, we have decided to use old seed containers as planters. This is relatively easy to find, especially if you have a farm and buy seeds in bulk. The containers can be stacked on top of one another or hung on a wall to create your vertical garden.
Clean the inside of the container thoroughly before proceeding. Place the soil and plant your flowers, herbs, or other plants carefully. Arrange the seed containers indoors or even outdoors. You can keep the front label as it is for added appeal.
Vintage Dressers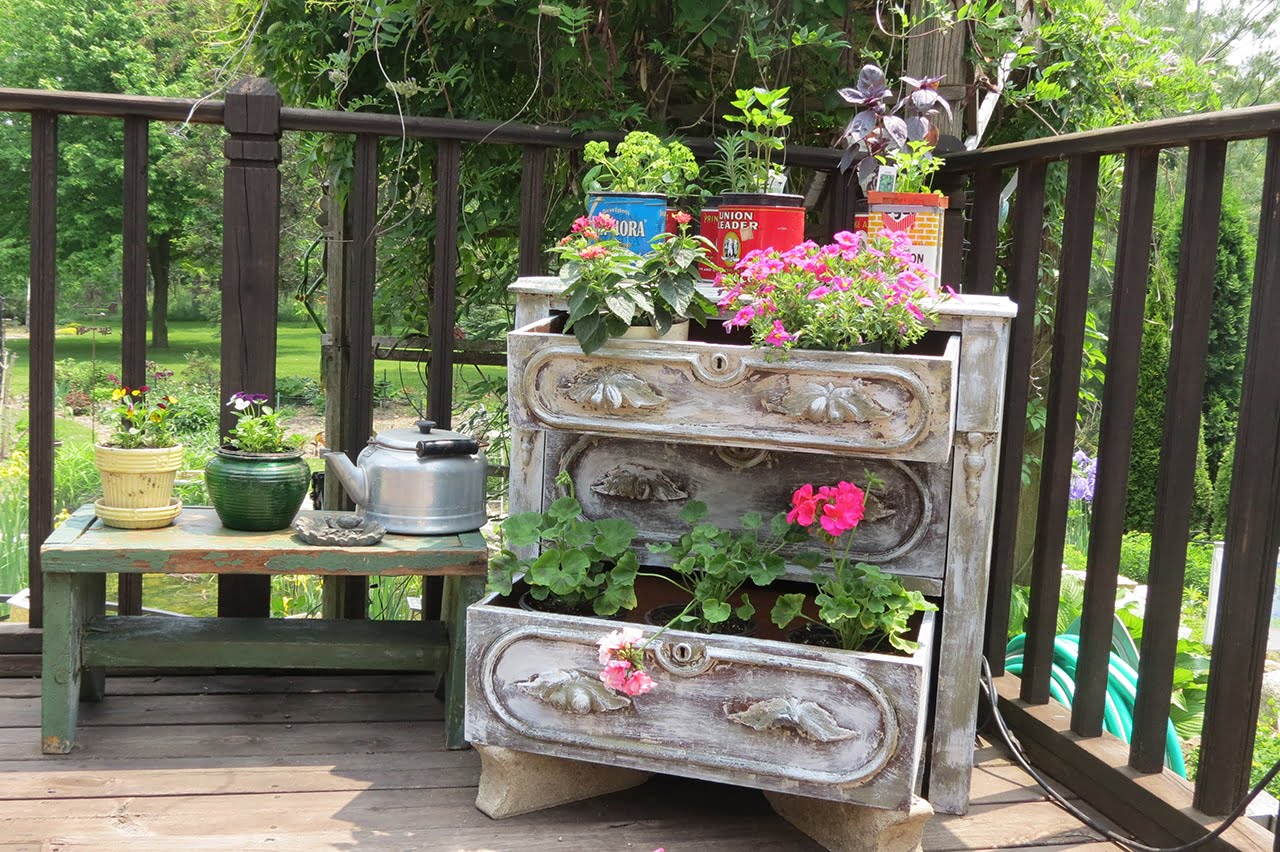 Sure, many of us have antique-looking dressers at home, which we don't plan on using anymore. Throwing these away can be difficult, as they might have sentimental value. With our next idea, you don't need to worry about throwing away your old dressers. Simply repurpose them into an outdoor vertical garden!
Simply haul your vintage drawer outside, fill it up with soil, and place your favorite plants inside it. You can even decorate a couple of pots and planters on the tabletop to add more foliage to your vertical garden.
Exposed Root Vertical Garden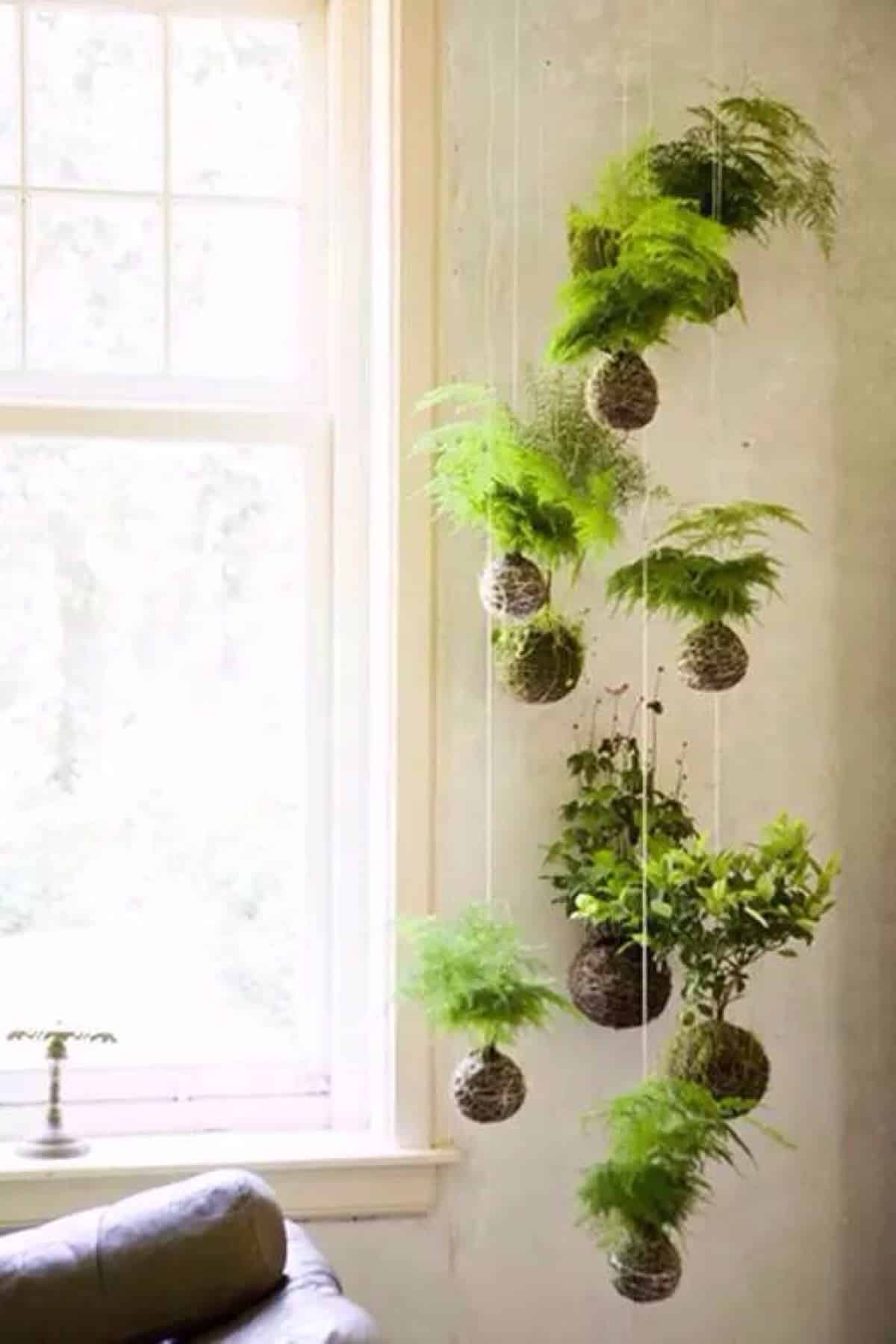 Our next vertical gardening idea features tiny plants with exposed ball roots. You might be skeptical about its appearance while reading about it, but trust us, it can add an elegant appeal to any home corner.
These tiny plants are hung by wires or threads from the ceiling. They act as a focal point to any room which is otherwise looking dull or bare. Opt for plants that grow slowly, as they are perfect for this hanging vertical garden idea. Adding some moss to the roots will provide the plants with optimal moisture and minimal maintenance on your end.
Futuristic Garden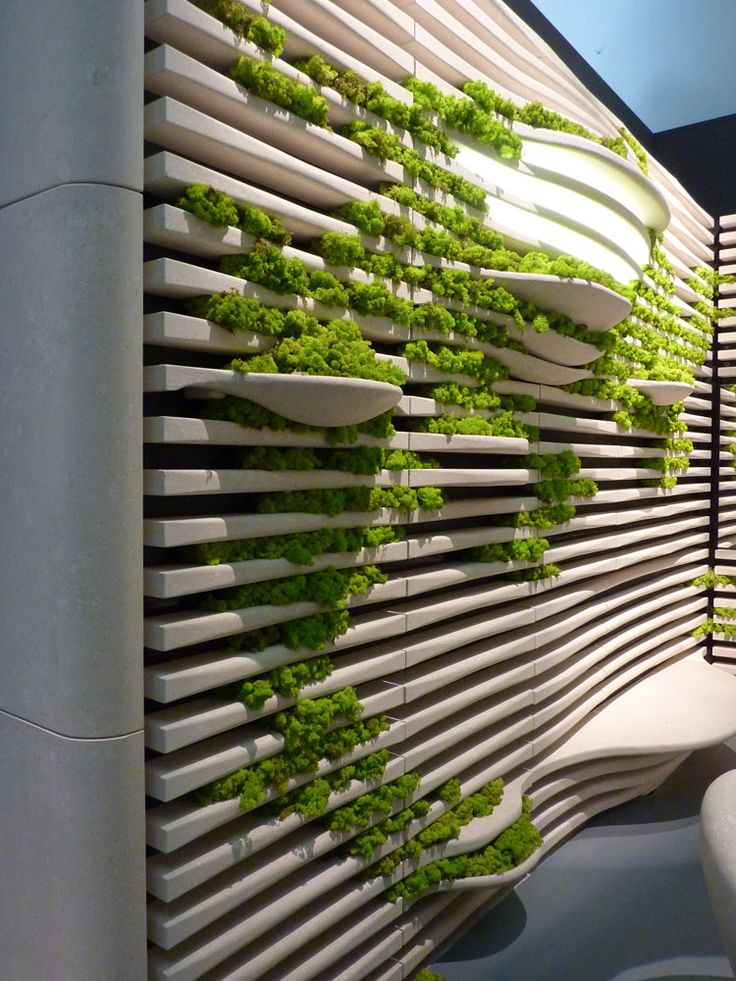 Do you enjoy a futuristic and sci-fi appeal in your home decor and art? This next idea features protruding shelves arranged in neat vertical rows from top to bottom. Bright green moss is tucked into the shelves, making it look like the foliage is pouring out from the mouth-like shelves.
This idea is perfect for any modern or contemporary house setting. Using singular colored shelves adds definition to the entire structure, making it look like something out of a sci-fi film.
Coffee & Soup Tin Planters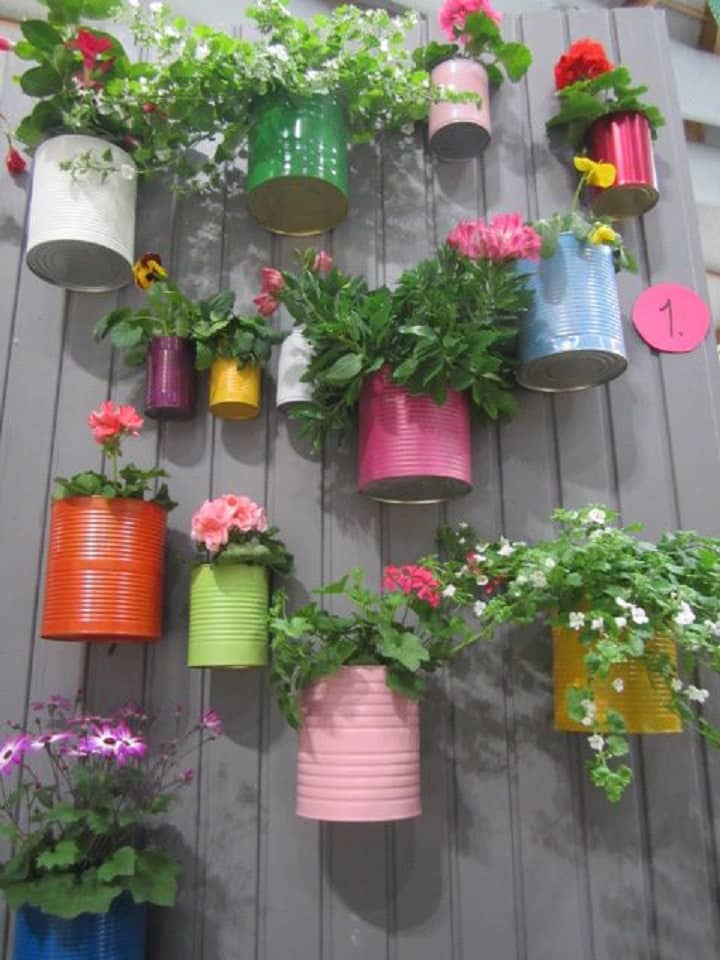 Before throwing out your old coffee and soup tins, consider recycling them into DIY planters for our next idea. Collect as many coffee and soup tins as you can. They can be of different sizes, so don't worry about them not matching. You can even collect painting tins or anything else you can find around.
Take a couple of brightly colored paints and go wild! Paint all the tins in different, vivid colors. Plant some soil and add your plants, herbs, and flowers. Now, stick them to the walls, a fence, or even hang them using wire or ropes.
Grid Pots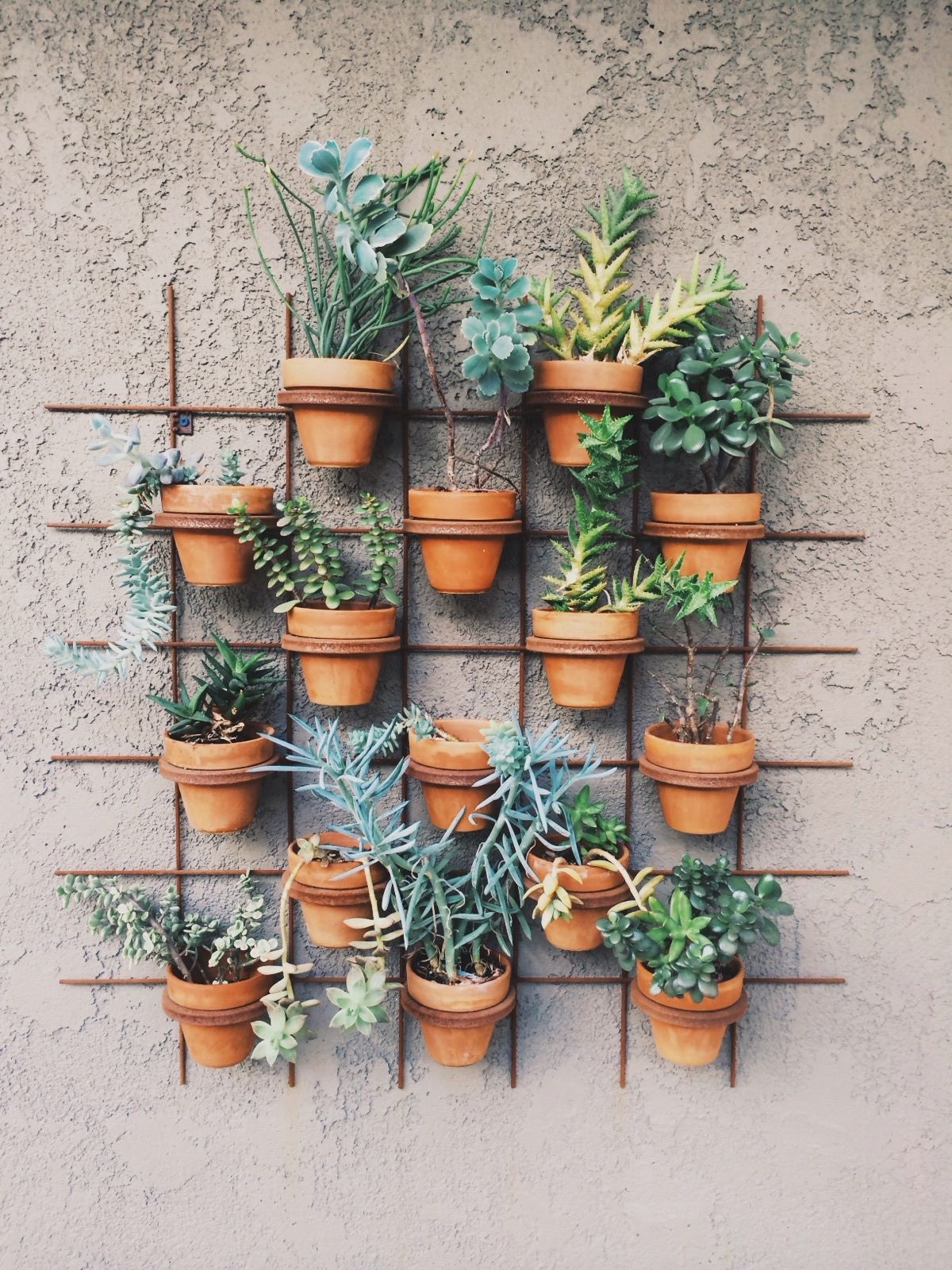 Adding a grid will immediately ensure that whatever art piece you are planning looks symmetrical and clean. Create grids (as small or as large as you wish) along the walls using metal bars, rusted metal, or even wood if you wish.
Now, add lightweight terracotta planters to the grid using wires or by sticking them securely. Ensure that you do this correctly, as you don't want the pots falling and creating a bigger mess. Add your plants, and voila! A desert-themed vertical garden for your home is made easily and efficiently.
Scrap Wood Stained Planters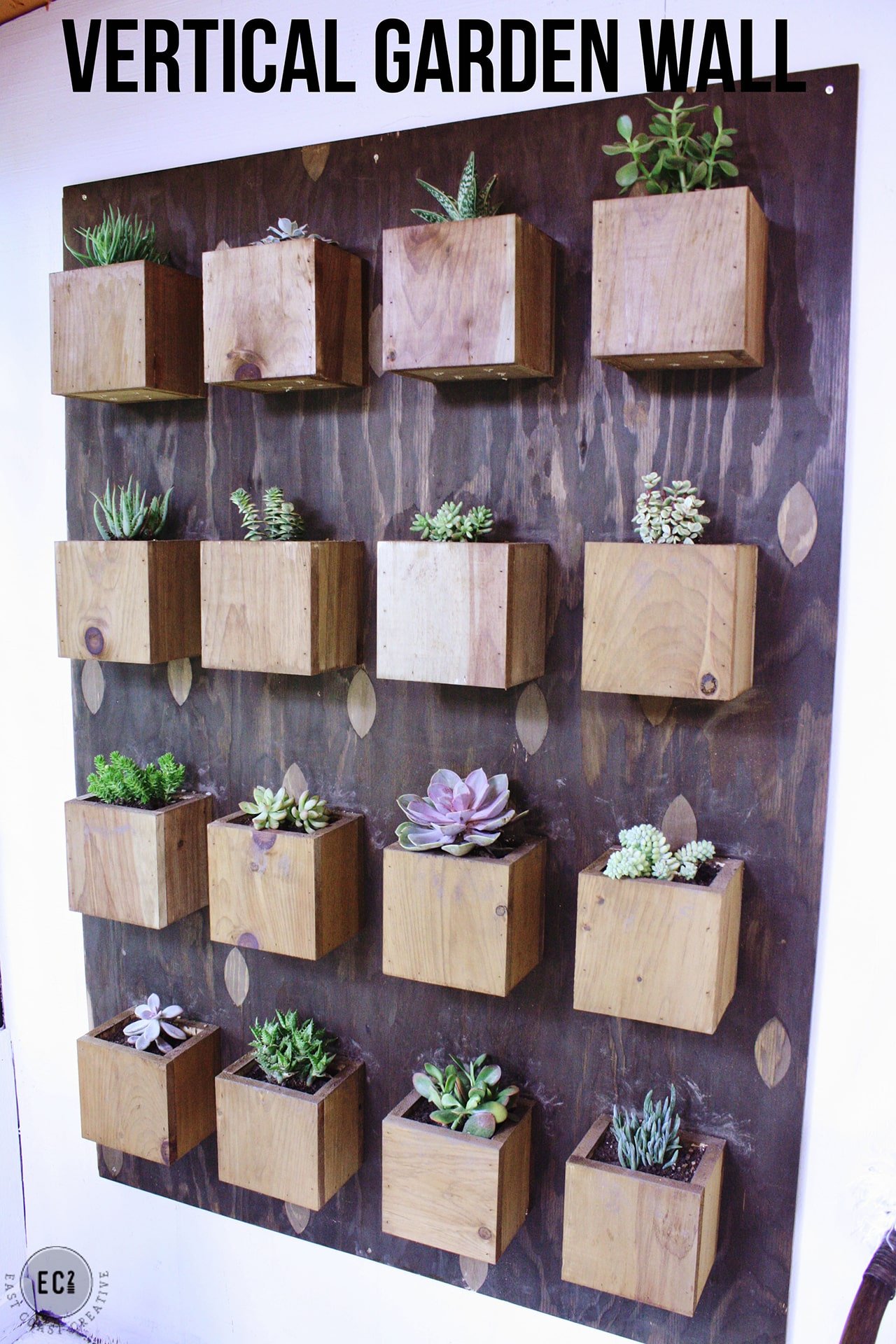 Do you have any old wooden boxes around your home? If not, don't worry. You can find these almost anywhere without even having to spend any money on them.
Get hold of a couple of similar sized wooden containers or boxes. Cut off one of the sides, so that it is entirely open with only three sides (a three-sided wooden box). Now, carefully stick these to the wall, add soil, plants, and you've got your vertical garden ready!
Stain the wooden boxes using natural dyes such as tea, coffee, vinegar, beet, spinach, etc. This will add a beautiful tint to natural wood.
Modern Art Vertical Garden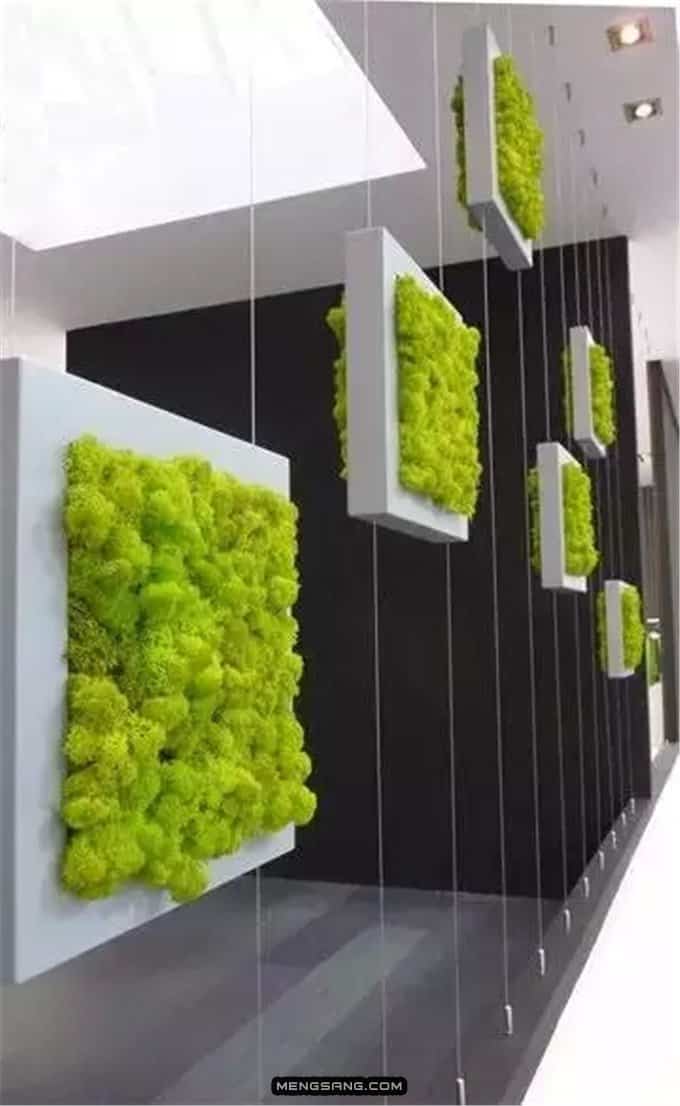 If you want your vertical garden to look like something straight out of a modern art museum, this next idea may be perfect for you. Although it seems complex, the idea behind it is extremely simple. You need two elements to create this piece – white frames and bright green moss.
This eye-catching decor is perfect for an office, a home-study, the partition between the living room and dining room, or even a modern bedroom. Use delicate wires to hang the frames from the ceiling, so it looks like they are floating in mid-air.
Ikea Lack Table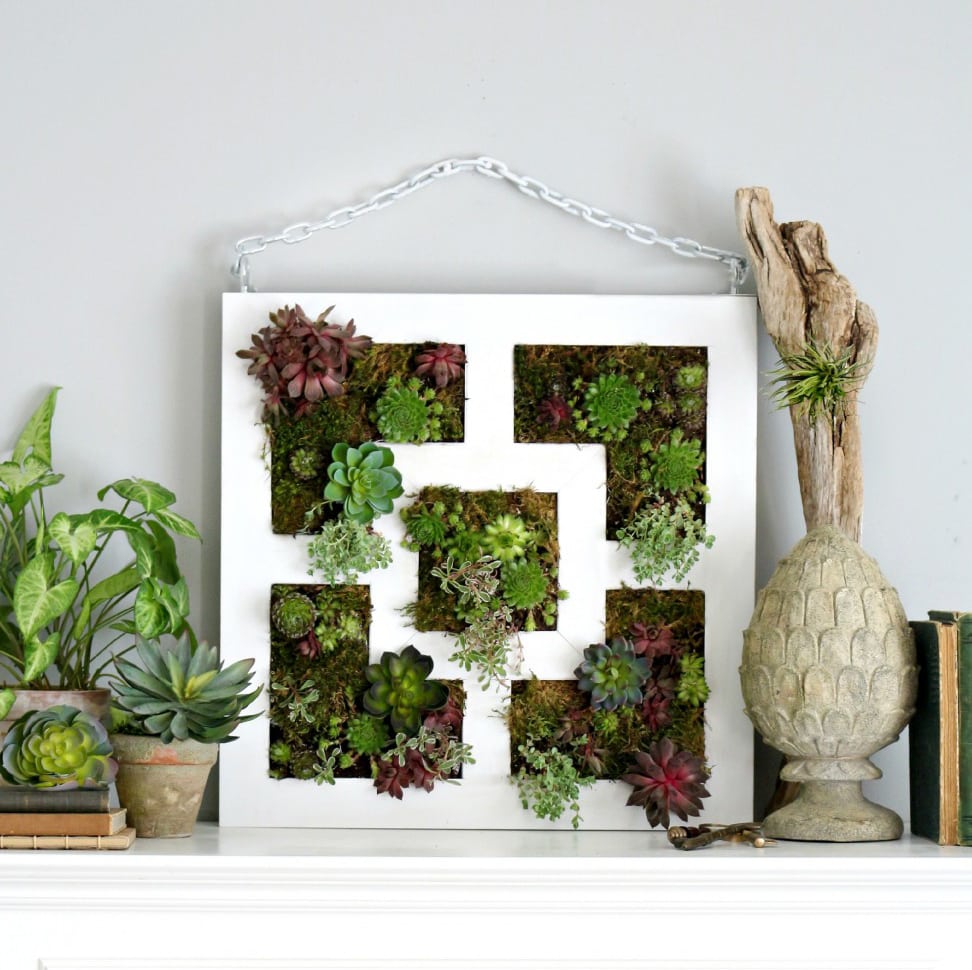 No space is too compact for introducing a garden. This is our motto. Hence, we have provided almost five dozen ideas for vertical gardens ideal for compact spaces. For our next inspiration, we decided to use the Ikea lack table hack.
For this, you'll obviously need an Ikea lack table, some chains, paint, and sonotubes. The sonotubes will act like miniature planters that you place inside the design.
This DIY project forces you to think out of the box. The result is something thoroughly breathtaking and something that looks like it's been purchased from a modern-art gallery.
Hanging Wall Gardens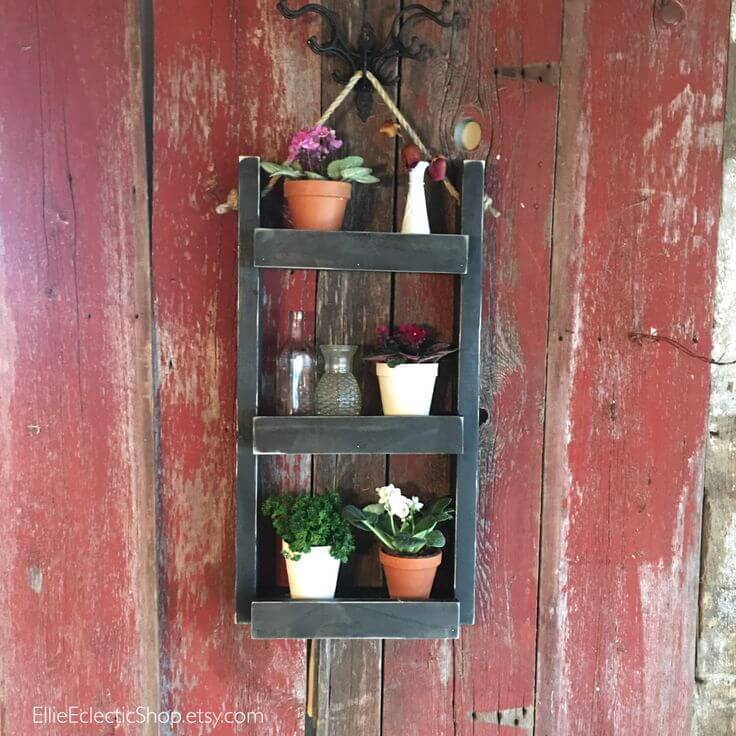 This indoor hanging wall garden looks extremely simple and even a little rustic. However, it may be the perfect addition to your kitchen, living room, or any other space of your home.
You can choose to do a DIY project out of this idea by cutting up wood and creating this shelf yourself. Of course, you can also choose just to buy the hanging bracket and attach it to any wall. Place small (lightweight) plants on each shelf. Add a salt and pepper shaker and create a herb rack for your kitchen in no time!
Ladder Garden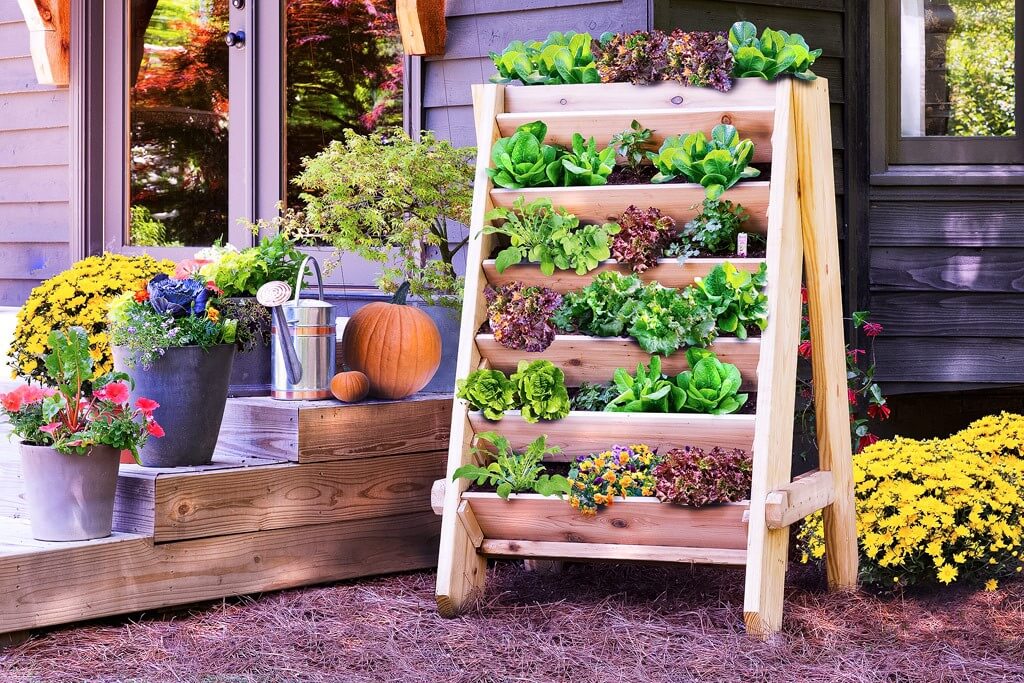 Here is our next vertical gardening idea that makes use of a discarded ladder to create your garden. The idea behind it is extremely simple – just create a ladder with shelves using basic cutting tools and some wood. If the wood is pre-cut, then most of the hard work is already done!
This ladder garden can be placed anywhere – outdoors or indoors. Plant all your favorite flowers, herbs, or succulents along the shelves. You can even use this one as a quick herb garden for your kitchen, so you don't need to keep running to the garden to pick fresh herbs for your cooking.
Tiered Potted Garden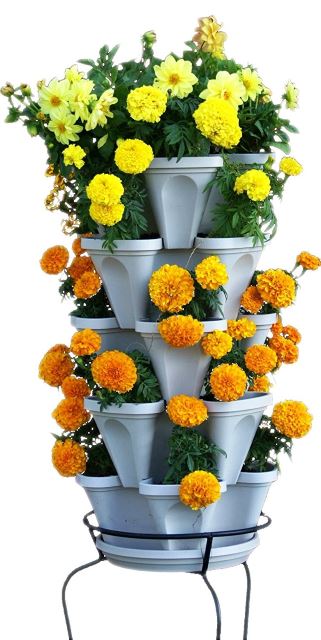 This next vertical garden is perfect for those beginner gardeners who are never too sure of how much water their plants need. Well, this planter takes out all the guesswork from it. The vertically stacked pots are pre-made (so you don't need to create one yourself). Buy this tiered potted garden online and place all your favorite plants in the pots.
Now, as you water the top plants, let gravity do its business. The excess water drips downwards, saturating the plants below.
Pyramid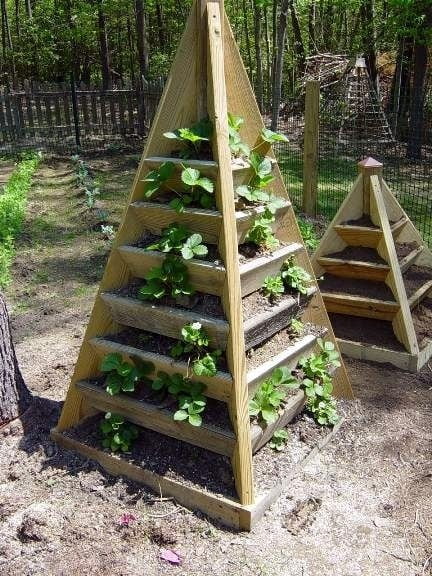 Pyramids always look super aesthetic, right? Well, for this next vertical garden idea, create a pyramid where you can neatly stack herbs and spices or plant different varieties of seeds for each row in. Turn the pyramid into your herb rack by using each row for a specific kind of herb.
You can make this pyramid structure on your own using stacked wood pieces or buying a readymade piece online. You can even choose to get this made by a handy carpenter if you know one!
Stacked Raised Bed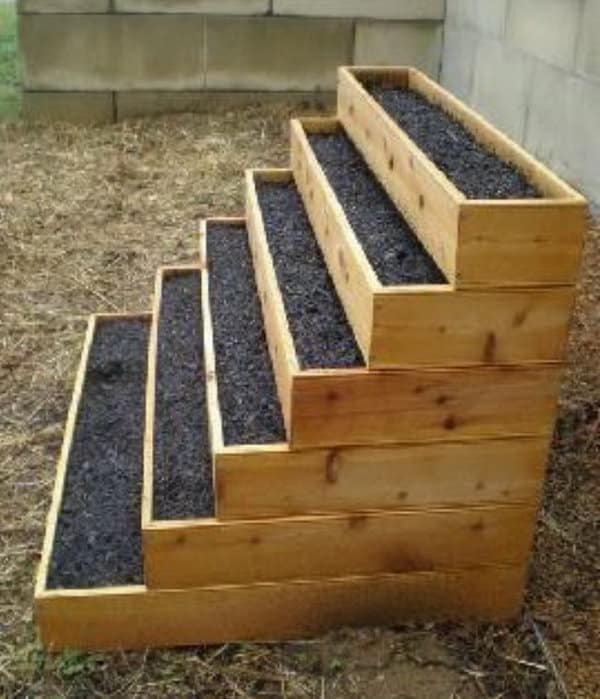 This stacked raised garden bed is relatively simple to create on your own. You can even use old drawers, containers, or wood pieces to build this by scratch. Of course, you will find several of these ready-made raised beds in the market if you wish to purchase one instead.
Fill up each stack to the brim with soil, and plant your seeds, seedlings, or plants and flowers carefully. Water them as required and watch your vertical garden bloom.
Monogram Wreath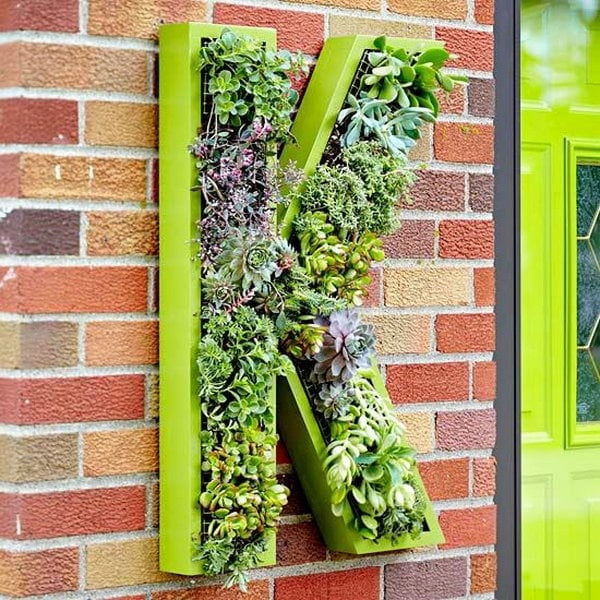 Many homeowners like to hang monogrammed designs in and around their homes. For our next idea, you can create a living monogram wreath using a monogram planter, some moss and succulents, and paints if you're feeling adventurous.
You can create the monogrammed planter on your own or buy one from a store or online. Spray paint (or use ordinary paints) in a bright color of your choice. Fill the inside of the planter with moss and your favorite succulent plants, and voila! Your living monogram wreath can be decorated in your entryway, inside your home, or in the garden.
Plumbing Pipe Garden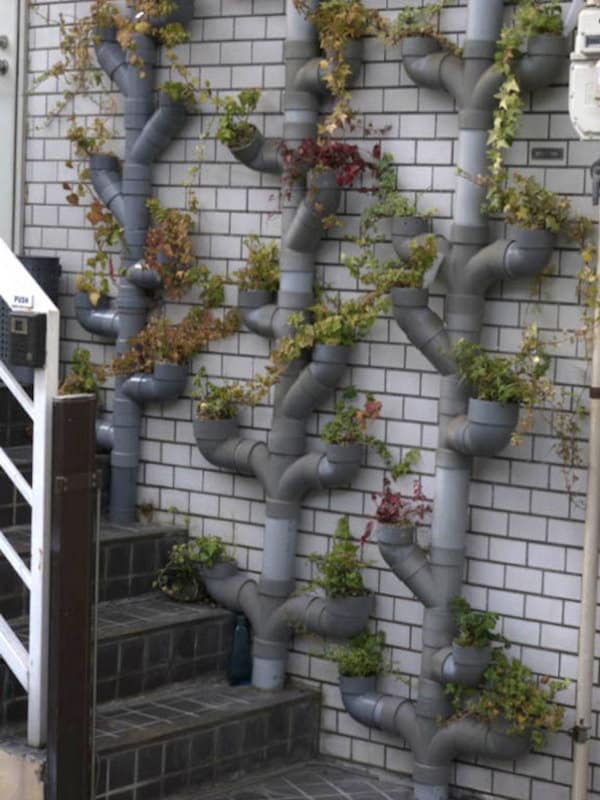 Plumbing pipes that are shaped vertically can be the perfect DIY planter for your vertical garden. Make sure you clean out the inside of the pipes thoroughly before you begin planting the soil and seeds in them.
If you feel that the pipes look old and washed out, spray paint them using bright neon shades. This can be a wonderful addition to your garden or patio. The plumbing pipe garden is sure to be an eye-catcher and can be used to create an industrial-looking aesthetic.
Trellis Garden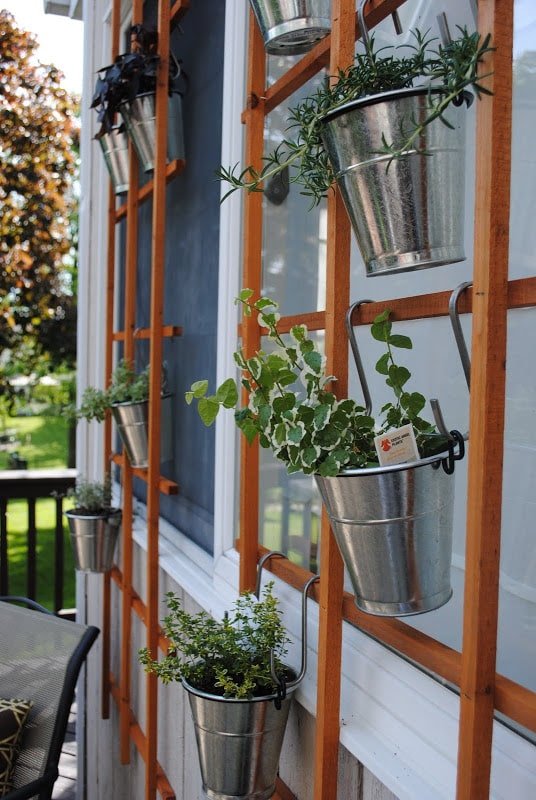 You may already have a trellis in your home, and if you do, this idea is perfect for you! That being said, if you don't own a trellis, it is pretty straightforward to make one without much hassle.
Use holders to secure tin buckets along the trellis wall. Add soil and some of your favorite plants in the tin buckets to create a DIR trellis vertical garden. This idea has a striking appeal and can provide a splash of color and nature to your home.
Floating Pot Garden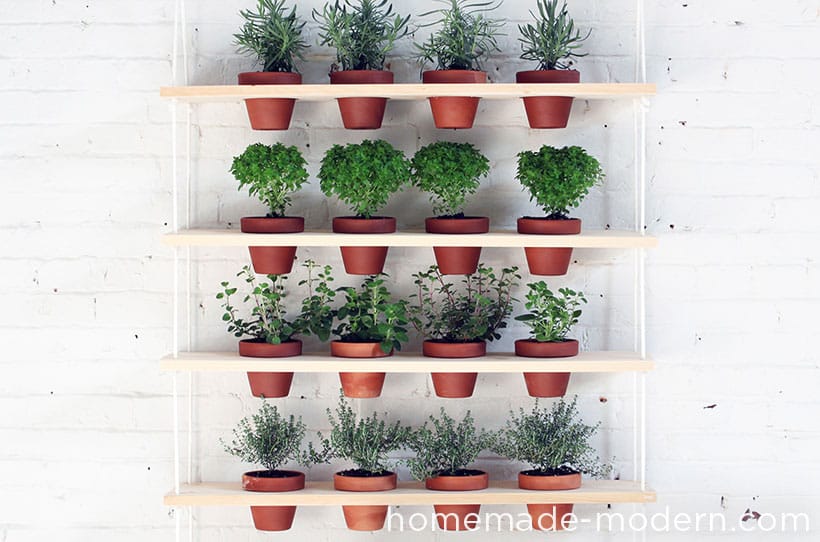 Our next vertical garden inspiration is ideal for homes that struggle with space. This idea is both compact and practical and also looks super aesthetic.
Cut out holes in wooden planks that will accommodate terracotta pots. Ensure that the holes are big enough to allow the pots to slide down only midway and not entirely. Use ropes or wires to hang the planks in as many rows as you wish, and add your plants to create a compact, space-saving vertical garden.
Teacup Garden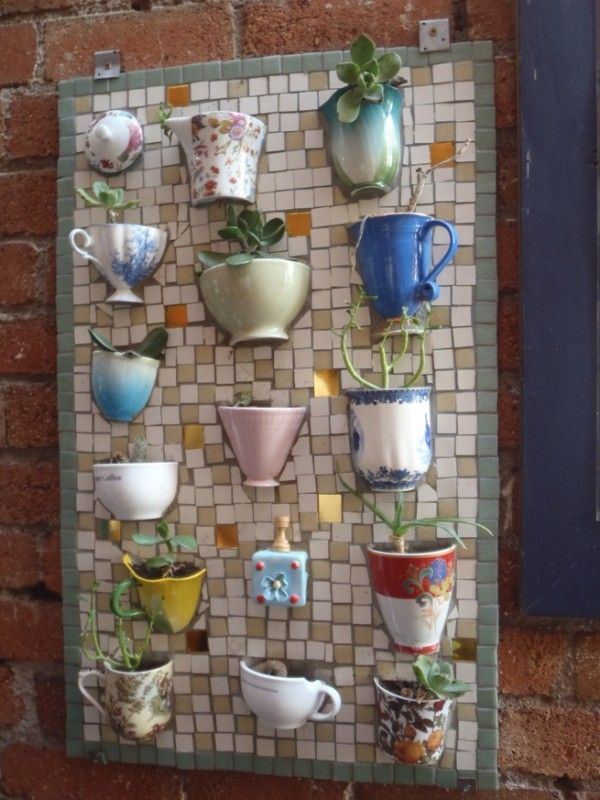 Our next vertical garden idea features a mosaic wall and teacups made into planters. You can choose to create the entire mosaic wall yourself or even opt for a wall you already have at home.
Use old (or new) teacups as planters by gluing them against the wall. Add soil and plants, and you're done. You can even add a few additional items like teaspoons, small saucers, or the tops of the teacups by sticking them against the wall. This creates an impressive design to the vertical garden that is sure to turn heads.
Ladder & Bucket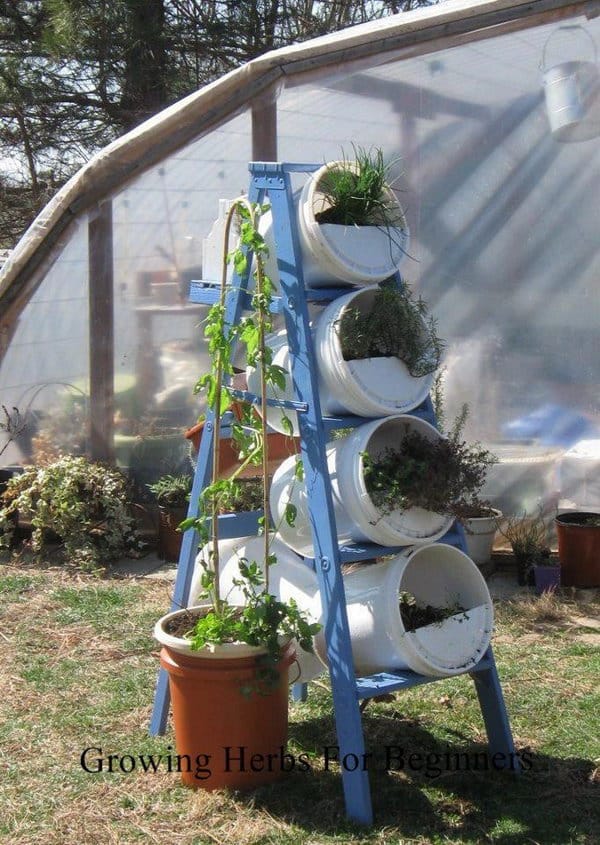 Surely you have a ladder and a few buckets lying around your home. If you do, then you can upcycle these items to create a unique vertical garden. Place the buckets horizontally against each rung of the ladder, and fill them with soil and plants or seeds.
If you're feeling creative, you can even paint the buckets and ladder in bright, complementary colors for extra appeal. Place this vertical garden outdoors for everyone to see.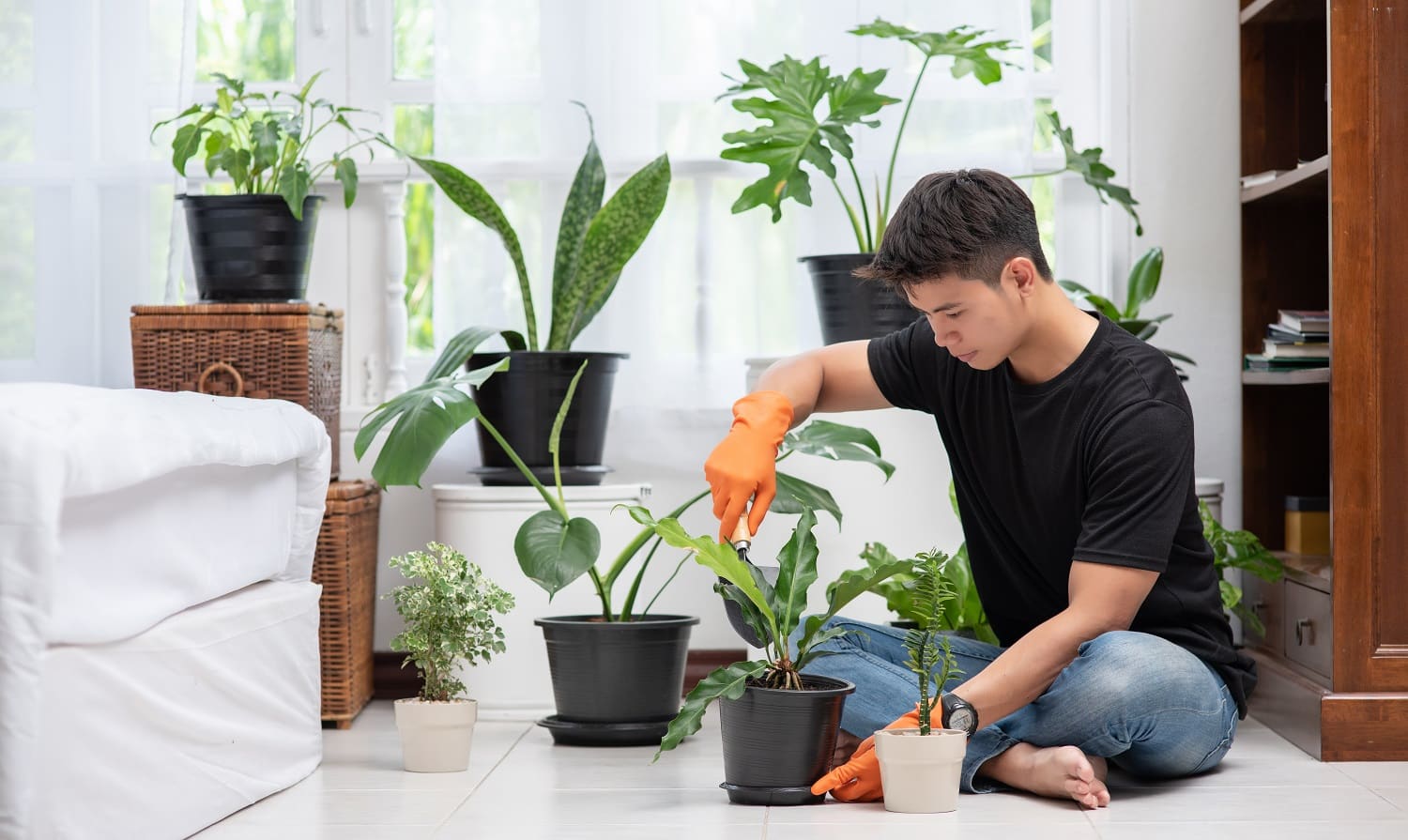 Conclusion
Phew! We are finally done with our comprehensive list of 59 vertical gardening ideas.
While most of these DIY vertical gardening ideas are easy to create, some may require additional tools and expertise. Nonetheless, each one of these is unique, space-saving, and extremely functional.
The most important thing to keep in mind when creating any of these is to have fun with it. You may even come up with some interesting and unique ideas of your own. Please don't forget to share your ideas with us in the comments below, and let us know which idea was your favorite.
Stay safe, until next time!
Related Articles
17 Best Self Watering Planters
40 Best Online Gardening Stores
13 Best Potting Mix For Orchids
10 Best Folding Lawn Chairs to Rock
33 Calm and Peaceful Zen Garden Designs to Embrace
53 of the Best GreenHouse Plants for Happy Gardeners and Gardens
72 DIY Greenhouse Plans to Build Easily in Your Own Garden
Effective Tips for a Weed-Free Landscape Design Today
5 Best Weed Barriers and Landscape Fabric for Happy Gardeners
Best Lawn Edging for a Legendary Garden 
Short Intro Into The Basics of Lawn Care for an Epic Curb Appeal
5 Best Self-propelled Lawn Mowers Right Now
The 5 Best Lawn Mowers for St Augustine Grass Right Now
53 of the Best GreenHouse Plants for Happy Gardeners and Gardens
72 DIY Greenhouse Plans to Build Easily in Your Own Garden
5 Best Weed Barriers and Landscape Fabric for Happy Gardeners
7 Best Greenhouse Plastic | Buyer's Guide and Reviews
13 Best Trimmer Lines | Multi-Sided, Round, Square, Twisted & Serrated
8 Best Dump Cart for Lawn Tractor & ATVs | Buyer's Guide and Reviews
7 Best Shoes for Cutting Grass Comfortably | Buyer's Guide
13 Best Tow Behind Spreaders of 2022
11 Best Fertilizer for Citrus Trees Right Now
13 Best Poison Ivy Killer Reviewed
13 Best Fertilizer for Fruit Trees  
13 Best Fertilizer For Blueberries 
13 Best Organic Lawn Fertilizer 
13 Best Fertilizer for Tomatoes  
13 Best Fertilizer For Succulents Reviewed 
13 Best Fertilizer for Hydrangeas 
13 Best Fertilizer for Hibiscus 
13 Best Liquid Lawn Fertilizer Right Now